60 Years of Honda Racing
The History and the Challenge That Started It All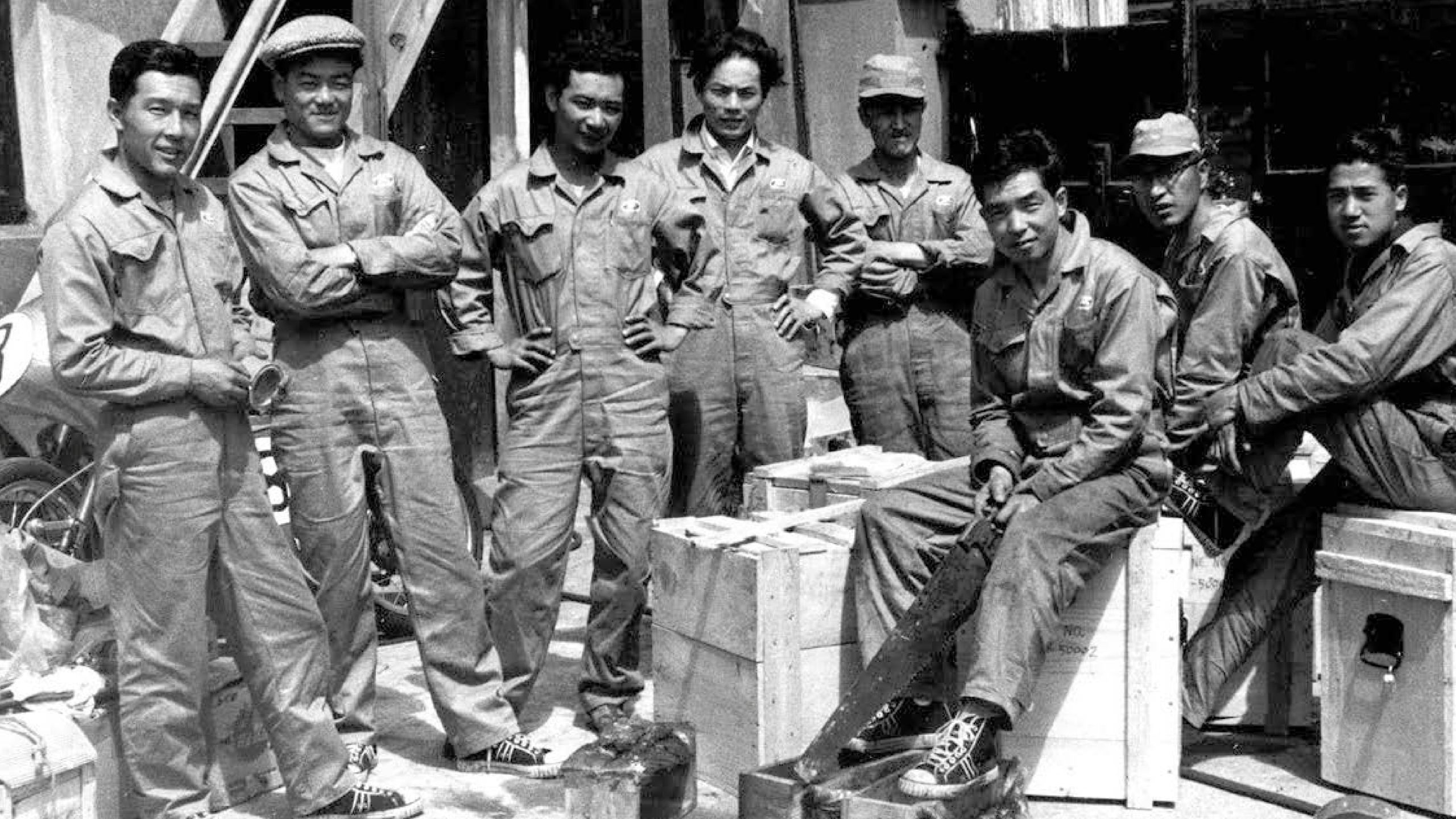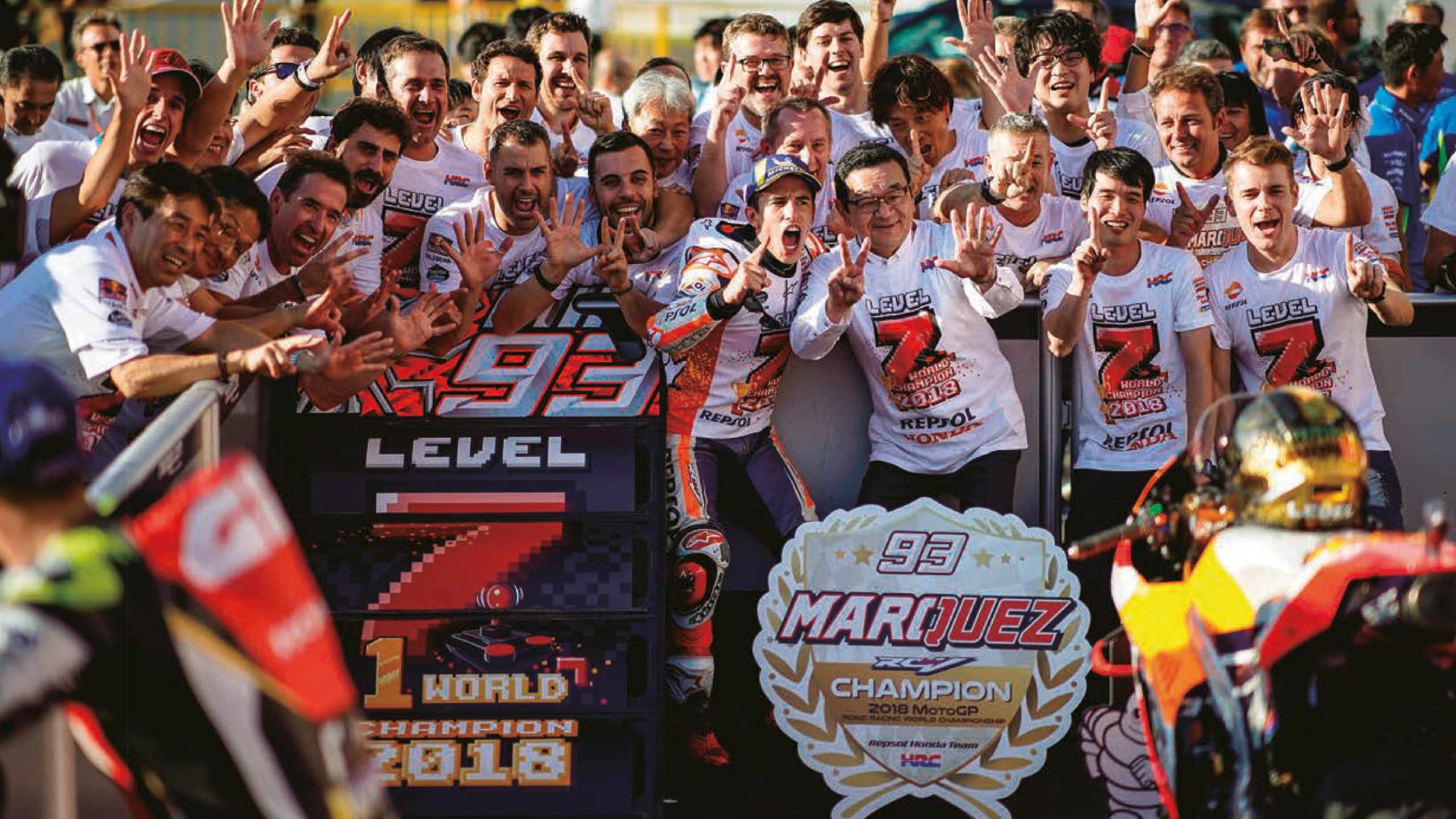 🕐 3 June 2019
In 1953, a Japanese businessman on a machine-tool shopping expedition to the UK decided to attend the Isle of Man TT motorcycle races. He was shocked by what he saw.
The man was Soichiro Honda. The business was the Honda Motor Company.
Having only been formed only a few years previously this was an event that was to cement the foundations of Honda for its long and illustrious future. Join us as we take a closer look at Honda's involvement with World Championship Racing since 1959.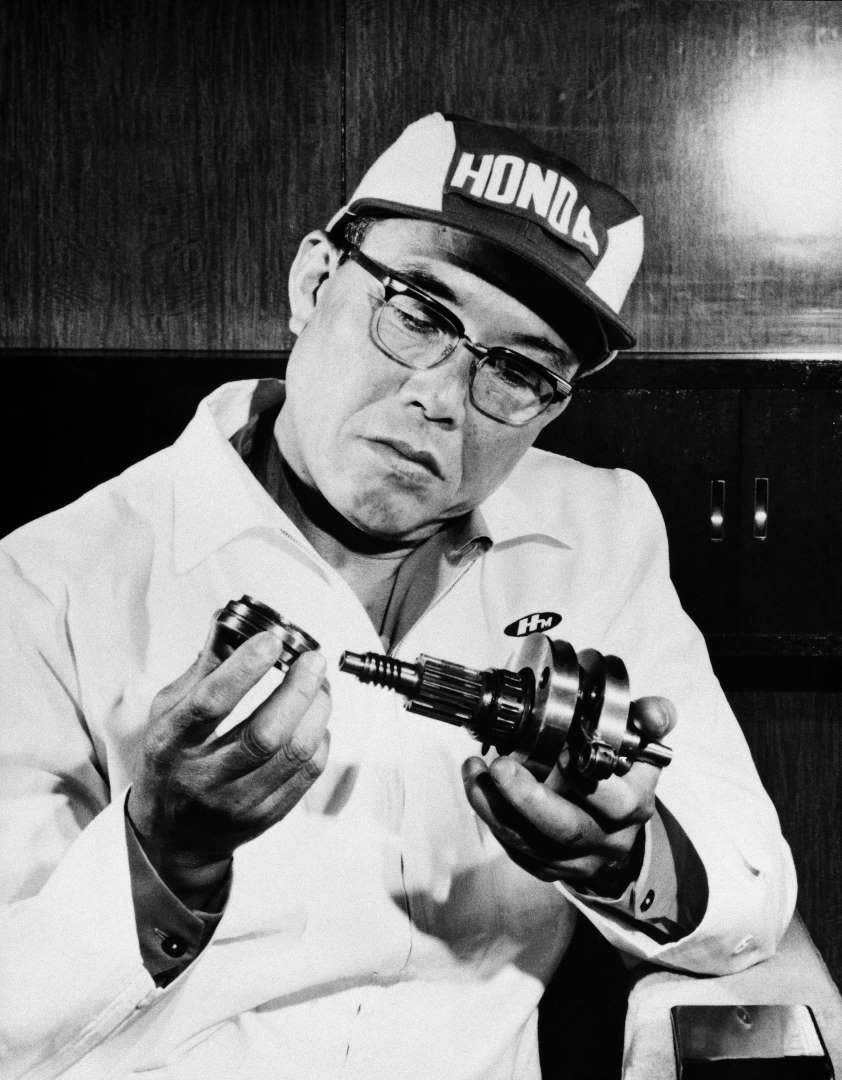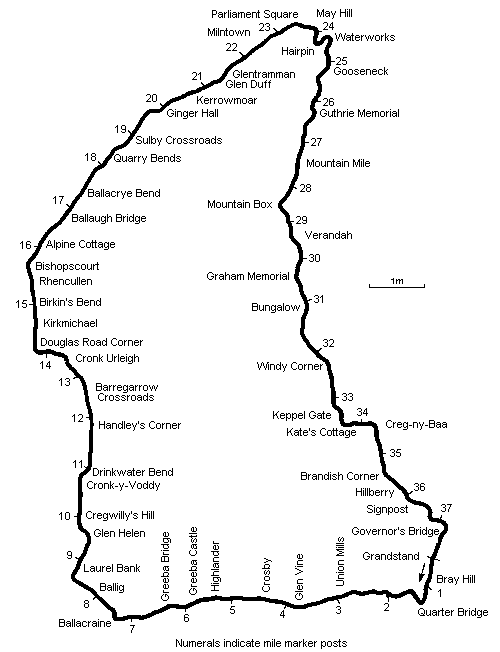 Soichiro Honda's Declaration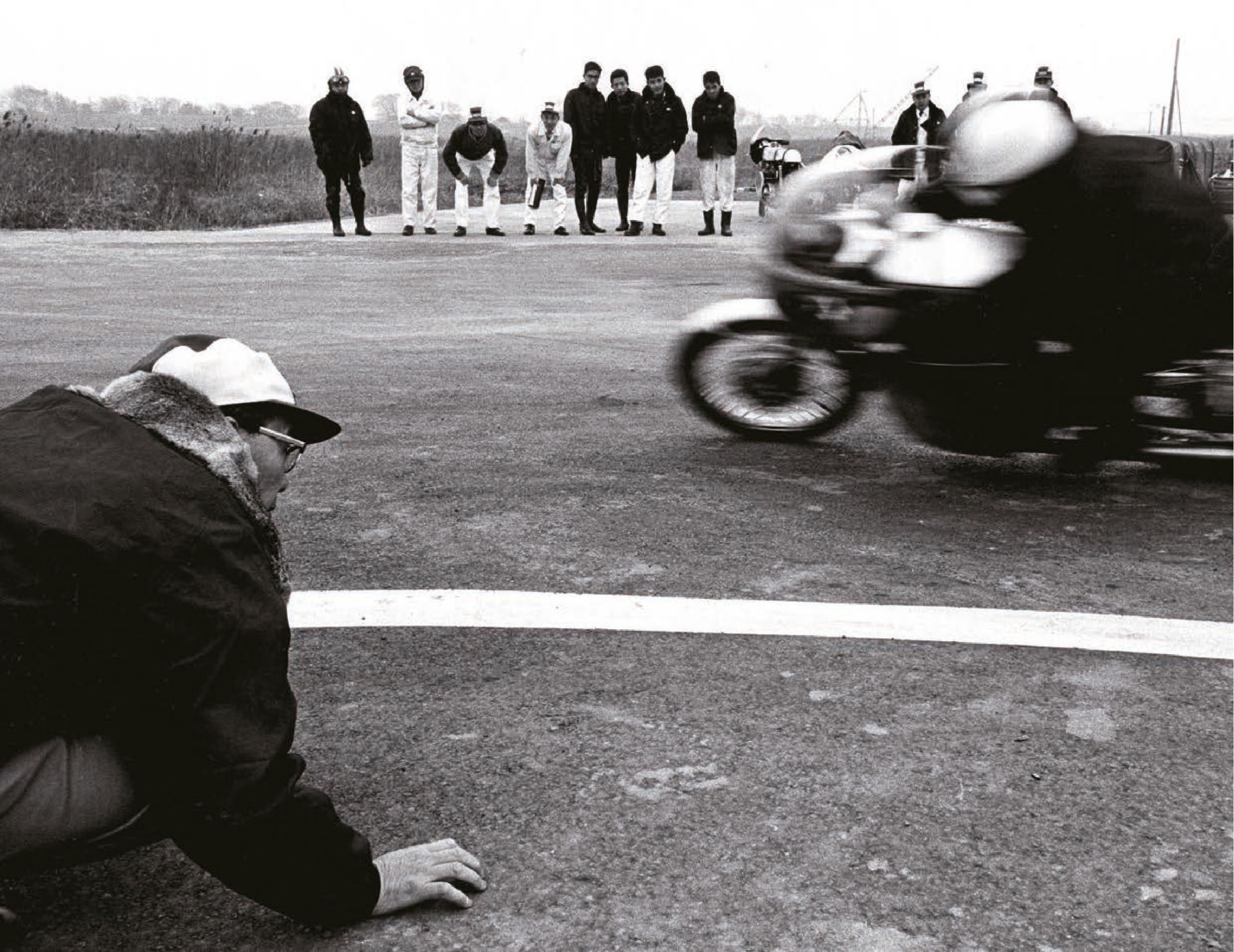 In March 1954, Soichiro Honda, the president of Honda Motor Company, Ltd, committed to entering the Isle of Man TT courses. This declaration came when the company was just five years old and still growing.
Soichiro proclaims that as much as he wanted to become a world champion, he first had to wait until the company was on firm footing and had superior manufacturing equipment in place. For the first five years, that's what the company focussed on.
In his public declaration, he committed to entering the races for the following year. Prior to this, there had never been a Japanese rider in a race with a Japanese bike. 
He goes on to state that he wants to rise from the ashes, just like Germany did after the war. The overall goal for him was to display the Japanese machine industry for what it was and become the victor in the TT Races. 
What follows after that is quite remarkable and worthy of remembering.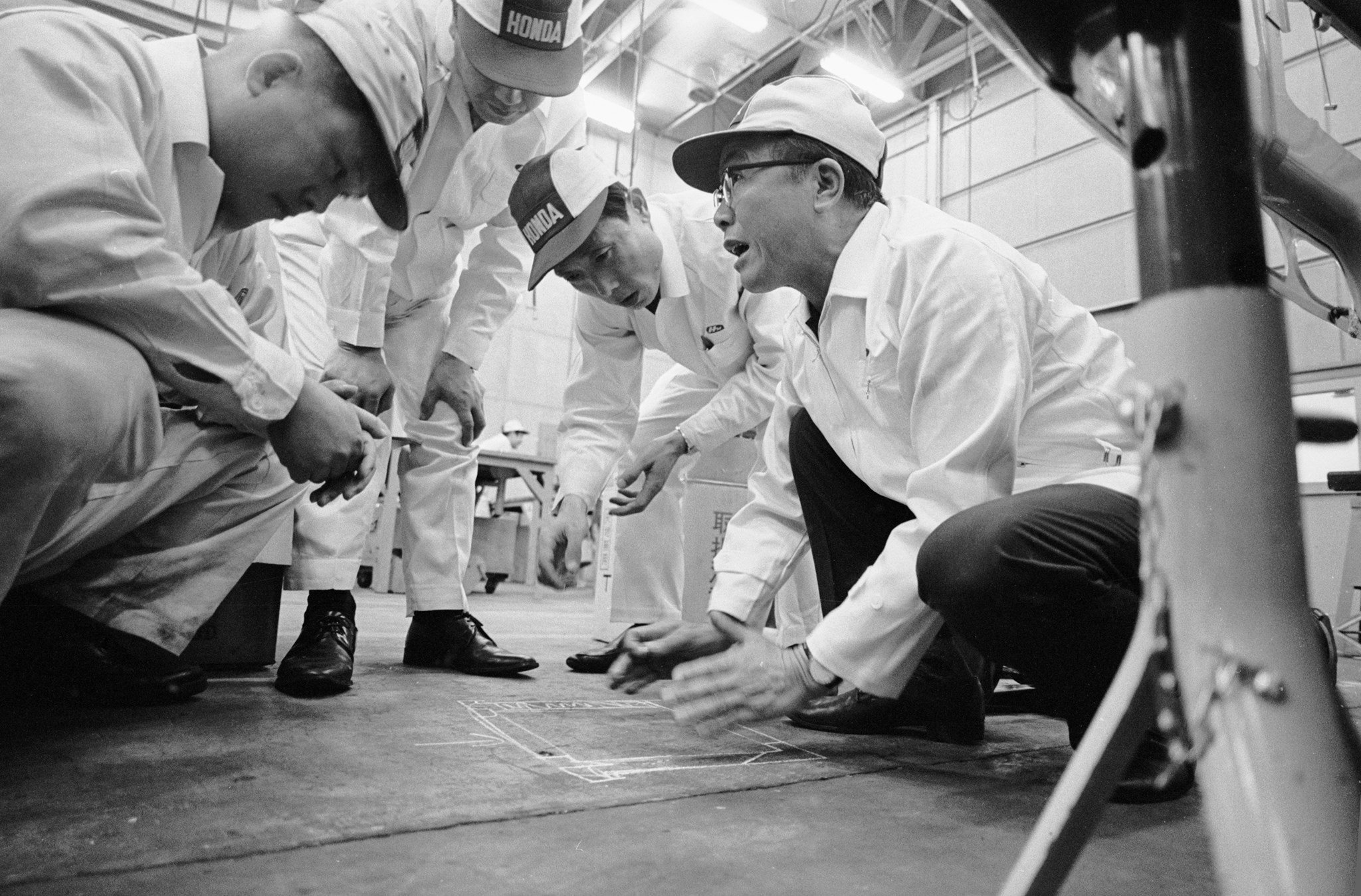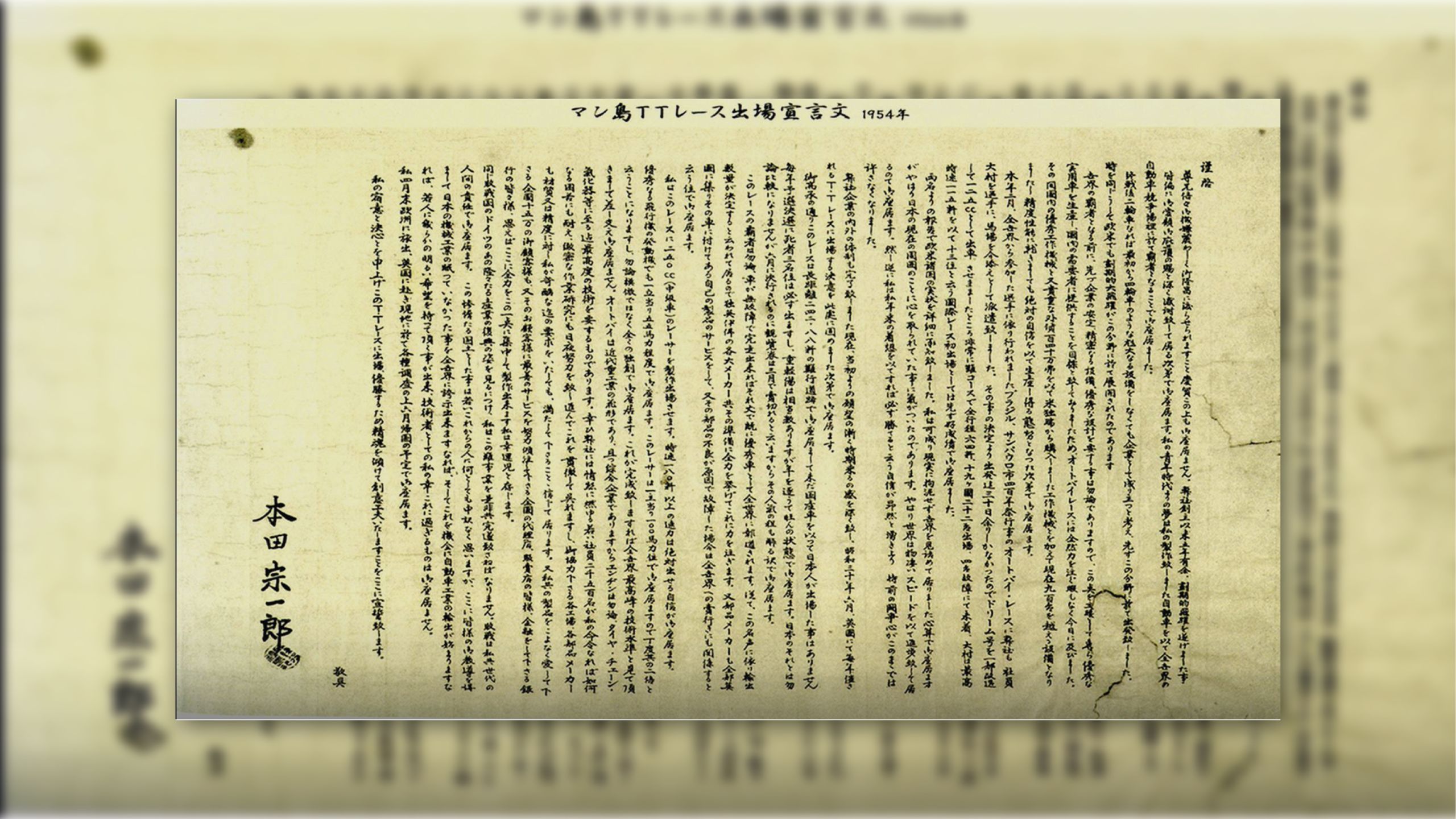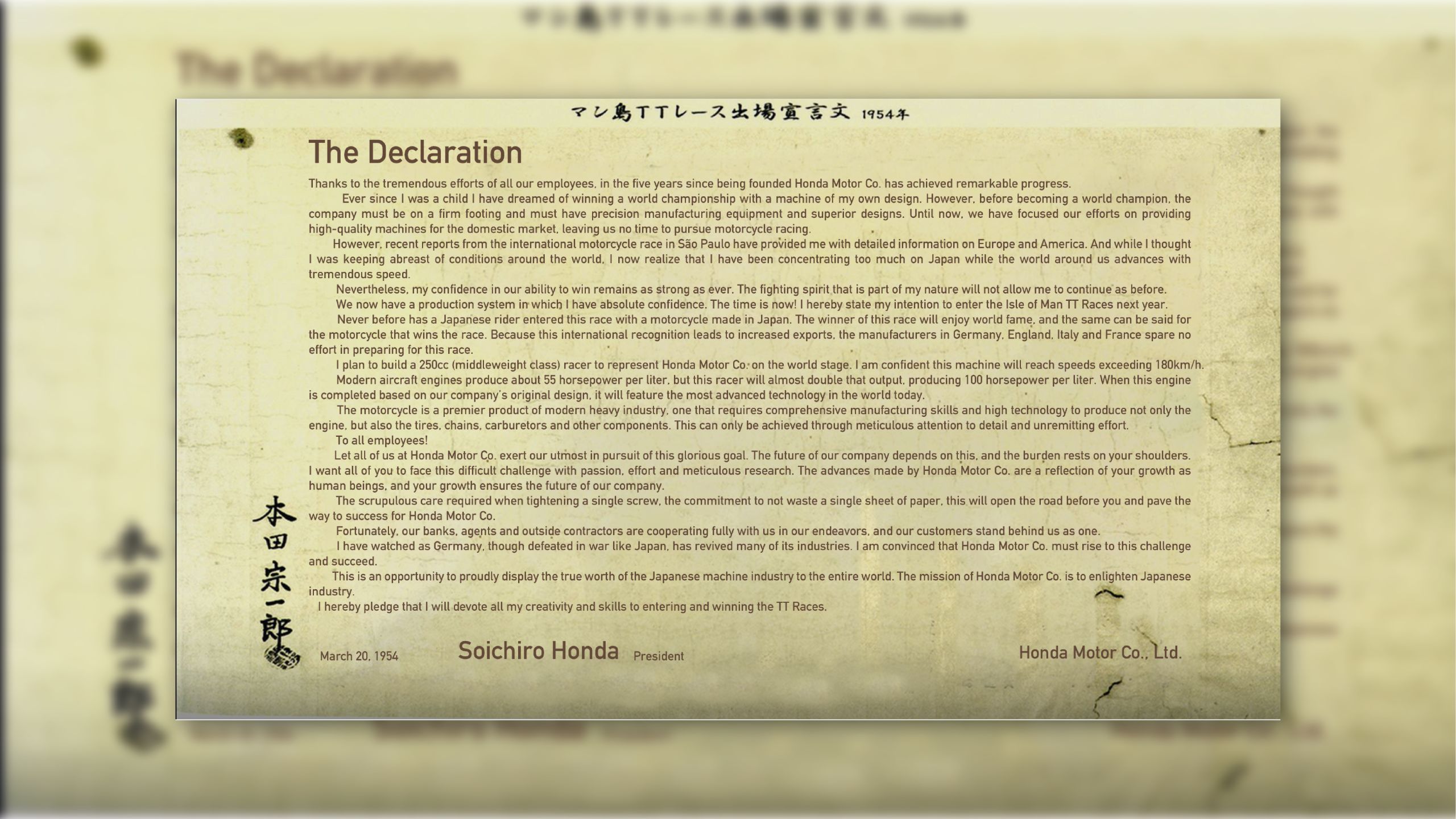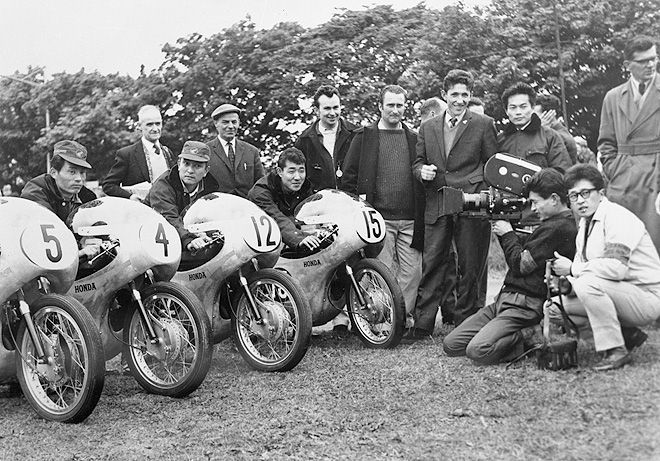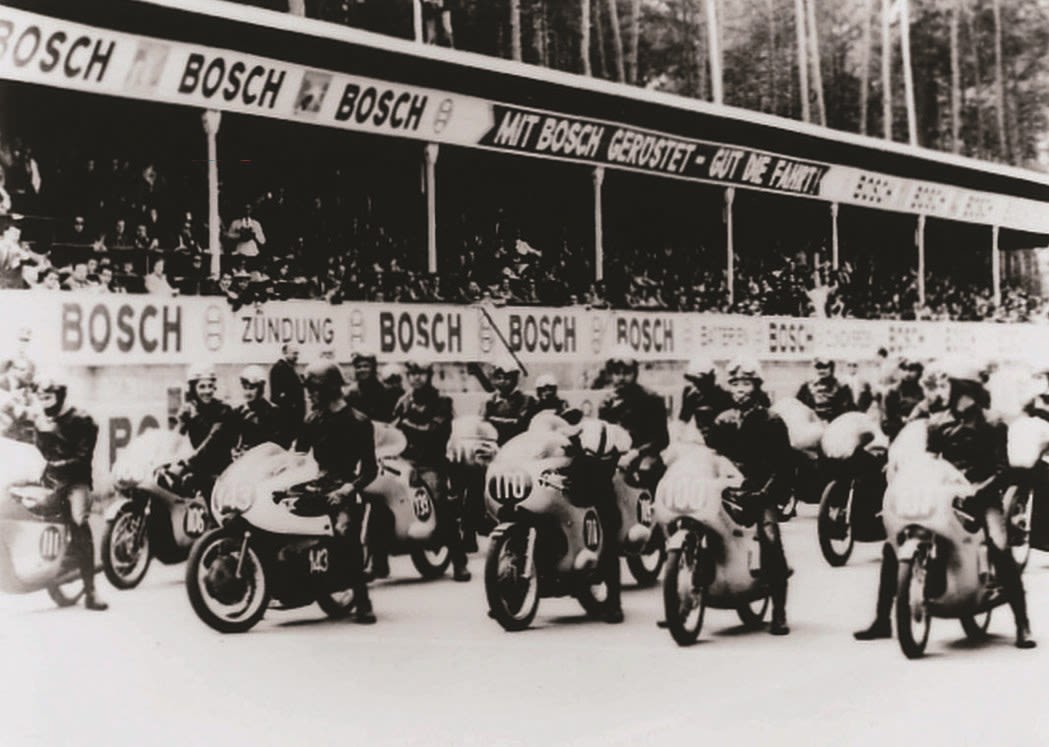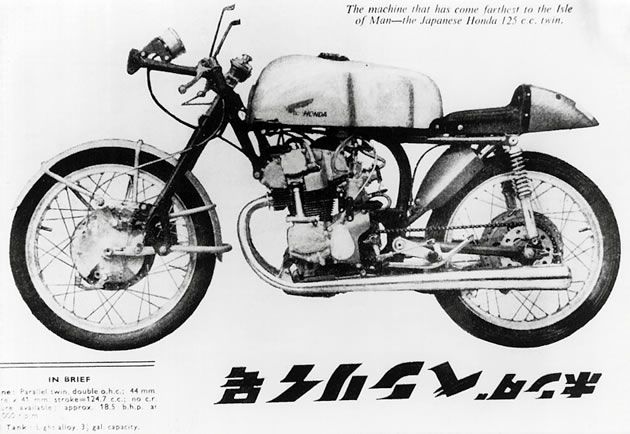 First Steps for Honda
Honda's first race was the Nagoya TT in 1953. It was open to machines up to 150cc. The 144-mile public roads course was Japan's first race on a larger scale. 
In total, 57 machines were racing from 19 varying manufacturers. To compete, Honda entered three Dream 3Es. When all was said and done, they took second, fourth, and eighteenth place. Combined, they took the fastest team time of 13hr. 44min 53sec.  Because of this, they were able to take home the Manufacturers' Team Prize. 
What's most exceptional is that Yasuo Tokunaga, the second-place finisher came in just 18 seconds slower than the winner. This proved that Japanese motorcycles were able to compete at high levels.
In 1954, Honda entered the Sao Paulo City International Motorcycle Race in Brazil. Honda began with the R125, which was a 125cc version of their 146cc Dream E-Type engine. Mikio Omura was the rider and he finished in 13th. 
To fully understand what was needed to win the Isle of Man TT, Soichiro travelled to see it for himself. What he found was that his initial plan to produce 100 horsepower per litre simply wouldn't be sufficient. Other racers were putting out 150 horsepower per litre which would leave Honda in the dust.
Quickly, Soichiro's plans seem to overwhelm him. Instead of feeling defeated, however, he set to dive deeper into research and further development of his racing machines. The goal was to compete in the TT within five years. 
Then, in 1955, Honda entered the Mt. Fuji Race, which was a lightweight bike, all-Japan race. It was also the first year that Yamaha took part in the action. Soichiro Honda led the team himself and set up lodging at the location for a month prior to the race. His efforts and hard work paid off. OHC Dreams, the new 250cc for Honda took 1st,2nd and 5th place. Unfortunately, the 125cc class race didn't fare as well. Race regulations required that Honda change the 4-speed Benly on-site to a 3-speed, and this forced them back into 2nd place.
As time went on, Honda continued to try their bikes out at different venues. They rode in the All-Japan Motorcycle Endurance Road Race and the Second Asama Race as well. From these races, Honda was able to improve its performance and increase reliability. That's also when the HSC, Honda Speed Club was formed. This was the team that would devote themselves to the Isle of Man. Finally, a bike was produced that would push out 120 horsepower per litre and the time came to run it.
Winning a World Championship
Through intense development, Honda hoped to have a bike in the top ten. As their IOM TT debut came closer, there was some uncertainty for the team, yet plenty of excitement. The results of their June 3, 1959 race in the 125cc Lightweight Class were 6th, 7th, 8th and 11th placements.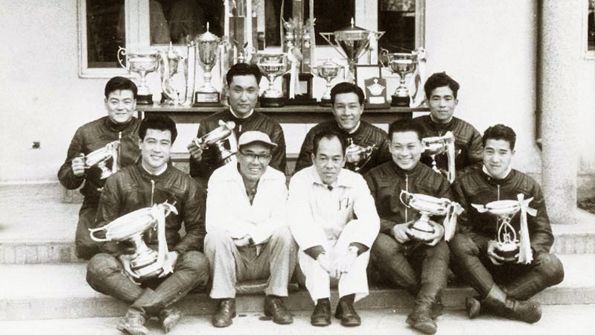 What's exceptional about this was that Honda won the Manufacturer's prize as a result of their effort. No one expected that and it came as a shocker to everyone. 
During that year's Asama race, Honda also debuted their 250cc RC160. It produced 35 horsepower and took 1st through 3rd place. In 1960, Honda entered the machines into the TT alongside the 125ccs. 
The Isle of Man races yielded 6th through 10th and a 19th placement in the 125 race with all 250ccs winning 4th through 6th. Everything pointed to a stellar racing year in 1961. 
Honda intended on entering both classes through the eleven races and put forth all their effort into the Isle of Man. After some more adjustments, the RC162 now produced 40 horsepower. Their first GP debut was during the Spanish GP. Tom Phillis led the 125cc race, coming in 21 seconds faster than the second-place finisher. During the second round, at the West German GP, Kunimitsu Takahashi became the first Japanese rider to win a GP with the 250cc race on an RC162.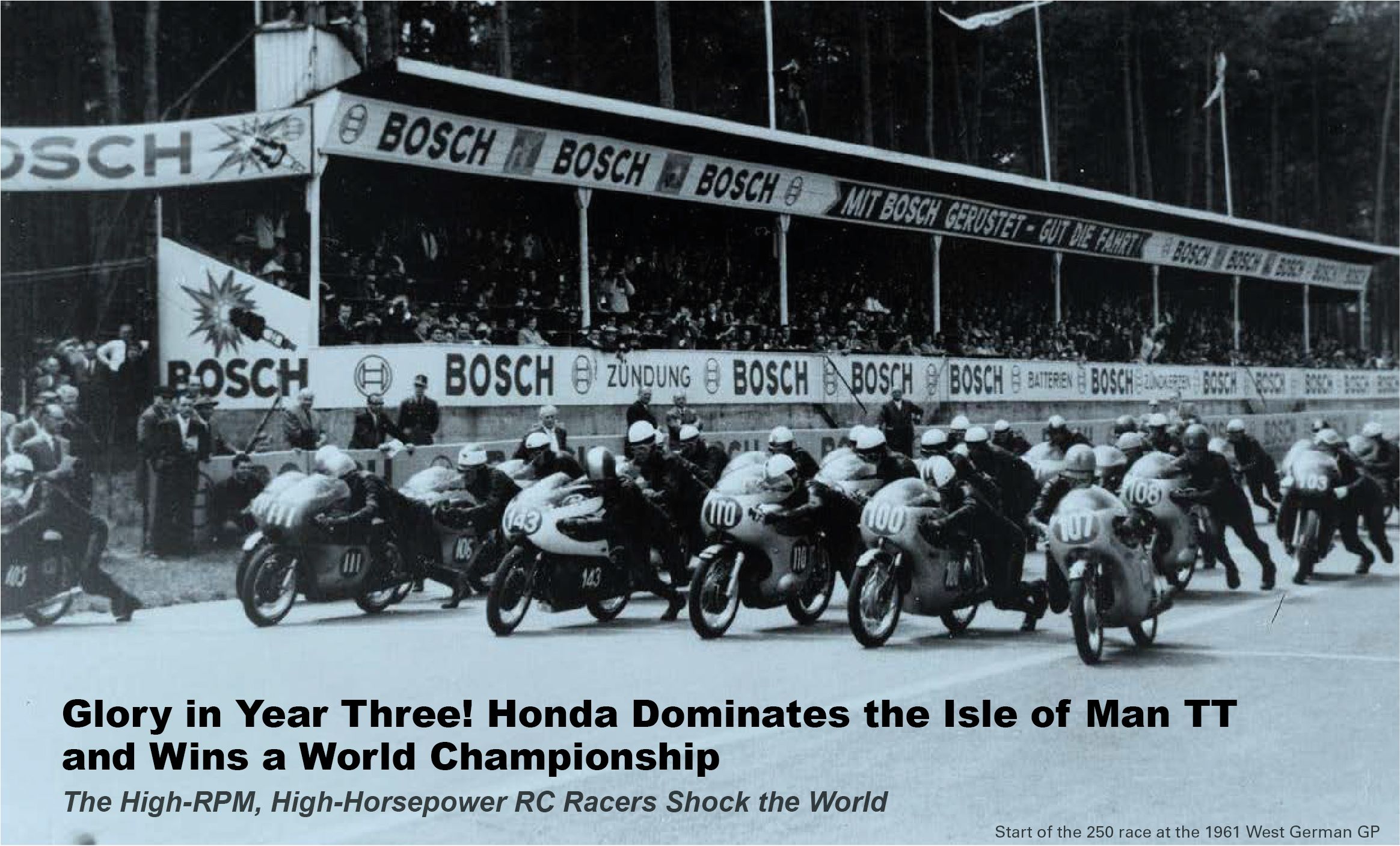 The third round occurred at the French GP. Honda took 1st, 3rd, 5th and 6th places. In total, Honda won eight of the eleven 125cc races during the 1961 season. Honda won ten of the eleven GPs showing their superiority in racing. 
Only seven years after Soichiro Honda made his declaration, Honda was now the leader in the racing world.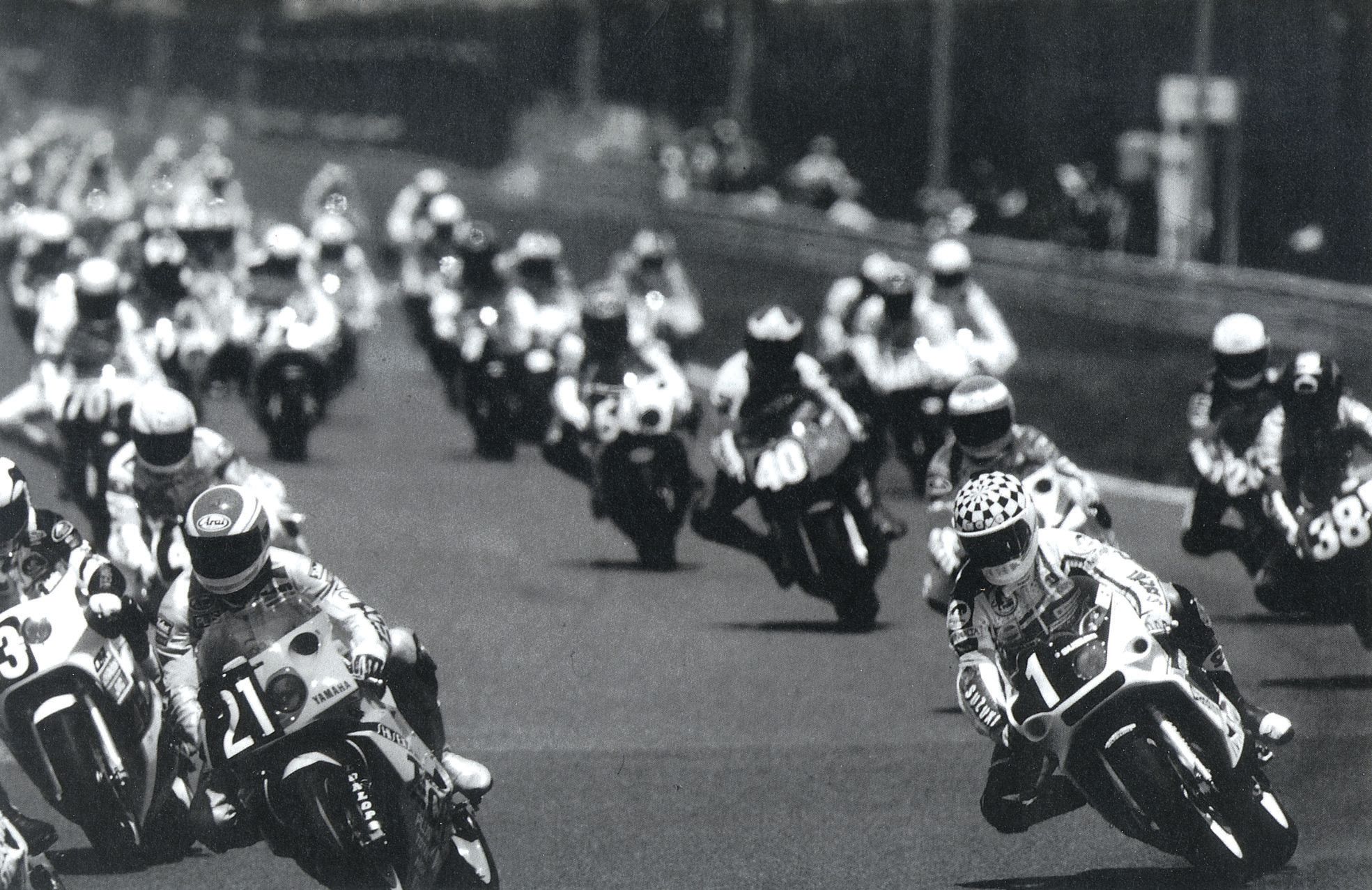 Over the years of Honda's success many names have stood out, most notably the late, great Joey Dunlop.
Joey Dunlop: 26 TT wins, 40 Podiums 1976-2000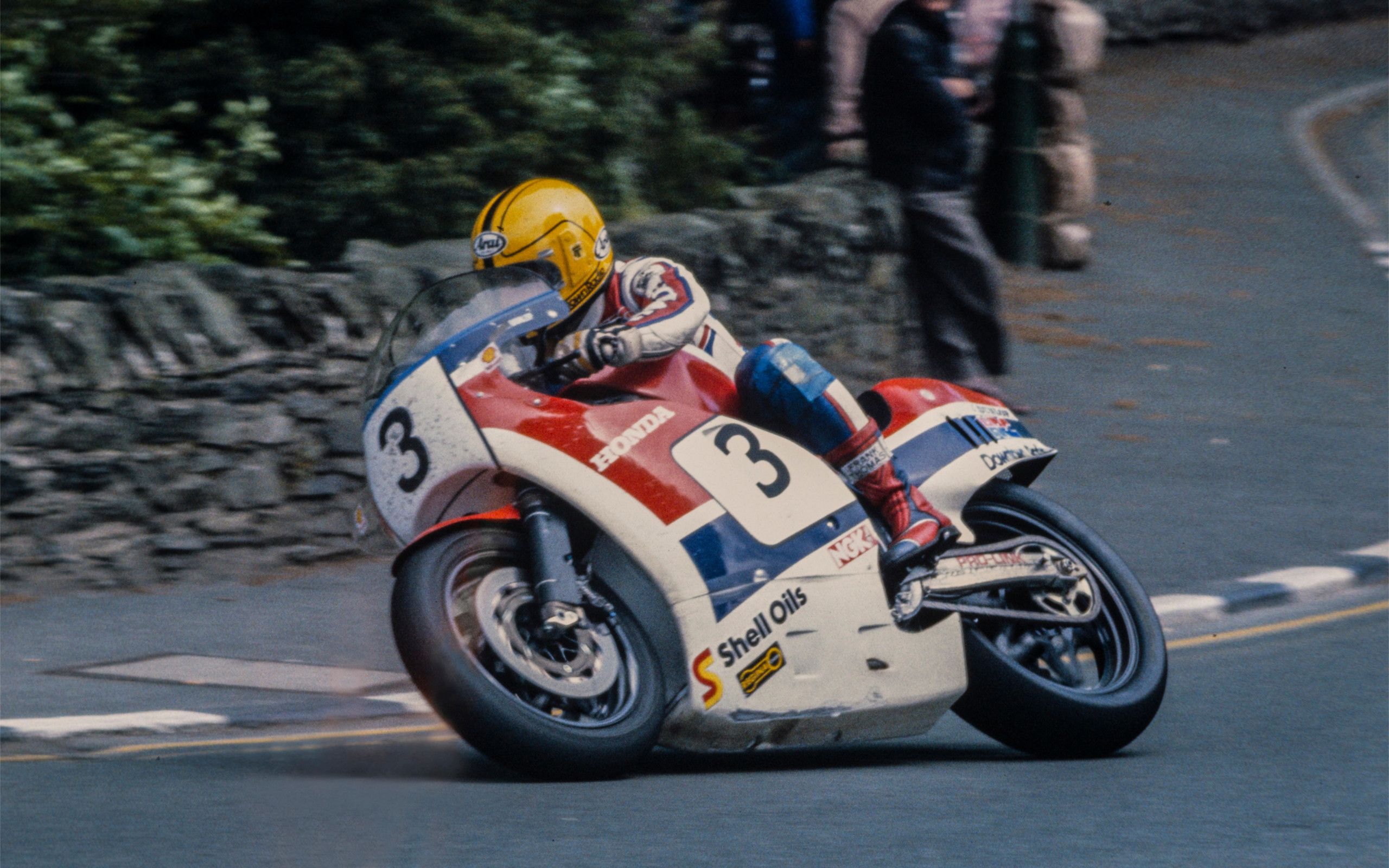 Northern Irish motorcyclist, William Joseph Dunlop OBE, dominated the TT circuit in the 1980s and in 2016 he was voted through Motorcycle News as the 5th greatest motorcycling icon ever, behind Valentino Rossi.
His achievements include three hat-tricks at the Isle of Man TT meeting (1985, 1988 and 2000), where he won a record 26 races in total.
During his career he won the Ulster Grand Prix 24 times. In 1986, he won a fifth consecutive TT Formula One world title; initially based on one race at the Isle of Man TT after the loss of World Championship status from 1977-onwards and organised by the Auto-Cycle Union, the title was eventually expanded to take in more rounds in other countries.
He was awarded the MBE in 1986 for his services to the sport, and in 1996 he was awarded the OBE for his humanitarian work for children in Romanian orphanages, to which he had delivered clothing and food.
Joey sadly died in a racing accident in Estonia on 2 July 2000, but his racing legacy lives on. Dunlop's name is amongst the most revered by fans of motorcycle racing. This iconic stature, coupled to Dunlop's somewhat shy and unassuming persona, has led to him being seen as a true working-class hero. Such attributes deeply endeared him to fans of motorcycling across the world.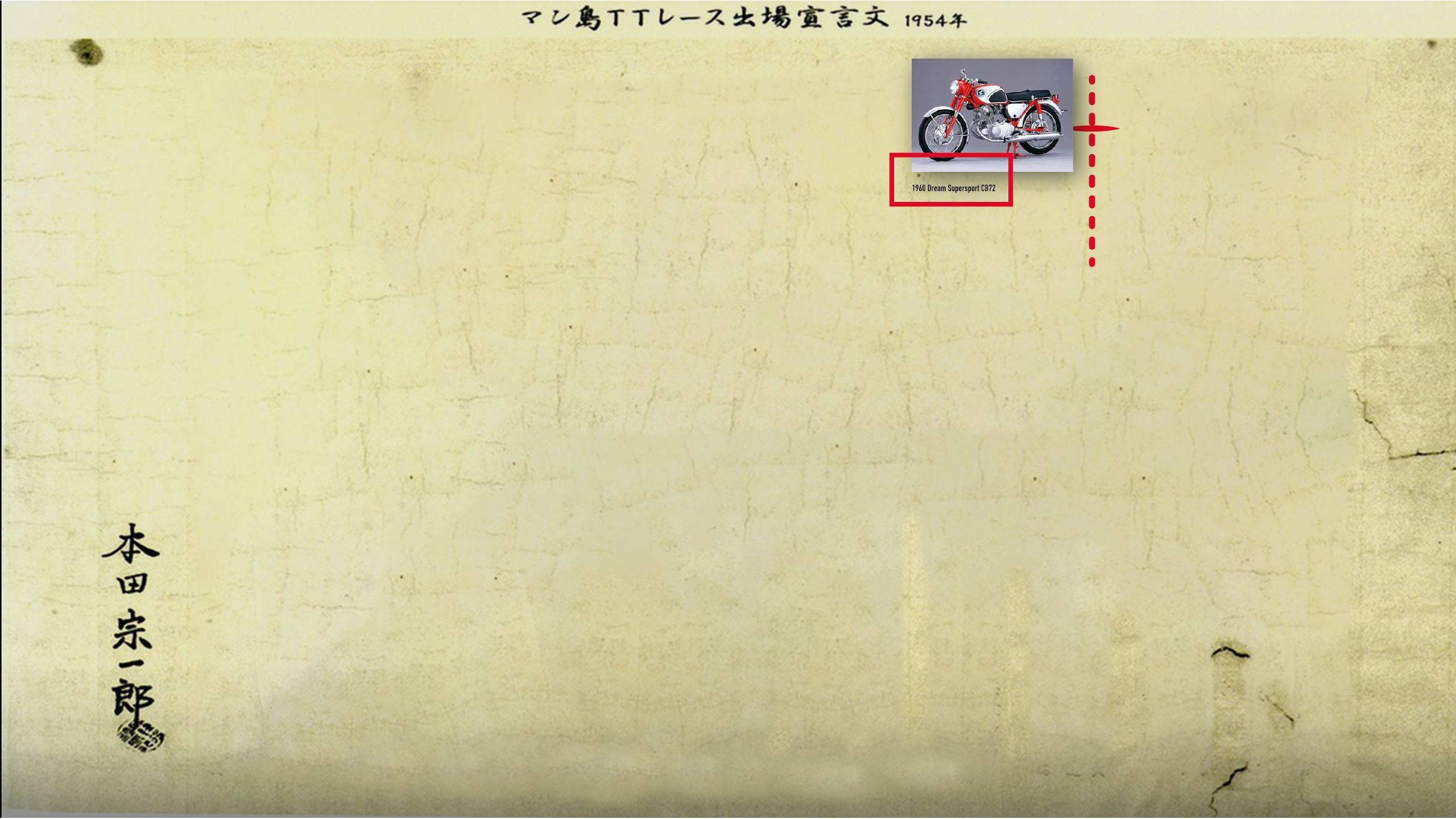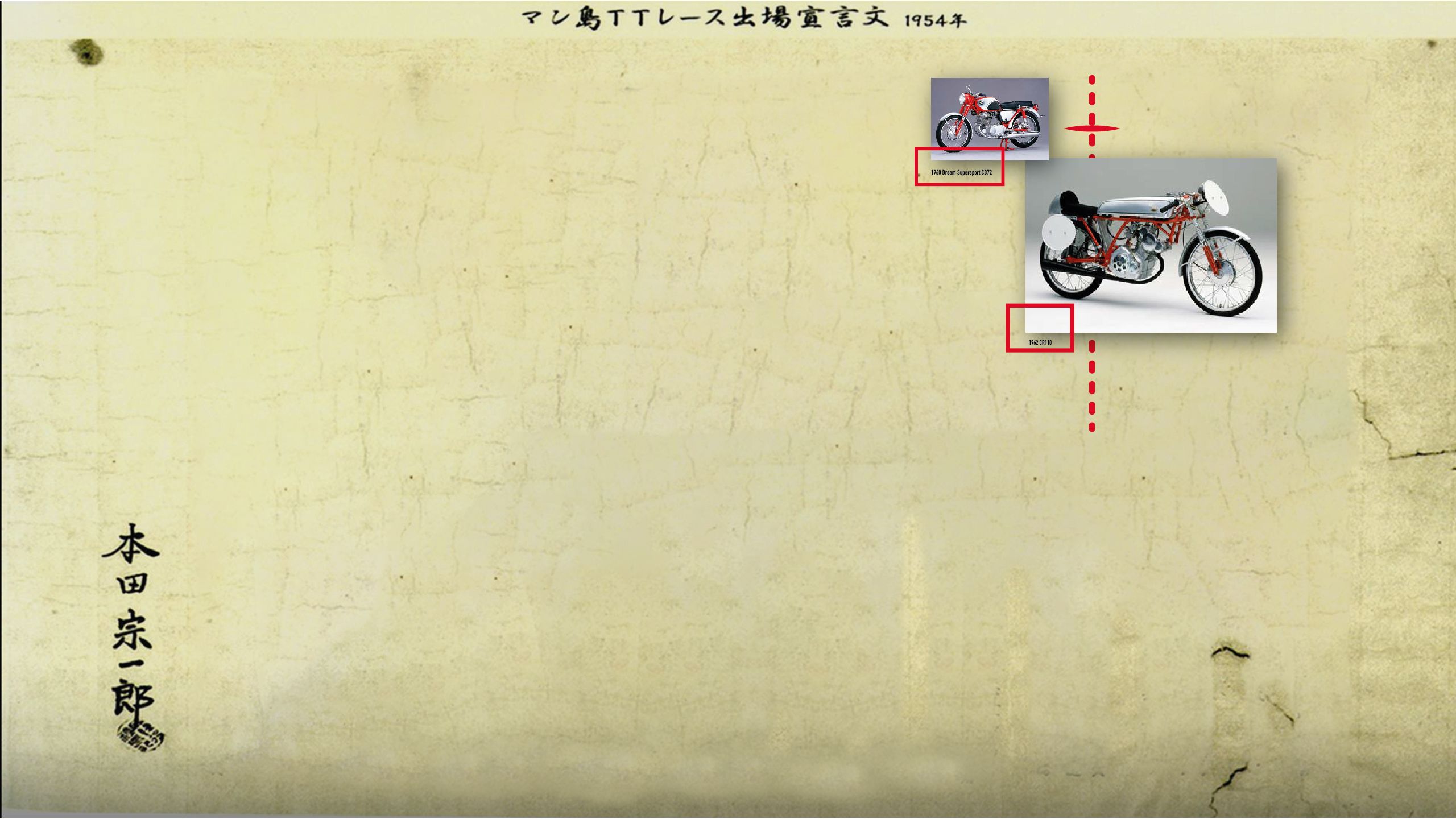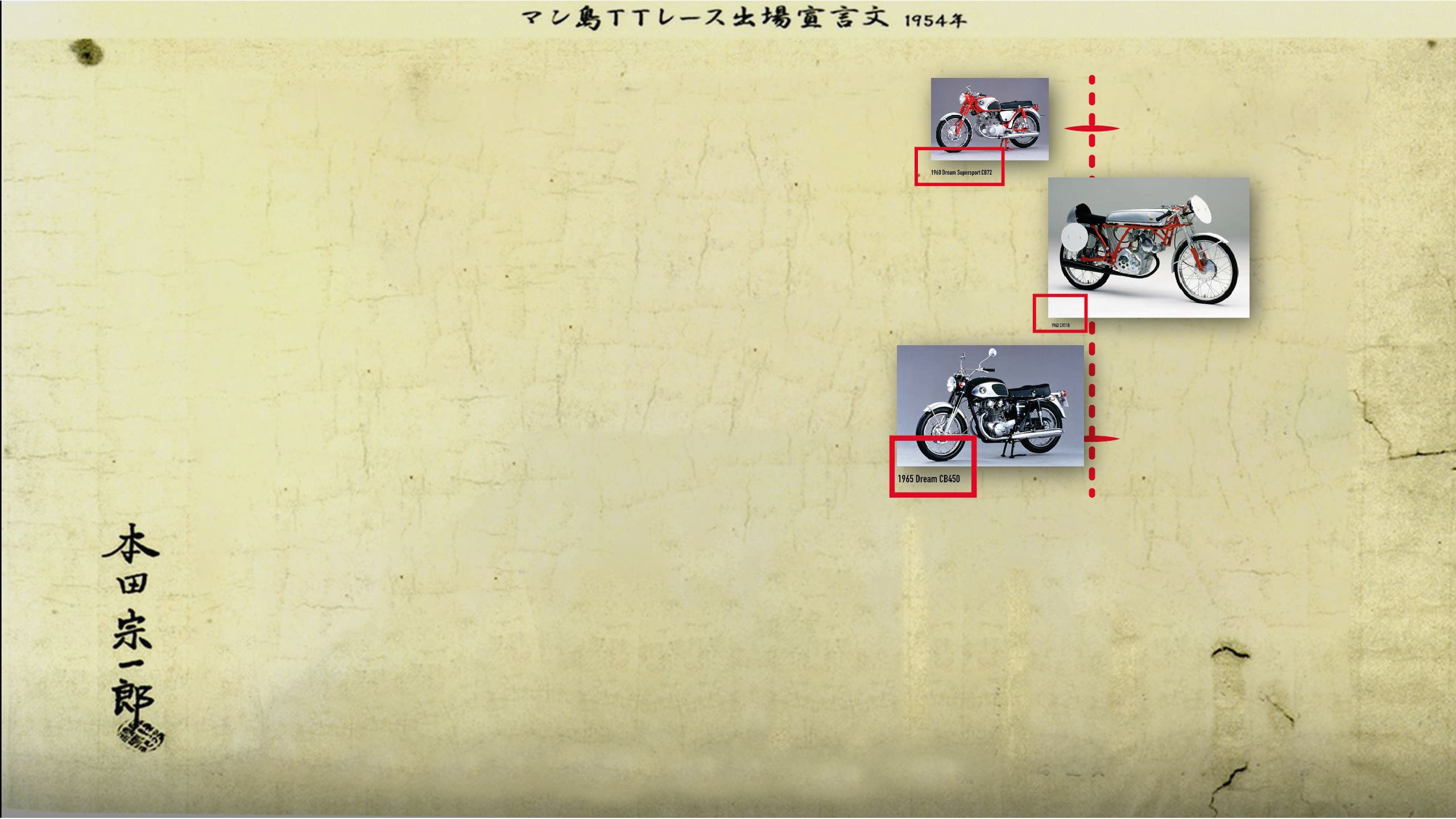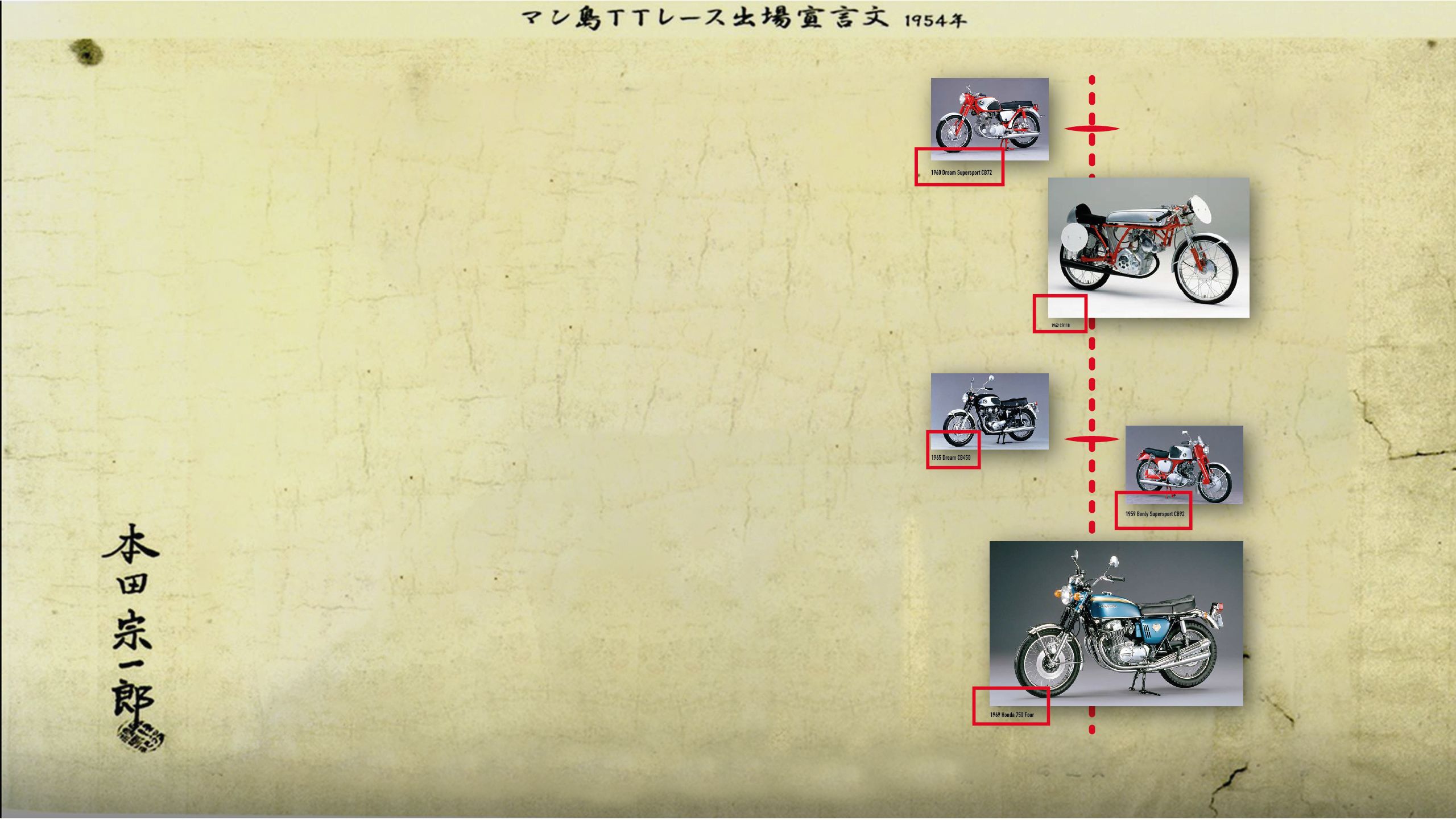 Domination in GP Classes
Honda quickly became the team to beat in GP racing. This brought Yamaha and Suzuki to the table who wanted to challenge Honda's dominance. In 1962, a 50cc class was added. With Honda developing 50cc and 350cc bikes, they were now competing in four classes, making them the largest team in GP racing.
Only a year later, Honda abandoned the 50cc race to develop the machines better. They also won the first GP for the 125 class. Unfortunately, Suzuki followed this up by winning the next eight GPs in a row. 
Honda also introduced the RC164 and won the Manufacturers' and Riders' Championships during the 250 class at the Japan GP. In the 350 class, the RC172 won six of the eight races. 
1965 was the final year of GP in Japan. Honda released their five-cylinder RC148 which pumped out 31.5 horsepower and featured an inline configuration. It finished in second place and held the title for the fastest single lap. In the 250 class, Honda battled some mechanical issues and crashes. This caused them to only win four times out of eleven races. Still, the 350cc class allowed Honda to clinch the title.
In 1967, Honda downsized their team and competed strictly in the 125cc, 250cc and 350cc classes. During the Isle of Man, Hailwood created an astonishing lap record that remained unbroken for a decade. Sadly, Honda announced at the end of that season that they were dropping out of motorcycle racing. The company wanted to focus more effort on automotive development and felt they accomplished what they wanted. 
In their nine years of GP racing, Honda truly became a leader. They won:
138 GPs
29 Class Championships
18 Manufacturers' Championships
16 Riders' Championship
All of this was done just 13 years after Soichiro's 1954 declaration. This only proves that the Japanese company was able to do anything they set their mind to.
From Jim Redman in 1966 on the RC181 to @marcmarquez93 and RC213V in 2019, Honda have taken to the top step of the podium in the premier class 300 times - an achievement no other manufacturer has managed! pic.twitter.com/cs5k15koBs

— Repsol Honda Team (@HRC_MotoGP) 19 May 2019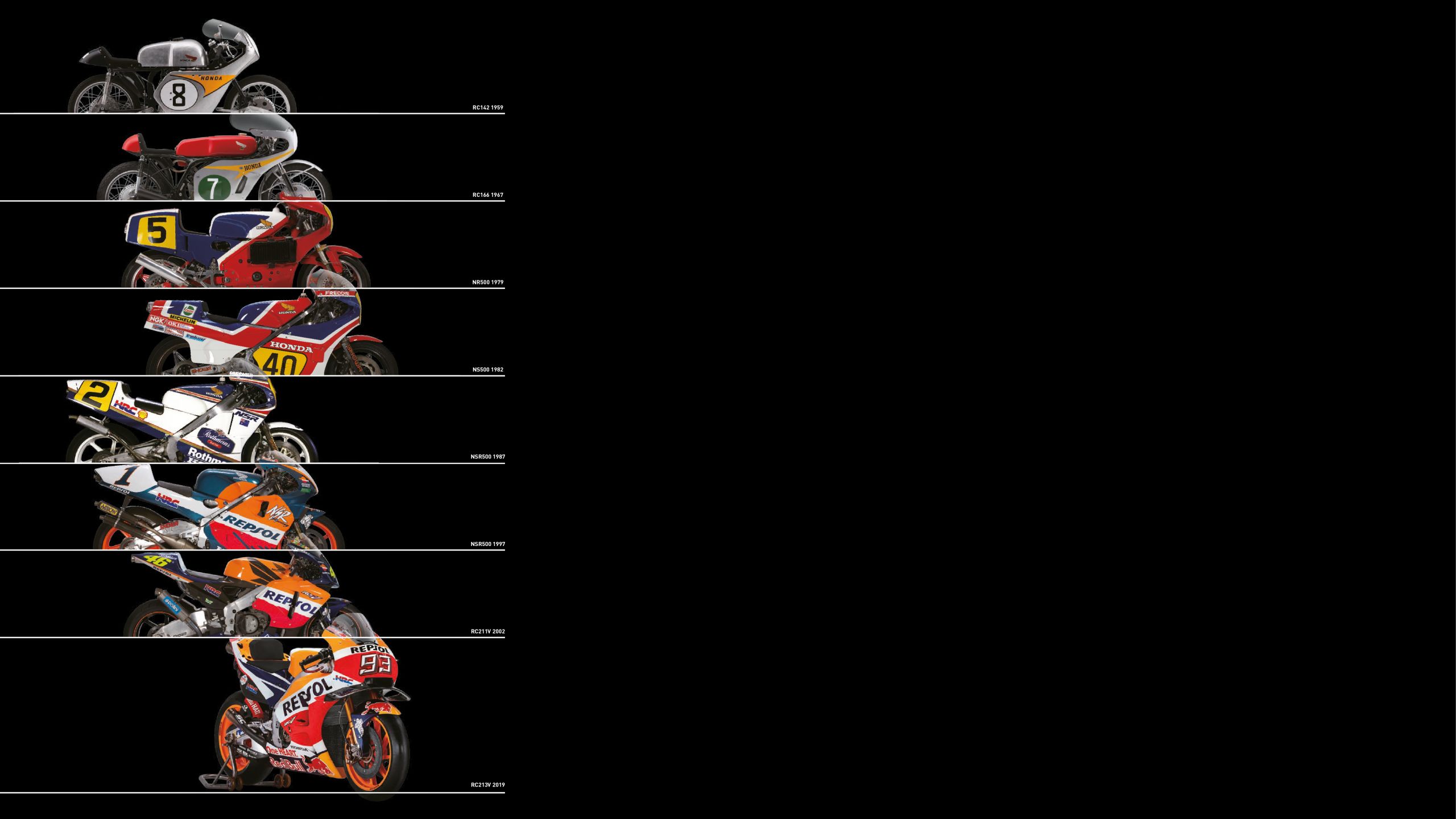 Revolution of Honda Racers
Once Honda withdrew from GP racing, the company went on to develop its first motocross machine. It was powered by a 2-stroke engine and it eventually went on to win a race during the 1972 All-Japan Championships.
Honda was consistently called out to participate in endurance racing. These competitions were more popular than GP racing, so Honda got into the championships starting in 1976. The team consisted of GP personnel and they produced the RCB.
The race operations were on a smaller scale than previous GP-era racing was. Still, the RCB was a factory endurance racer that features some of the latest technology available. This included engine protectors, sealed chains and quick-change brake pads.
The RCB won its first race in 1976 and continued to dominate through 1978. During those years, Honda won 24 out of 26 events. They even earned the nickname, 'The Unbeatable Team.' At the same time, Honda was producing some new street machines, the CB750/900F. With the lightweight design and impressive engine performance, these new bikes set standards that others could only hope to match. 
Honda continued to dominate endurance racing championships for five straight years through 1980. Furthermore, the RS1000 production racer was made through 1982 while the CB1100R race replica debuted in 1981.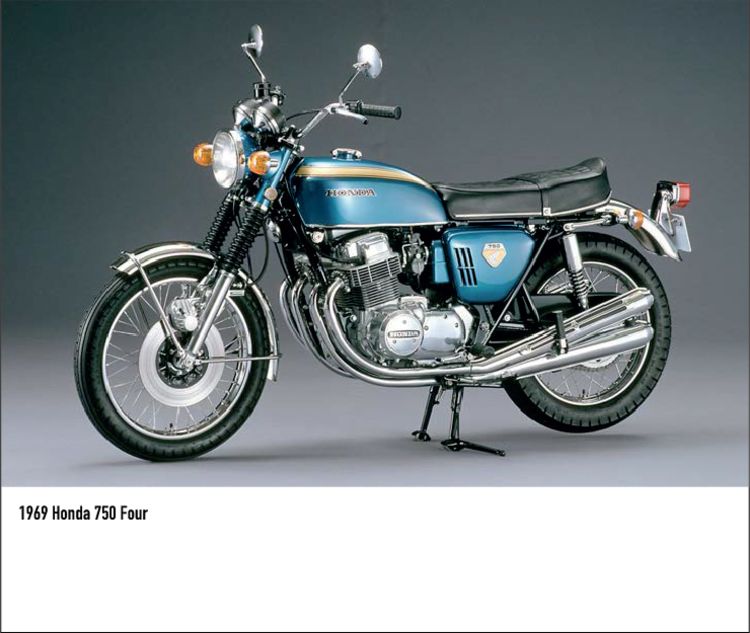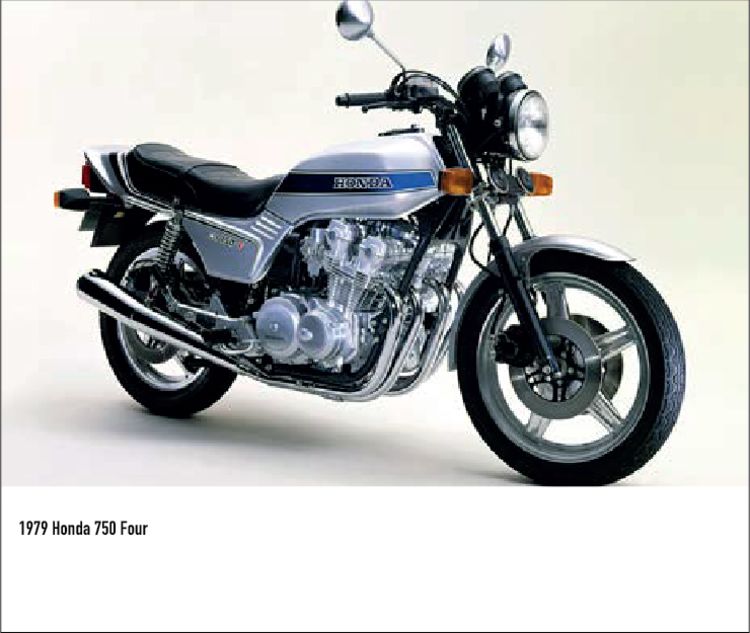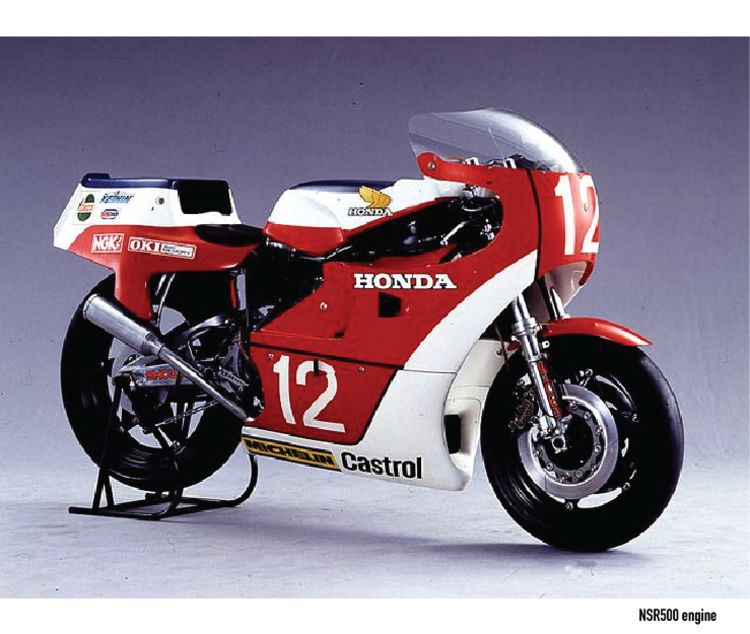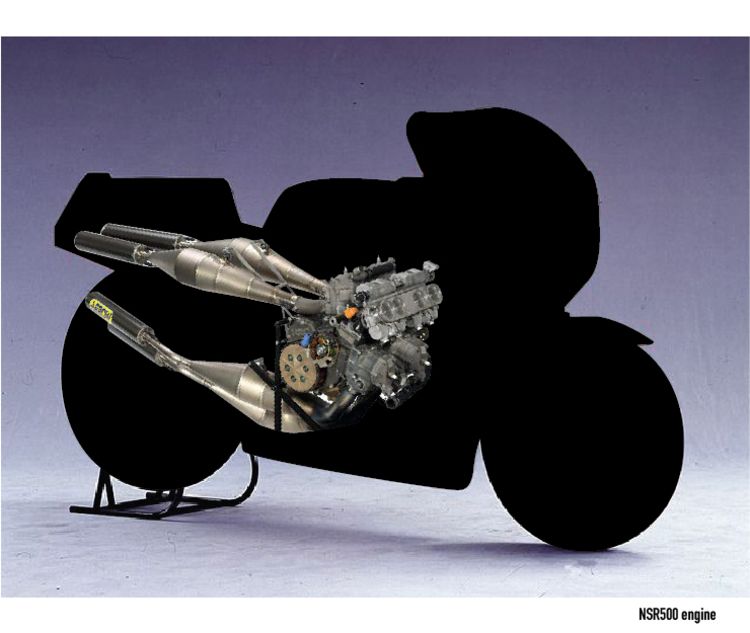 Getting Back to GP Racing
Honda made a dramatic return to racing in 1979. With that, they brought forth lots of new technology and their most innovative machine to date, the NR500. Honda used a separate race department to form and develop this bike. 
To become competitive, the company designed a new 4-stroke engine. Considering the additional effort needed to make a 4-stroke and the added weight involved, the team faced new challenges they had not previously encountered.
Honda wanted to use a 32-valve V8 engine, but race regulations limited cylinders to four. To solve this, Honda engineers used four oval cylinders, which gave it the same efficiency as a V8 engine. Oval pistons mounted to two connecting rods per cylinder. Then, each one was fed via four intake ports and eight valves. This V4 engine acted like a V8. This is how the NR500 was birthed.
Even though Honda was behind schedule, the NR500 debuted during the British GP in 1979. Sadly, the event was a disaster. Within two laps, both of the NR500s needed to retire. It took three years of developing, testing and racing to create the machine the company wanted. 
Eventually, it was able to put out 135 horsepower at 19,500rpm. This made it far more competitive than ever before. In 1980, through three GP events, Honda only achieved a 12th and 15th placement. In 1981, they entered six races and only received one 13th place finish. It also raced during the All-Japan Championship and won the sixth event. After that, it won a heat race during an international competition held in the United States. 
In 1982, Honda debuted the 2-stroke NS500 as an updated GP weapon. While the NR500 let a lot of people down, the lessons learnt during those years proved to be invaluable for Honda's racing future. 
The Next Generation of GP Racing Machines
Honda's NR group became busy developing the next line of motocrossers. In 1979, the team won the 500cc Motocross World Championship along with several other races and championships. The success achieved convinced Honda that winning was the most critical aspect, so they set out to build a new, winning GP machine. To do this, they utilised existing 2-stroke technology designed explicitly for motocrossers.
The Honda concept was compact and lightweight. Honda wanted to overcome the superior handling and exceptional top speeds of the rivals, so they had to focus on weight, aerodynamic efficiency and acceleration. Balancing all of these properties together helped them to create a winning combination.
Honda produced a compact and narrow engine that provided explosive acceleration by the end of 1980. It consisted of three motocross cylinders that were mounted to a single crankcase. The first version produced 120 horsepower at 11,000rpm.
This power unit got mounted in the NR-style chassis. In fact, the suspension in both the front and rear were taken directly out of an NR500. The NS500 was the newest racer to enter the 1982 season. During Round 7 of the Dutch GP, rider Freddie Spencer took the machine to win its first race. It was also Honda's first 500cc GP victory in fifteen years. Later on that year, Takazumi Katayama also won the Swedish GP while Spencer won the San Marino GP. At the end of the season, Spencer clinched third place with the NS500.
For 1983, Honda increased the power to 140 horsepower at 13,000rpm. In an effort to increase low-to-midrange power, the variable timing exhaust valves were then fitted. In addition, Honda made some chassis upgrades which included an aluminium tube frame and some carbon-fibre suspension components. All of these parts worked together to make the bike as light as possible.
Spencer continued the 1983 seasons on the NS500 as he fought with Kenny Roberts for the title. Roberts raced on a Yamaha YZR and was dubbed the 'King.' Still, the King didn't have the passion and drive that the younger Spencer came to the race with. Spencer was able to perform some two-wheel drifts that didn't seem physically possible during the race. During the twelve rounds, Honda and Spencer took six poles with six wins, beating Roberts by two points for the championship. This was Honda's first 500cc GP Riders' and Manufacturers' title in more than fifteen years. 
Honda planned to replicate the performance by creating an RS500R racer, which became a beloved bike by privateer racers worldwide.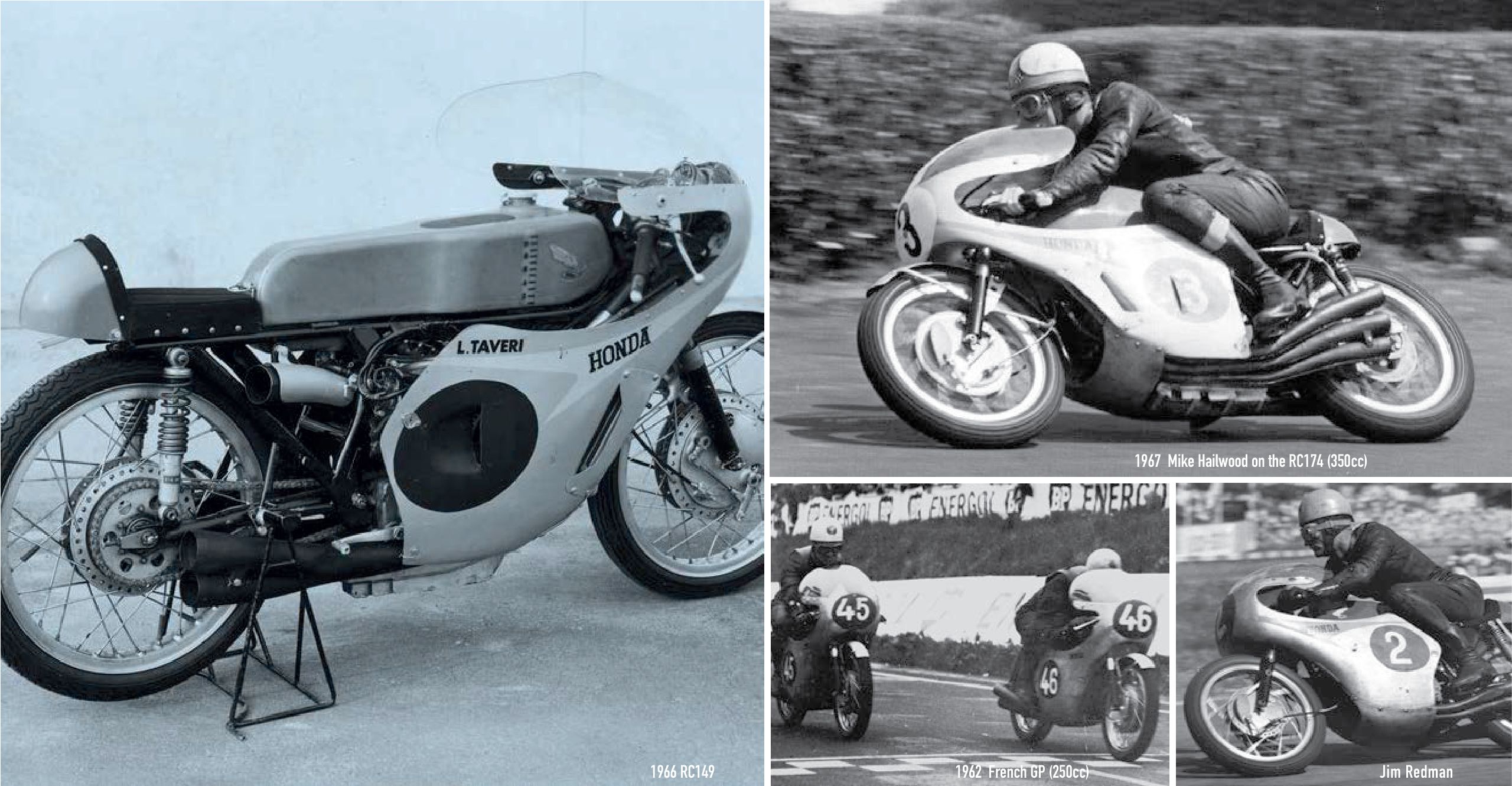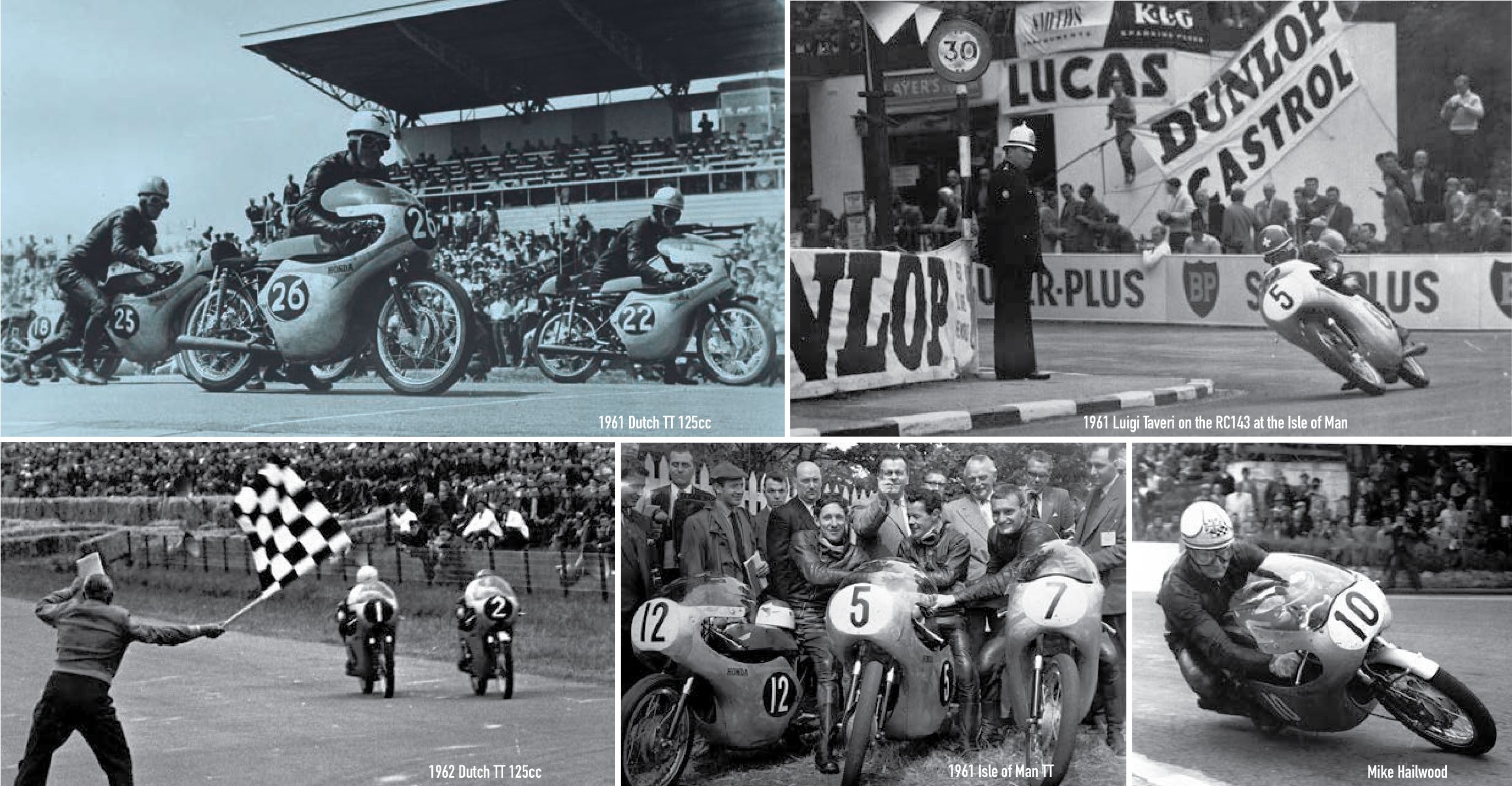 Growth from GP500 to MotoGP
As time goes on, GP racing increases the speeds, so new tracks were added. This meant the NS500 reached the end of its life because it wasn't going to provide enough power. Honda needed to create a new machine that pumped out maximum amounts of horsepower.
To meet the new demands, Honda made a single-crank 90-degree V4 engine with crankcase reed-valve induction. This bike earned the name NSR500 and debuted in 1984. What was unusual about the design of this bike was the fuel tank which was mounted below the engine. The bike had an increased width that helped create a lower centre of gravity. The result was a highly responsive bike complete with innovative technology.
Still, there were numerous problems with the bike. The expansion chambers had complex curves, which led to issues with durability. In addition, the changing fuel loads affected handling in negative ways. Even though Spencer won three races while using the bike, he switched back to the NS500 in the middle of the season and finished in fourth place.
At the same time, the NSR500 was developed, Honda also created the NSR250. This 250cc, V-twin was basically just a half of the V4. Spencer continued to make history when he won the 250cc and 500cc in the same year with these bikes. During 1985, he won seven of the twelve GPs, with his first 250 title and second 500 crown. It's no surprise that Honda also won the Manufacturers' title with both classes that year. It was one of the most memorable years of racing for Spencer and Honda alike.
During the 1986 season, Spencer faced injuries that kept him from competing. That's why Wayne Gardner took his place and won the second spot during the championship.
Engine development during this time took a hard focus on smoother power delivery over output. The 2-stroke engines with 150 horsepower were more than what was needed to get the job done. The newest generation of biked needed to be rider-friendly for competition.
NSR500 Racing Success
In 1987, Honda changed the exhaust layout. They also adjusted the cylinder angle and added a primary balancer shaft. This created a brand-new four-shaft engine. With this smoother-running engine, Gardner took the title and won seven of the fifteen GPs. Once again, Honda walked away with the Manufacturers' Title. 
The next step was to update the tyres and chassis to handle the stress of the new engine. In 1988, Honda built an updated frame that featured an adjustable head pipe plus they added some new suspension components. These updates enabled Gardner to win three races in a row during the mid-season. Still, he ended in 2nd place. 
Gardner faced an injury that led to his replacement in 1989. World Champion, Eddie Lawson took over for Honda. He won the title for the year, but not because of any new technology. 
Then, in 1990, the 'Big Bang' engine was produced. While it created a slight reduction in maximum power, it had improved torque caused by the increased amplitude of combustion waves. In addition, traction while accelerating was also improved upon. Lap times started to drop significantly and the bikes became easier to ride. 
Honda made several chassis upgrades during this time including expansion chambers, titanium parts and other tricks to reduce the weight. This is also the time that Mick Doohan came to ride for Honda. In 1992, he rode to victory during a rain-sodden race. Still, he suffered a massive injury to his right leg during the Dutch TT which cut his winning streak short.
In 1993, Doohan returns, although he had not completely recovered. He won one race but ended up taking fourth in the championship. In 1994, Honda added a water injection system to the exhaust, which improved efficiency during lower rpms. They also added electronically controlled damping in the rear suspension. Doohan rode the NSR, but it now required him to use a thumb-operated rear brake lever. Still, nothing was stopping him and he went on to win nine of the fourteen races that year. He also took the Riders' title while Honda won yet another Manufacturers' title. 
This was only the beginning of a nice streak of victories on the NSR500. For the next few years, Honda enjoyed immense success.
1995 – 9 wins during 13 races (7 for Doohan)
1996 – 13 wins during 15 races (8 for Doohan)
1997 – all 15 wins (12 for Doohan)
1998 – 13 wins during 14 races (8 for Doohan)
1999 – 9 wins during 16 races (Alex Criville replaces Doohan who retyres)
For six straight years, Honda won the Riders' and Manufacturers' titles. During its peak, the NSR500 produced 180 horsepower, allowing it to compete against 200 horsepower MotoGP bikes.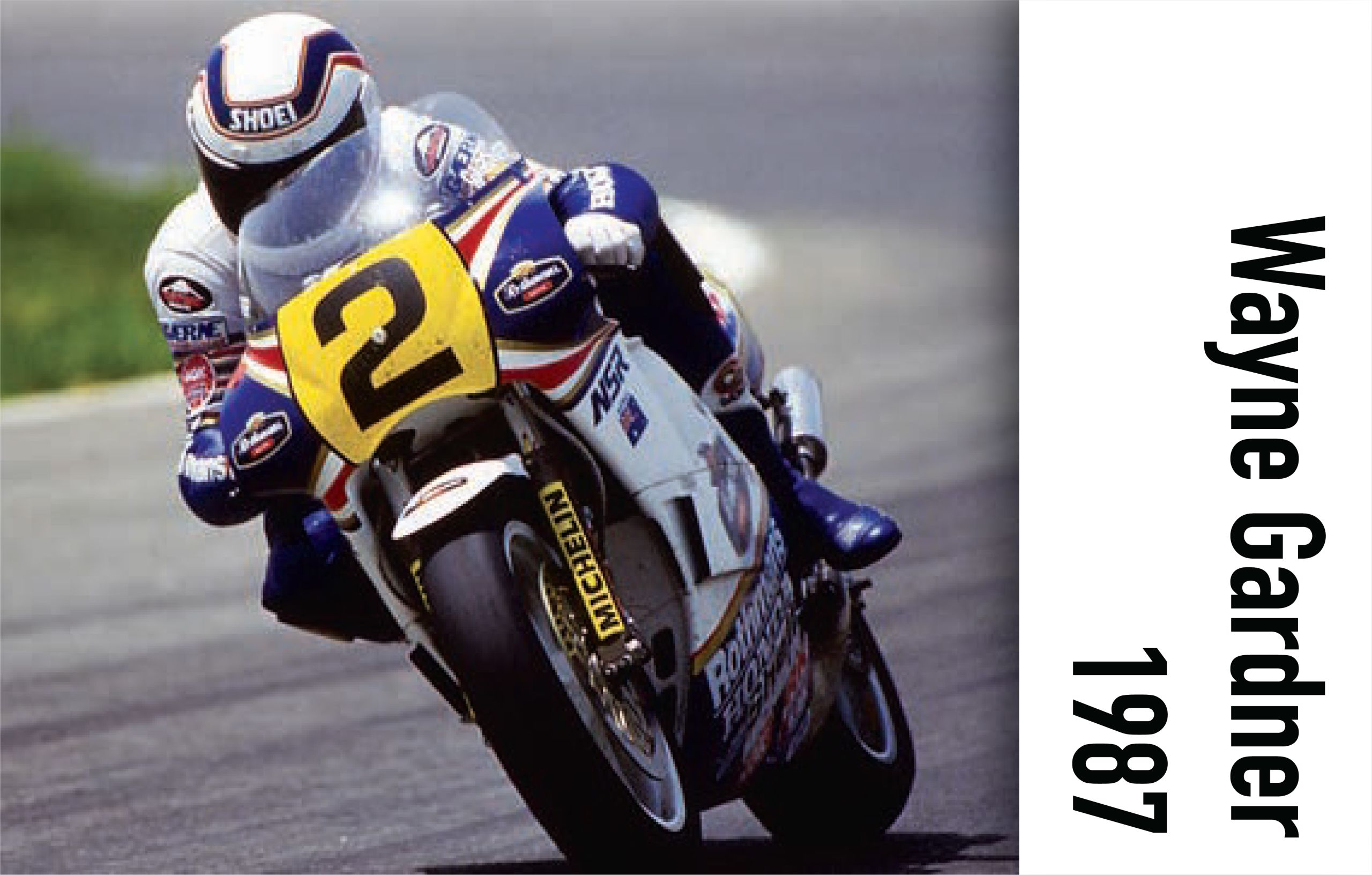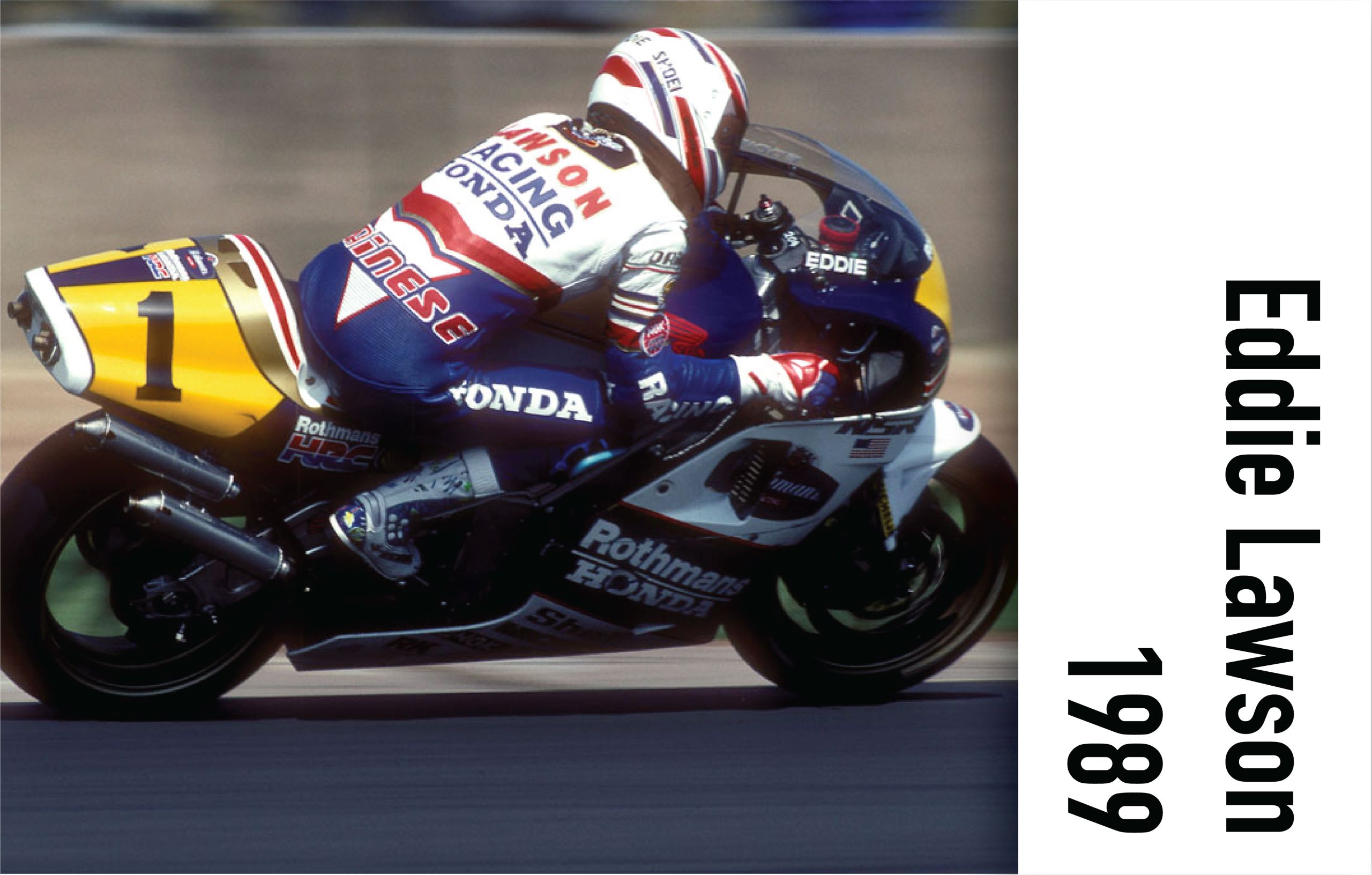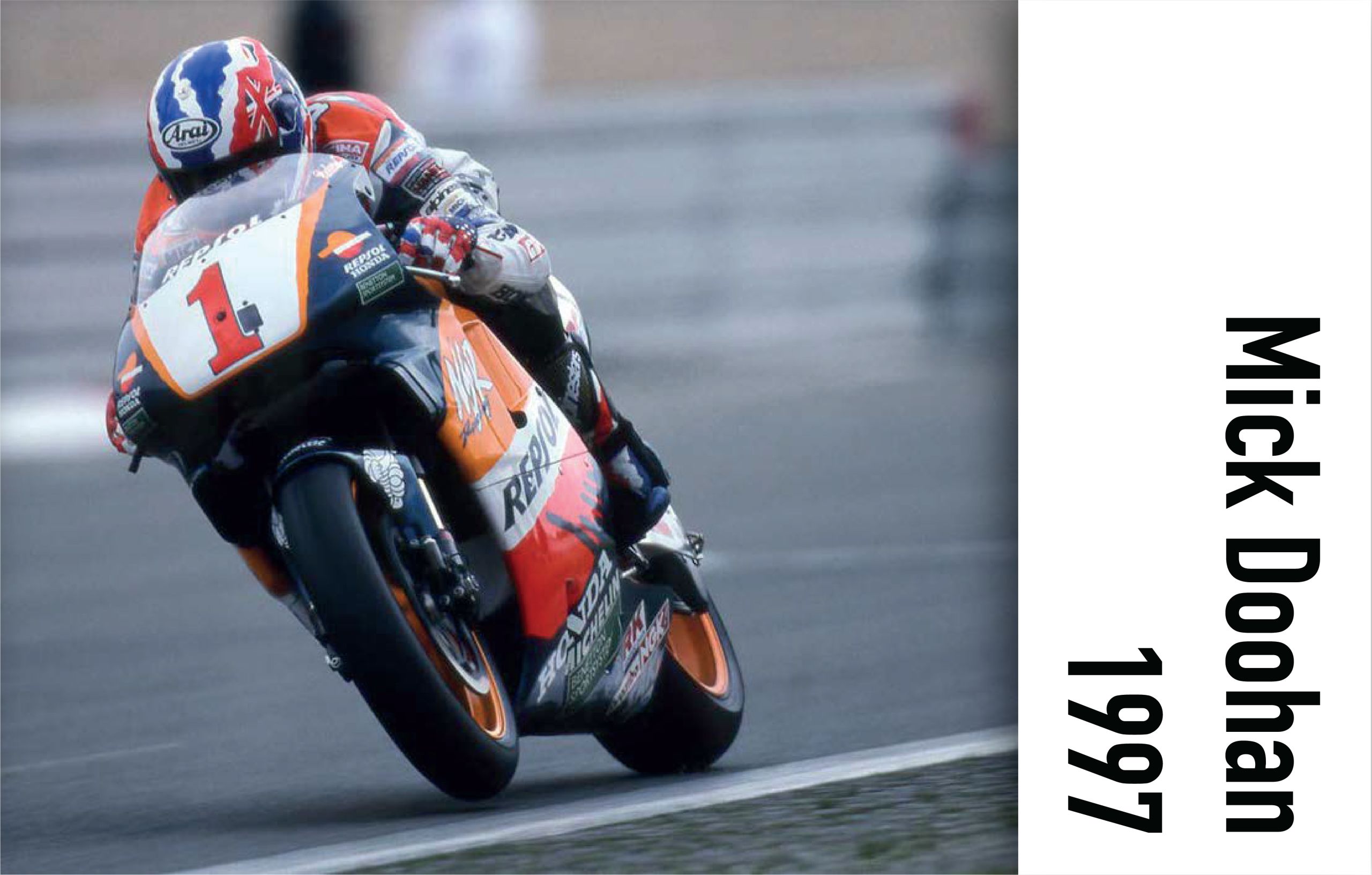 21st Century Machinery
Honda produced the RC211V to race during the 4-stroke MotoGP series, starting in 2002. The engineers used what they learnt from the NSR500 and created an exceptional chassis geared for performance paired with a rider-focussed engine. After evaluating various V6s and V-Twins, the company finally decided to go with a V5 layout. This provided optimal weight and power to make the racing machines even better.
In the RC211Vs first race, Valentino Rossi set the track record during qualifying. Then, he went on to win the race even though the ground was wet. From there, he won eight more races and finished with eleven wins. Rossi was hailed as the first 4-stroke MotoGP champion. Honda couldn't ask for much more from its debut season.
There were no changes made to the bike for the 2003 racing year, and it still won fifteen of the sixteen GPs and landed on the podium for every race. This led Rossi to get his second consecutive championship through the nine races he won. 
In 2004, Honda updated the RC211V's engine. Power output was now well over 220 horsepower, so some extra control was needed. The engineers reduced the stroke by causing several cylinders to fire simultaneously. They also adjusted the exhaust layout and joined some pipes together. While they didn't win a rider's championship for the year, six of the RC211Vs finished in the top eight and Honda won the fourth Manufacturers' championship in a row.
Honda continued to be the team to beat.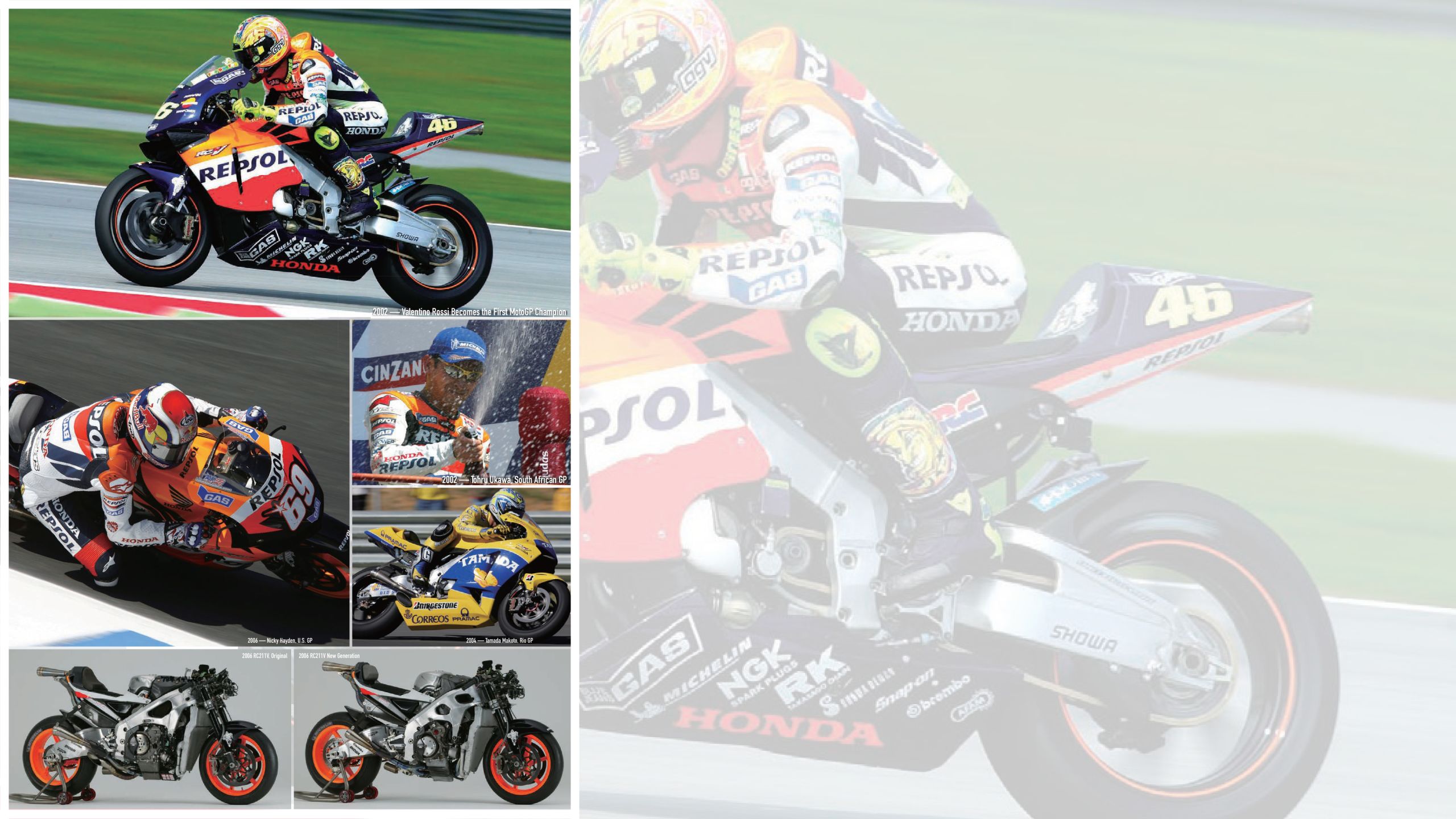 Difficulties Will Arise
In 2005, trouble loomed over the Honda team. They tried out three varying engine options and different chassis. Then, they faced crashes and engine trouble leading them to earn no points. By the end of the season, the RC211V only won four of its seventeen races. 
Through this adversity, Honda birthed another machine. Not only did it feature a compact chassis and engine, but it was ready to race for the new 800cc regulation season arriving in 2007. 'The New Generation' featured a longer swingarm for additional handling. For the 2006 season, Honda had the 'Original' RC211V and the 'New Generation' available. Five of the seven RC211V models that entered the 2006 finished in the top ten. During Round 3, all three of the podium spots were filled with Honda riders. In fact, it was the year that Honda won every title available. They took the Rider's, Team, Manufacturers' titles and Rookie of the Year. 
In 2007, Honda also produced the upgraded RC212V, but it lacked power and required major engine improvements. This was performed in 2009. Additional changes included a pneumatic valve actuation in 2008 and an upgrade to a seamless transmission during 2011. Both of these helped the bike to perform better. The comeback year for Honda occurred in 2011 when Casey Stoner, along with the Repsol team, won thirteen of the seventeen races. This brought Honda its first triple crown (rider, manufacturer and team victories) in five years.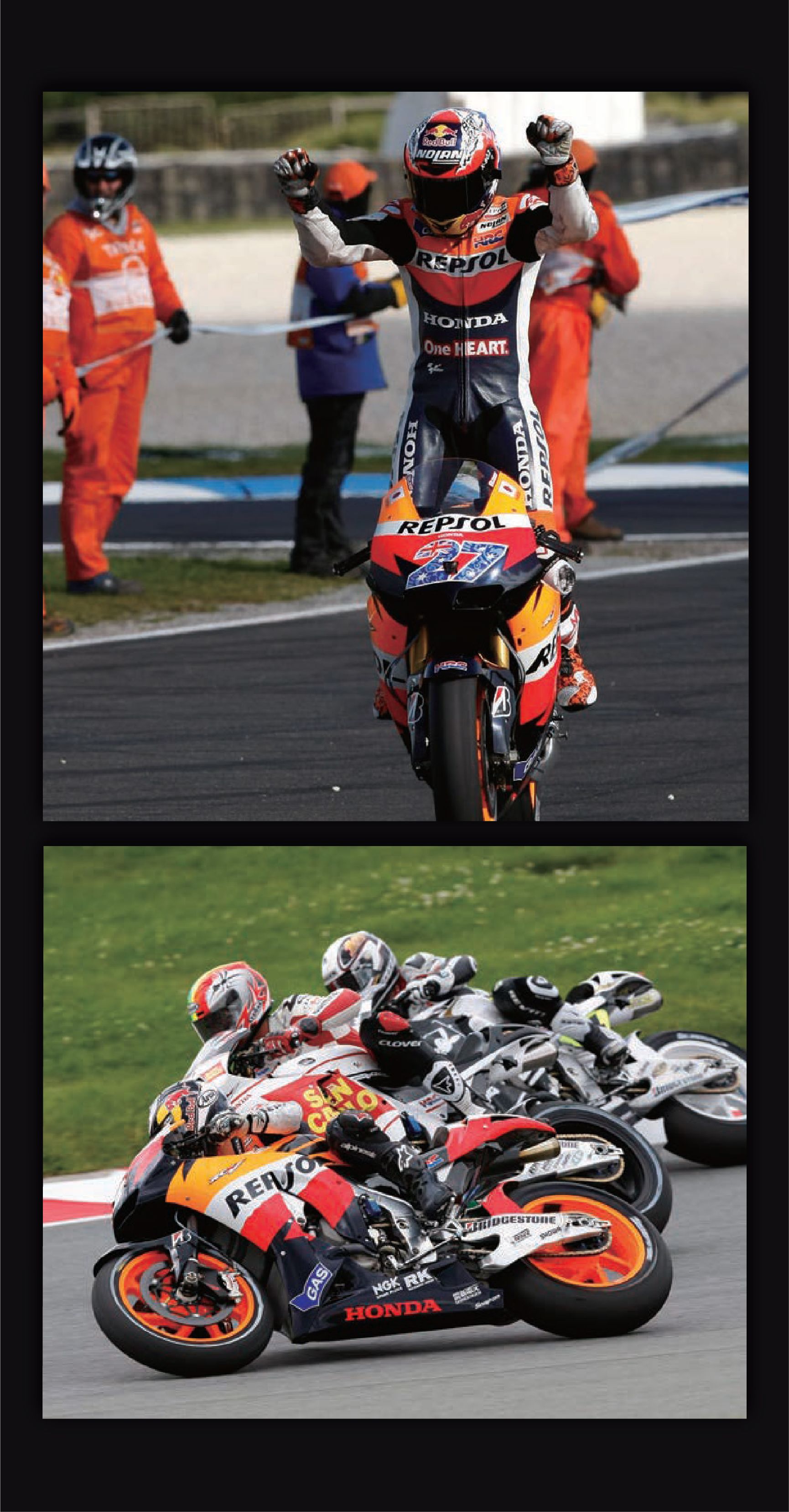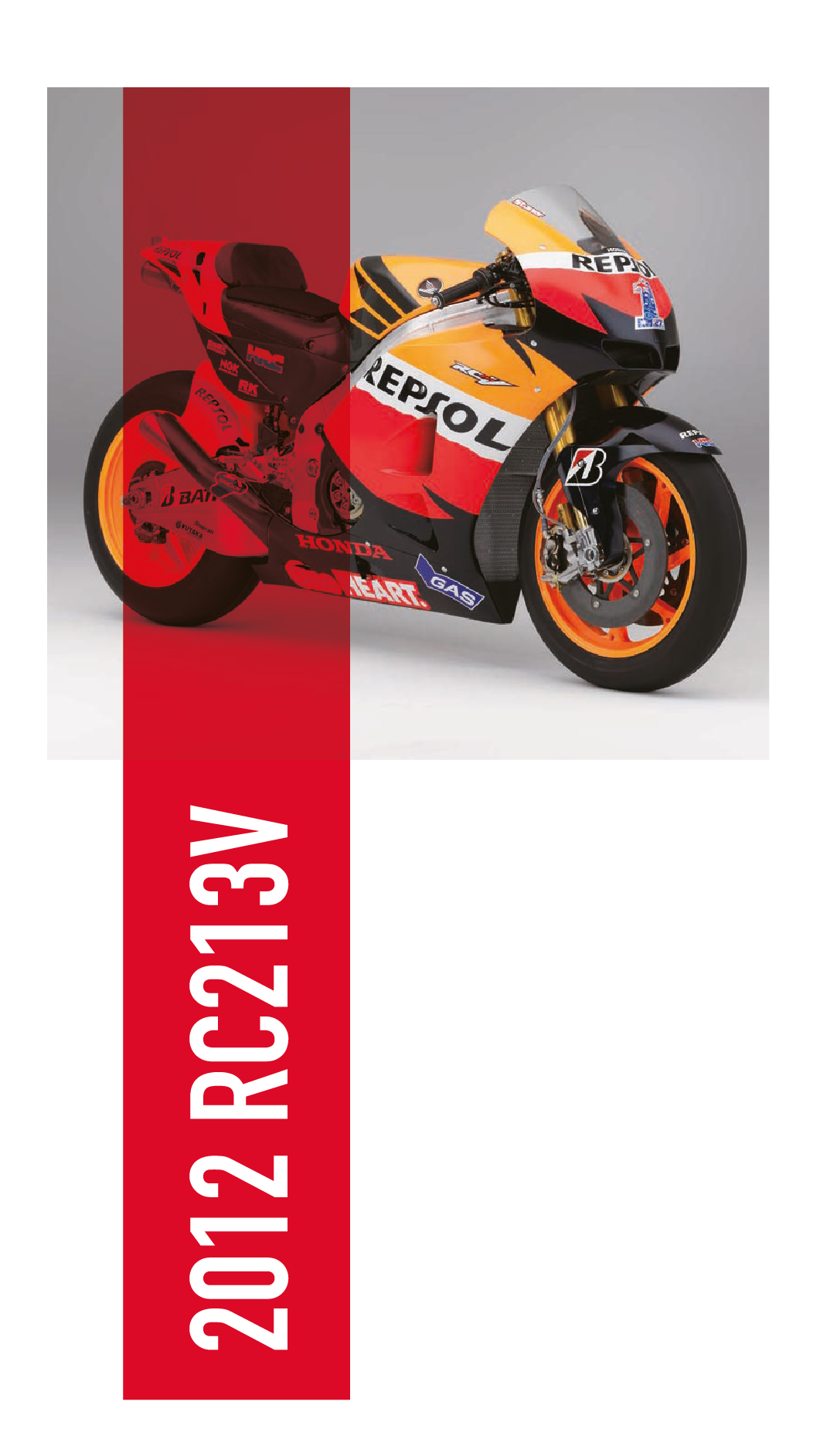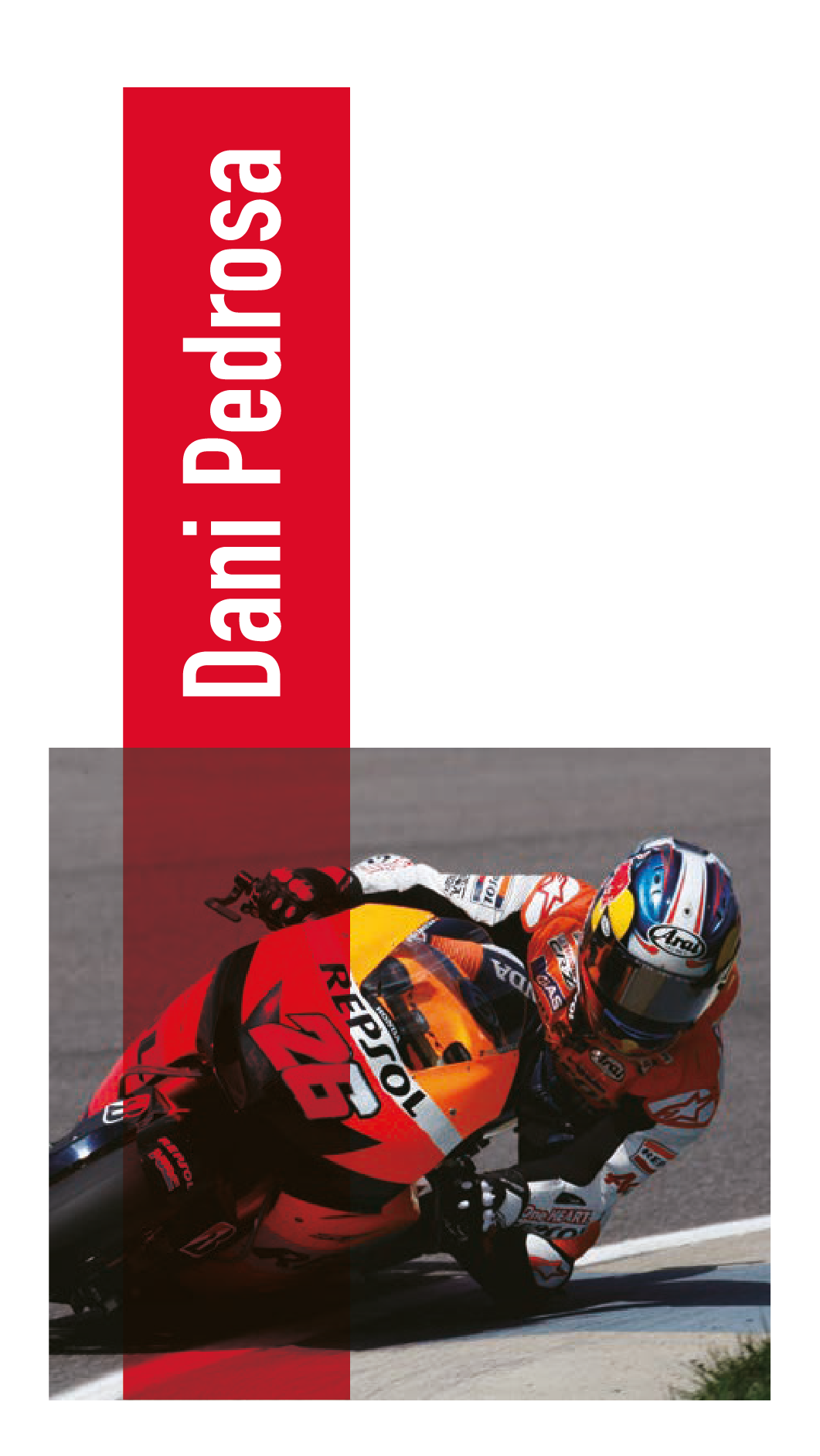 1000cc Culture
It was in 2012 that MotoGP went to 1,000cc four-cylinder engines. Both satellite and factory teams ran prototype machines that were supplied by manufacturers. Plenty of regulations were also implemented to keep the playing field level and make the sport interesting. One example of this was how Bridgestone was the only tyre supplier allowed to be used for several years. Furthermore, there were some prohibited technologies such as variable exhaust systems, ceramic compound brake parts, tyre temperature sensors and metal matrix composites.
Starting in 2012, MotoGP wanted to ease up on some of the regulations, so they allowed modified production engines placed in custom fabricated frames. Beginning in 2014, an open class was created that allowed ECU software which permitted larger engines and additional fuel tank capacity. To keep up with the changes, Honda developed its RC213V. It was based on the RC212V 
In 2012, Dani Pedrosa won seven of eighteen races with the RC213V. He was also on the podium fifteen times, but he failed to win the championship by 18 points. In 2013, Marc Marquez won six of the eighteen races and stood on the podium sixteen times. He even won the title by four points. During 2014, Marquez continued his streak and won ten consecutive races. He also broke Doohan's record from 1995 on the NSR500. In 2015, the Honda racing team hit some trouble. Marquez only took third for the title. 
Eventually, in 2016, the open class was discontinued and everyone participating needed to use the organiser's ECU and software. In addition, only seven engines were permitted each year and the minimum machine weight was 157 kg. The changes helped bring forth some vindication for Honda. Marquez won five of the eighteen races and stood on the podium twelve times. 
The Racing Goes On
Honda wasn't ready to quit, and they continued producing superior results in 2017, even though Ducati came out hard and strong. Marquez fought many battles and won six of the eighteen GPs plus he took the title with a huge lead over Ducati's Dovizioso.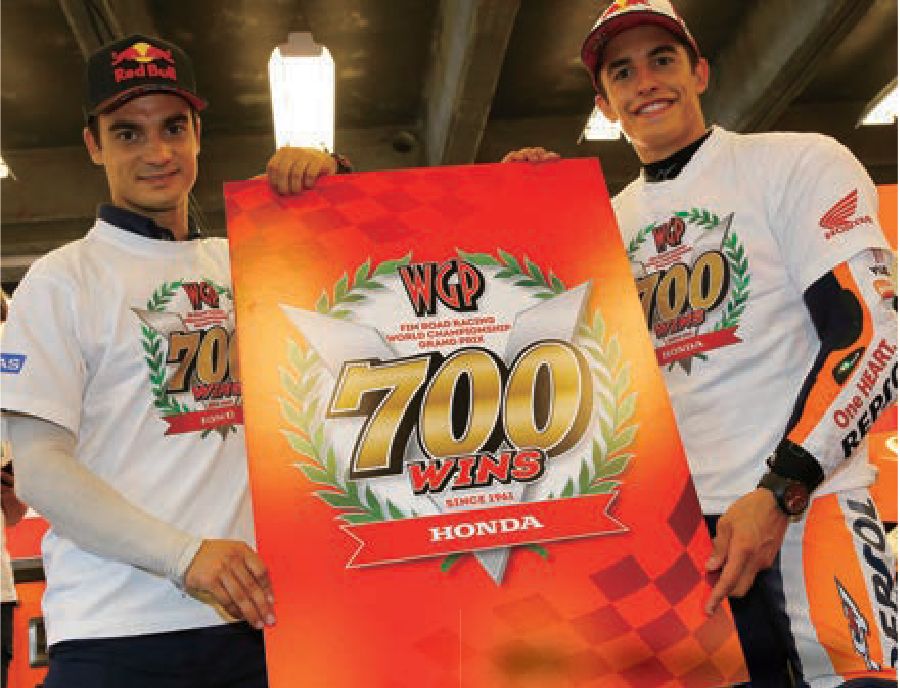 Honda didn't want to become complacent with their racing, so they went ahead and made some further changes in 2018. The team increased output to produce a higher top speed with the goal that no other bike would outperform the RC213V while going straight. Honda did their best to prepare for an all-out fight, but it turned out the competition wasn't as fierce as planned. Marquez and his RC213V were unstoppable with nine out of eighteen wins. In total, he stood on the podium fourteen times and took the title by a mind-blowing 76 points. Again, Honda won the Rider's, Manufacturers' and Team titles. 
Still, Honda wasn't satisfied, as they never are. Maybe that's why they continue to achieve success in racing, even 60 years later. Their racing spirit goes unmatched and few teams have ever been able to rival them. But this success hasn't gone to their heads, and they continue to strive for further perfection through innovation and design.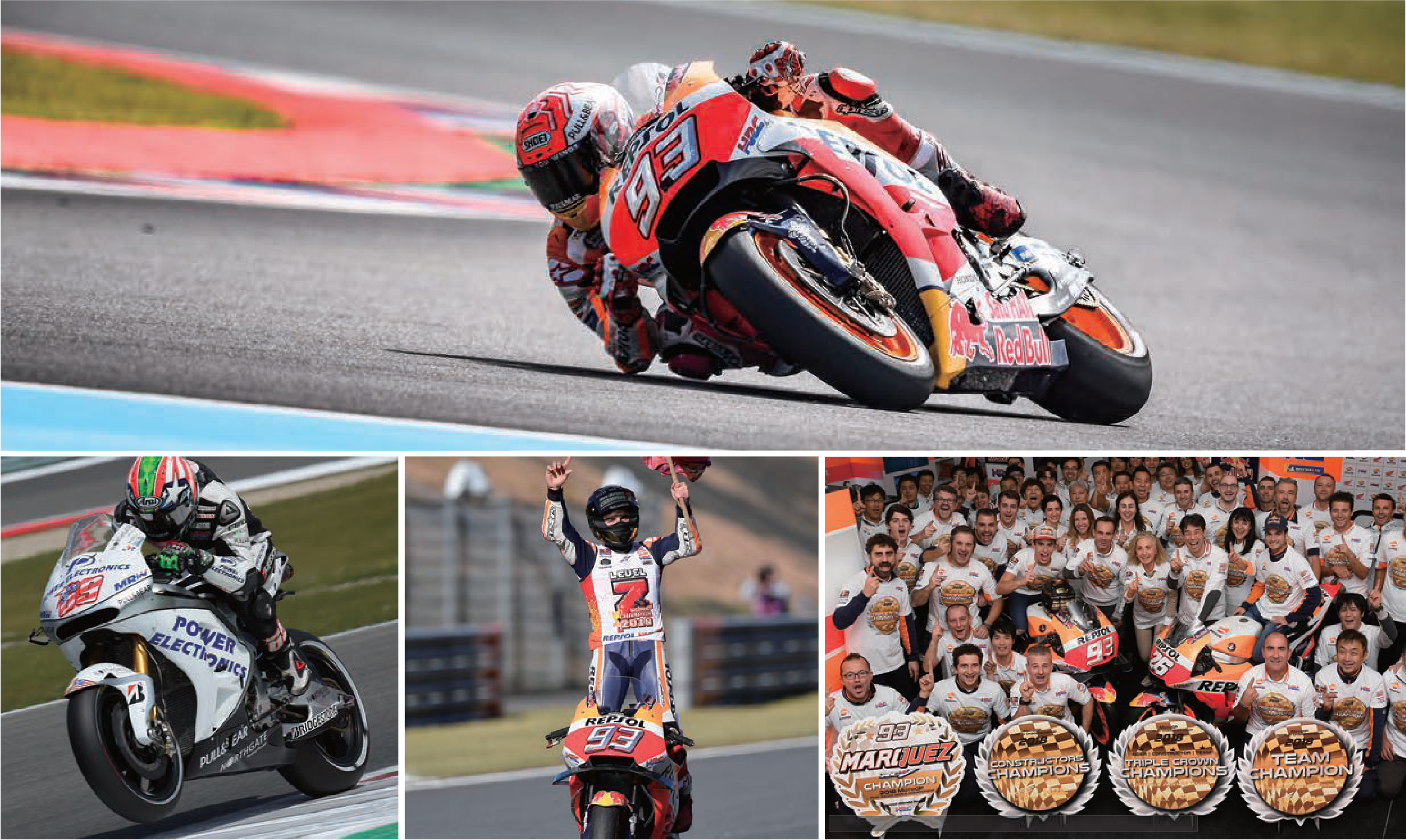 Recap of Honda's Role in Isle of Man Racing
Motor racing is thrilling and exciting to begin with, but then you get a company like Honda that just puts all of its passion behind it. Honda is no stranger to victory and they set a great example of what can happen when one makes goals. What results from their hard work is cheers and encouragement from everyone that participates.
Honda has produced machines built with exceptional technology and equipment, and we anticipate many more years of this in the future. To Honda, motorsports are a way of joining together with the people, and they've succeeded on every front. 
Since the time that Honda constructed the course at Suzuka, back in 1962, they promoted World Grand Prix racing. In addition, they've always had a strong focus on enhancing motor safety and contributing to Japan's success. Even in 1997, Honda went on to construct a 1.5-mile oval course with a road course as well. Twin Ring Motegi continued their evolving history. Since 2004, it has been the host of the MotoGP Japan Round. Motegi is an ideal venue for this event and others such as the Trials World Championship. 
New, modern bikes such as the 2019 CBR1000RR SP will continue to take the courses by storm. In fact, this Honda bike excels on winding turns and even comes with some top-spec supersport bike features. It features an Inertial Measurement Unit and a complete suite of electronic control technology created out of the feedback regarding the RC213V. What results is unmatched supersport ability and enhanced stability. Honda also uses a chassis stabilization system with a unique algorithm. This measures five-axis inertial measurements a hundred times per second to maintain balance. The information gets sent to the torque control system, suspension and ABS to further enhance control for the driver. Not only that, but it creates a bike that's extremely enjoyable to ride. We look forward to seeing what it's capable of during the Isle of Man TT 2019.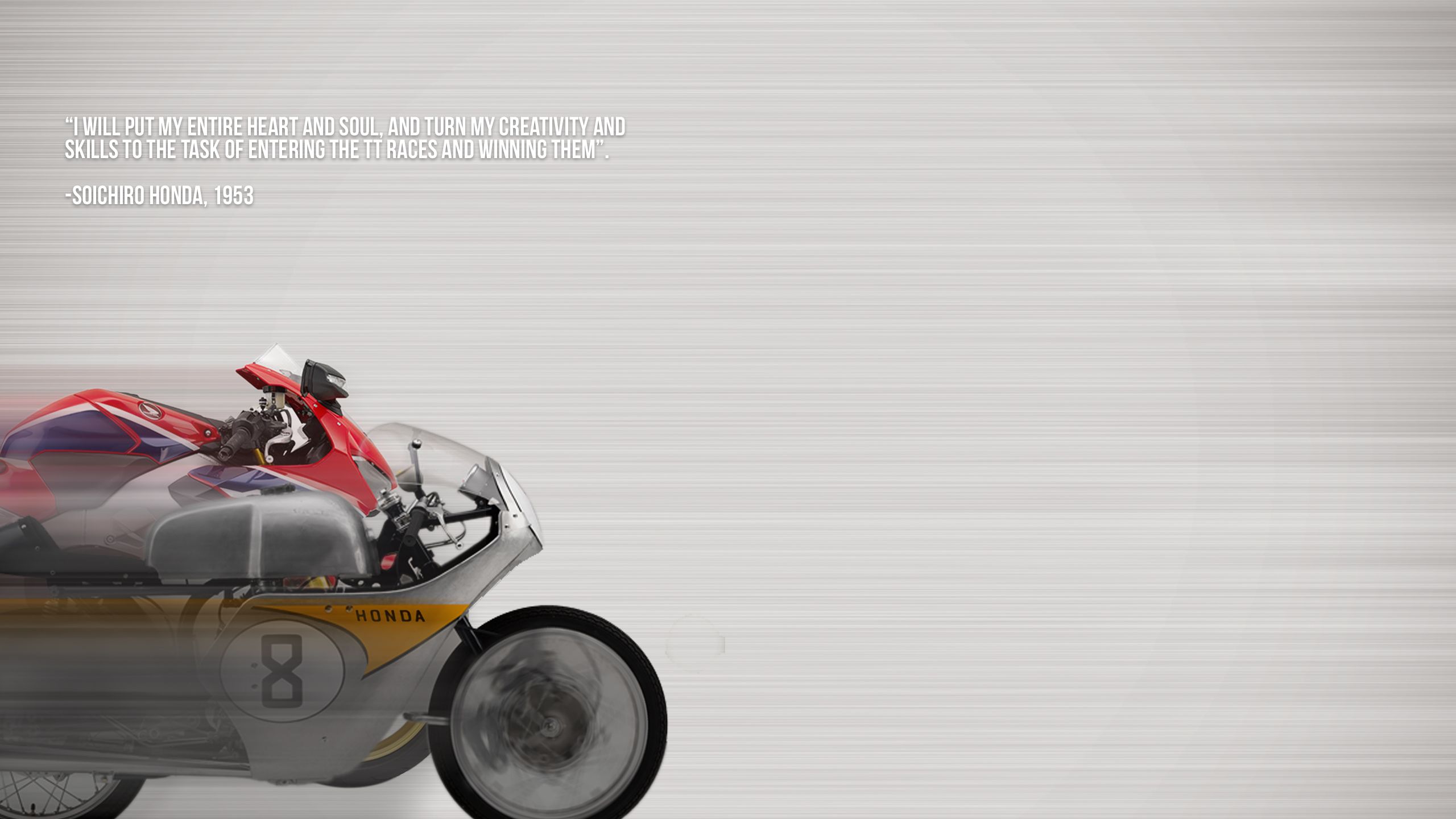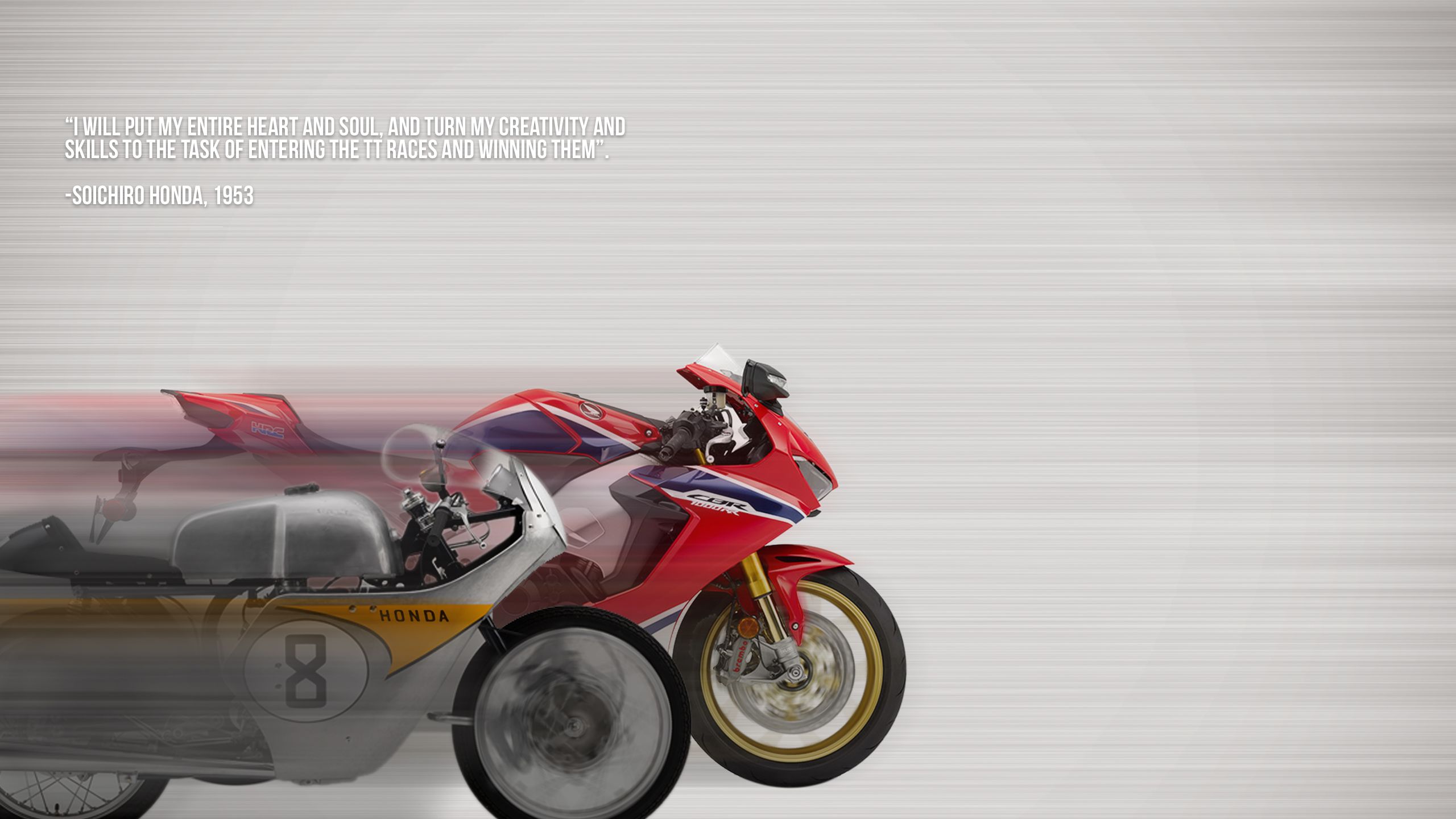 Where Do We Go From Here?
What do the next sixty years hold for Honda? We don't know, but we can be certain that they will continue to innovate and grow with the times. They won't be left in the dust, and never fall victim to circumstances. We've seen them prevail time and time again over these past sixty years and we can't wait to see what's to come; hopefully some more Isle of Man TT race records in the future.