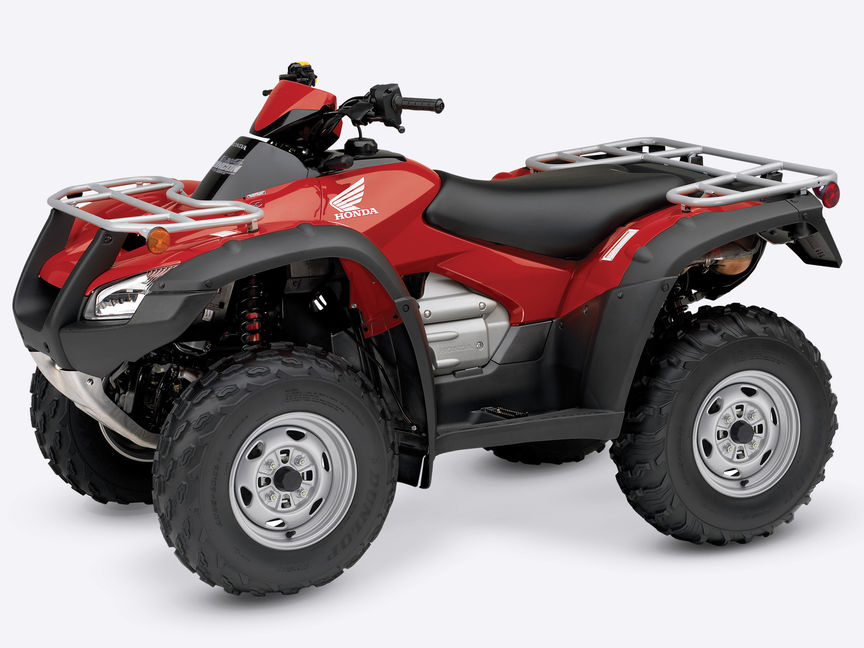 Rincon
Take it in your stride
Working large areas fast has never been easier.
The Rincon packs real sports performance and utility into one high-powered ATV.

Engine

675cc

Fuel-injected liquid-cooled engine

Purpose

Utility / Leisure

Suspension

IRS

Independent Rear Suspension

Drive

2WD / 4WD

Switchable
Unstoppable
You have everything you need.
It's a lot of land, but you've got it covered – 675cc of fuel-injected power will get you a long way in a day. And you've got a chassis you can put where you like, with a drivetrain that deals out speed and sure-footed traction in equal measure – whatever the terrain.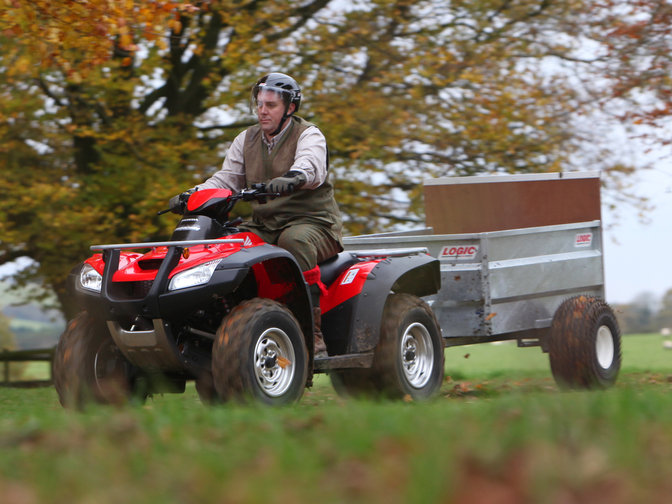 Get up close
The Rincon is built with all the quality, reliability and advanced features expected of a Honda.
View specifications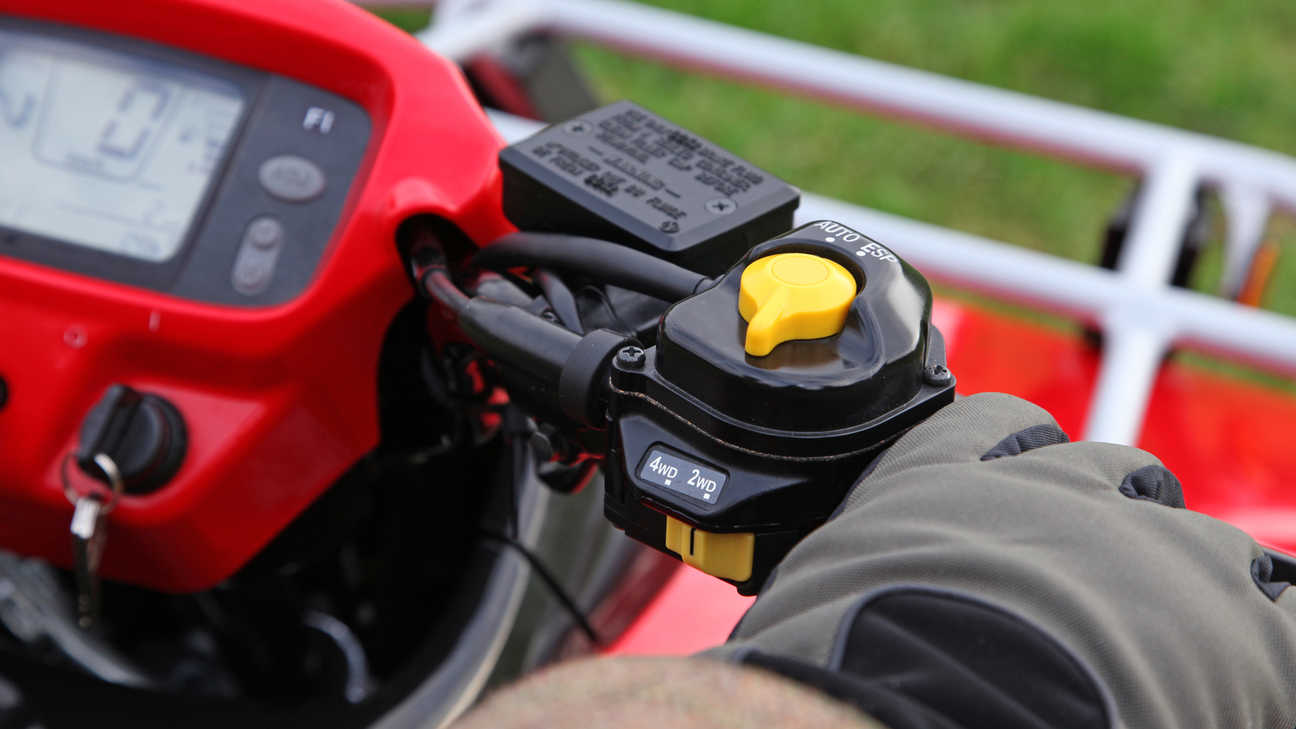 Grip is good
An AP SuretracTM torque-sensing limited-slip differential and 4 Direct drive-shafts ensure all wheels find maximum traction, all the time. TraxLok® lets you easily select either 2wd or 4wd – 2wd gives you lighter steering on flat ground while 4wd maximizes traction when you need it.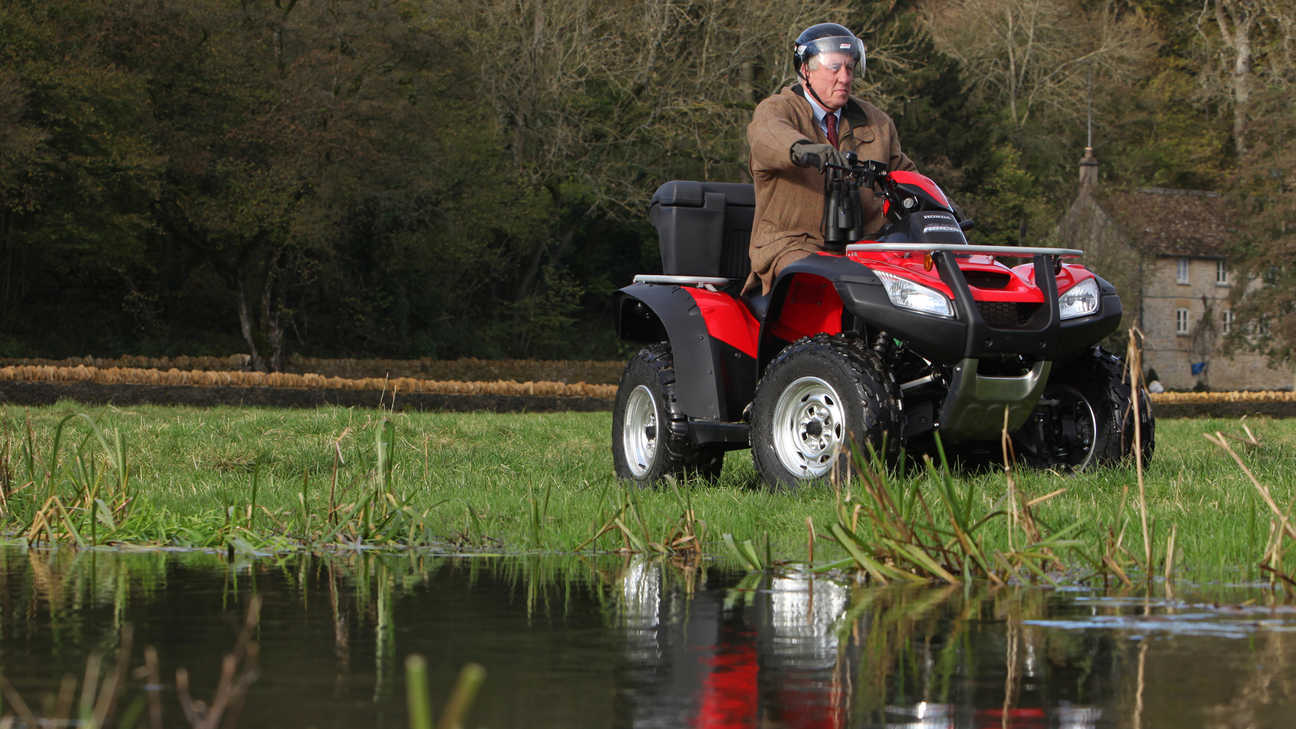 Automatic transmission
Constantly variable, the Hondamatic automotive-style transmission features a hydraulic torque converter, three forward gears and reverse. It transfers smooth, consistent power and true engine braking for enhanced control and grip in muddy, slippery conditions.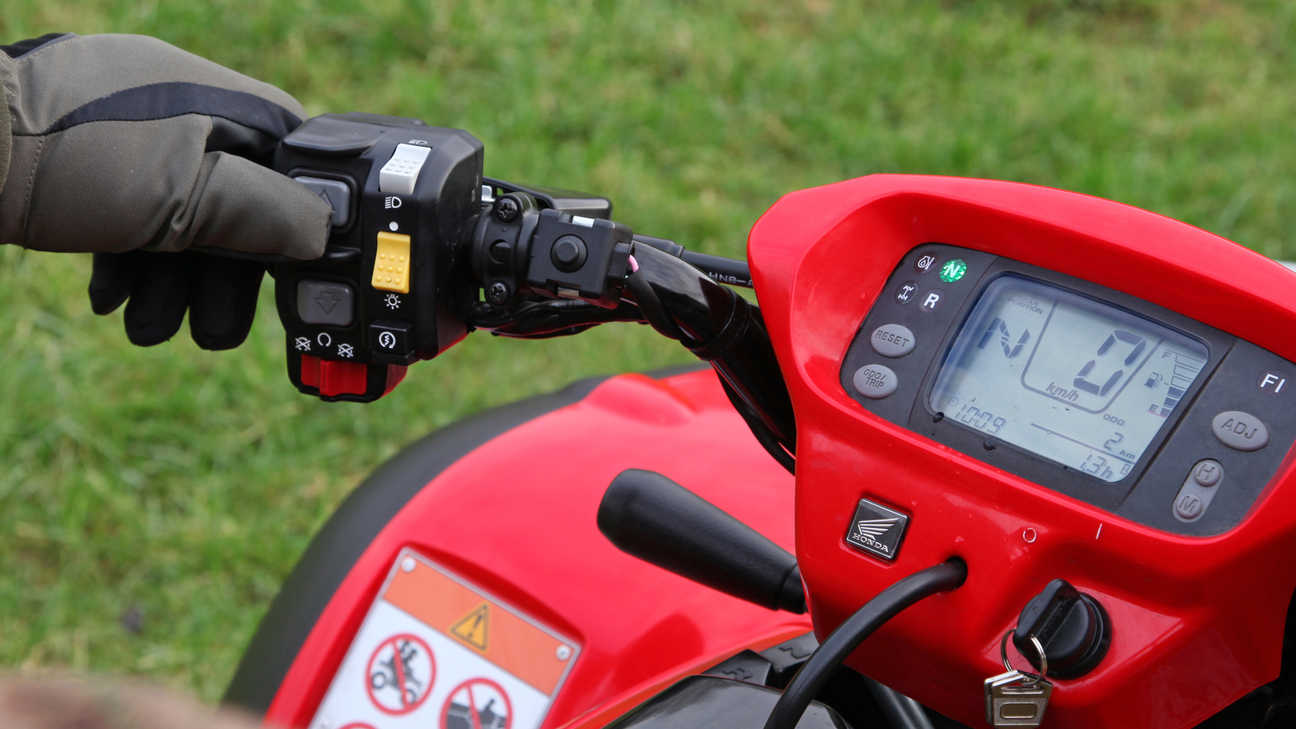 Electric Shift Program (ESP)
The Electric Shift Program (ESP) is silky smooth and quick, allowing the rider to shift gear at the touch of a button. A handlebar-mounted control switches the transmission between ESP and automatic operation and a column-style shift lever lets you easily select Drive, Neutral or Reverse.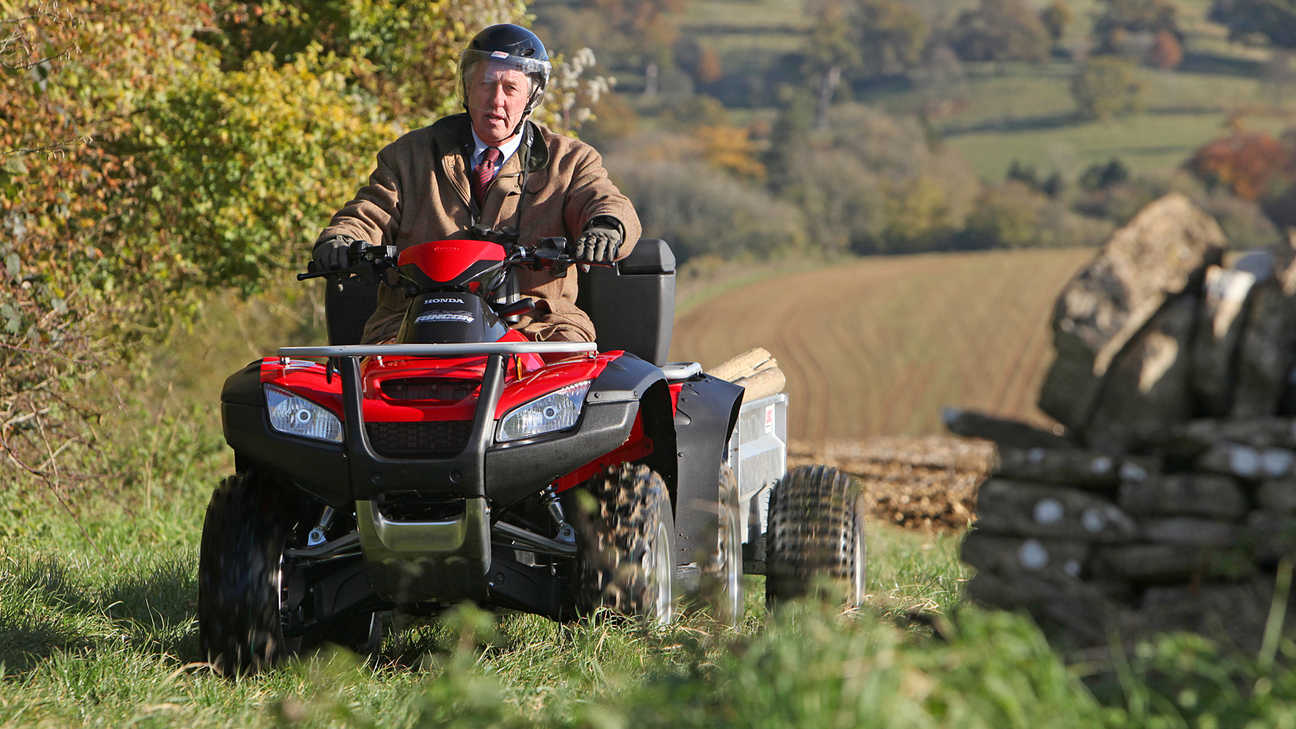 PGM-FI
Programmed Fuel Injection (PGM-FI) delivers crisp, seamless performance over a broad powerband and ensures trouble-free operation in extreme weather or at altitude.
The Honda difference
An engine that's always good for the job.
The engine is longitudinally-mounted. With the crankshaft in line with the frame you get direct driveshaft alignment to the wheels, improved drivetrain efficiency and a low centre of gravity. And it's a major contributor to great stability, handling and balance – all features you expect of a Honda ATV.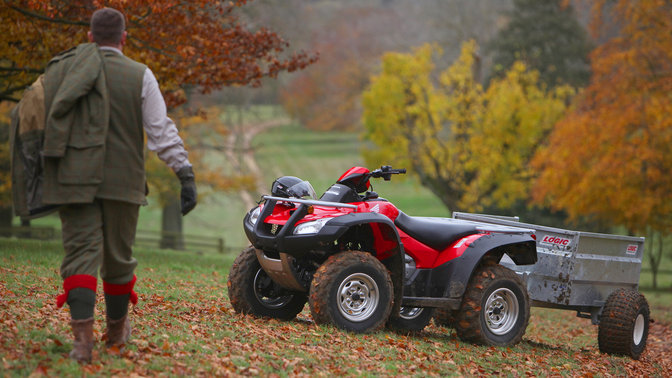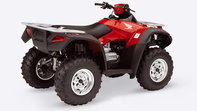 Longitudinally-mounted engine
For improved drivetrain efficiency
Choice is good
Independent front and rear suspension.
An aluminium double-wishbone design delivers a precise, smooth ride over rough terrain – the front features 175mm travel, the rear 203mm. Independent Rear Suspension (IRS) returns two major benefits: it helps ensure constant tyre contact with the ground for superior traction and gives an ultra-smooth ride.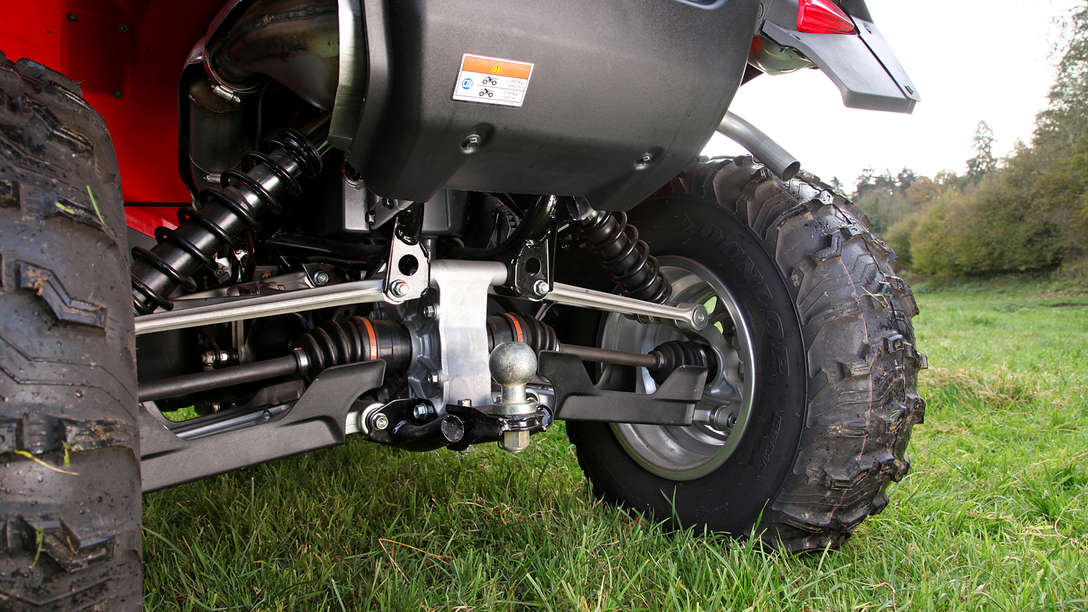 Difference in the detail
It's Honda's careful attention to detail that sets our ATVs apart from the rest.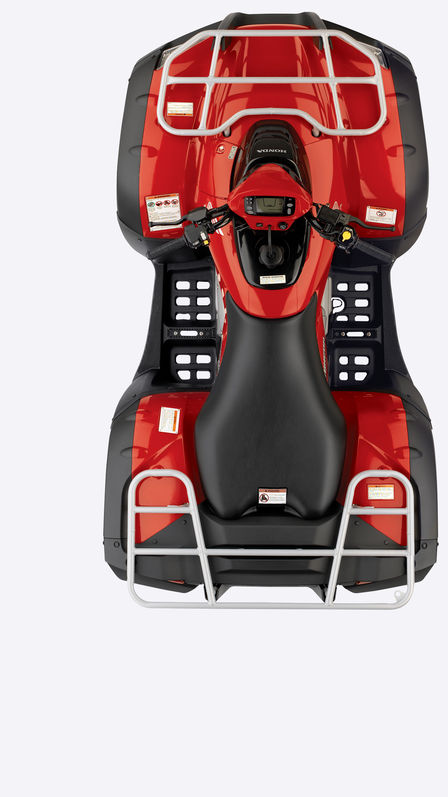 Front brakes
Dual front 180mm discs feature brake calipers with a patented built-in scraper system to remove mud and snow.
Parking brake
The 151mm centre disc and the self-adjusting mechanical parking brake are mounted on the rear driveshaft, increasing ground clearance.
Oil cooler
The oil cooler with built-in fan deals with high rpm, high load use.
Starting
Starting is electric, including an in-gear start mechanism plus auxiliary recoil.




Exhaust
The exhaust and muffler are stainless steel for long-term durability.
Seats
The thickly padded seat uses dual-density foam to provide all-day riding comfort; 4 litre side-opening compartment can be opened while the rider is seated.

Accessory socket
The waterproof accessory socket provides 12-volt, 10-amp power.

Floorboards
Unique floorboards allow the rider's feet to grip the footrests while keeping away mud and debris.

Skid-plate and sump-guard
Extended skid-plate and sump-guard to protect the underside of the machine from damage.


Warranty
Our manufacturer's warranty keeps you moving.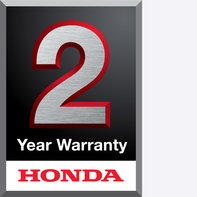 Whether you're using it for farming, game keeping, forestry, equestrian or snow clearing, your Honda ATV will quickly become an essential part of your daily routine. You'll rely on it in all weathers, on all terrain and for an amazingly wide range of jobs. So a problem with your new ATV is the last thing you'll want, but with Honda's reputation for reliability, it's the last thing you can expect.
That's why we guarantee the build quality of our ATVs with an industry-leading manufacturer's warranty.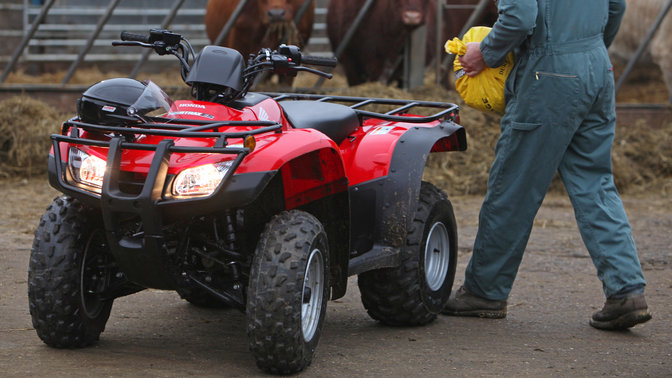 Safety first
More about safety
It's always Safety First when we build our ATVs. We hope it's the same when you ride it.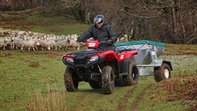 Since our customers aren't as indestructible as our machines, here are some basic pointers on ATV safety.
Always wear a helmet, gloves and boots as a bare minimum and other protective gear as required. Never ride under the influence of alcohol or other drugs; and never carry a passenger unless your machine has been specifically designed to do so.
Please bear these things in mind – then you can be sure the ATV that's making your life easier will carry on doing just that.