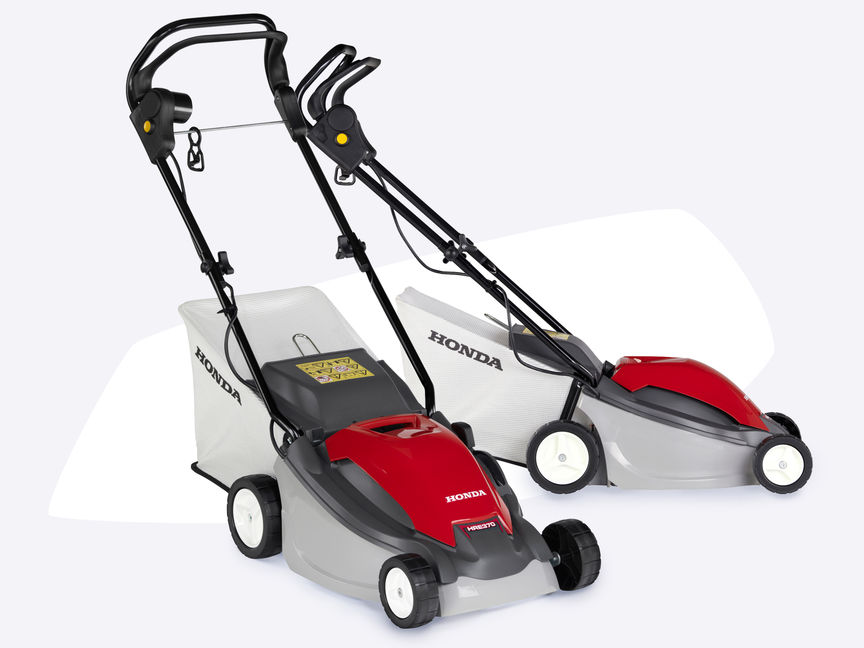 Honda HRE - Electric Push Lawnmower Range
Plug in
switch on
A simple to use electric push-type mower.
There are three to choose from, all with powerful electric motors and Honda's unique Optiflow™ system. They're light, easy to use and are available in different diameter blade sizes to suit smaller lawns.
Width Cut

33-37

cm

Drive Types

Push

Roller

No

Mulching

No
Silent cutting
Well, very nearly.
The powerful electric motor does its work cleanly and efficiently with a sound so quiet, it makes your old vacuum cleaner sound like a jumbo jet.
These perfect and unobtrusive little mowers feature Honda's unique Optiflow™ system on selected models. They collect every last clipping and leave your lawn with a nice clean cut, looking spic and span.
When it's all done, sit and unwind in the sun with a glass of your favourite beverage. Nothing better. You want the best, and there's nothing better than a Honda Electric to make a small lawn look great.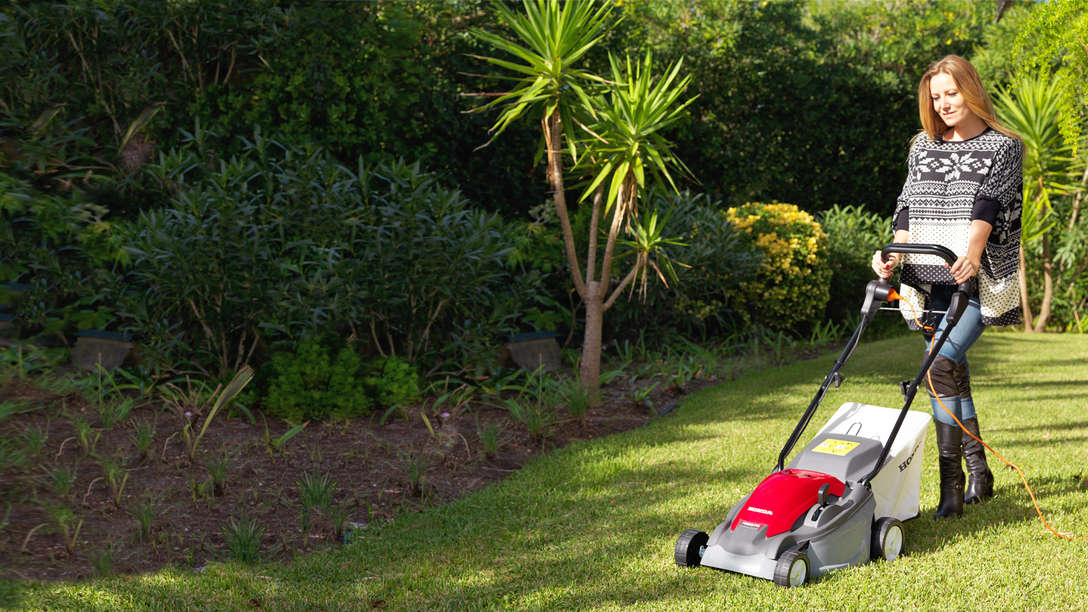 HRe features at a glance
Light and quiet they deliver excellent handling and collecting performance.
Easy to adjust

It has a central five-position deck height adjustment for a perfect cut, no matter how long the grass. Use the conveniently positioned lever to select your height from one to five.

Made to handle

Strong handles fold into position – just spin and hand-tighten the bolt attachments at the side. When you want to put the mower away, just spin them loose and fold the handle down.

Easy to lift

Built into the top cover is a well-positioned handle that makes it easy to carry and lift the whole unit over uneven ground – quickly, safely and easily.

Made to bend

This may sound strange, but the blade on an HRE mower is designed to bend – and for good reason: If it hits something hard, it will not shatter or break, which prevents further damage to the unit and also increases the levels of safety.

Made to last

The electric motor is housed in a tough cutter deck. Resistant to shocks, abrasion, fuel, UV rays and weather deterioration it will not only perform better but it will look better for longer too.

Easy to empty

The high-airflow grass bag is very light; it's been designed this way so as to allow maximum airflow with a fine mesh to collect any dust. It's easy to detach and re-attach once you have emptied all the grass cuttings.

Previous
Next
/
Choose the one that suits you
Honda Electric mowers come in three different motor and blade sizes.
| | |
| --- | --- |
Above all it's a Honda
What separates the HRE mowers from the competition is the unique Honda Optiflow™ system. No other electric mower has it.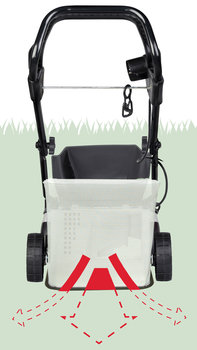 The collection bag is made from a fine mesh material that maximises airflow maintaining high levels of collecting performance.
Optiflow™ uses a fan fixed to the cutter blade that draws air in from the top of the motor to keep it cool. This accelerated air optimises the airflow and is guided through to a grass chute at the rear of the mower, taking the grass cuttings swiftly away into the high-airflow collection bag. It's the best collecting performance in its category and will achieve superior bagging performance.
Special airflow collection bag
Made from a special material to maximise airflow, the bag is fine enough to collect the finest clippings, even dust can't get through.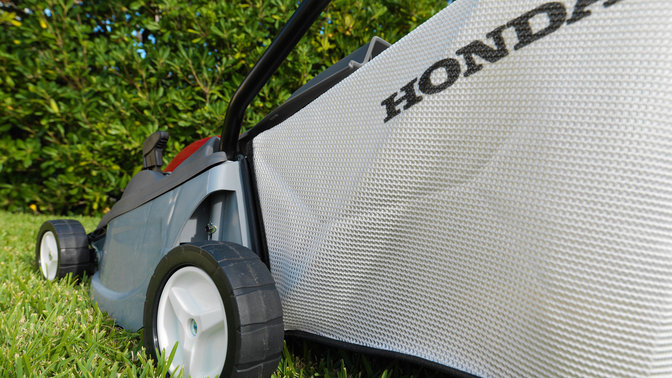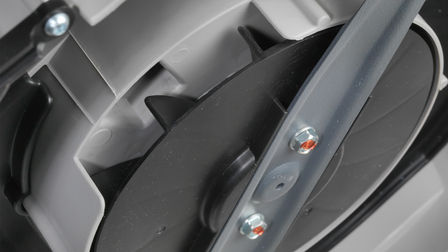 A specially designed fan, fixed to the blade, creates a powerful and controlled airflow. It's the key to good grass collection.
Made to be safe
A smart device that prevents you from tripping over the cable and damaging the mower.
We know an electric cable can some times get in the way. It's easy to forget, and before you know it, ZAP! That's why we've incorporated a cable loop system that will keep the cable out of harm's way throughout the mowing process.
There's nothing like them
Overheating protection is provided by a thermal sensor, which trips a circuit breaker. We really have thought of it all. And we're confident enough to say that you won't find a better electric mower than a Honda anywhere else.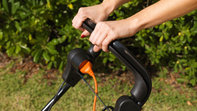 The magnetic blade break clutch system that operates from the handle is easy to engage and disengage.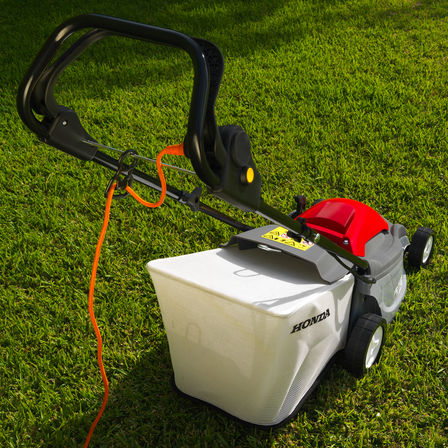 The smart tension device is simple and safe. It keeps you and the cable from becoming entangled.
Unrivalled anywhere
Our mowers are built better to last longer.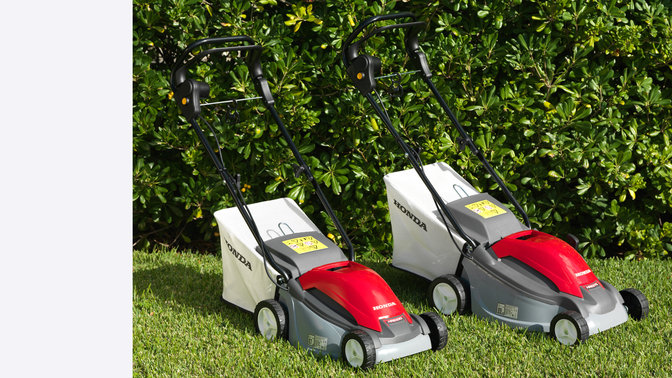 They just keep on going. That's why we can offer you a rock-solid warranty for domestic and professional use on our core range products, covering both parts and labour.
The warranty is reliable too
It maintains the same value throughout the warranty period – meaning the last day of cover is exactly the same as the first. Solid and dependable – just like our garden equipment.