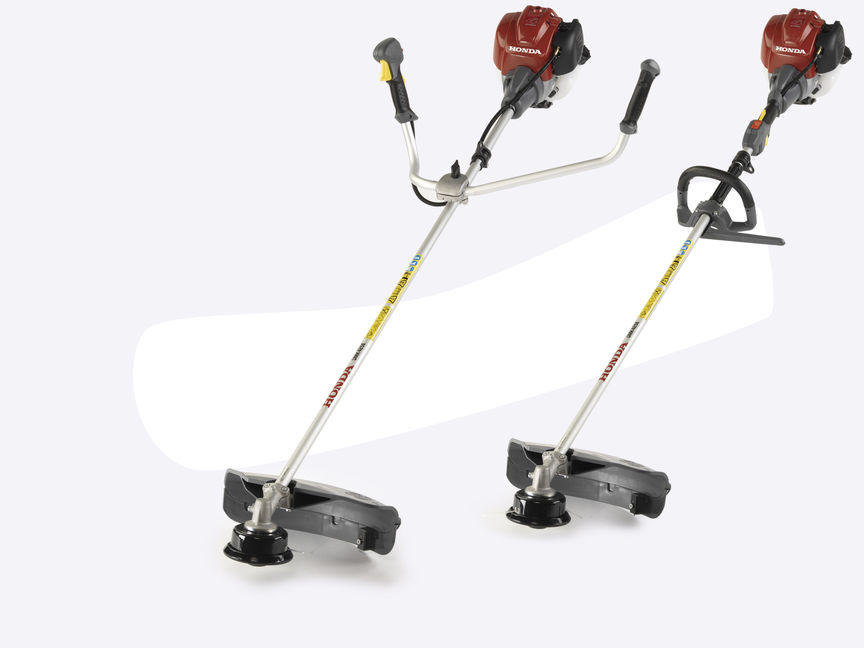 Brushcutters
Access all areas
Versatile tools for reaching the hard to reach.
Designed for heavy-duty work, these robust Brushcutters can do any job expected of them. There are no areas that stubborn undergrowth can hide.
Engine

4-stroke

Engine Capacity

25-35

cc

Handle

loop/bike

Attachments Available

Yes
From the outer limits
Space age technology right in your own back garden.
You can boldly go where no other brushcutter can, with these extremely tough and reliable 4-stroke garden tools. They are driven by a unique six-splined drive shaft (as opposed to a traditional groove key design) for added strength, with better torque and power delivery down to the work zone.
Cool running
Brushcutters feature a special type of non-contact bearing. The same as those used by NASA, these bearings are renowned for their resistance to dust contamination, and are the best for ultra high-speed work. These bearings run freely with little resistance and are extremely quiet. They last much longer than the traditional full-contact rubber seal type – which can easily become contaminated with dust, overheat and wear out sooner than you think.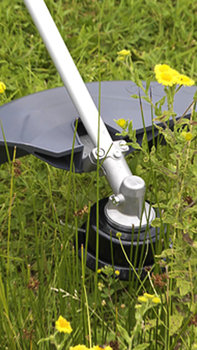 Keeping a cool head. Bearings used by NASA are used in all our Brushcutters.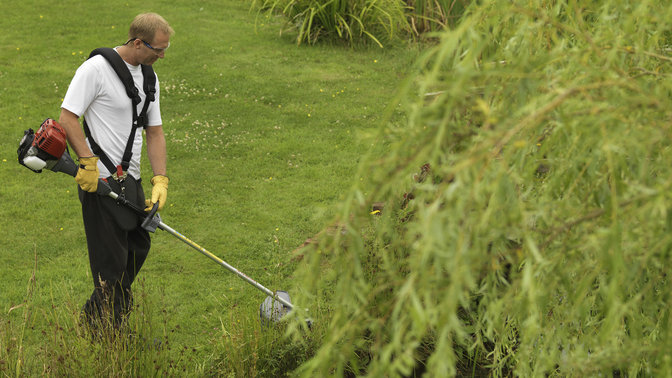 Only Honda do this. You won't find a six-splined transmission drive shaft like this anywhere else.
Staying dust-free
Our Brushcutters work in a rough, harsh and dirty environment so we developed a special heavy-duty, shock-resistant transmission unit – different from the usual pressed steel type – re-machined to provide the best dust protection you can find.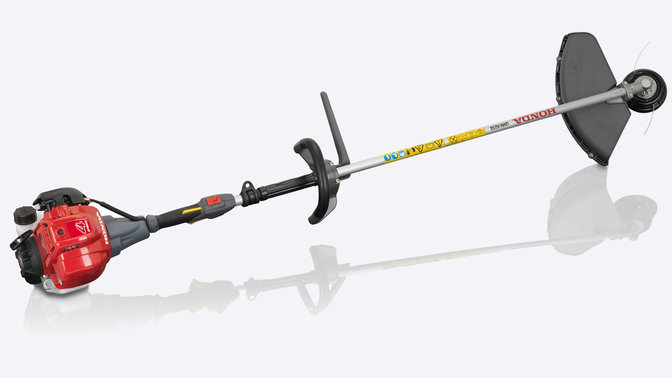 Engine and transmission covers have a superior finish with an ergonomic handle and have a rubber coating for a better grip.
The right tools for the job
We've got three different types of brushcutter for reaching those awkward areas of undergrowth.
A handful of Honda

Right from the start, these brushcutters feel extremely manoeuvrable. They can tackle any job, no matter how long, short or awkward – and with the choice of two powerful 25cc or 35cc 4-stroke engines – they're up for any challenge.

Bike type handle brushcutters

These brushcutters come with the comfort harness, tap-and-go nylon head and a three-tooth blade for heavy use as standard. Adjustable handlebar gives you a better, safer grip when scything through any unwanted vegetation.


Loop type handle brushcutters

Our loop type handle brushcutters come with the comfort harness, tap-and-go nylon head and 3-tooth blade for heavy use as standard. They're finely balanced and provide you with sensitive control when pruning or trimming.


Bent shaft brushcutter

This brushcutter comes fitted with the tap-and-go nylon head. It's light, well-balanced proportions enable you to control the unit easily as you work – so reaching really tricky spots is much easier.

Previous
Next
/
Smooth operators
If you're a gardener or a landscape gardener, there's a brushcutter that's right for you. It'll do everything you ask of it – and then some.
Easy to start with a super-light flywheel, the quiet and smooth-running 4-stroke engines are the lightest and most compact of their type – with the lowest emissions in the industry. They have a silky smooth smooth drive with an anti-vibration clutch that insulates you from any arm-tiring vibrations. So when you've finished the job, you're arms wont be too tired to lift that much needed cup of tea or coffee.
Comfortable harness
If you really want to comfortable while you work, the comfort harness fits snugly around your shoulders because it has five different settings for the best possible fit. It also has a leg guard and quick release hook holder for added safety.

Comfort comes first
Reducing fatigue with a low-vibration clutch along with the renowned low noise 4-stroke engine make these Brushcutters a pleasure to use.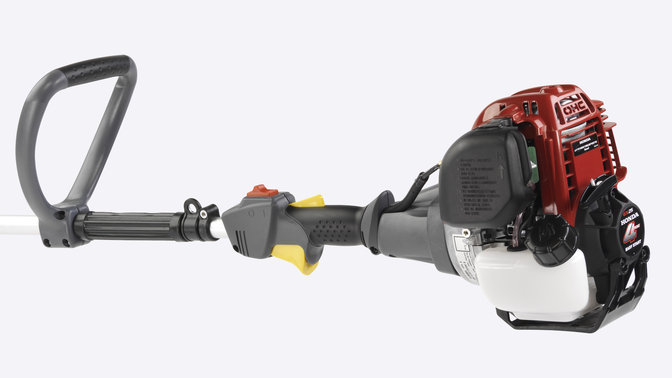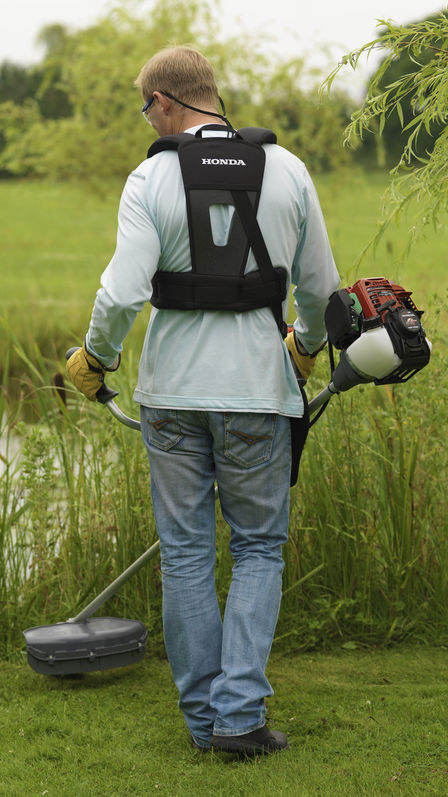 With the comfort harness fitted and the handle adjusted to suit you, the job will feel effortless from the very start.
A tap on the head
It's so important to keep the cutter line at the right length when using the nylon head for demolishing long grass and weeds.
Honda Brushcutters have a semi-automatic system that supplies the cutting line feed. When the line starts to wear out, it reduces the cutting performance. So now when this happens, simply tap the head on the floor and more line is released automatically. No need to stop the engine to make the adjustment, as with other machines. We also have a metal line cutter option which lasts much longer – essential for ripping through really stubborn growth and professional jobs.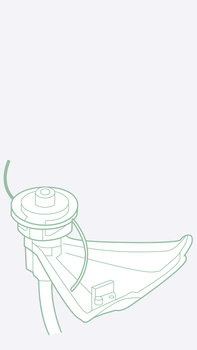 Honda make a larger 5-inch diameter head which holds 56% more line than a standard 4-inch type.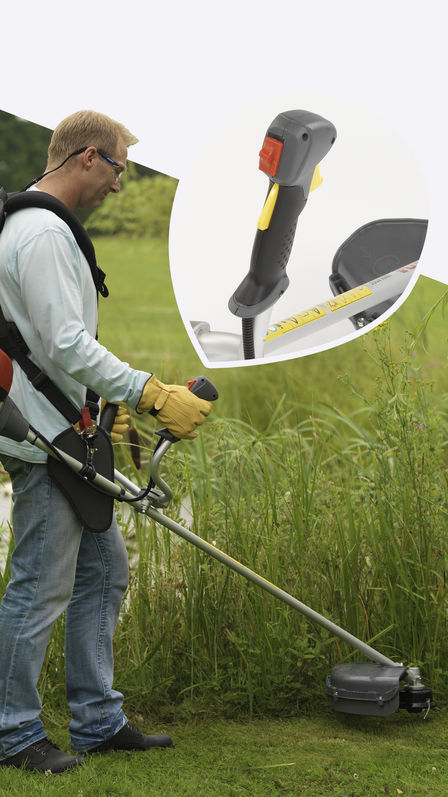 The adjustable handles are more comfortable to hold with the bi-injected plastic and rubber handles that also improve grip.
Hedgetrimmer attachment

Add to the versatility of the brushcutter with a double-sided hedgetrimmer so you can cut both ways. The blades protected by an anti-snapping guard. Once fitted, they can be rotated through -90˚ to +90˚ to reach those hard-to-reach areas.


Pruning attachment

Get your teeth into the job with this optional easy-to-fit Pruner attachment. You can trim thick hedges and bushes, and prune small trees. Just click and lock it into place.

Saw blade attachment

When the going gets tough this optional saw blade attachment will trim anything down to size. The blade is easily fitted and will cut like a laser through dense bushes and saplings up to 3cm in diameter.

4 tooth blade

Cut the rough down to size with this optional 4-tooth blade attachment. It's specially made by Honda and designed to scythe through heavy vegetation and long, stubborn grass.

3 tooth blade

This rough cutter comes as standard on UMK and UMR brushcutters. Just swap the nylon head for this heavy duty attachment and you can take on the rough bushes around the edge of your garden.
Previous
Next
/
Unrivalled anywhere
Our Brushcutters have a great reputation because they are built better to last longer.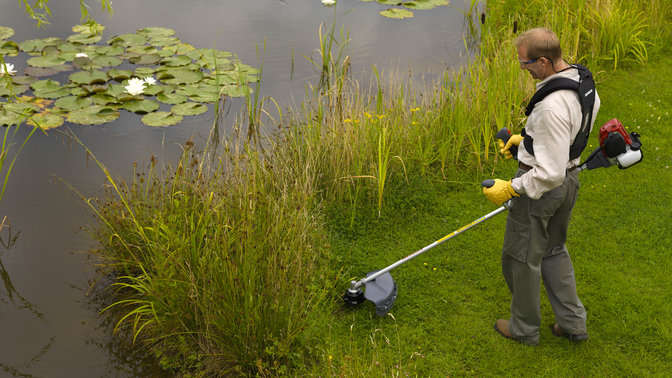 They just keep on going. That's why we can offer you a rock-solid warranty for domestic use on our core range products, covering both parts and labour.
The warranty is reliable too

It maintains the same value throughout the warranty period – meaning the last day of cover is exactly the same as the first. Solid and dependable – just like our garden equipment.