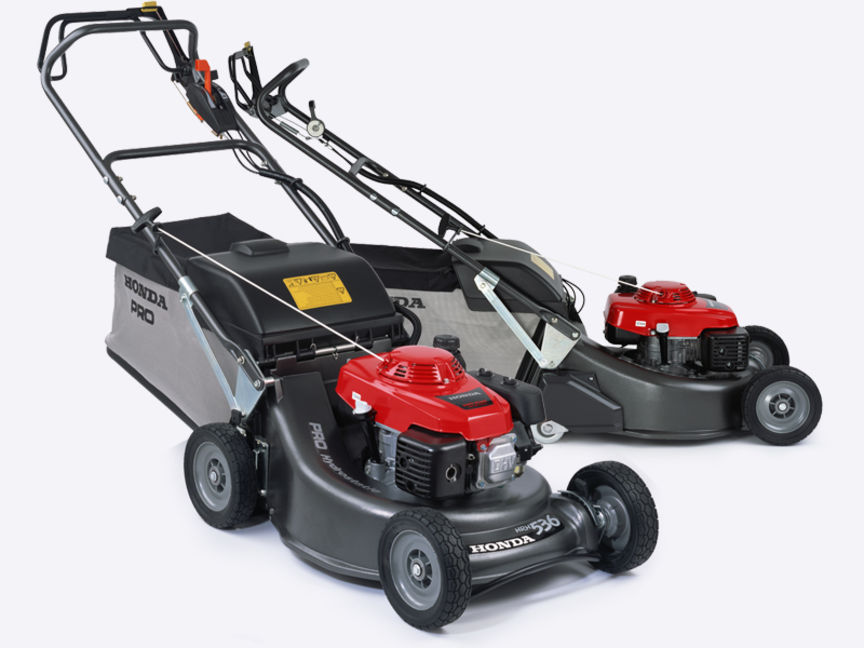 Honda HRH - Self Propelled Lawnmower Range
Meet the professionals
Made strong for hard work on large lawns.
You've a job to do, and a customer to keep happy. So you need a mower with outright reliability and solid performance - like the HRH. No other professional mower comes close to it.
Width Cut

53

cm

Drive Types

Self Propelled

Roller

Selected Model

Mulching

No
Essential Equipment
Team up with the real pros.
Whether your livelihood depends on it, or if you are just a proud gardener, how your mower holds up during transportation is almost as important as how it performs on the job.That's why we made the HRH as robust as we did. A professional mower has to be tough and reliable as well as being able to produce a finish you can be proud of. Working with the HRH will satisfy your need for a perfect lawn. With a HRH Professional mower, you can be sure of a successful partnership for a long time ahead.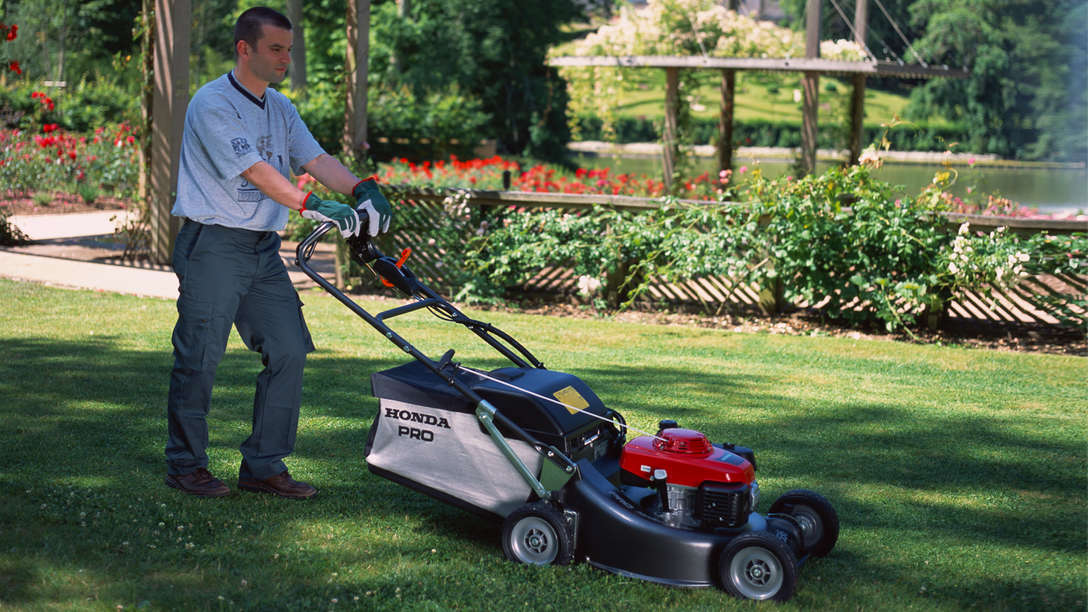 The durable duo
There's a choice of two, high-spec, hard working lawnmowers to choose from.
| | |
| --- | --- |
Made of the right stuff
If these mowers had sleeves they'd roll 'em up.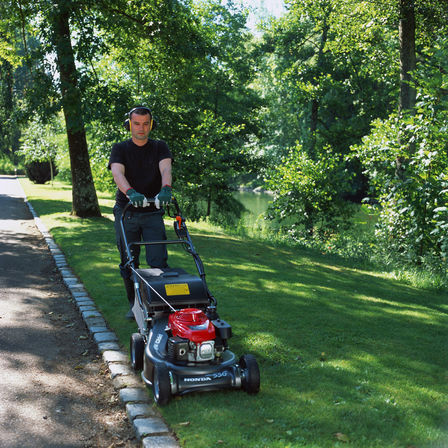 HRH Professionals feature Roto-Stop® technology. It's a safety feature that allows you to stop the blade without having to stop the engine. That means you don't have to stop and restart the engine every time you need to go over a gravel path or when you need to empty the bag.
The HRH professional mower is built around a heavy-duty, cast aluminium cutter deck with a strong, reliable 4-stroke engine. The GX160/163cc 'Pro' spec power pack sits on top, ready to do its work. It's got muscle and is most definitely the smooth, strong and quiet type. They give you solid, reliable and dependable power, – and when it comes to starting, they'll never let you down.

No need to adjust any belts or chains
Hydrostatic transmission types have a unique drive shaft, which is much more reliable and durable than a belt or chain. Competely sealed from harmful dust contamination it provides long term, maintenance-free mowing.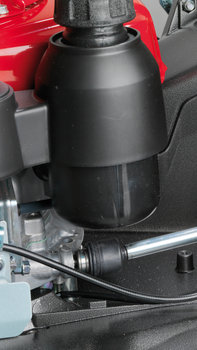 The HRH's maintenance-free drive shaft.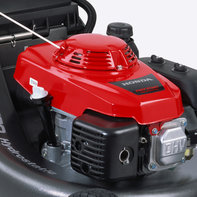 The 'Pro' spec GX Honda 4-stroke engine is the best a mower can have.
Bring it on
We haven't overlooked a thing with the HRH mowers.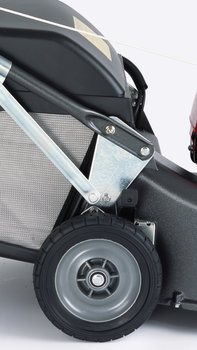 The arms are strong – triple steel strong – where the handles are attached to the side.
The heavy gauge handles have been reinforced to limit flexing. These handles are attached using a special triple-arm, which has been designed to prevent any damage when mowing and during transportation.

Protecting the engine and cutter deck
For added durability, there's a strong front bumper to protect the cutter deck from damage. And just in case your mower drives over anyhthing, like a stubborn rock hidden in the long grass, the blade is designed to twist – not break – preventing further damage to the engine.
Light handling: Roller bearings fitted to all four wheels make it even easier when making tight turns. The strong front bumper adds extra protection.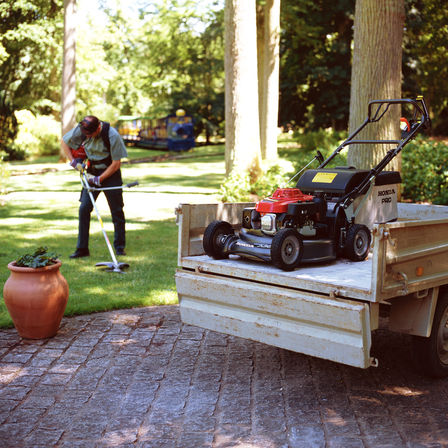 The bag that breathes
We created a special material for our collection bag.
Made with an ultra-fine mesh, they maximise grass collection without affecting the airflow. This means you can fill the bag right up – spending more time mowing and less time emptying. The mesh is so fine, it actually reduces the amount of dust too.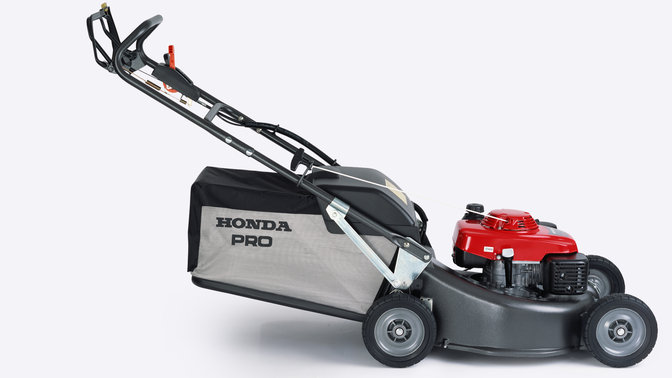 The collection bag is easily unhooked to empty and the maximum airflow means you can fill the bag to its limit.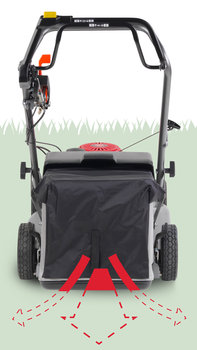 Massive 83-litre high airflow collection bags.
A good team player
A true professional has to perform at the highest level.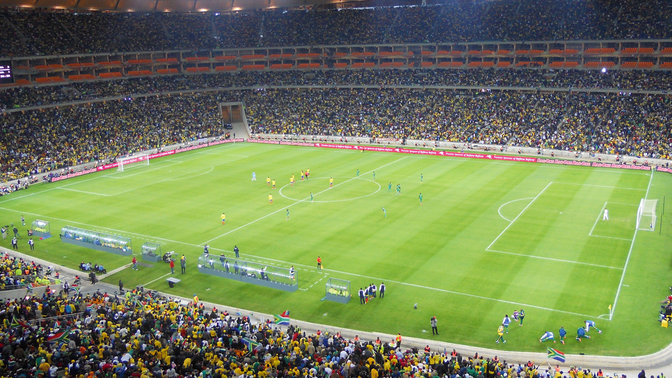 The Honda HRH536 was the official lawnmower used to manicure the pitches for the 2010 FIFA World Cup in the Republic of South Africa. A total of 64 lawnmowers were used to keep the playing fields in top condition at 10 soccer stadiums for all 64 matches.
HRH lawnmowers are solid pros built for hard working and demanding users. They are top of the league for our many customers who have chosen Honda products for their fleet for years and, we are confident enough to say, will continue to do so in future.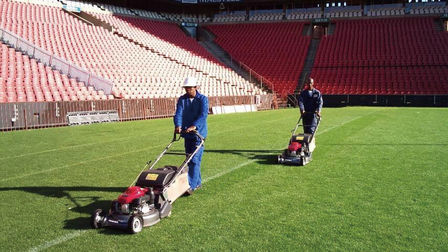 Staying ahead of the game. HRH mowers prepare the world's footballing stage
Inch perfect lines
We've earned our stripes. A roller gives a lawn that special touch.
For a satisfying result that will really show off the quality of your lawn, there can't be anything better than the stripes you get from using a roller. Traditionally this was done after the cut with a heavy roller, but now you can do it with this mower. It has a rear roller built into the cutter-deck. You and your customers will be delighted with the result.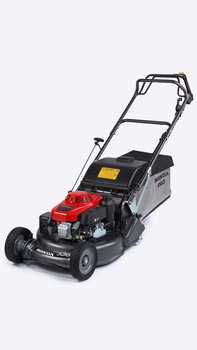 The HRD 536 QX with a rear roller.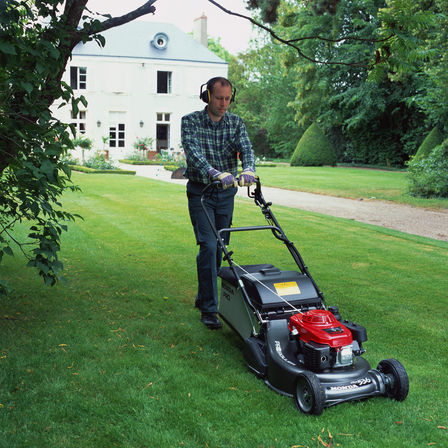 Unrivalled anywhere
Our HRH Professional mowers are built better to last longer.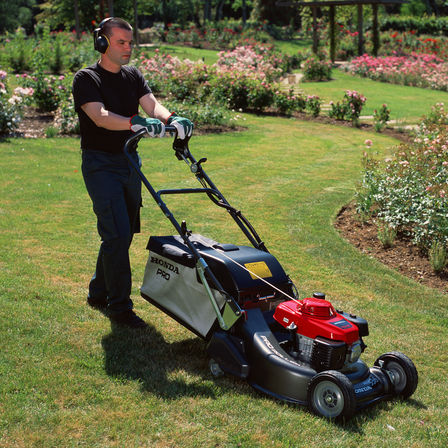 They just keep on going. That's why we can offer you a rock-solid warranty for domestic use on our core range products covering both parts and labour.
The warranty's lifetime
Our warranty maintains the same value throughout its lifetime too – meaning the last day of cover is exactly the same as the first. Solid and dependable, just like our HRH Professional mowers.