Honda
CRF1100 Africa Twin:
Road vs Off-Road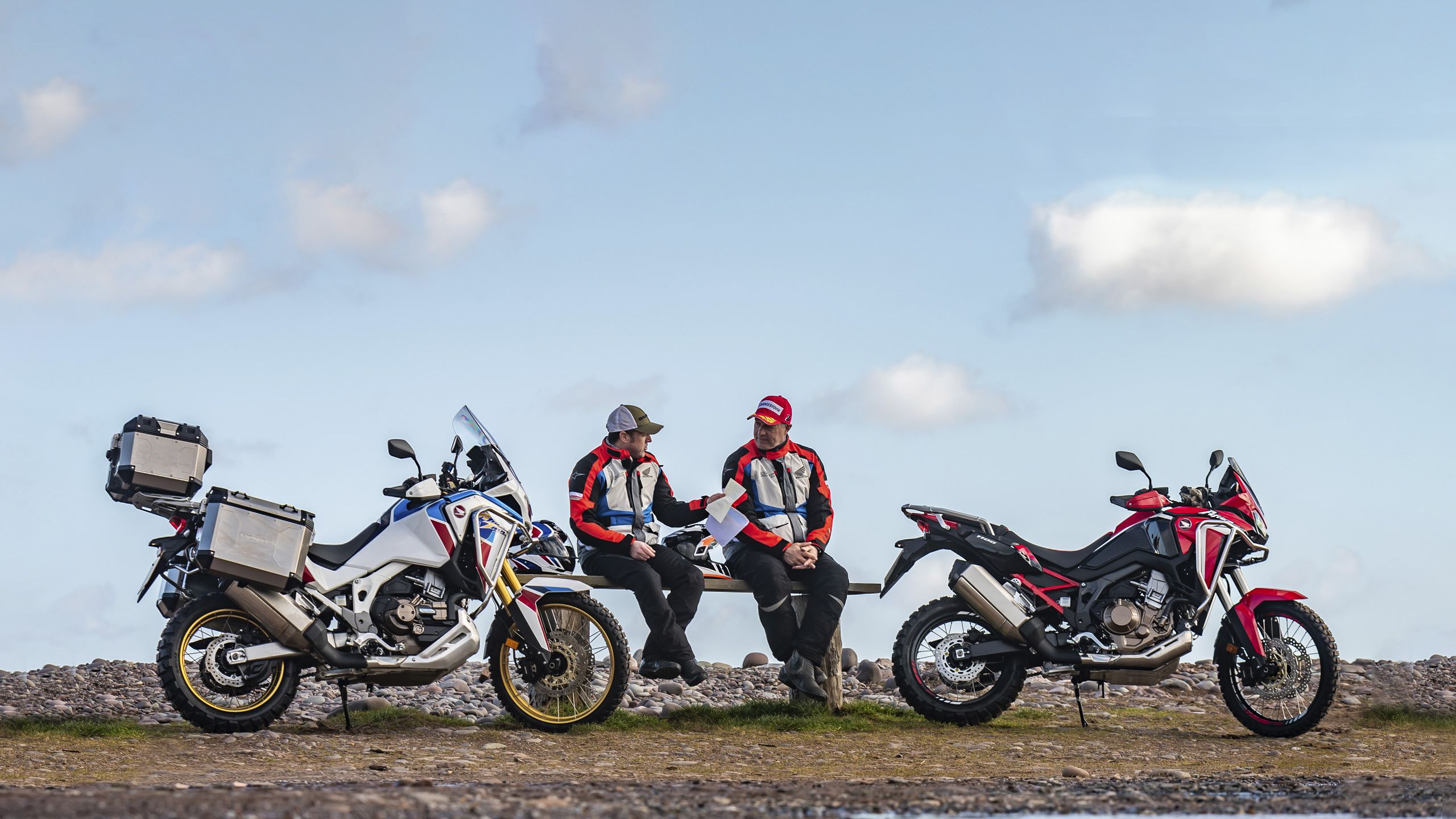 Honda Africa Twin Challenge
Adam Child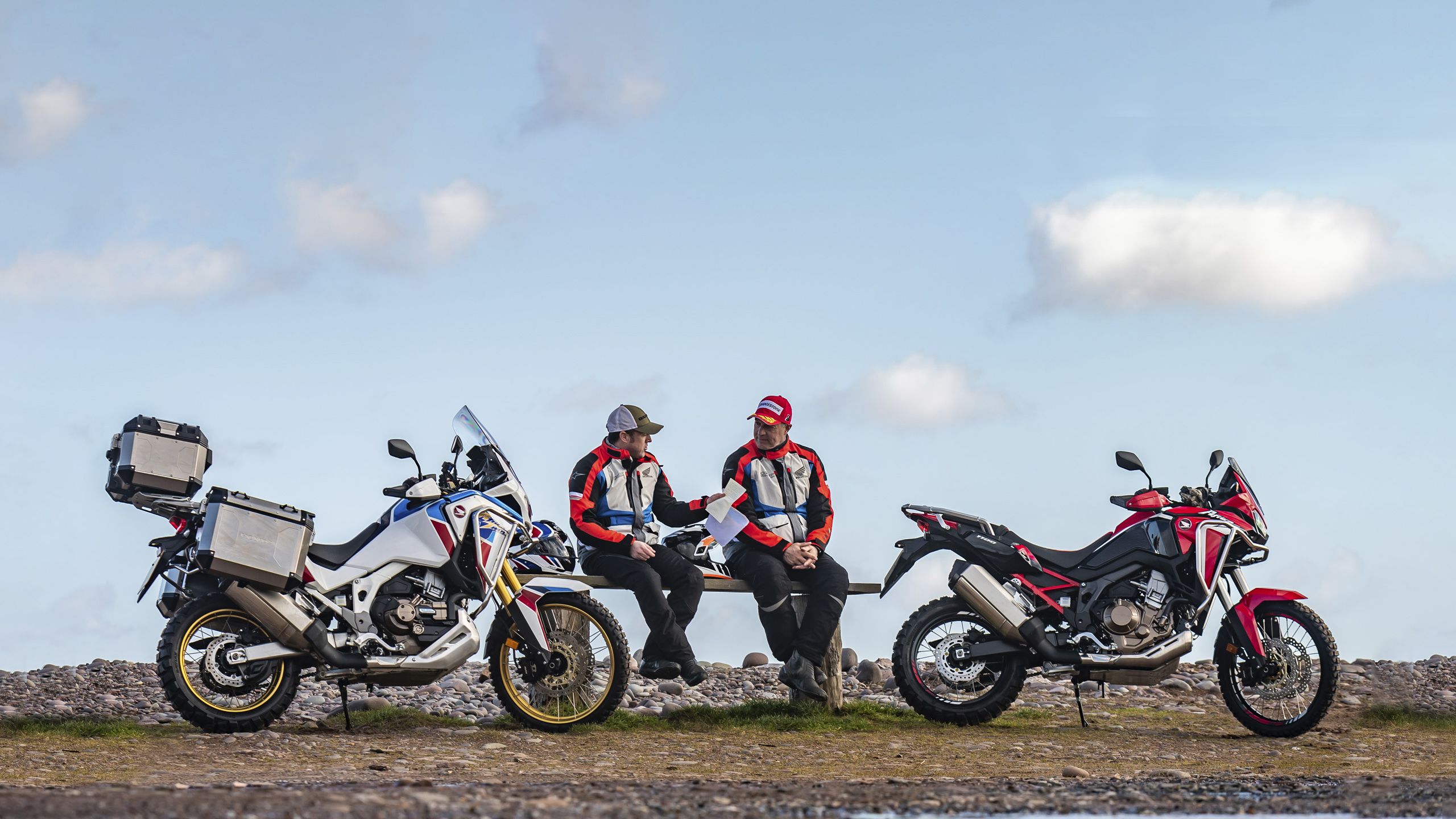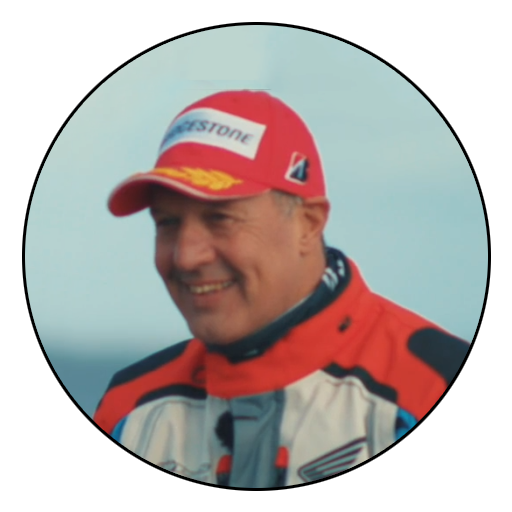 Dave Thorpe shouldn't need an introduction. Aside from running the Honda Adventure Centre in Devon, he's also a three-times 500cc Motocross world champion. In the mid to late 1980s Dave was the Marc Márquez of the off-road world, the cover star of motorcycle publications worldwide when motocross was far more popular than today. While road racing had Barry Sheene, off-road fans had the legendary Dave Thorpe.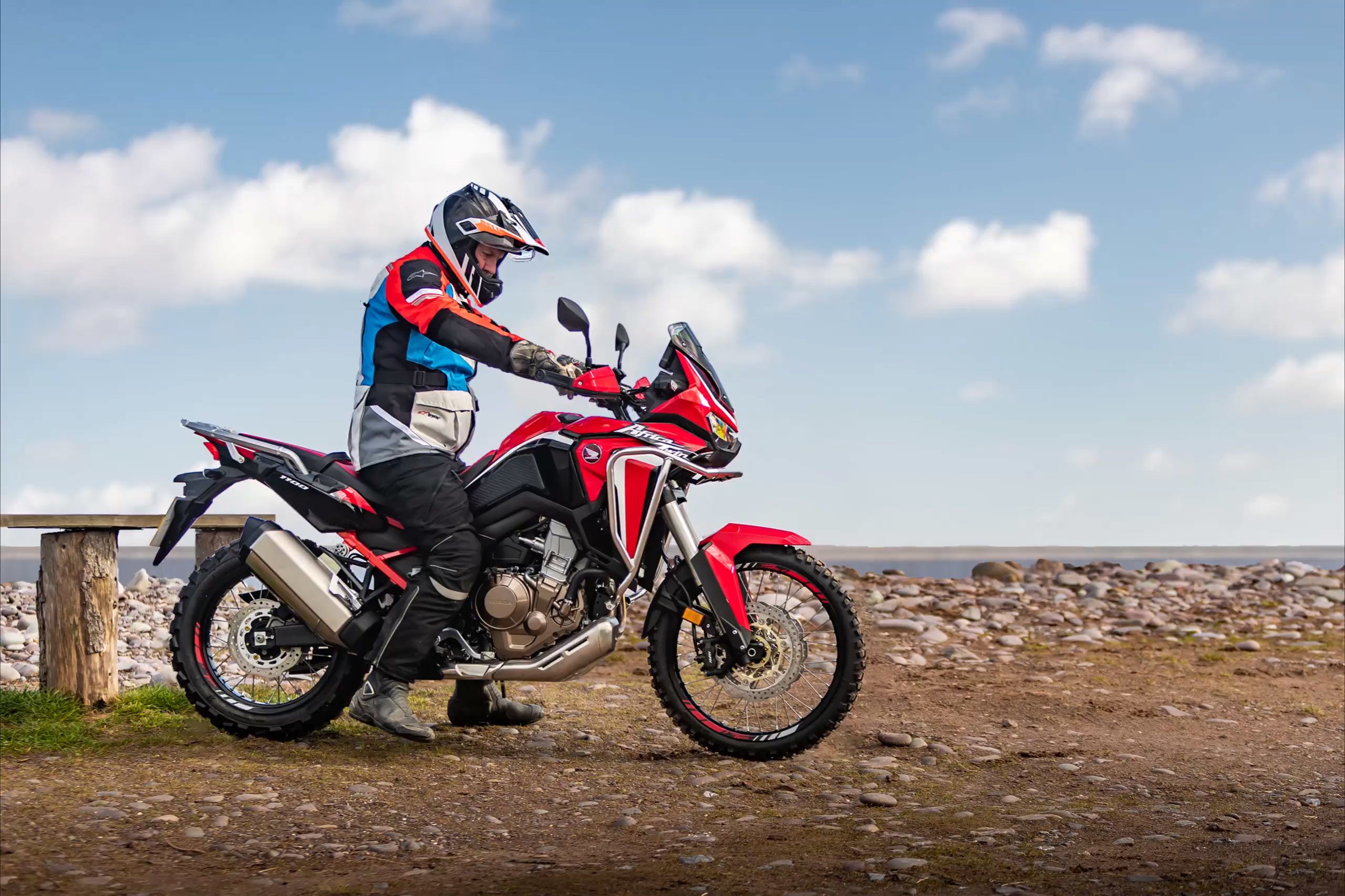 Aside from being an extraordinarily skilled rider, Dave is a good friend and a nice chap. I've been told to meet him at Dunster Beach near Minehead and to bring a fully equipped DCT (Dual Clutch Transmission) 2020 CRF1100 Africa Twin with me.
On the outside, the new Africa Twin may look like the bike originally launched in 2016, then updated in 2018, but it's very different, with a plethora of upgrades – most significantly to the engine, rider aids, and equipment.
The engine has grown in capacity to 1084cc, which pushes peak power from 93bhp to 100bhp, while peak torque also sees a significant jump from 73ftlb, to 77ftlb. It also now comes with a 6-axes IMU that allows lean-sensitive rider aids like traction control (for both on and off-road), plus cornering ABS. Additionally, there are four power modes, engine braking strategies and, if you opt for the semi-active Showa suspension, that's now linked to IMU too.
The DCT gearbox is also in communication with the IMU, which means fewer automatic changes mid-corner during big lean. This a big step over the new bike's DCT predecessor, and a new touch screen multi-media TFT dash and switchgear makes it all accessible.
---

---
While my bike has ticked every accessory box available, including integrated hard luggage and rear box, Dave has opted for the standard CRF1100L. The base model is the lightest and most off-road biased option, with a smaller fuel tank and lower screen... And, yes, I can see where this challenge is heading.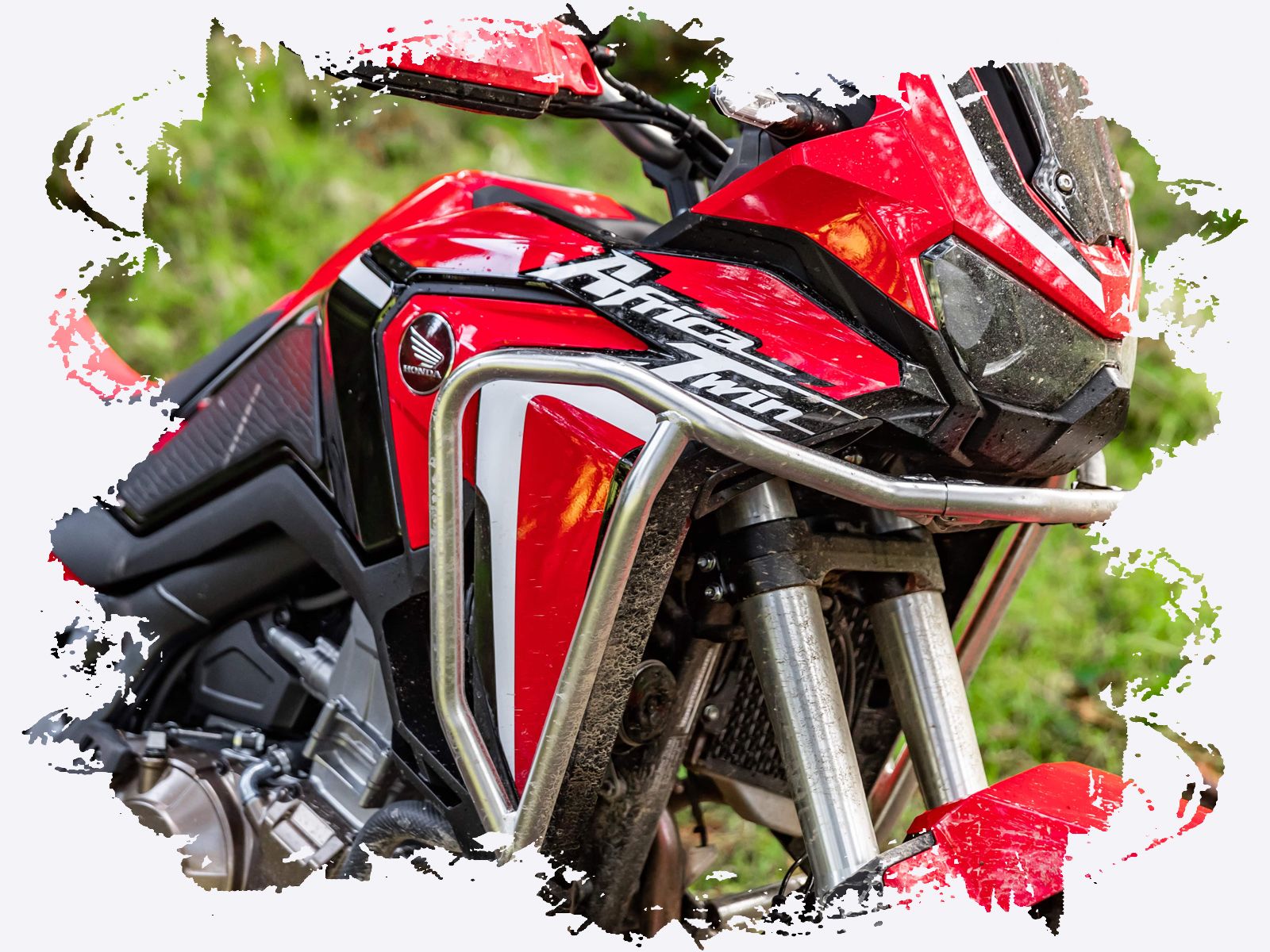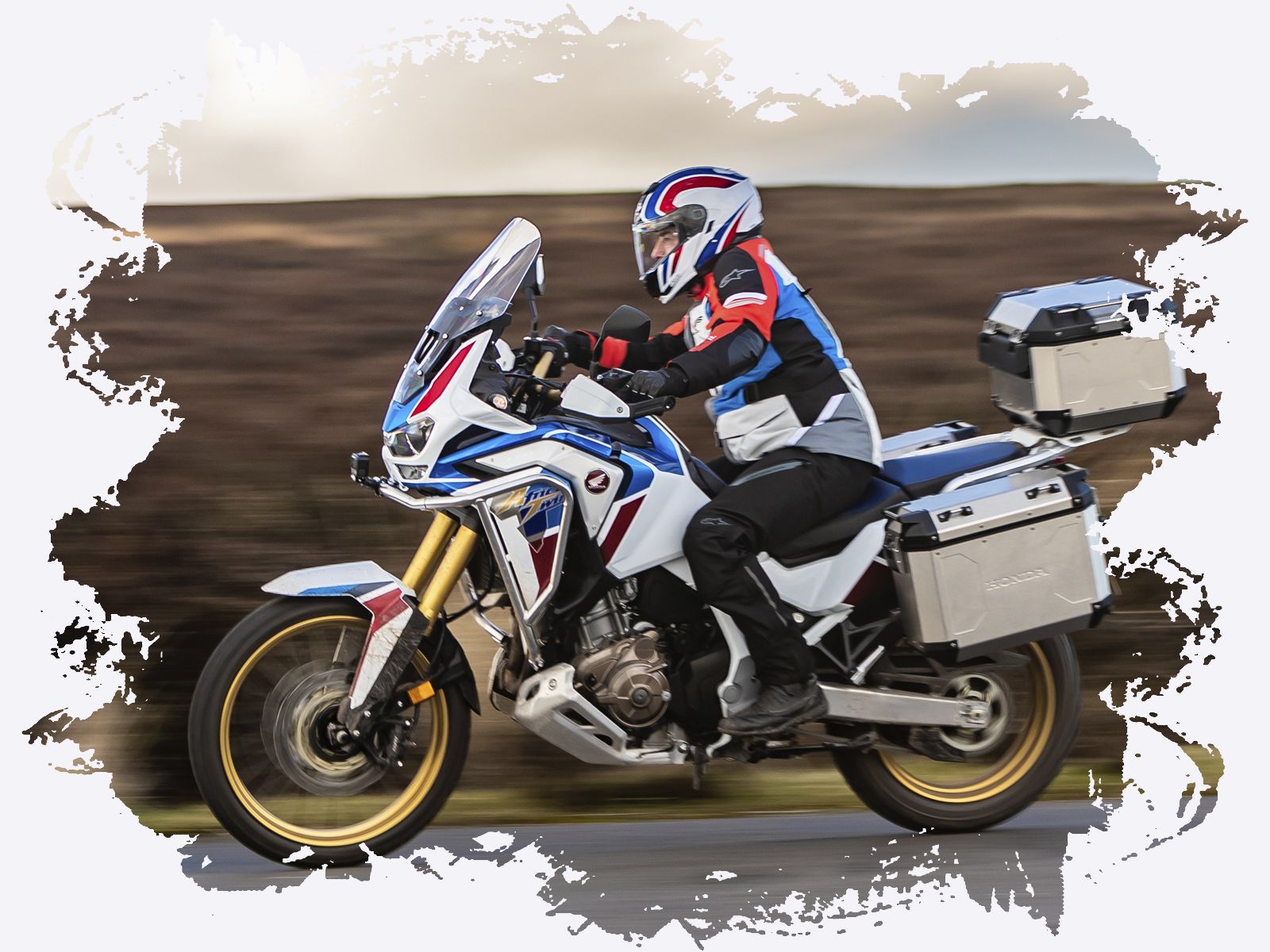 We're handed an envelope; the challenge inside it is simple. We must ride from Dunster Beach to the Honda's Adventure Centre. We will both start on the road, but Dave will quickly deviate off-road while I take a longer road route and stay on tarmac. Dave has a shorter route but will be limited by tough terrain which, given the early spring conditions, means muddy, cold and wet. Recent flooding has dragged debris everywhere. Yes, Dave is an exceptionally gifted rider, but even a former world champion can't average more than 15-20mph off-road, can he?
I, on the other hand, have that smoother but longer route, all country lanes and stunning scenery. I simply don't need to take risks or speed because I can easily manage to average more than 20mph. In fact, I might have time to stop for a brew.
While Dave is going to be knee-deep in sticky stuff, I'll relax behind my CRF's tall screen, flick on the heated grips, follow the sat nav via my Apple CarPlay and enjoy the ride. With a DCT gearbox, I won't even have to change gear.
As we leave Dunster Beach it's cold, but the sun is out, and the roads are deserted. I'm in the Urban mode – mid-power, mild engine braking – with rider aids and DCT activated, and those heated grips warming my hands nicely. Multiple World Champion Dave is alongside.
As I glance over it's obvious his screen is noticeably smaller, so is his fuel tank. We ride in tandem at legal speeds down narrow lanes until Dave dramatically veers right and heads off-road, kicking up stones, gravel and mud – he's clearly clicked the Africa Twin into Gravel mode. I can see Dave out of the corner of my eye, stood up the pegs, body position over the small screen making it look easy. I can also hear the distinctive engine tone of the parallel twin, which sounds like it has more bark in 2020. Dave isn't hanging about. It's time I did the same.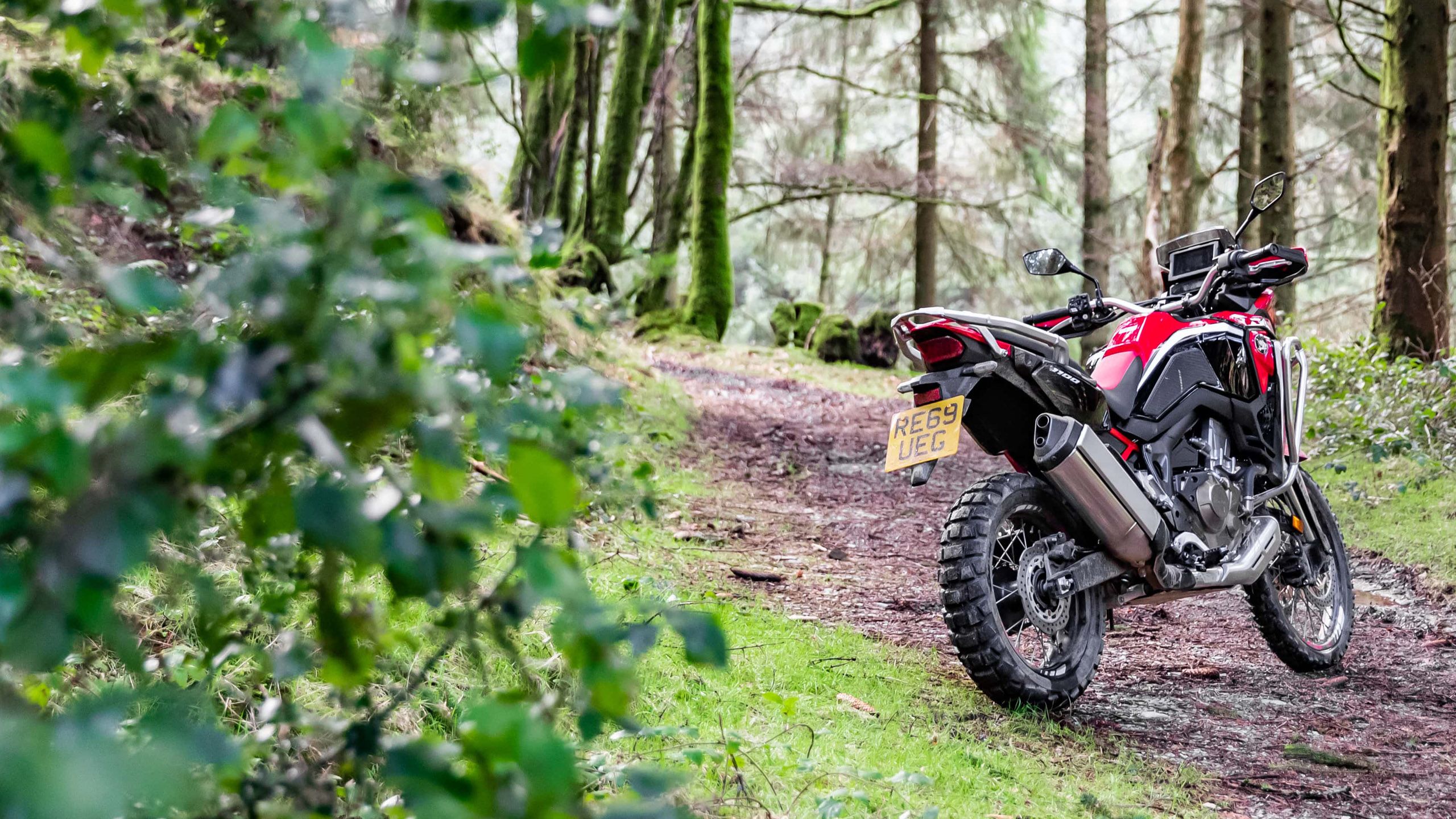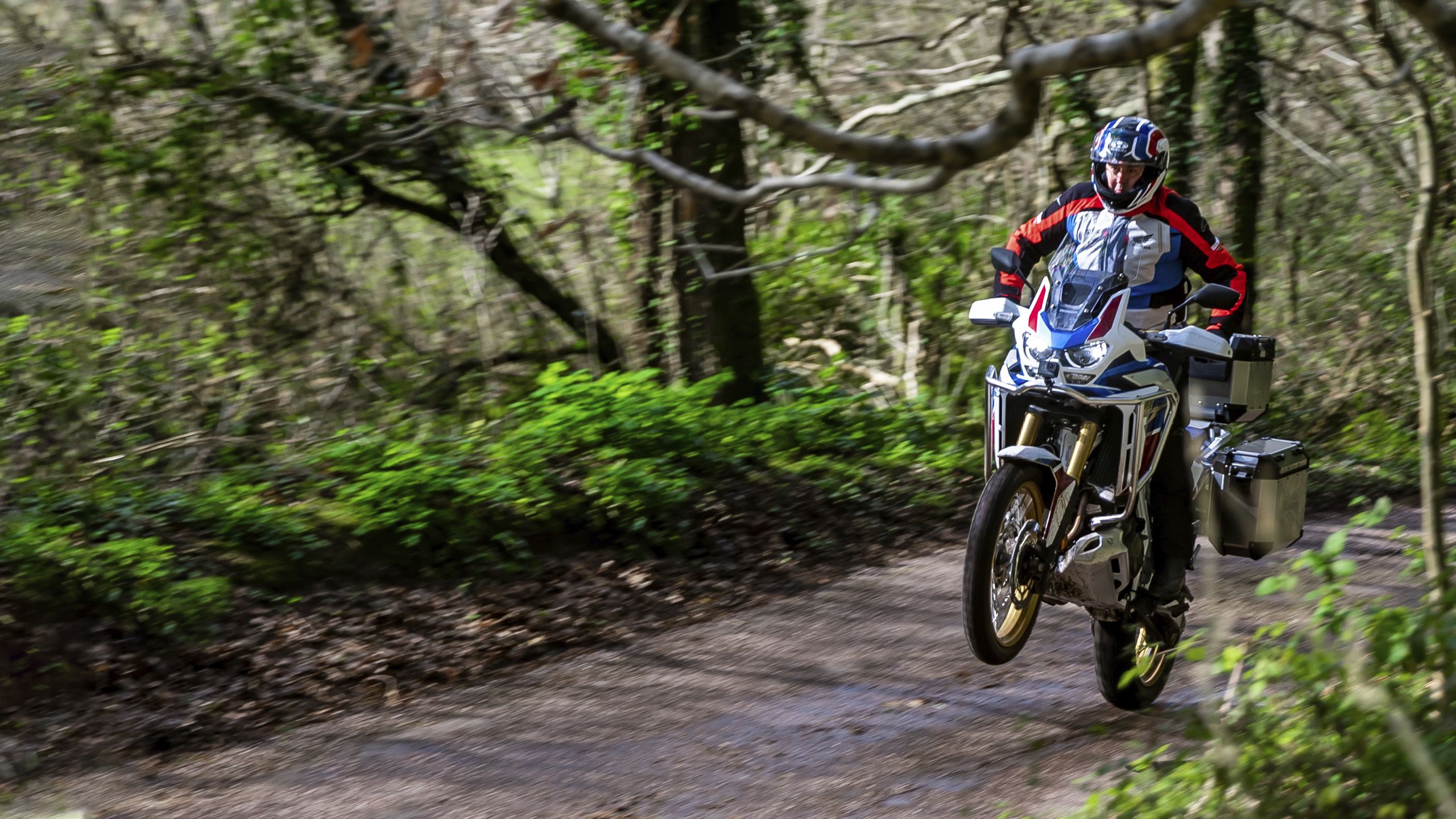 At the end of the lane, the small road opens into a conventional B-road. That's more like it, and time for Tour mode and full power. I don't know the road, but it twists and tuns like a meandering old river across the countryside. The grip level is constantly changing, from dry to wet, especially under the trees. There's a huge amount of loose stones on the road, too, which have been carried by the flood water. So, it's reassuring to know I have those updated rider aids at my fingertips.
The increase in performance is clearly noticeable over the previous Africa Twin. I'm simply enjoying the road, not revving the 1100, but even so the increase in torque is obvious. The pull and drive are impressive, even when fully loaded with luggage and a full tank of fuel.
As I approach the rolling hills, taking care around sheep that have ventured onto the road, I can't help but take in the stunning vistas. This part of Somerset is relatively unexplored, yet stunning, and I'm enjoying unbroken views across the River Severn with Wales clearly visible beyond.
Dave, meanwhile, must be waist-deep in mud by now – numb with cold, without feeling in his fingers and generally miserable. Which simply makes drinking in the landscape and absorbing this brilliant road all the more pleasurable. The CRF's improved chassis gives excellent feedback, I can confidently feel what the front off-road biased Bridgestone is doing, which is impressive for a bike with long-travel suspension.
As I near our destination the road turns into a roller coaster, the perfect playground for the Africa Twin. I flick from DCT to manual, changing gear via the paddle shift, though with the 2020 bike's improved torque there's really no need to change gear as much. I like the auto-blip on the clutchless down-changes – it feels racy – while the punch out of slow corners is enough to get the anti-wheelie working overtime. This is fun. Honda has injected some excitement into the Africa Twin.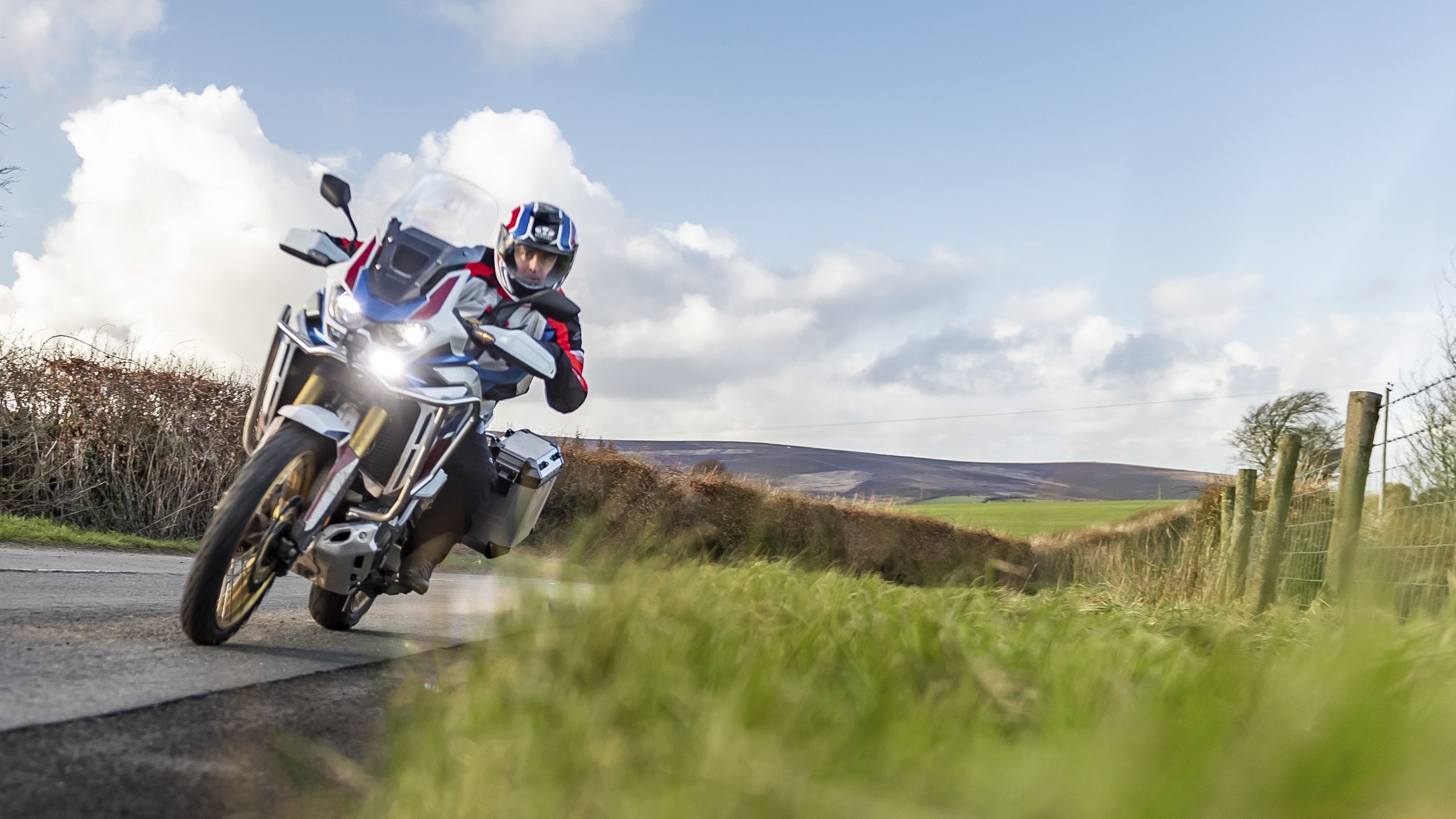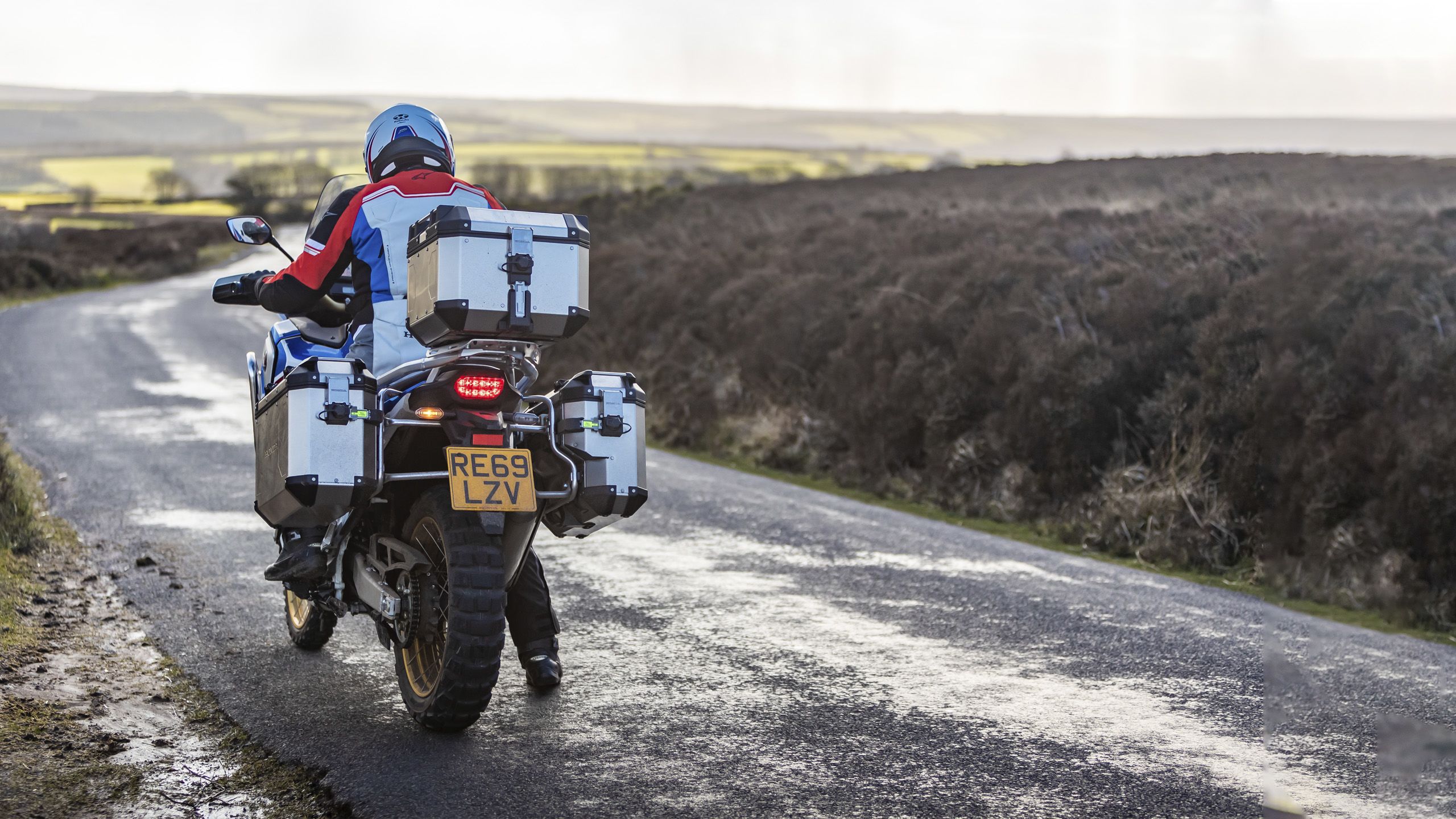 Approaching the Honda off-road school, I'm confident that I have this one in the bag. It's been an enjoyable and comfortable journey; you could spend all day in the CRF's saddle without any aches and pains. And with a little off-road in the final section, I'm done. That was easy.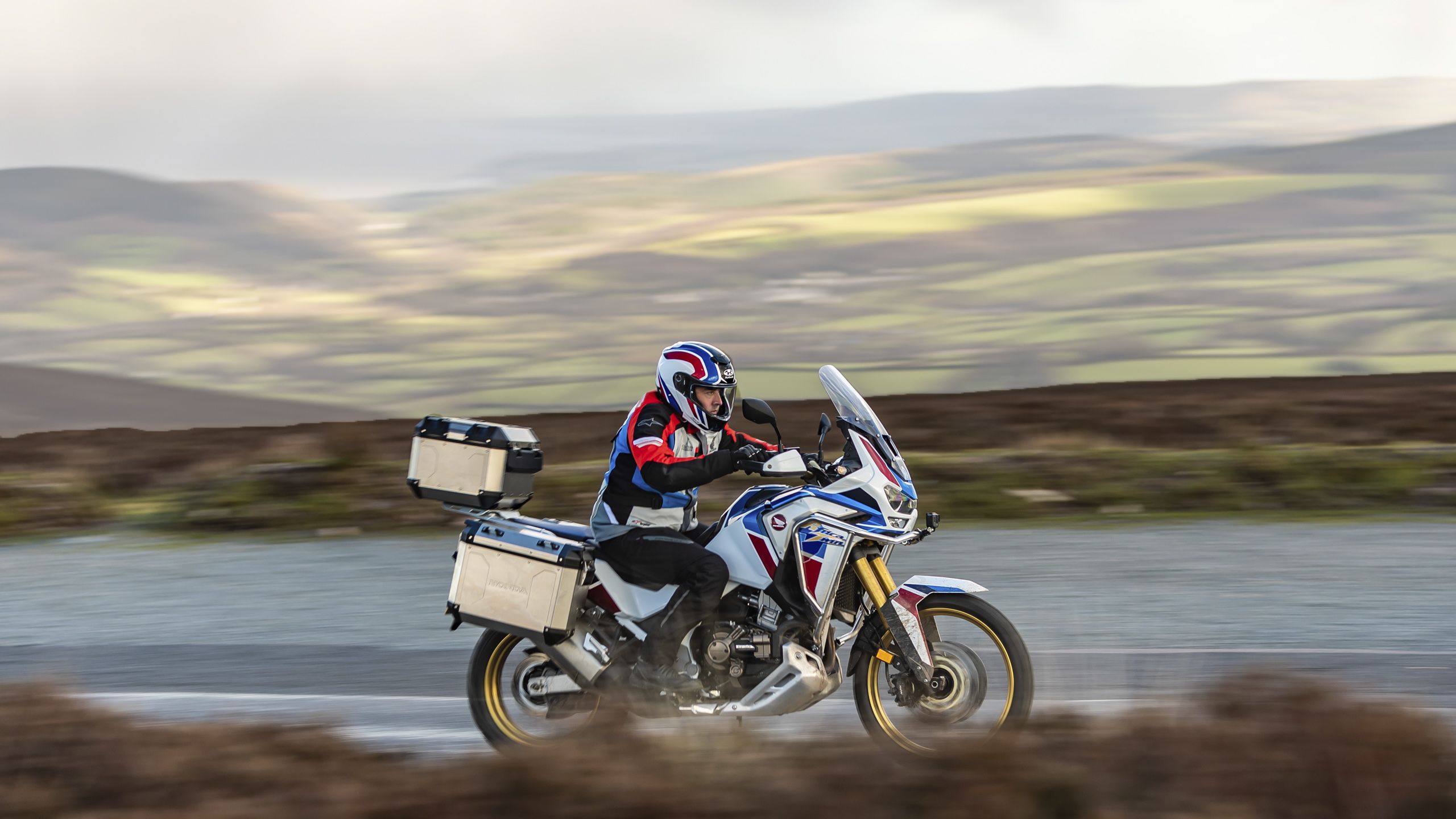 But, to my surprise, there is Dave, he's beaten me to it. He's even had time to remove his lid and stop for cake! The bike looks filthy, Dave is covered in mud, but he's smiling and happy – it looks like he has had fun, and he arrived first. I'm not too disappointed, I enjoyed the scenery too much to feel like a loser while the roads were breath-taking. Coming second to a world champion is never too embarrassing.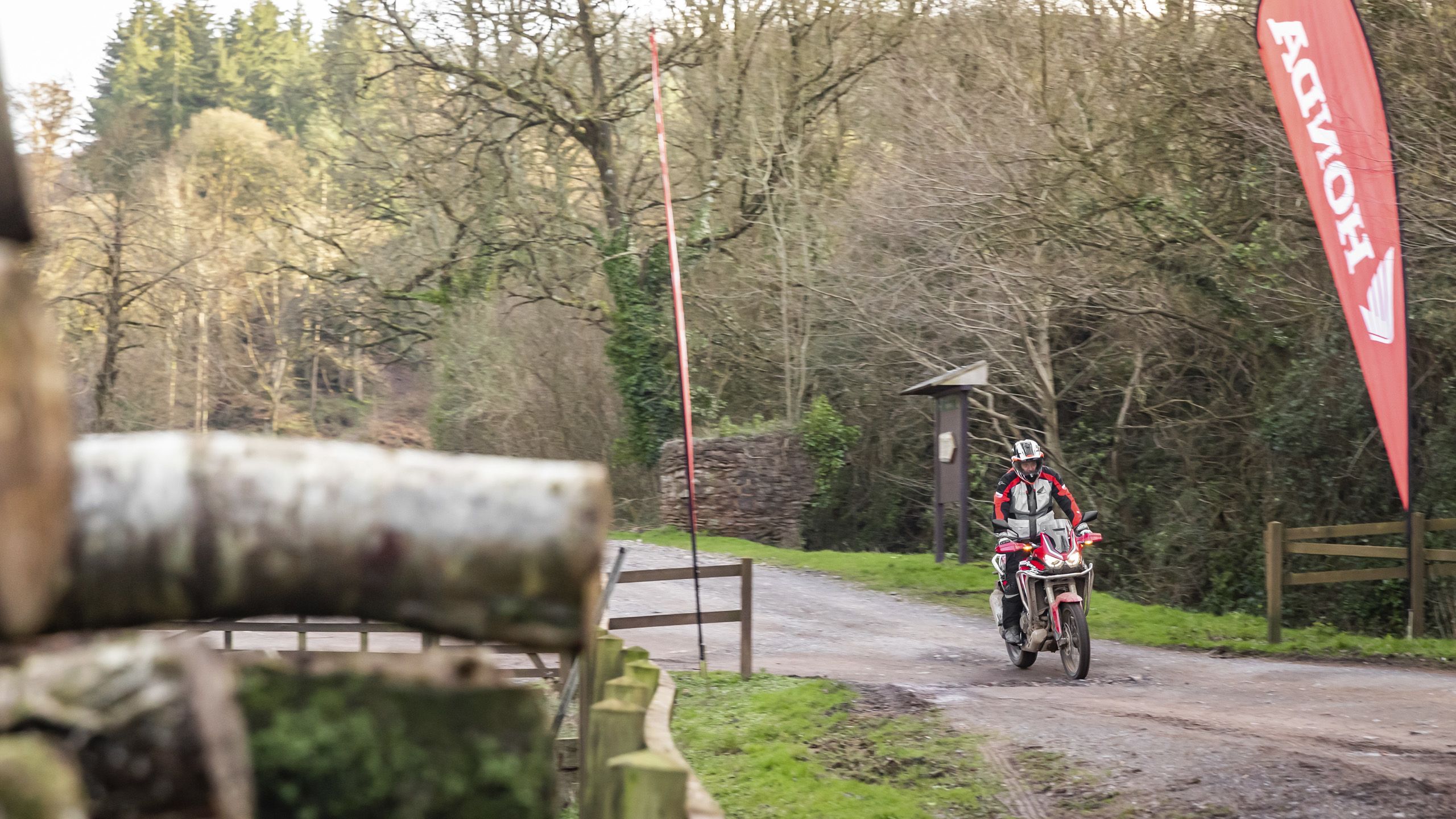 So, let's do it again, this time back to where we started, or how about Dave rides something smaller like Honda's 500X? Or maybe something more in my comfort zone.