It's Never Too Late to Get on Two Wheels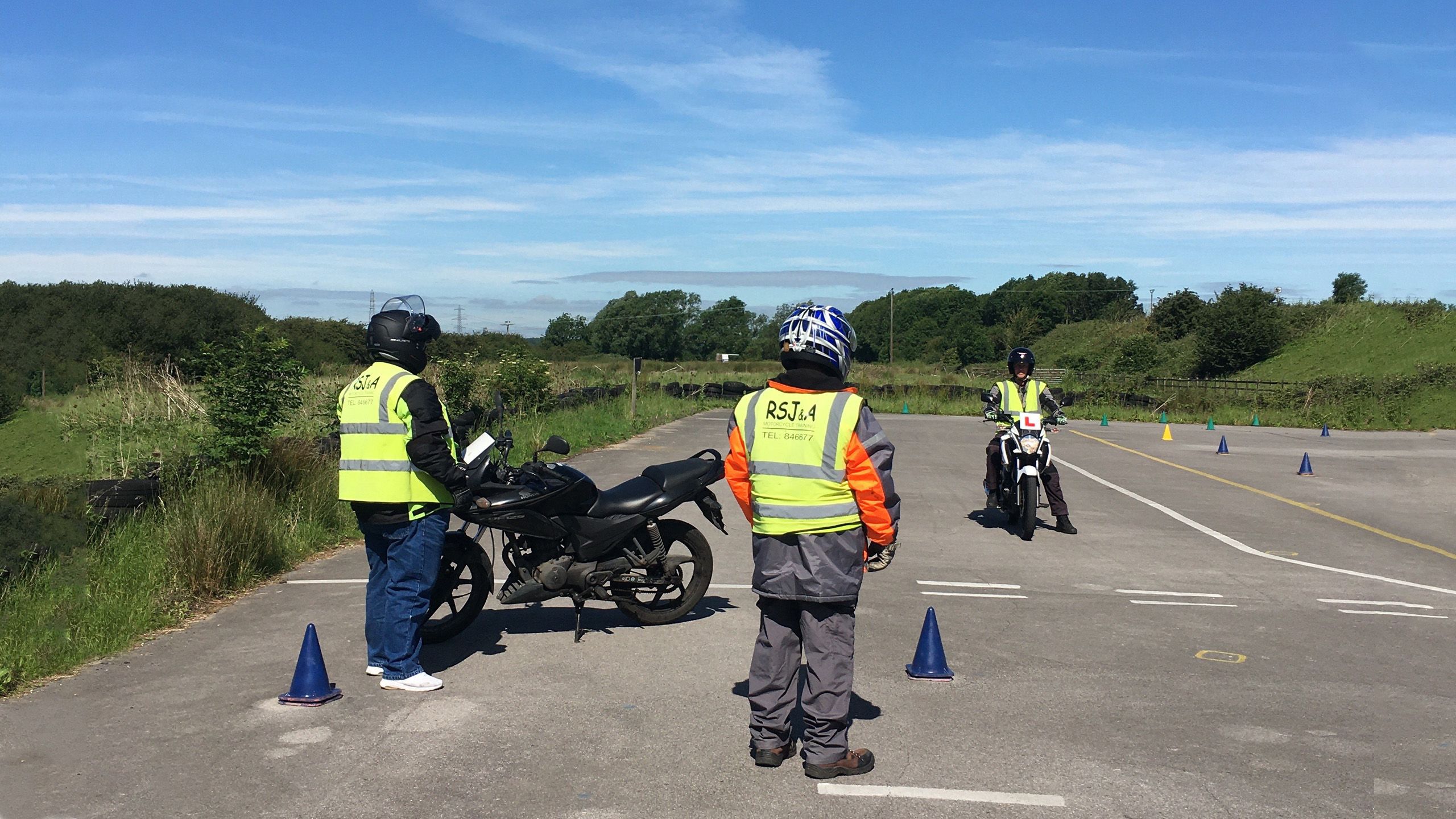 🕐 2 July 2020
A middle-aged man getting a motorbike has probably got to be the classic symptom of a mid-life crisis, but I'd like to think there's a little more to it with me than that. Most of the time, people in their 40s and 50s who get bikes will have a background of biking from their youth, but I didn't. I've been a self-confessed car fanatic for my entire life and have never really thought about motorcycles, even though I have long hair, I've listened to and played rock music my whole life, many of my friends have been bikers, and even my wife used to be a regular pillion rider before meeting me.  
For the last eight years, I've been a motoring writer and journalist, but about eighteen months ago I became a regular contributor to the Honda Engine Room website. Perhaps a little strangely for someone who had never even sat on the seat of a stationary motorcycle, I ended up writing articles mostly about motorbikes. I started to feel a bit of a fraud interviewing the likes of Forest Dunn and Honda Racing's Davey Todd, Glenn Irwin when I couldn't even ride a bike myself, so off I went to do my CBT to see what riding a motorcycle was actually like and if it was something I might want to get involved with more in the future. 
My CBT was organised through RSJ&A Motorcycle Training, which is an approved Honda School of Motorcycling training provider covering the Hull & East Yorkshire area and is supported by local dealer Miles Kingsport Honda in Hull.  

Although RSJ&A is only a stone's throw away from a city, the facility is situated in a nice, quiet rural area which is perfect for those starting out on a bike for the first time. The training area is ten acres of private land that's beautifully secluded, and there are no distractions to take your attention away from the job in hand.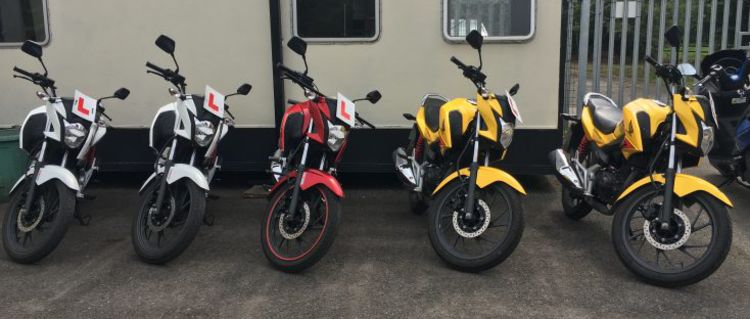 My trainer for the day was training co-ordinator Russell, who's been in the business of motorcycle training for close to 30 years. His friendly, relaxed and quietly enthusiastic manner put me totally at ease from the start, even though there were a few things I knew were ahead of me that I was far from confident about confronting before I sat down with Russ. 
The first order of business was for Russ to check my driving license, and then he went off to get me some gloves and a helmet (I already had a jacket and appropriate footwear) to try on before we sat down for a briefing. Russ told me what we would be doing throughout the day, and then he started to cover details of the different types of protective clothing, including why we wear each item, what the legalities are, and how to care for your helmet, etc. 
Once the briefing was over and I was suitably attired, the next order of business was a walk around the bike that I would be riding that day. The bike in question was a red Honda CB125F, which was an awful lot more stylish than anything I would have been riding if I'd done my training all those years ago when I was 17. If 125cc bikes had looked this good when I was younger, I might have got into bikes a very, very long time ago.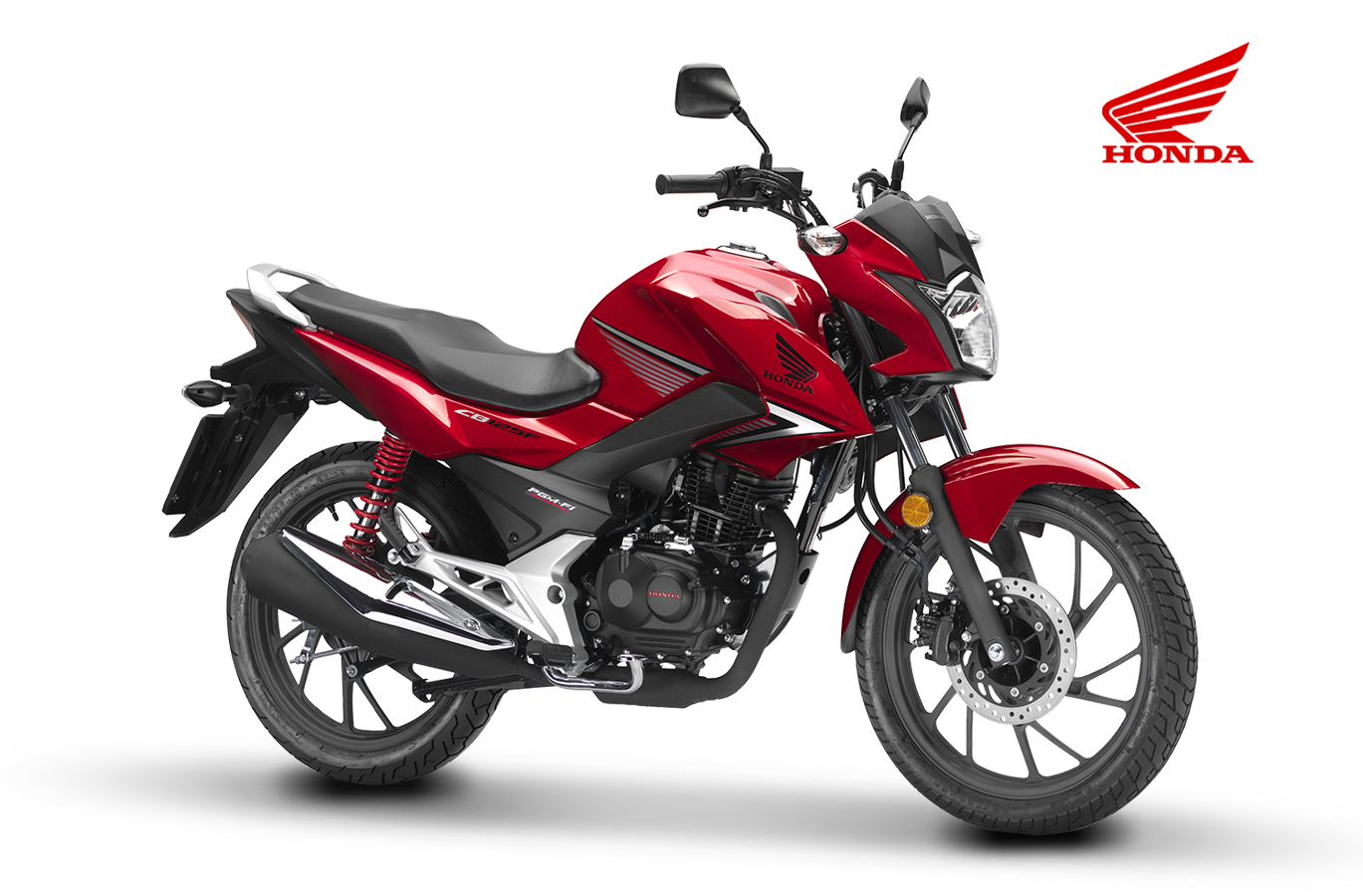 I have to confess here that I'd already been through a little of this briefing before at Motorcycle Live at the NEC, which is when I had my first and only experience with a motorcycle so far during the MCN try-a-ride event at the show.  
Russ explained all of the bike's controls, how to get the bike on and off the full stand and the side stand, and he also went over the most important elements of basic bike maintenance. Getting the bike on and off the full stand looked a little daunting when Russ demonstrated it, but I was amazed how easy it was when using the correct technique. 
One of the things I found most surprising was the operation of the indicators. While the positioning on the left-hand side of the Honda's handlebars seemed perfect, I was amazed that they weren't self-cancelling. Russ pointed out that this was normal for almost all motorbikes, and it just meant you had to make sure you cancelled them once you'd completed your maneuver so you didn't give other road users the wrong idea about what you are about to do next. More about this later…….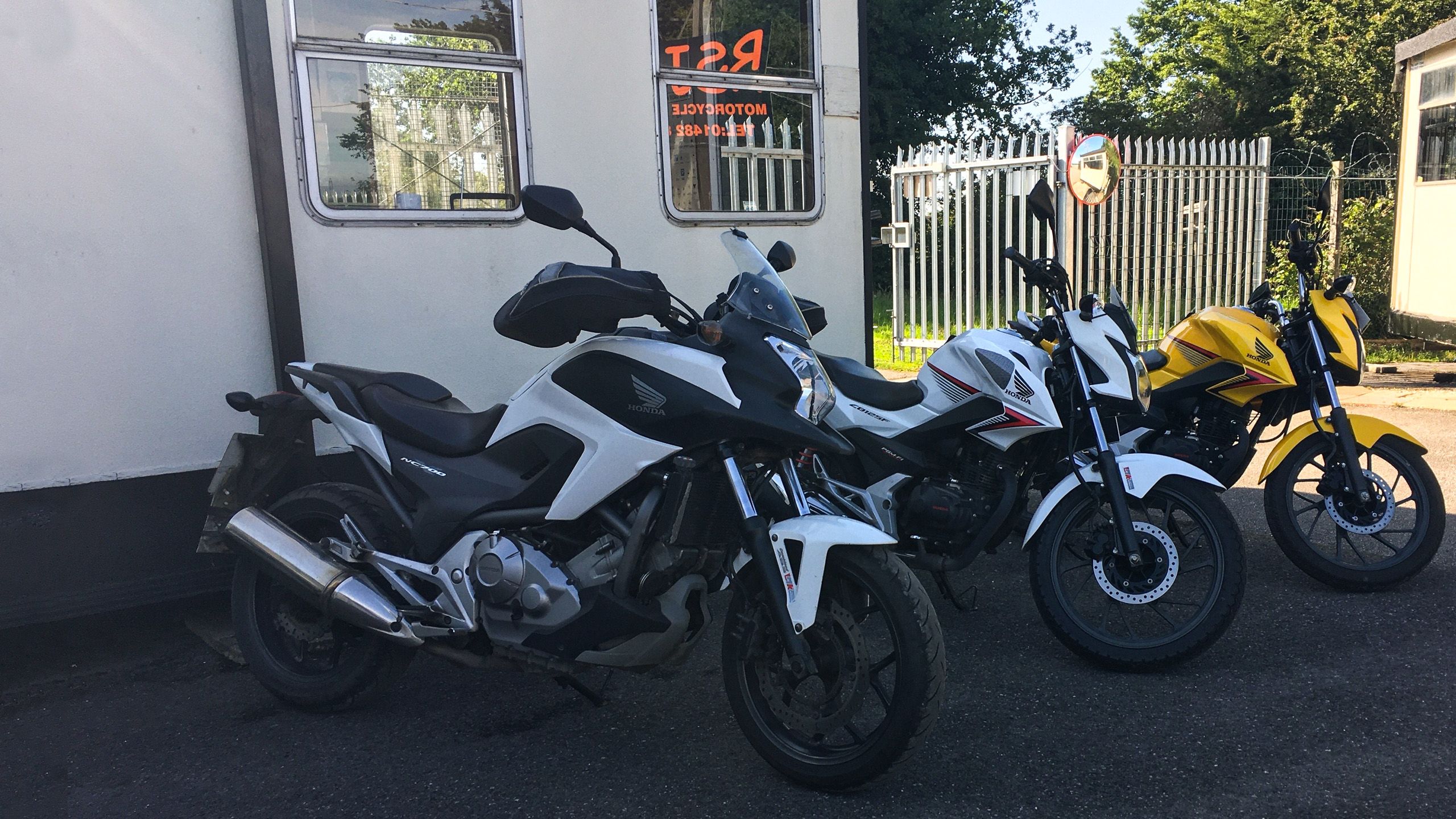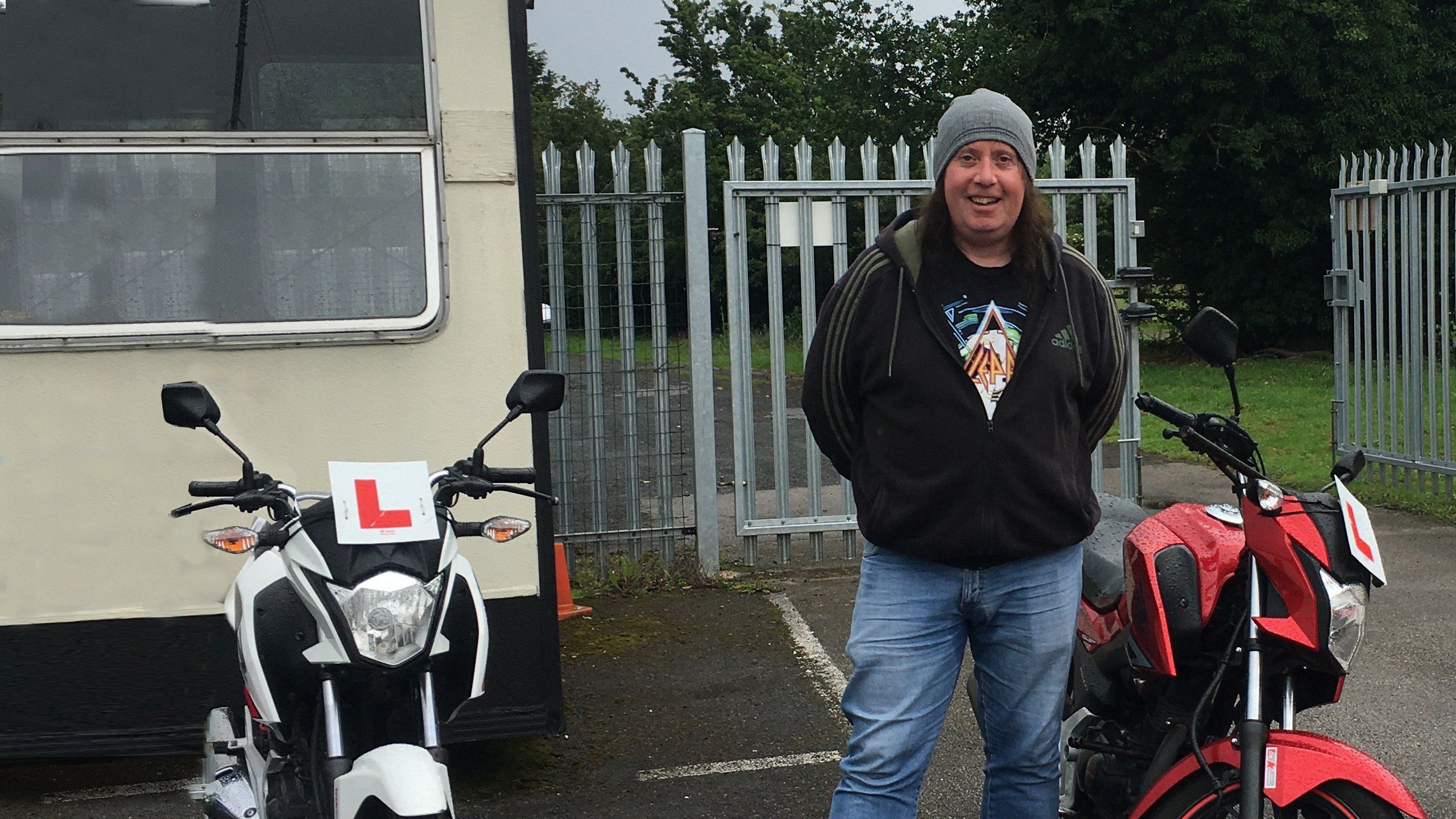 With the briefing and walk around out of the way it was time to get down to the serious business of actually starting the bike, putting it into and out of gear, moving off, and braking. I immediately wanted to know about the difference between the front and rear brakes and when each or both should be used, but I was getting ahead of myself. 
After getting a feel for first gear and the clutch at a safe distance of about two feet away from a wall so I couldn't get over-enthusiastic with the accelerator, it was now time to move onto the main training area to finally have a go at riding. In the small confines of the try-a-ride area at Motorcycle Live I'd had immense trouble balancing at such low speed and never managed to get both feet off the ground, but there was much more room here so I was hopeful of putting in a better performance. 
I was surprised at how quickly we moved from starting off in first gear and stopping safely to turning corners and changing up to second gear. Russ obviously knows what he's doing inside out, so I can only assume he felt I was doing well enough to progress at such a pace and would have slowed things down if I was having trouble with any particular discipline. Before I knew it we were covering approaching and exiting junctions, doing continuous figure eights in and out of the cones and emergency stops. 
My confidence for going out on the open road still wasn't exactly sky-high at this point, I must admit, and it didn't help that as I rode the bike back to the classroom and office area the heavens opened and the rain started pouring down. First time out on the road and it was going to be wet? I had been hoping for quite the opposite.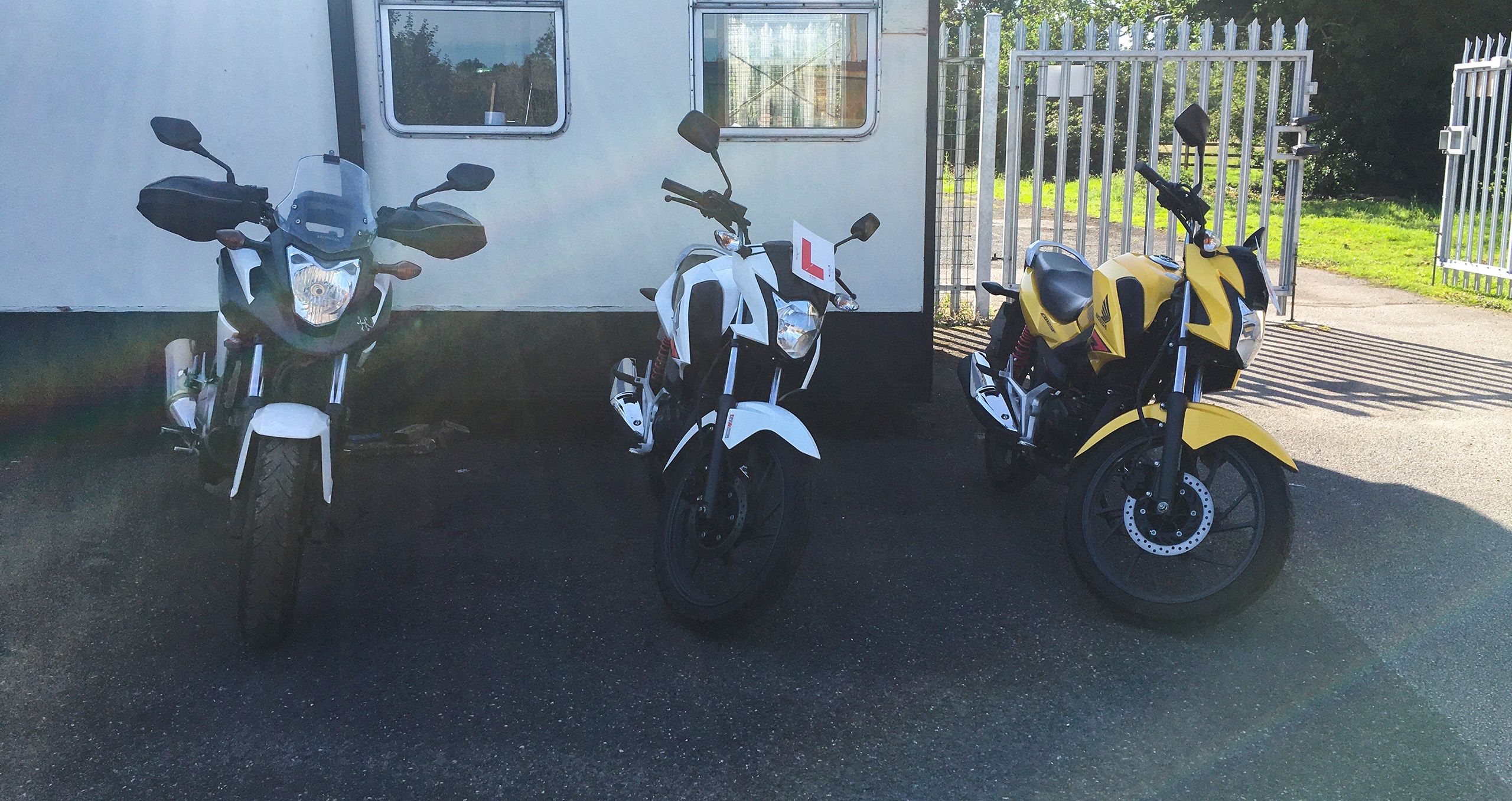 After a short break for lunch, Russ sat me and another student down who had been working with another instructor on the bikes for a further briefing about going out on the road. As both of us were experienced car drivers he didn't spend too much time on road signs, but he did cover road positioning in some depth with the use of a whiteboard. 
When the time finally arrived to go out on the road I'd been fitted with a one-way communication device so Russ could tell me what he wanted me to do while we were on the move. While making use of that kind of technology seems obvious today, it did make me wonder how much harder learning to ride would have been years ago when such communication between student and instructor wasn't available. 
I'm not going to recite the ins and outs of where we went and what we did during the two hours or so that we spent on the roads around Hull, but what I will say is, I really can't believe how comfortable I found the whole experience. 
Yes, I stalled the bike once or twice at junctions, I wasn't always in the correct gear, and I could have done with getting a bit more speed up at times early on. However, my biggest issue was with those indicators I mentioned earlier. I can honestly say that I never forgot to use them once, but I'll also admit that Russ had to remind me to cancel them at least 50 percent of the time. 
If I performed a maneuver perfectly and had no issues with revs or gear selection I would remember to cancel the indicators, but if I messed anything up I found myself concentrating so hard on correcting my mistake that I'd forget all about cancelling the indicator. 
For about the last quarter of an hour of the ride, it began pouring it down with rain, but I'm very glad that it did. One of the things I was most concerned beforehand about riding a motorcycle was riding in wet conditions, but I can confirm that at the speeds we were going in these urban areas, the bike performed brilliantly and I had no problems whatsoever. There wasn't even an issue with visibility as the wind on the visor of my helmet did a decent job of clearing away the raindrops. 
As we returned to the training centre the rain abated and the sun began to shine again, and that perfectly represented the way I felt. I wouldn't say I'd been nervous before embarking on my day of CBT training, but as a committed car driver of 35 years, I did have my concerns about taking to two wheels. 
I had contemplated doing my CBT about a year earlier, but after watching some footage on YouTube from helmet cameras of riders on UK roads, I'd decided I was happier with my big metal box around me and being on a bike would make me feel too exposed and vulnerable. When it came to it though, I actually found riding on the road easier and less stressful than being on the private training area. Not only did I find it easier than I'd ever expected to be on public roads on a motorcycle for the first time, but I also loved every single minute of it. 
My only regret is that I didn't take the plunge and get on a bike years ago. I now know that I've missed out on a lot by sticking with four wheels all these years, but I intend to make sure I don't miss out anymore. Once I've spent enough time riding a 125cc bike with L plates to feel I have enough experience, I'll be getting back in touch with Russ and Sarah at RSJ&A to book the rest of the training I need to be able to pass my full bike test, ditch the L plates and start riding something bigger. 
There's a campaign underway at the moment to try and get more people to think about riding motorcycles, and there are plenty of good reasons why people should think about taking to two wheels. Motorcycles put out fewer harmful emissions than cars, so they are a much more environmentally friendly form of transport. In our increasingly congested towns and cities, a bike can ride past traffic jams in a way that car drivers can only dream about. Bikes are also cheaper to buy and run than a car, so they can help cash-strapped youngsters to get properly mobile for less.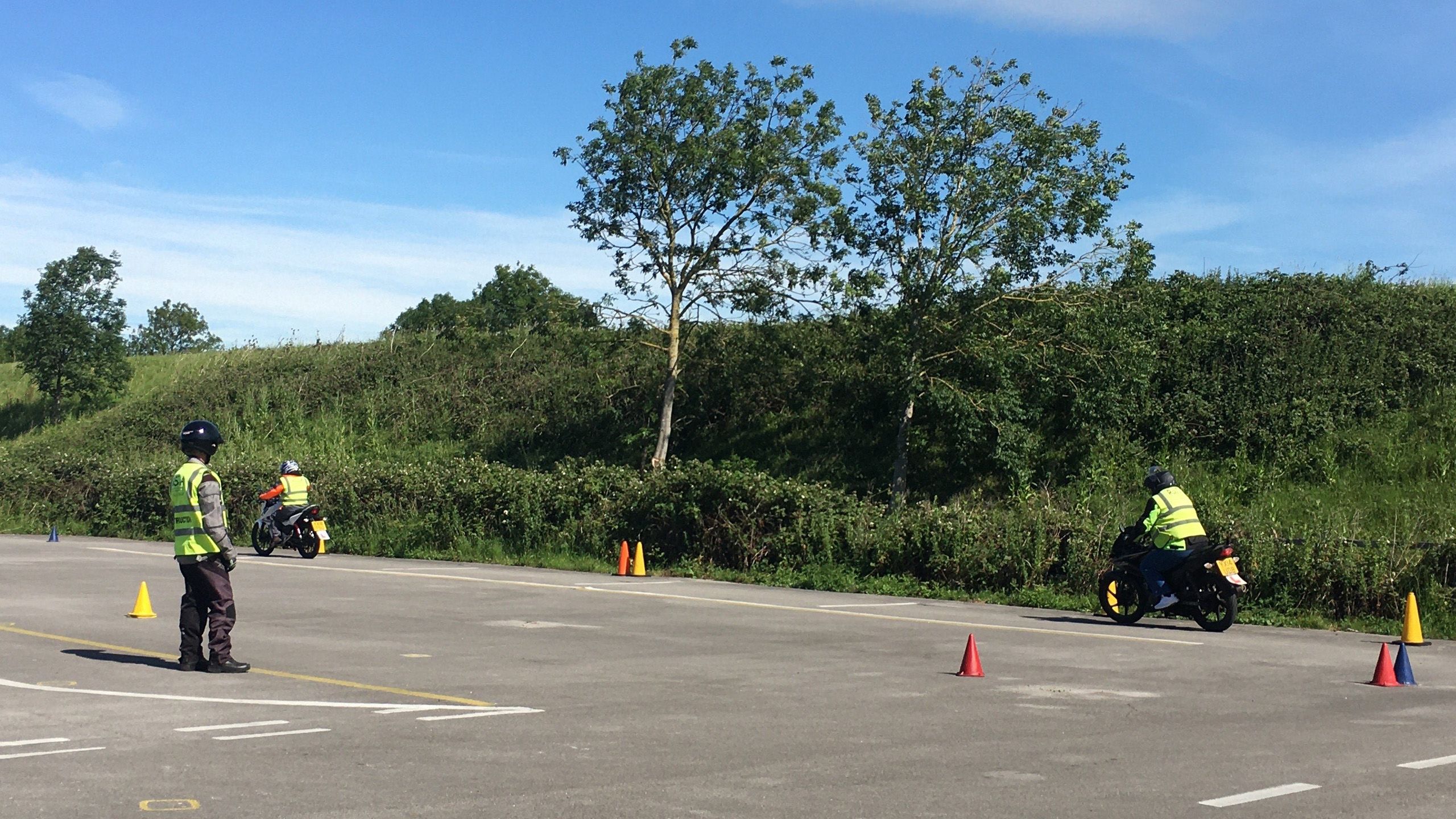 Last but not least though, riding a bike is a lot more fun than driving a car on the road. Don't get me wrong, I still love my cars and I always will, and there are times and places when driving a car can be incredibly exhilarating. But would I go out for a drive around the town or city in a modest hatchback or saloon car just for the fun of it? Probably not. However, would I go out for a ride on something as modest as a Honda CB125F just for the pure enjoyment? Absolutely I would, and I'll soon be doing exactly that.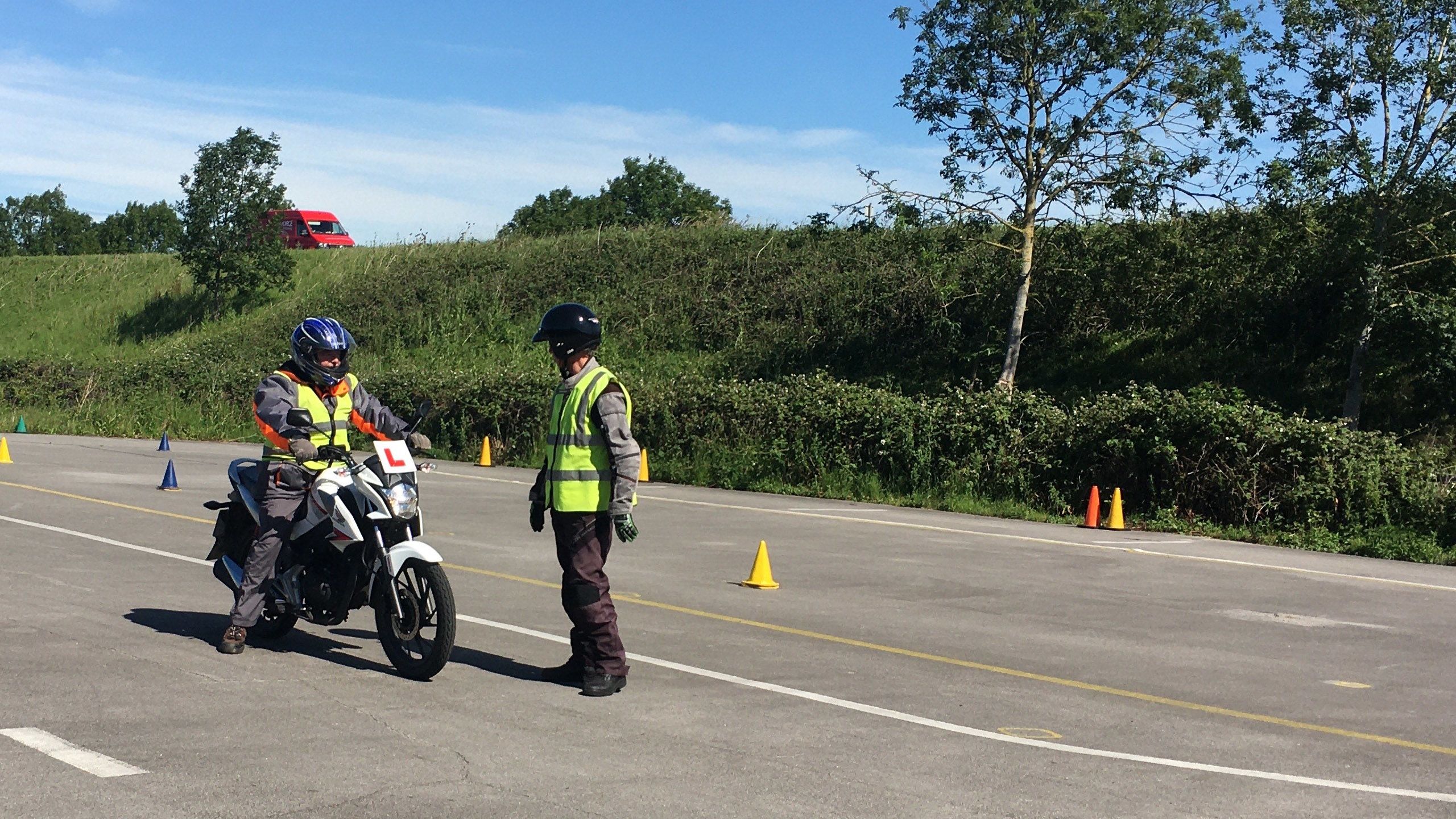 There are so many reasons to try biking; some are practical, and some are purely frivolous. What I would say though is that if you have even the tiniest of interest in giving riding a motorcycle a try, go and give it a go. Doing your CBT doesn't cost a great deal and it will tell you conclusively if biking is for you or not. Unlike car driving lessons, where you have a long way to go before you get let loose on the road on your own, you can go from complete novice to riding your own 125 on the road with L plates in a day with a CBT.   




My only regret is that I didn't do it sooner.