The Showroom-ready Honda e is Here
By Richard Aucock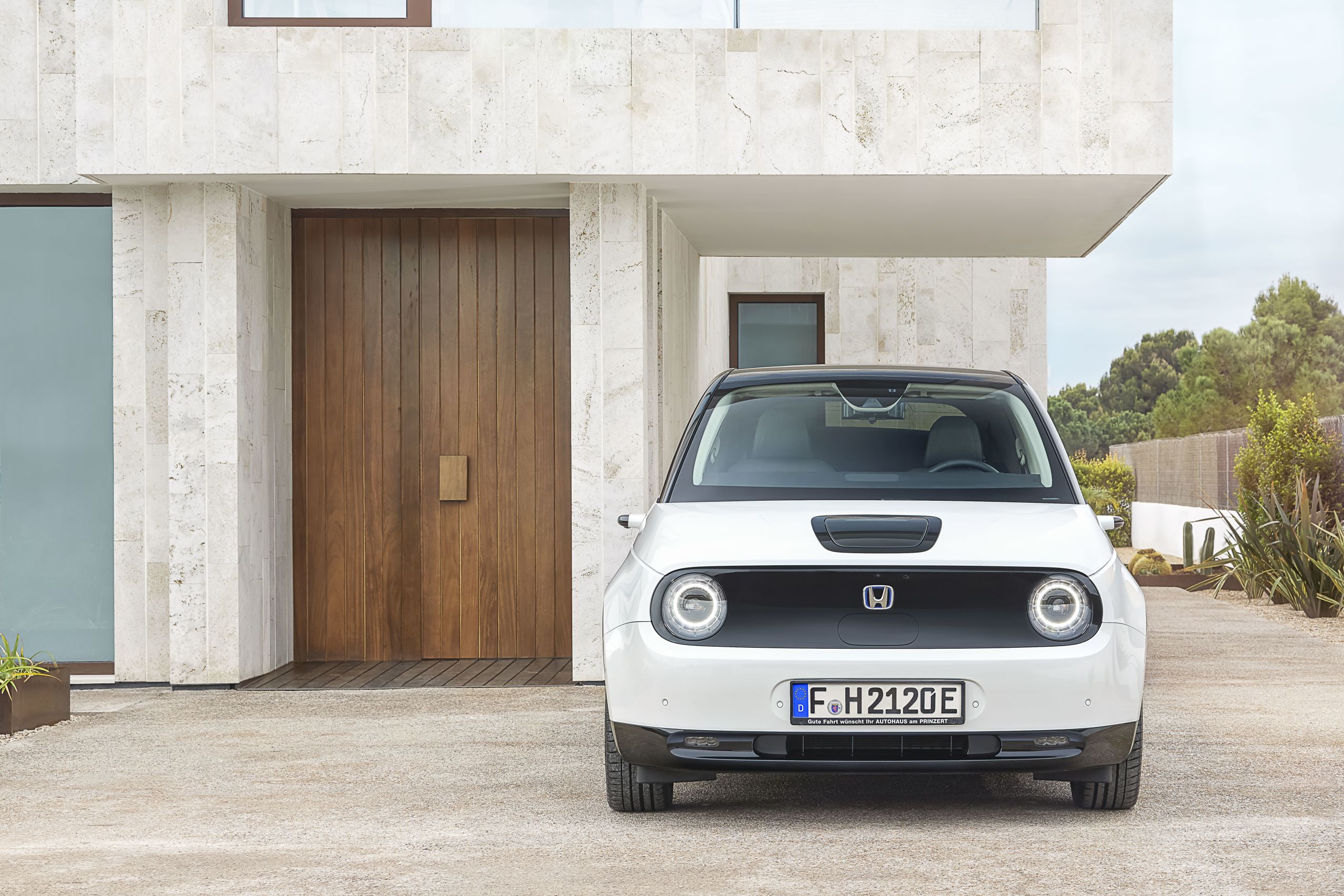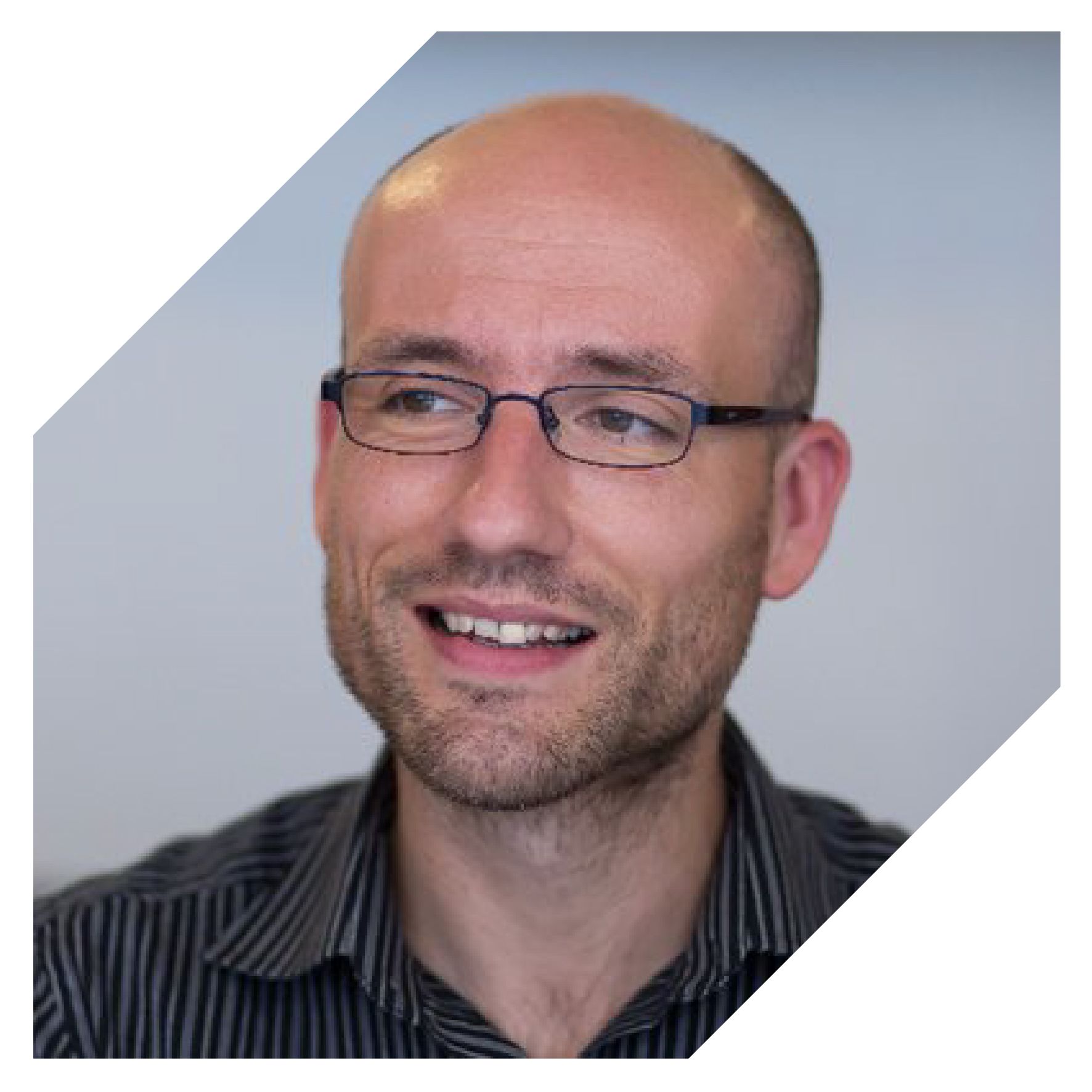 Richard Aucock
Not for the first time that morning, I was shocked. "Fancy a game of Mario Kart?" came the question. After years of anticipation, I'd finally got behind the wheel of the Honda e, the all-electric urbanite set to take the city by storm. I'd spent all morning putting the car through its paces and now, with 40 percent battery charge remaining, the little e was hungry for more. I wanted to share my excitement with the Honda officials. Heading indoors to play video games wasn't top of my priority list.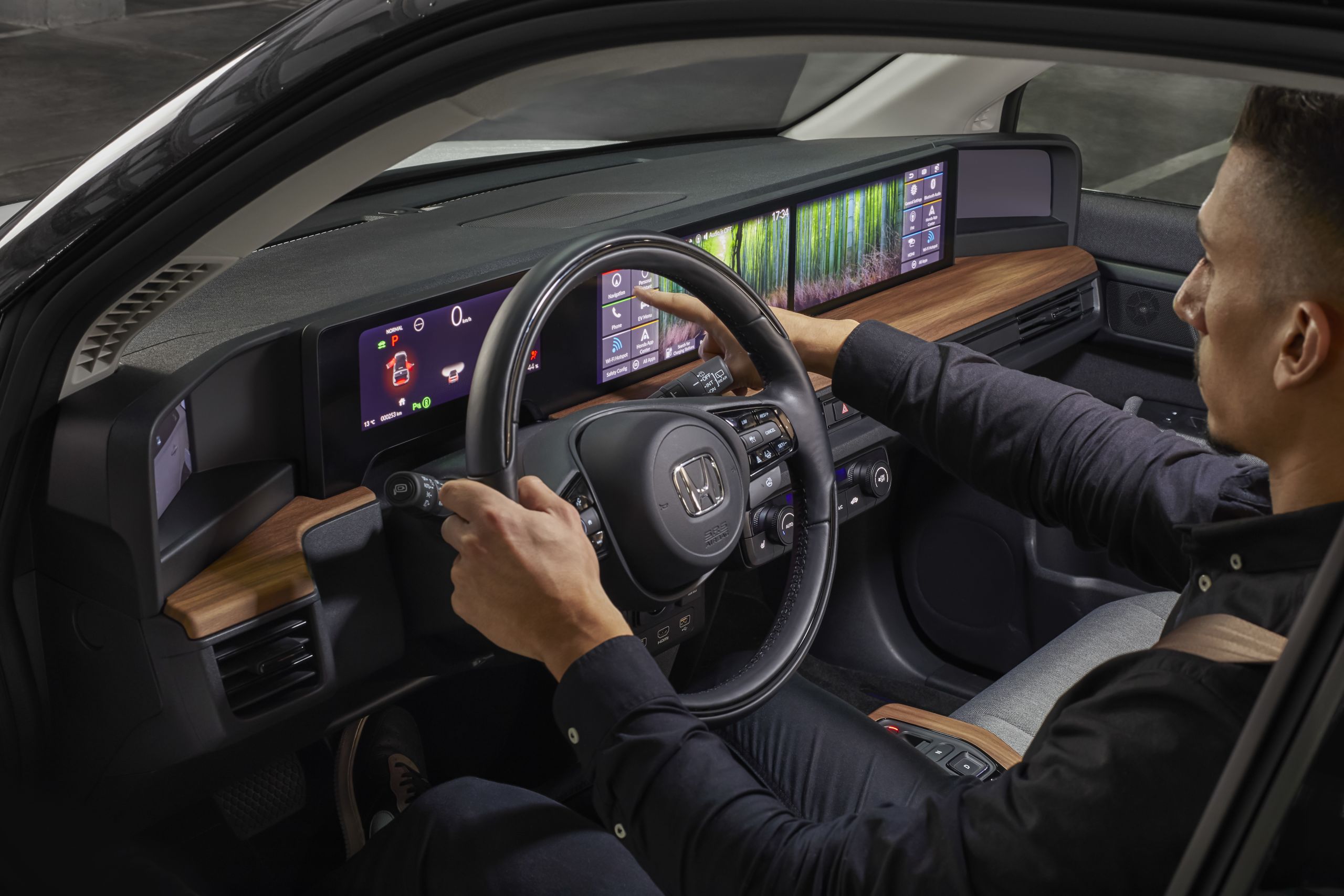 Time for yet another Honda e-related surprise. My guide, who had jumped in the car to greet me at the lunch-stop, deftly pulled out a Super Nintendo Classic Mini console. He handed me two cables, USB and HDMI, to plug into the sockets below the dashboard. A few swipes of the touchscreen later, the classic Nintendo tunes were playing in powerful surround sound – and Mario Kart was magically waiting for me on one of the vivid infotainment screens! Lunch was instantly forgotten – I grabbed my controller, because I had a race to win…
It was the icing on the cake of a remarkable morning of discovery. By now, we're all familiar with the thinking behind the Honda e. We've seen it morph from concept into production car, we've seen the technology behind it, and we've even driven an early Honda e Prototype for a fascinating first taste.
This is the biggie, though – actually driving the real thing on public roads. And as Honda press staff reminded me in the pre-drive briefing, this is no ordinary car. Rather, it is Honda's vision of the car from 2030, available to buy from this summer. It's futuristic in every way: the zero-emissions drivetrain, the cutting-edge assistance systems, the brilliant way it is a genuine Honda 'Man Maximum, Machine Minimum' model that concentrates the future into a beautifully complete form. "We have optimised it for the urban environment, where emissions are highest, and where electric cars will have the biggest impact," explained one of the team. "This is a genuinely original car, one that only Honda could have built."
Fully briefed, I'm at last given the key to my Honda e. It is waiting outside, resplendent in Modern Steel metallic. I've done drives like this a thousand times, but this little car still stops me in my tracks. Seeing it in context for the first time, pedestrians mingling around it, other cars passing by (and looking like instantly dated relics) is exciting. It's so genuinely different from anything else on the road. This must have been how the first iPhone customers felt, all those years ago.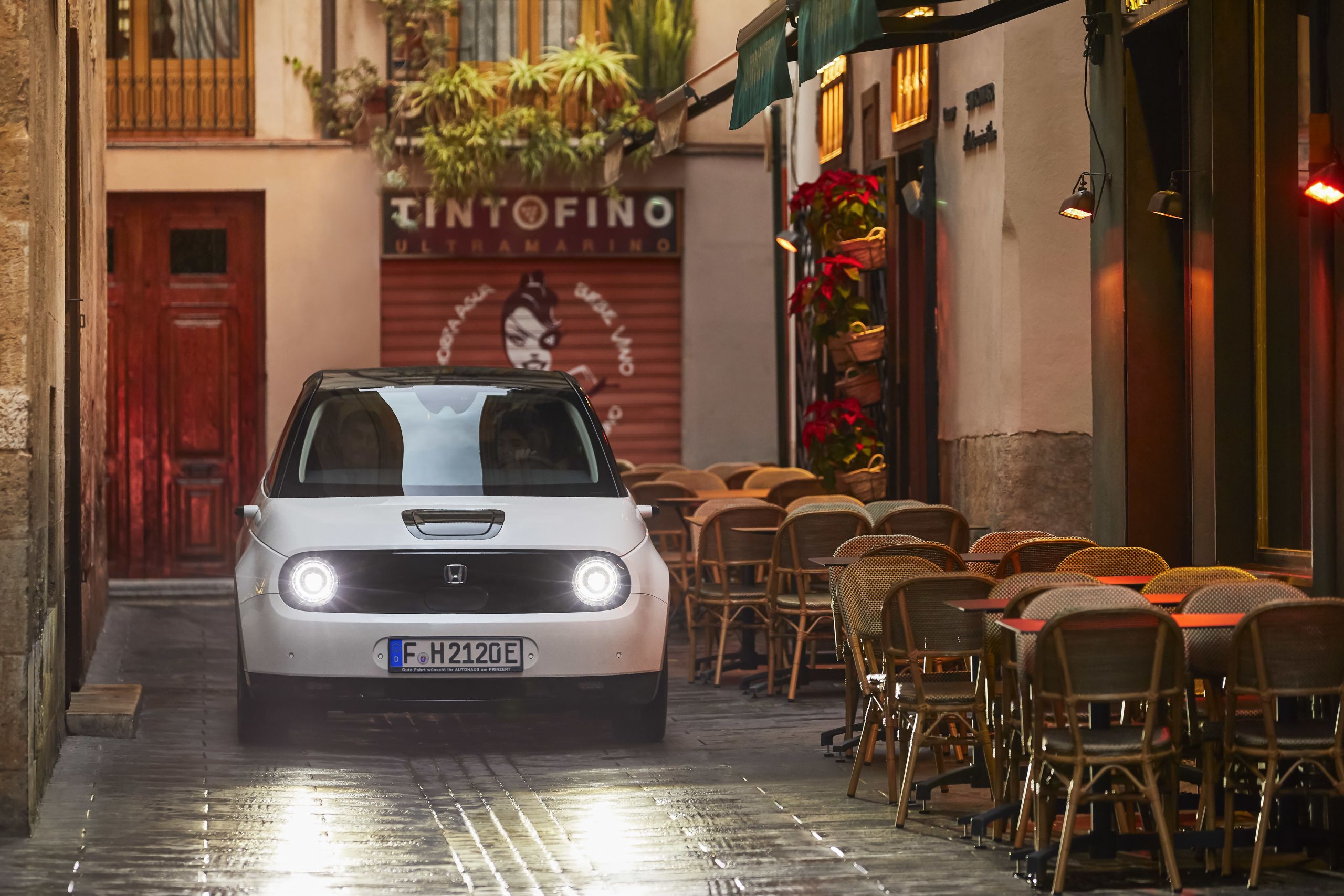 ---
However, the e isn't needlessly wacky or unconventional for the sake of it. I unlock it – out pops the retractable door handle, revealing a welcoming interior. The lounge-like seat upholstery and satin-finish wood on the dashboard are a refreshing break from the norm, and careful design means it's a walk-in rather than a clamber-in cabin. The firm seats support in all the right places, like the best premium furniture, and it's all crafted beautifully: more like a show home than a car.
The undoubted star of the show is the dashboard. HD screens stretch the full width of the car, comprising a colourful driver display, two outboard rear-view camera screens (more on those later) and two 12.3-inch screens of incredible clarity. They're the sort of displays you stare at yearningly in electrical superstores. Now they're here in a car you can order today.
Honda has created a brilliantly intuitive new infotainment system. Shortcuts are plentiful, it has smartphone-style swipe-access functionality and, with just the briefest of briefings, you'll soon be engaging with it confidently. Two Easter eggs stand out: first, the 'history' button that, again like a smartphone, lets you swipe back to screens viewed previously. Second, the ingenious way you can 'switch' screens between driver and passenger. Open up Apple CarPlay on your side, check your messages, then send it to the passenger for playlist duties. You can even click on a closed app with a swipe: it will automatically open on the passenger-side screen.
The only thing stopping me from sitting and playing with the screens some more is the irresistible anticipation of driving the Honda e. Navigation was set. Playlist masterminded, driving position adjusted (no door mirrors to move, remember). Finally, I am ready to head out into the busy Valencia traffic.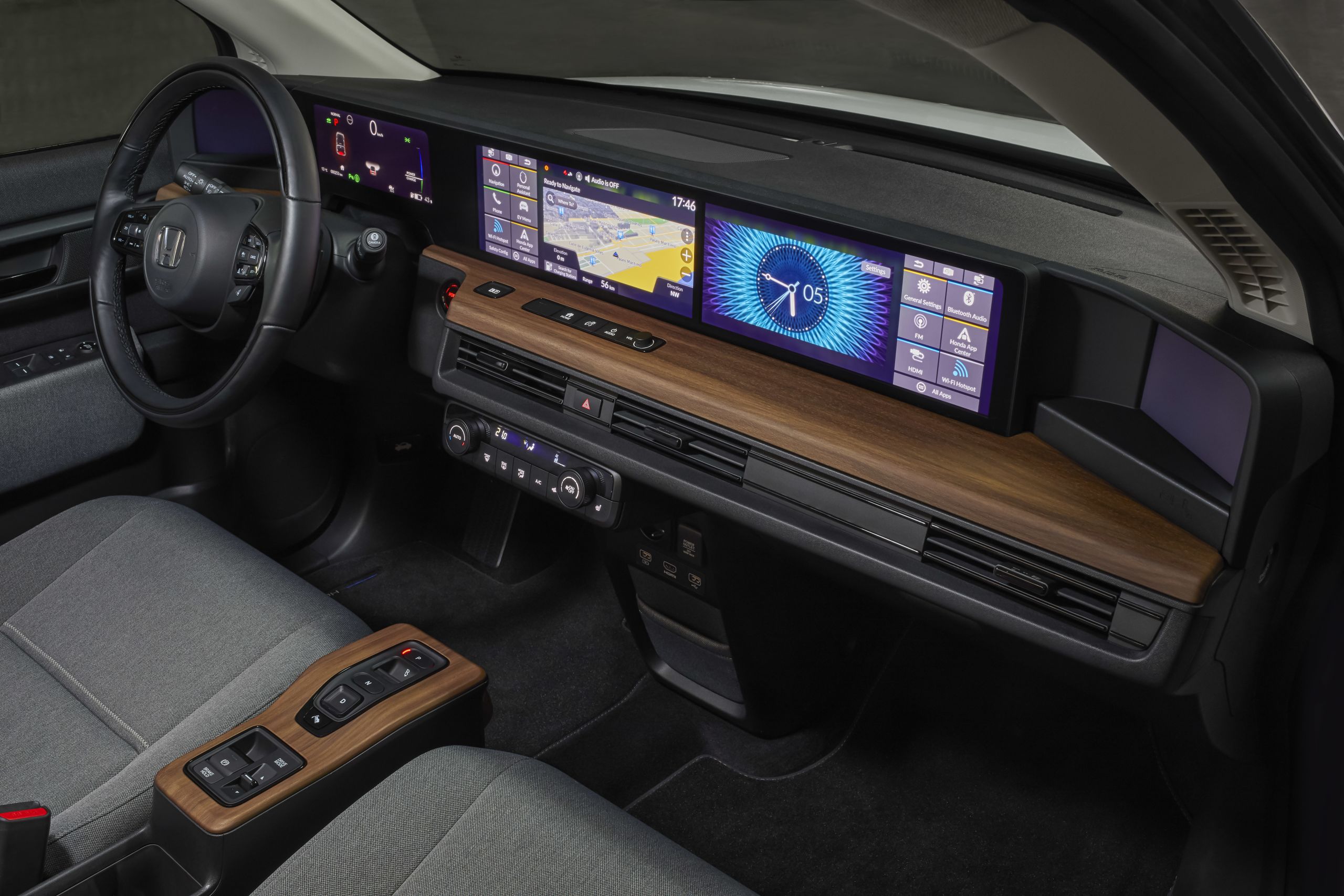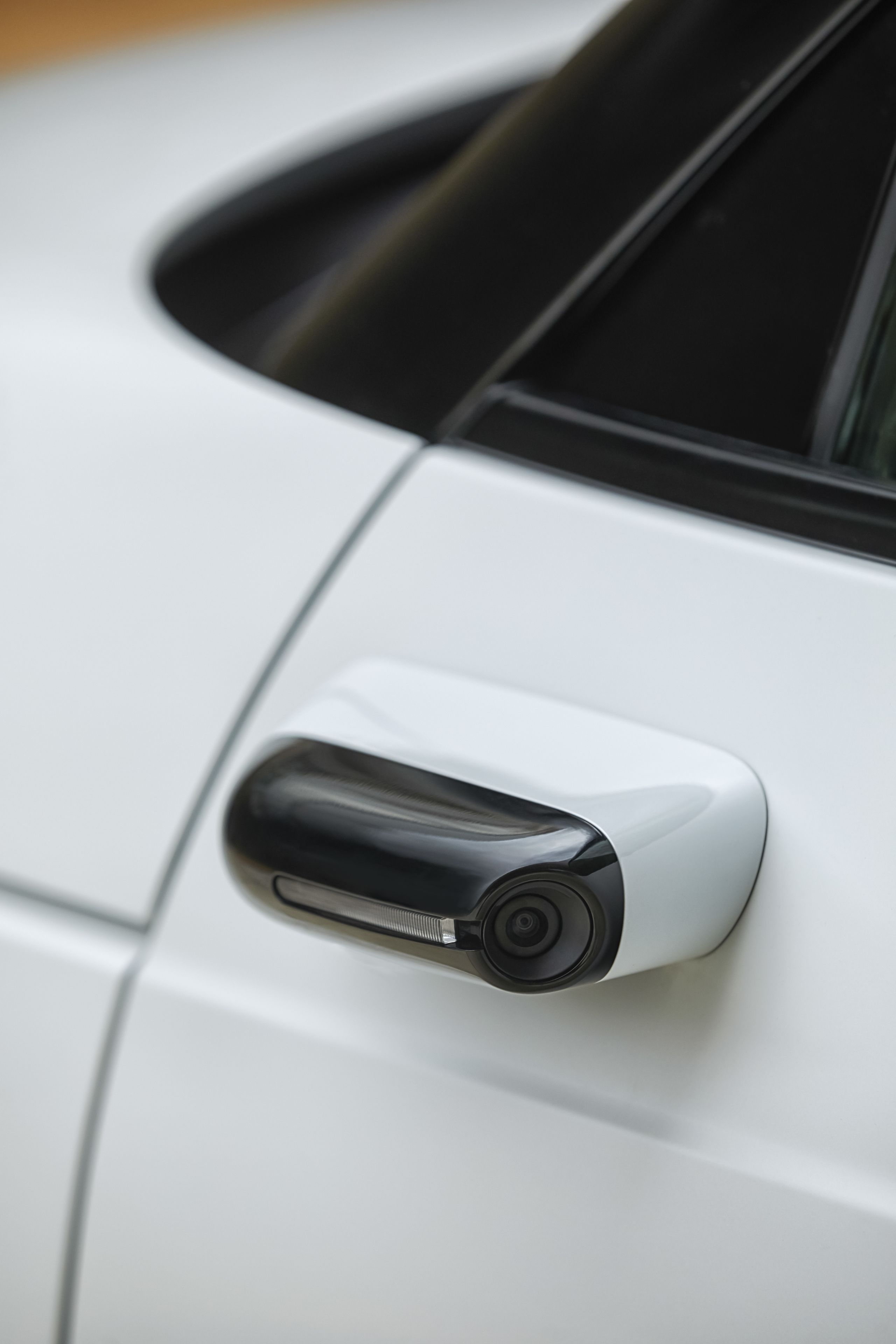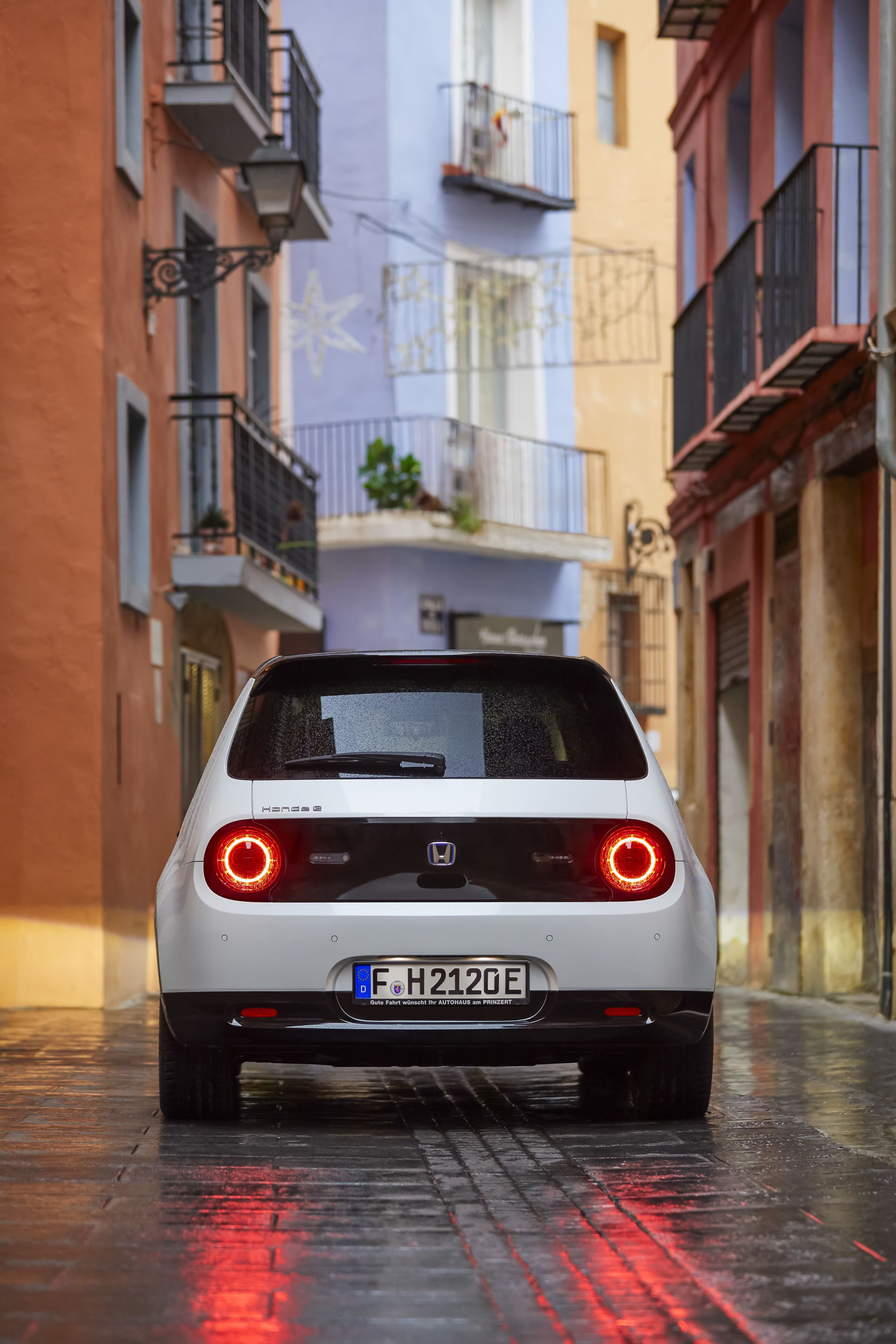 ---
Pulling away, there's no drama and no noise. I press 'D' on the auto shifter and whirr away in otherworldly silence. Believe me, the first time you drive a Honda e is a moment that will stick with you. But there's no time to marvel, as it's straight out onto a highway – and within seconds, the Honda e has me beaming. Visibility is brilliant. It's almost panoramic, helped massively by not having door mirrors. Massive blind spots in your quarter vision are eradicated and the world seems opened up as if you've removed a set of blinkers.
The immediate surge from the powerful motor is instantly laugh-out-loud, too. I spy a gap, press the accelerator and zap forward in what feels like a silent, magical time warp. The roads are wet, thanks to the worst storm in the region for 30 years, but there's no wheelspin from the rear wheels: just limpet-like grip when accelerating. The steering wheel doesn't fight in your hands either, despite such rapid speed gain.
I can't lie, this is immediately addictive. I arrive at a red traffic light. Well, how could I possibly resist? The lights change, I stamp on the accelerator and win the Traffic Light Grand Prix with a margin of superiority F1 star Max Verstappen would be proud of. Some clearly find it hard to believe such a compact and futuristic-looking hatchback has such sports car potency.
It soon becomes obvious most onlookers are simply gawping. Honda is right: this really is a car from 2030 beamed onto today's roads. And it's a car people can't help but love. The Honda e's cheery face, clean-cut lines and charming profile win fans wherever it goes. Probably no other electric car creates such a buzz; you'd need a bright yellow Honda NSX to generate a similar stir, I mused. Fitting, really, given how that is also electrified.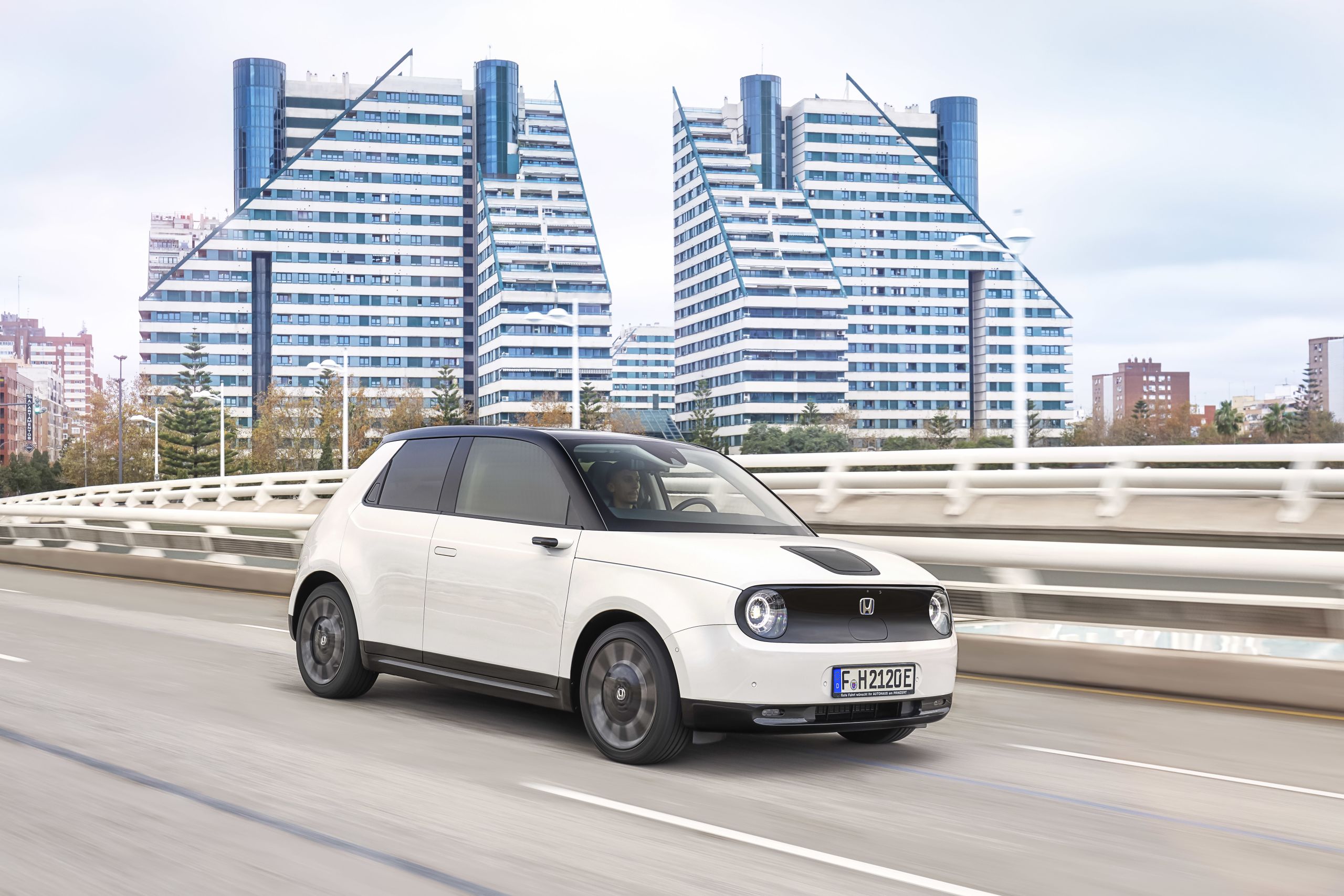 I finally escape the city, and all the smartphones pointing my way, for some quiet and twisting roads through the countryside. It may be an urban EV, but the Honda e comes into its own here. It genuinely handles really well, with poised body control through the bends and firm, confident steering that feels extremely reassuring. Like thoroughbred sports cars (and unlike most small cars) it has high-end independent suspension all-round. You don't need to know how it works, but you'll certainly feel the benefit in the depth of the Honda e's ability. The harder you push, the more assured it feels.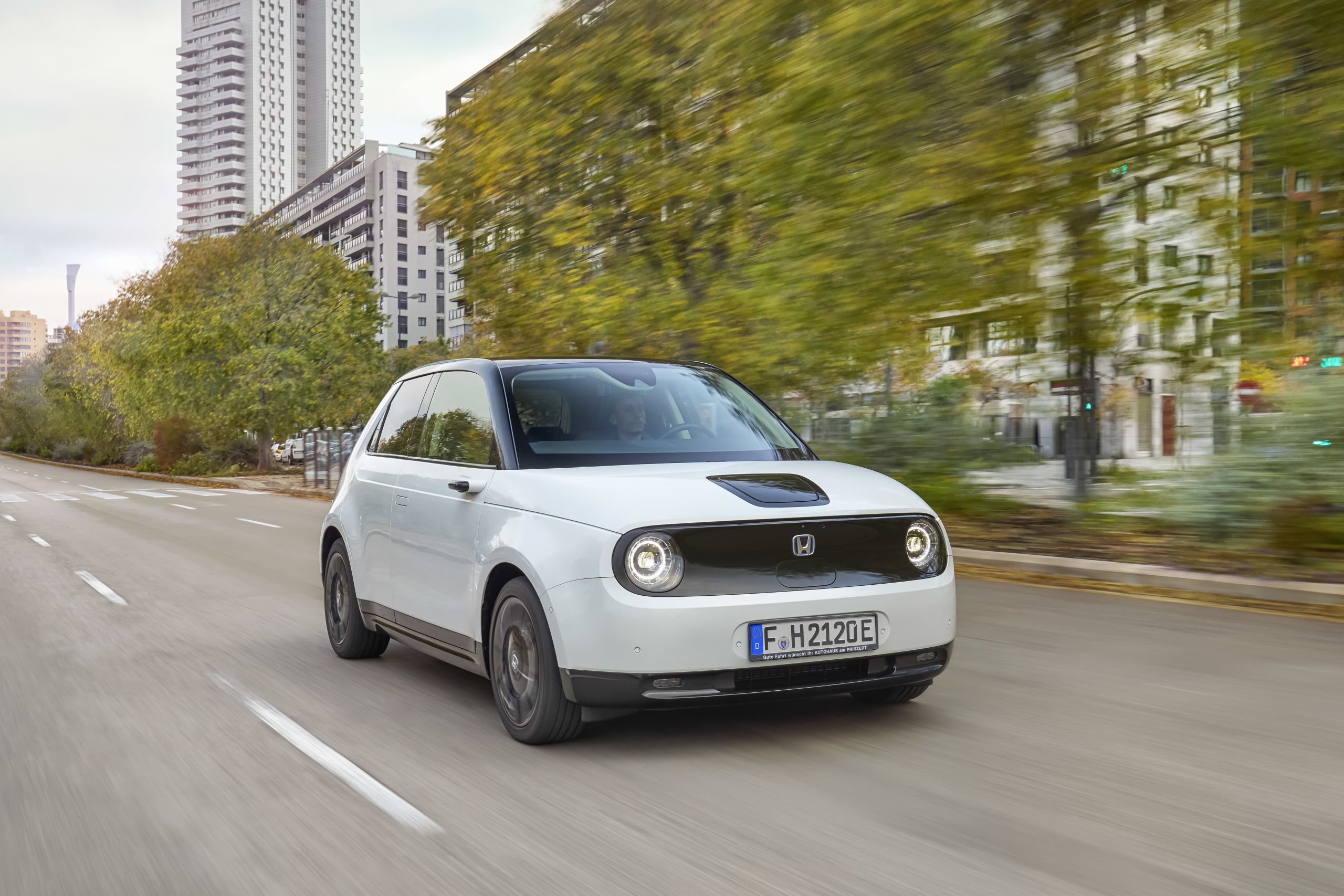 Mounting the batteries low down places the centre of gravity close to the ground. It means it feels planted in corners, rather than leaning over into them. And the powerful motor's instant delivery gives potent drive out of bends, again with the push-from-the-rear attitude of a performance car. It's unlike any other electric car, and brilliantly satisfying.
Pity the twisty stuff is over too soon (I was being greedy: I'd actually had an hour's worth of bendy-road fun). The final blast to lunch was on the motorway; in theory, not the urbanite Honda e's natural environment. In reality, it's somewhere else it performs superbly. It is quiet, powerful and relaxing, with a settled, big-car ride that feels reassuring and safe. This is a city car that's capable far beyond its everyday home.
Just to remind me of its conceptual clean-sheet creativity, Honda has set up a challenge in the lunch-stop car park. To demonstrate the brilliant manoeuvrability, I first had to circle a lamp post, using the all-round cameras feeding into the central screen. With a 4.3-metre turning circle, barely longer than the length of the Honda e itself, I soon became dizzy.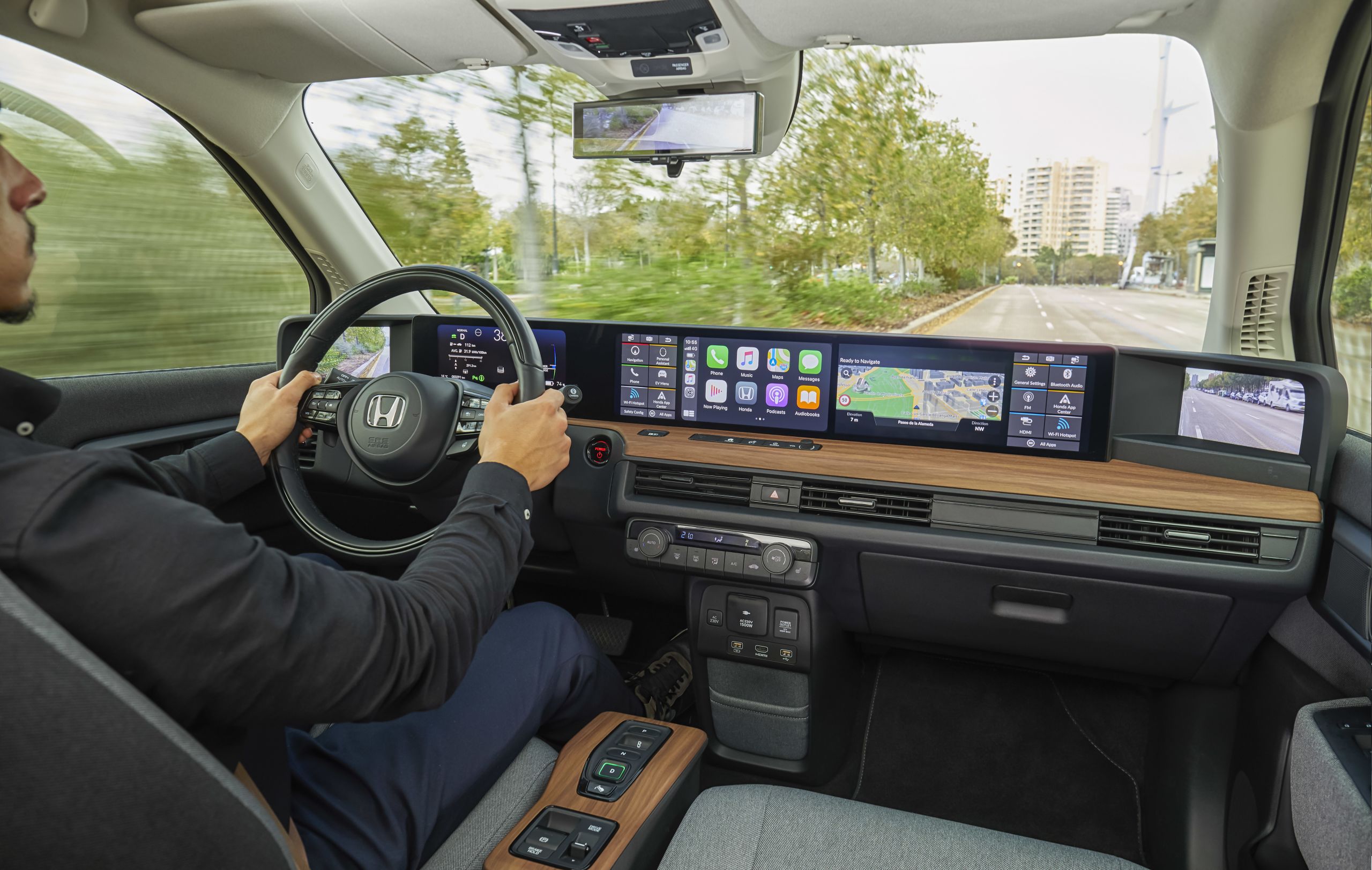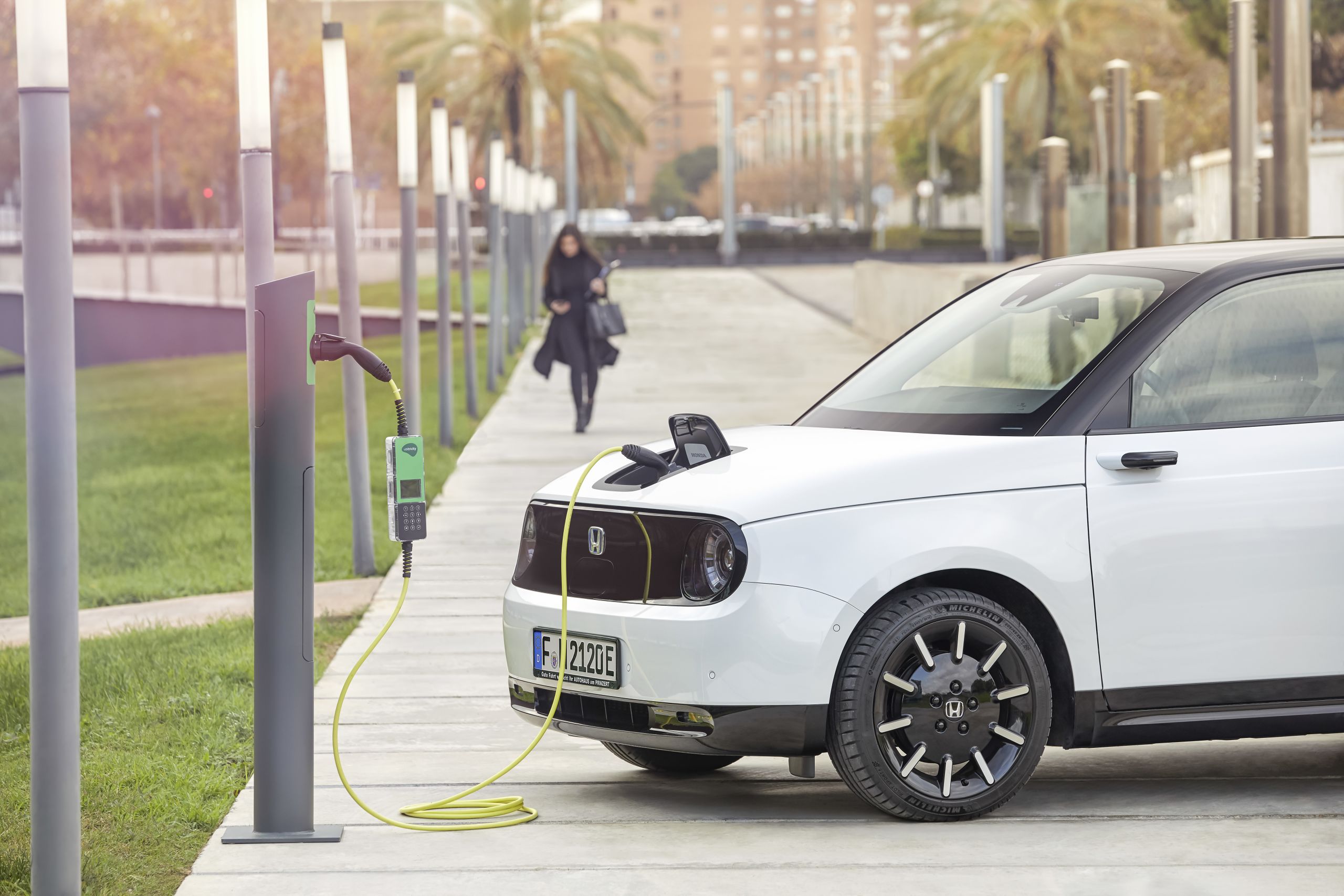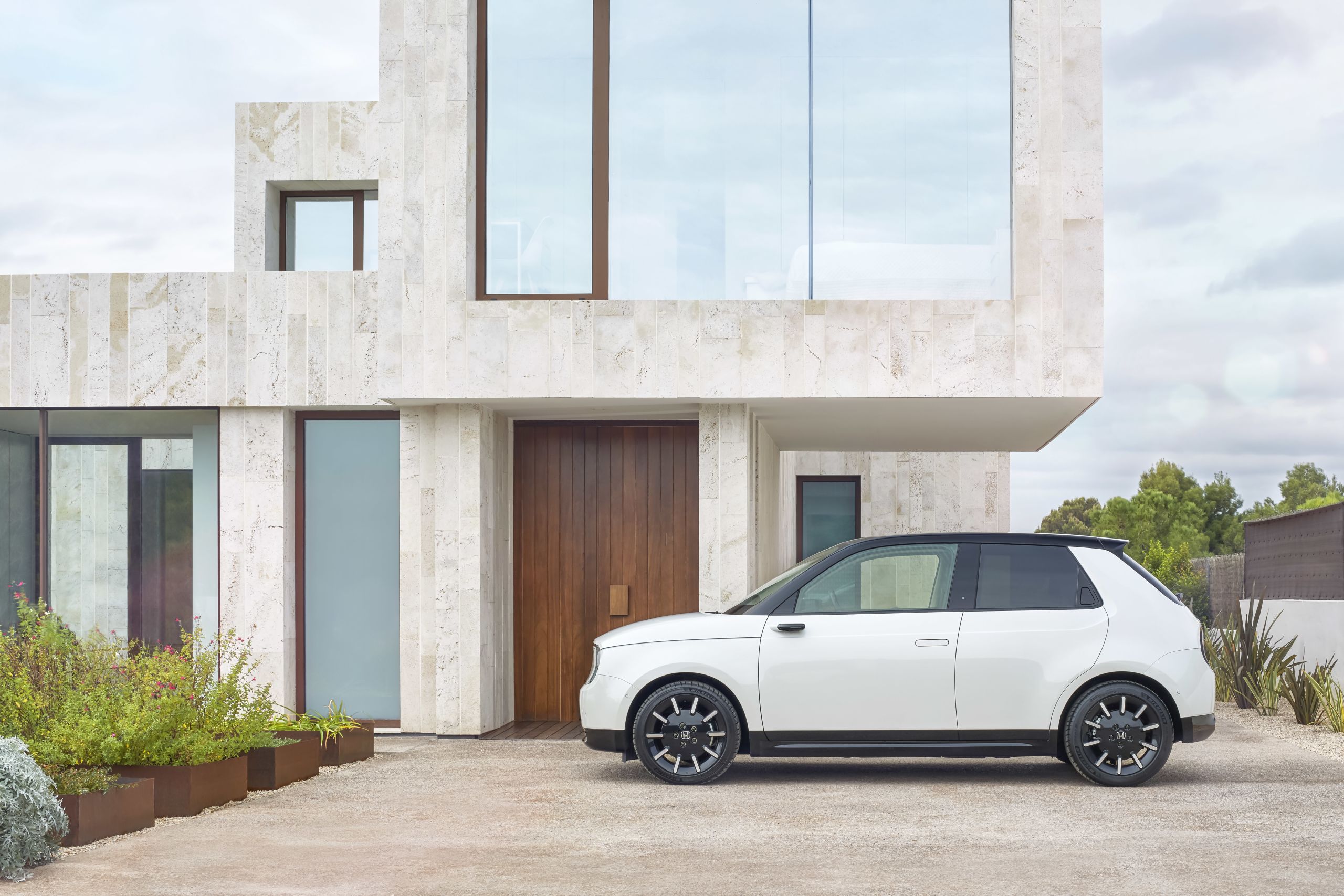 Next, the clincher. Reverse into a parking space. Then, drive out and, with full steering lock, turn straight into the next-but-one space. Think about it: this is physically impossible for any other car. Know what? The Honda e managed it – in an almost uncanny optical illusion that has onlookers not believing their eyes. Another example of why the Honda e is a truly unique electric car.
Then, reluctantly, I pull into a charging bay, and plug it in. The info display says 40 minutes until it's full; time for a quick bite and a leg-stretch – until my guide jumps into the back. He shows me the aquarium display (yes, really), along with how to choose the type and number of fish. I can have alternative wallpapers, if I wish, and connect my Apple iPhone, then configure it in umpteen other ways.
But the clincher is the HDMI input. After stunning me by plugging in a USB and playing a quick movie – in glorious HD and with incredible premium audio sound (it also works with Google Chromecast) – the final surprise was pulled out of his bag: the SNES. Mario Kart was quickly loaded, and I was taken back 30 years to my childhood by the car from 2030. It was surreal, a tantalising taste of how exciting the future will be. Never mind lunch, I was left hungry for more Honda e.
The final jaw-dropper? That this will be a reality for lucky Brits in just a few months' time. Prepare to be shocked by how exciting the Honda e will be.