Driving the
HONDA E PROTOTYPE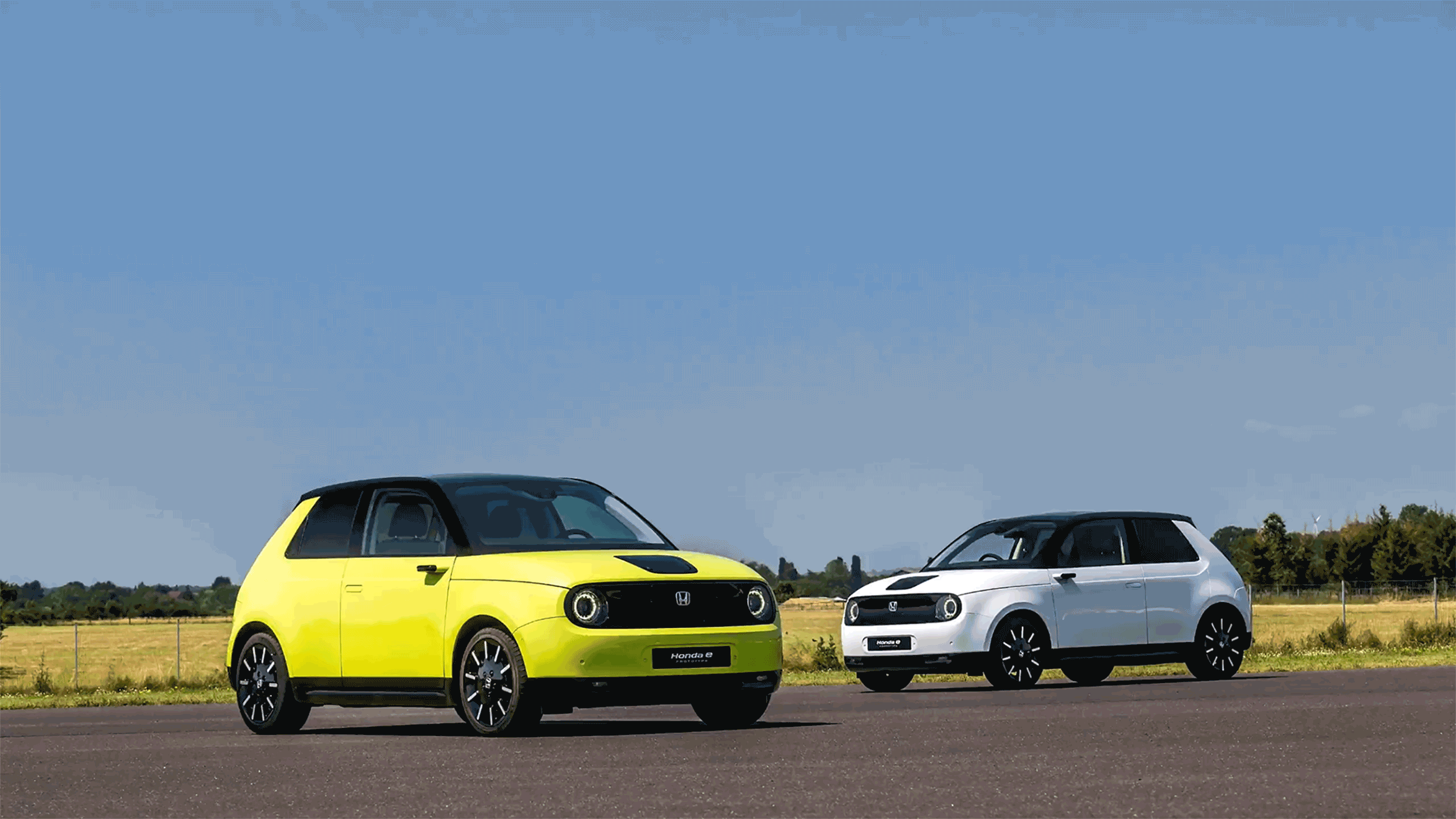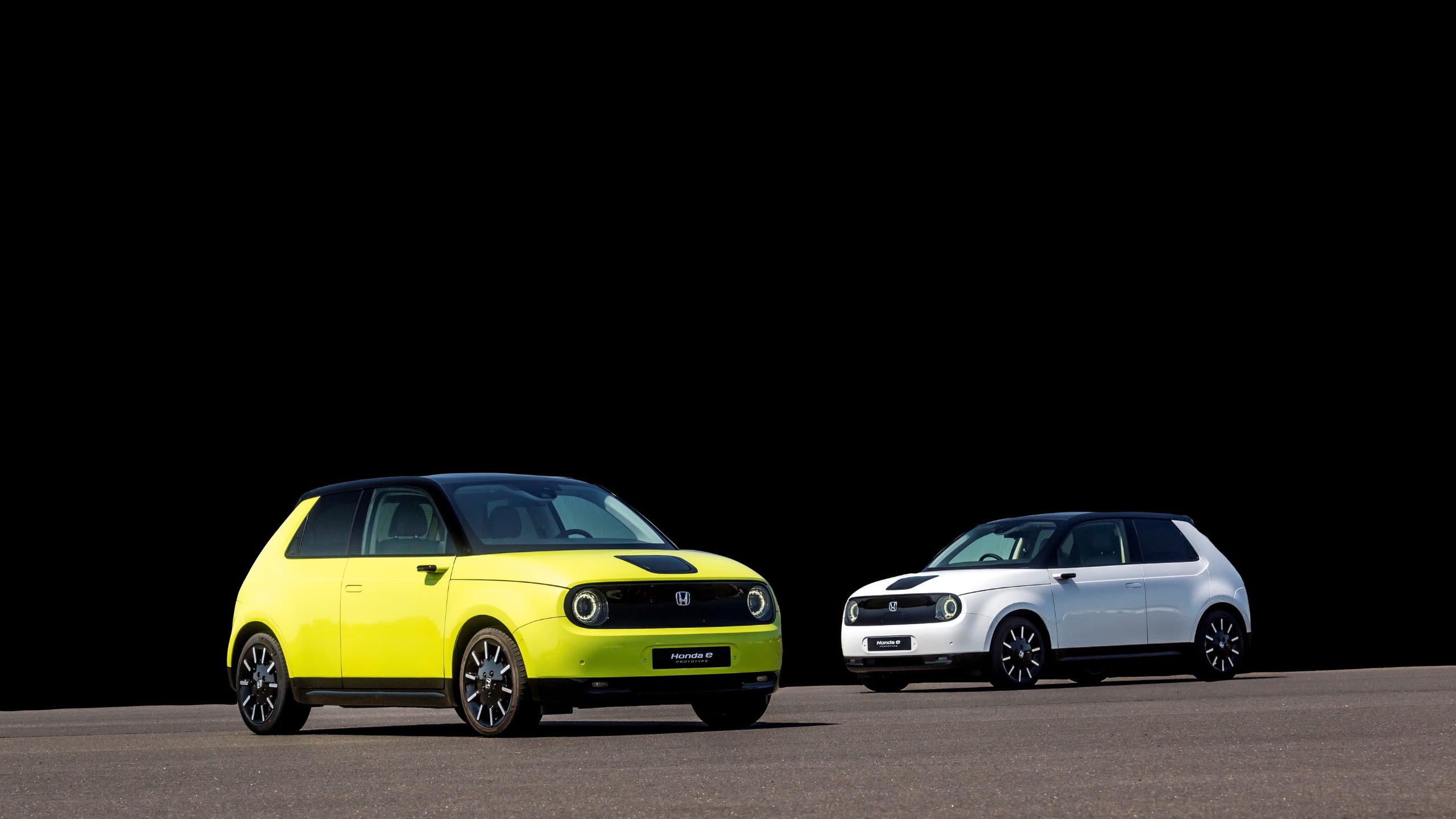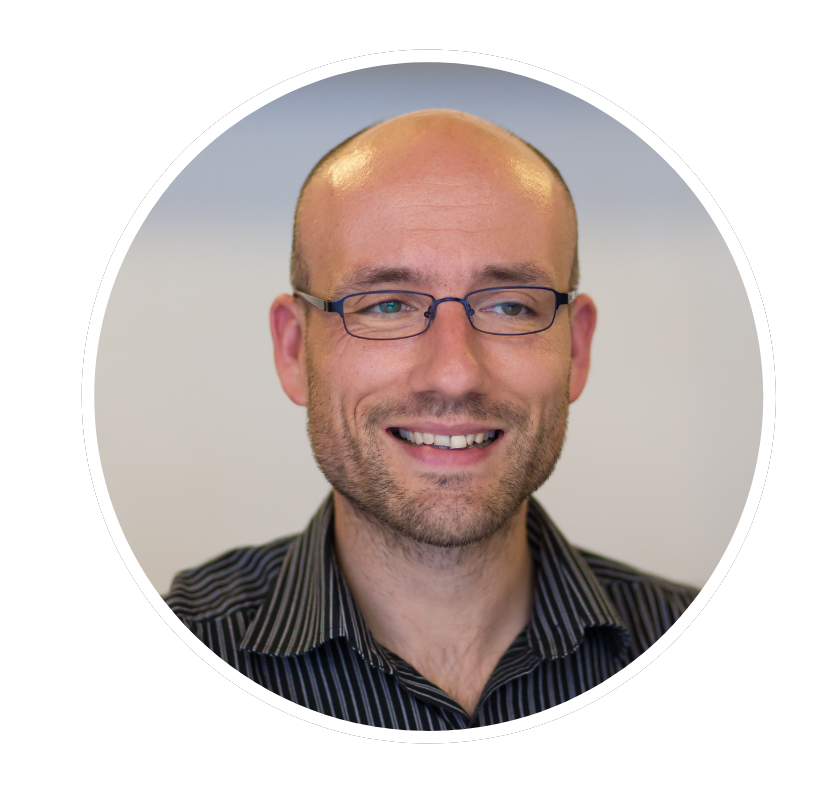 By Richard Aucock
The Honda e, Honda's new electric car, is coming soon to retailers across Europe – and I had an early insight into how it will electrify the city car market.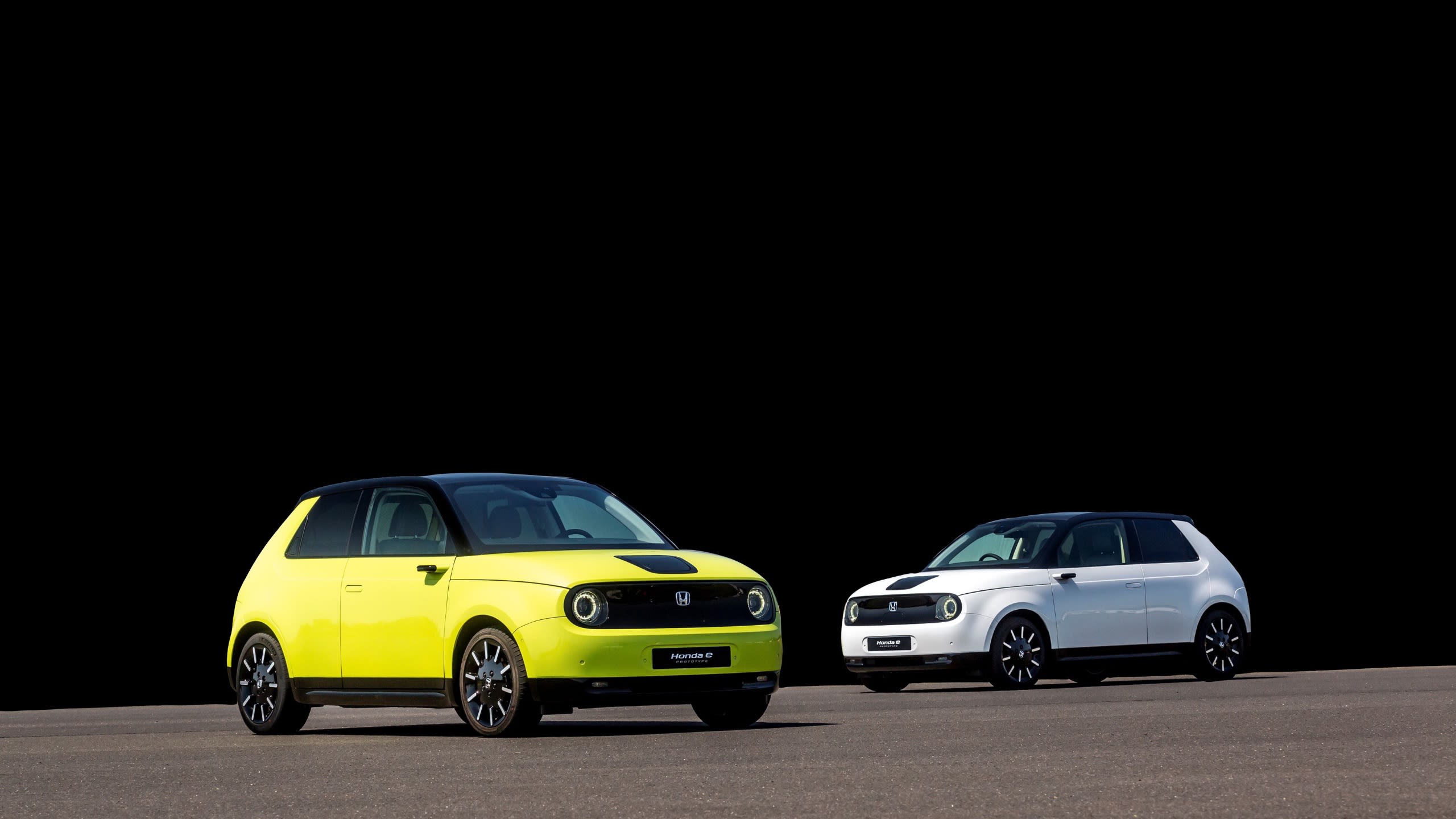 🕐 31 July 2019
Everyone has fallen in love with how the little, urban EV looks – with thousands now placing online reservations ahead of deliveries beginning in early 2020.
But what makes the new Honda car so special to drive? To Frankfurt, and a hidden Honda test centre on an innocuous industrial estate, to find out.
We would see two cars, explained someone from Honda as we purred along the German Autobahn – fittingly, in a new Honda CR-V Hybrid (like the Honda e, a key model in Honda's electric vision for 100 percent electrification by 2025).
The two cars we'd see were both late-stage prototype models: basically production spec, but with just a few cosmetic differences to the cars coming to showrooms early in 2020.
The Japanese Honda engineers, we were told, had not planned to run this test session. But when people from Honda Motor Europe explained to them the sheer amount of interest in the new all-electric car, they leapt at the opportunity to allow a few select journalists out for an early test.
"They genuinely don't normally do this," said the person from Honda. "They're as excited to know what you think as we are."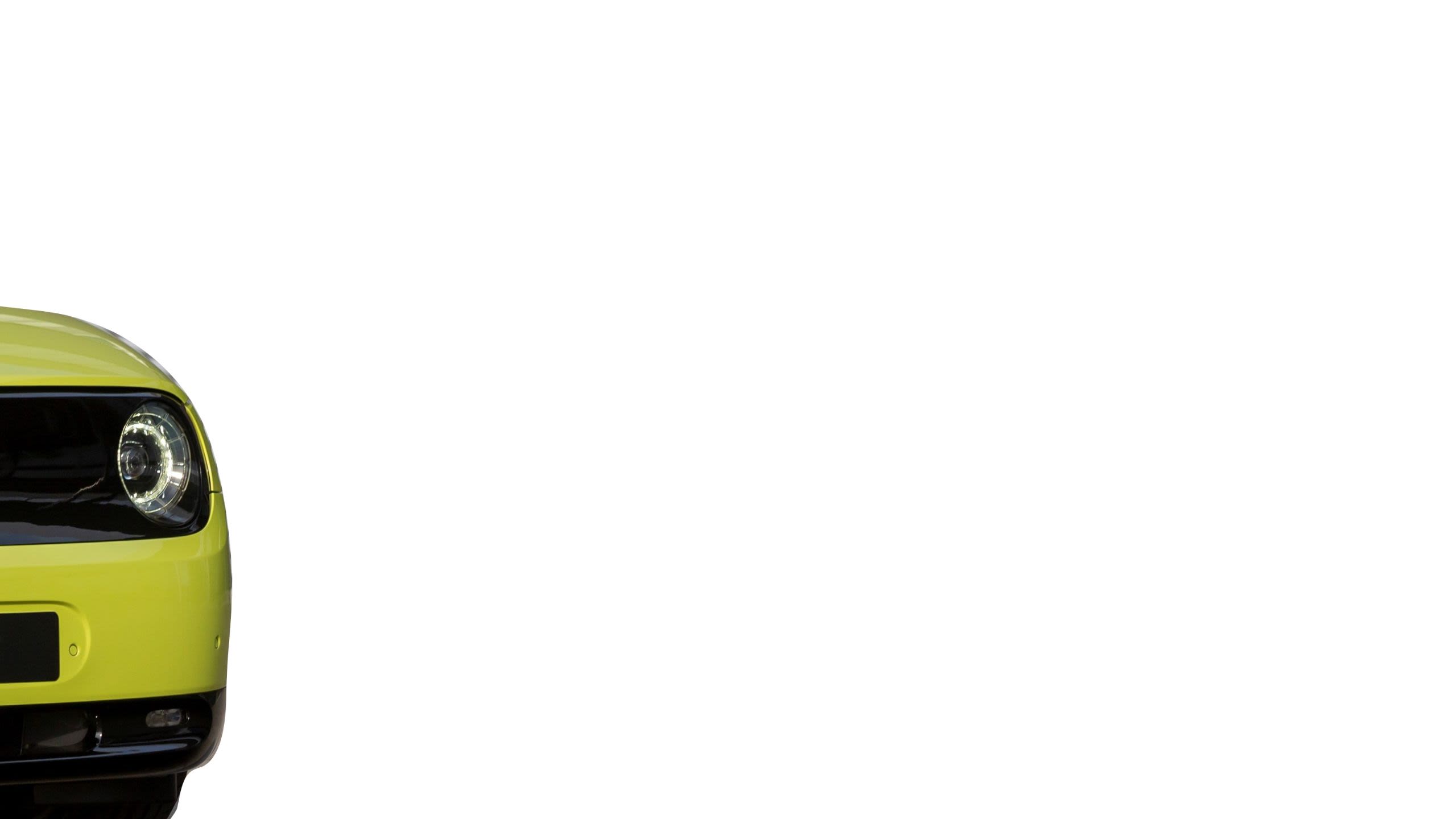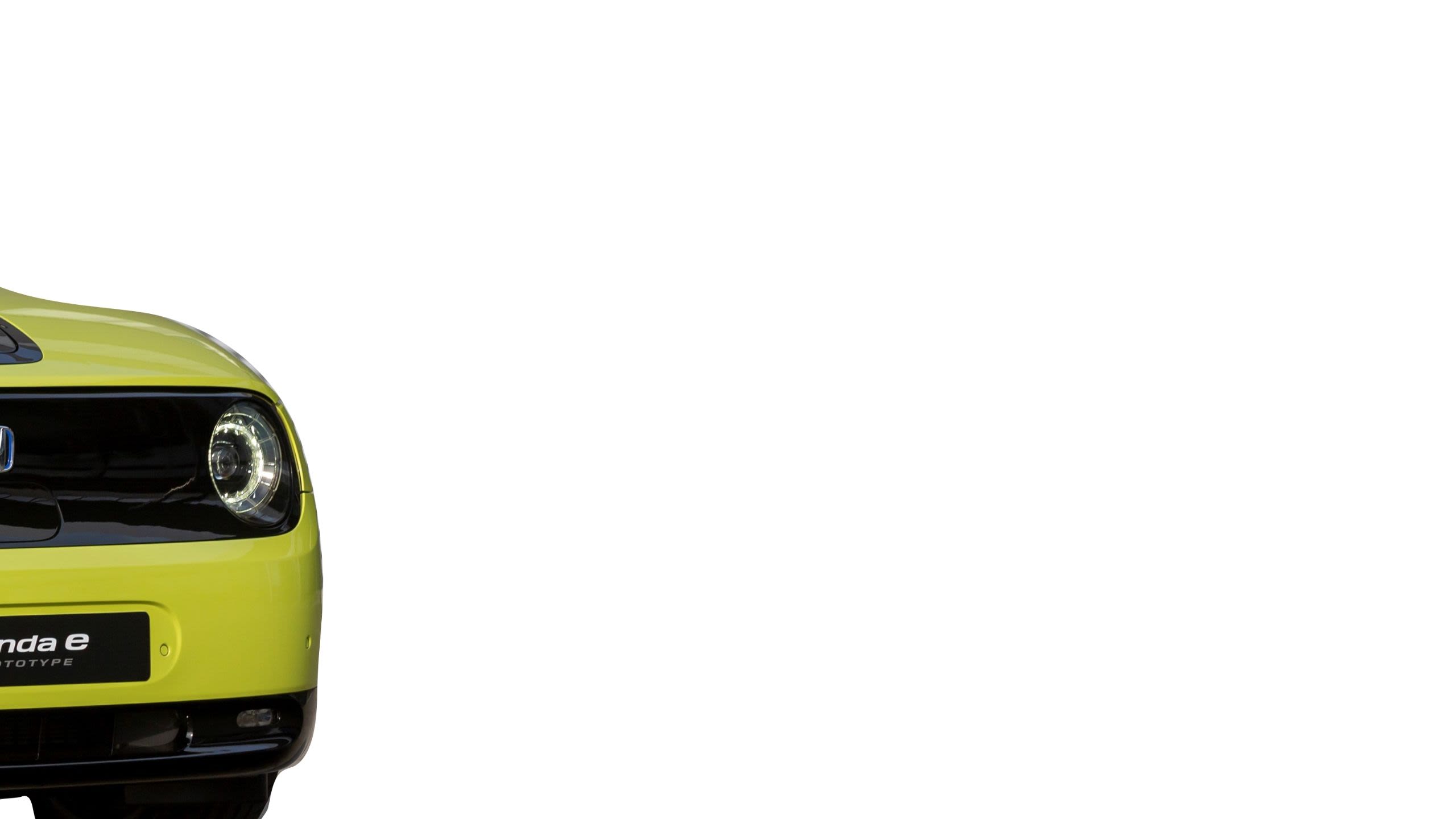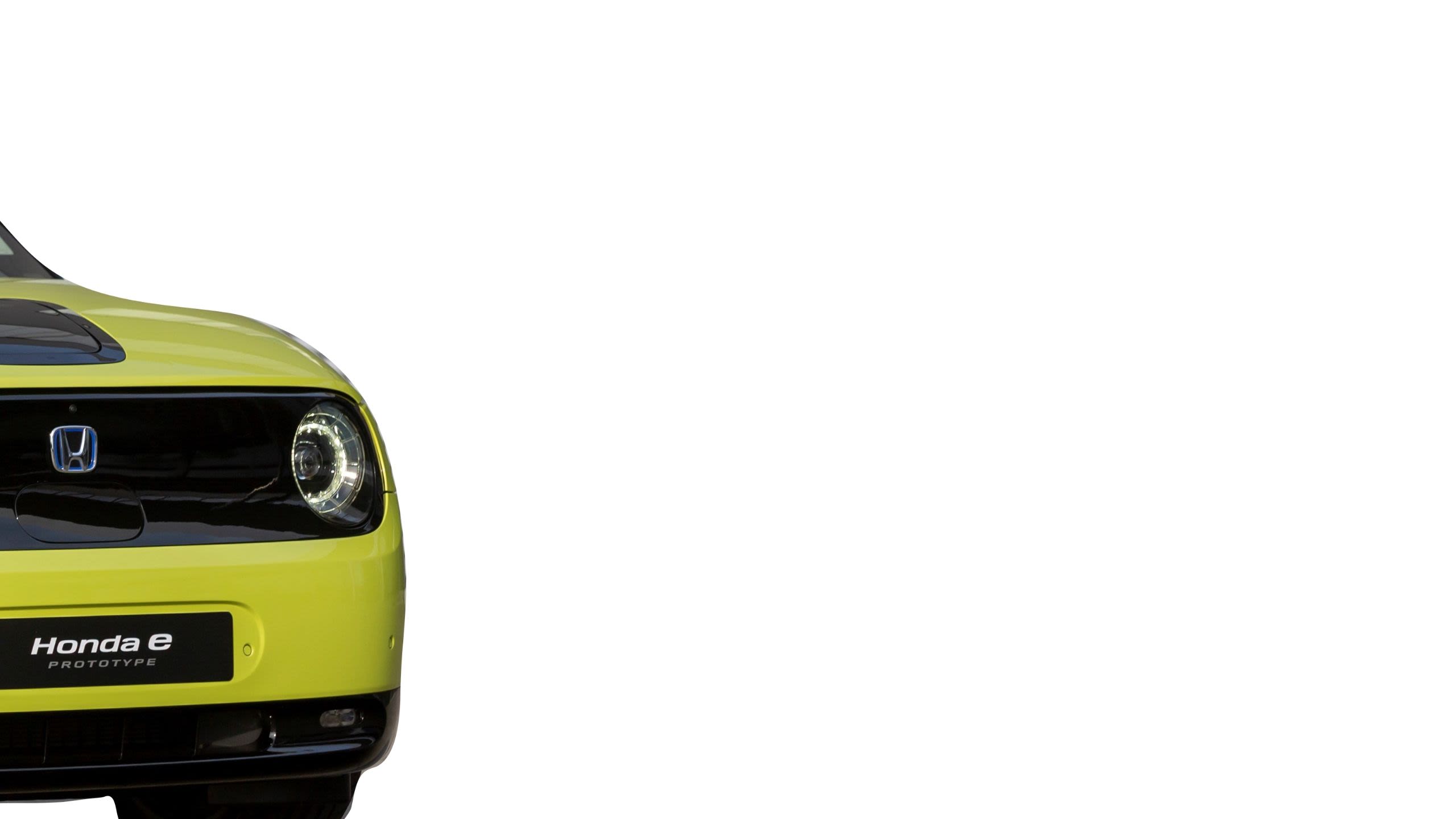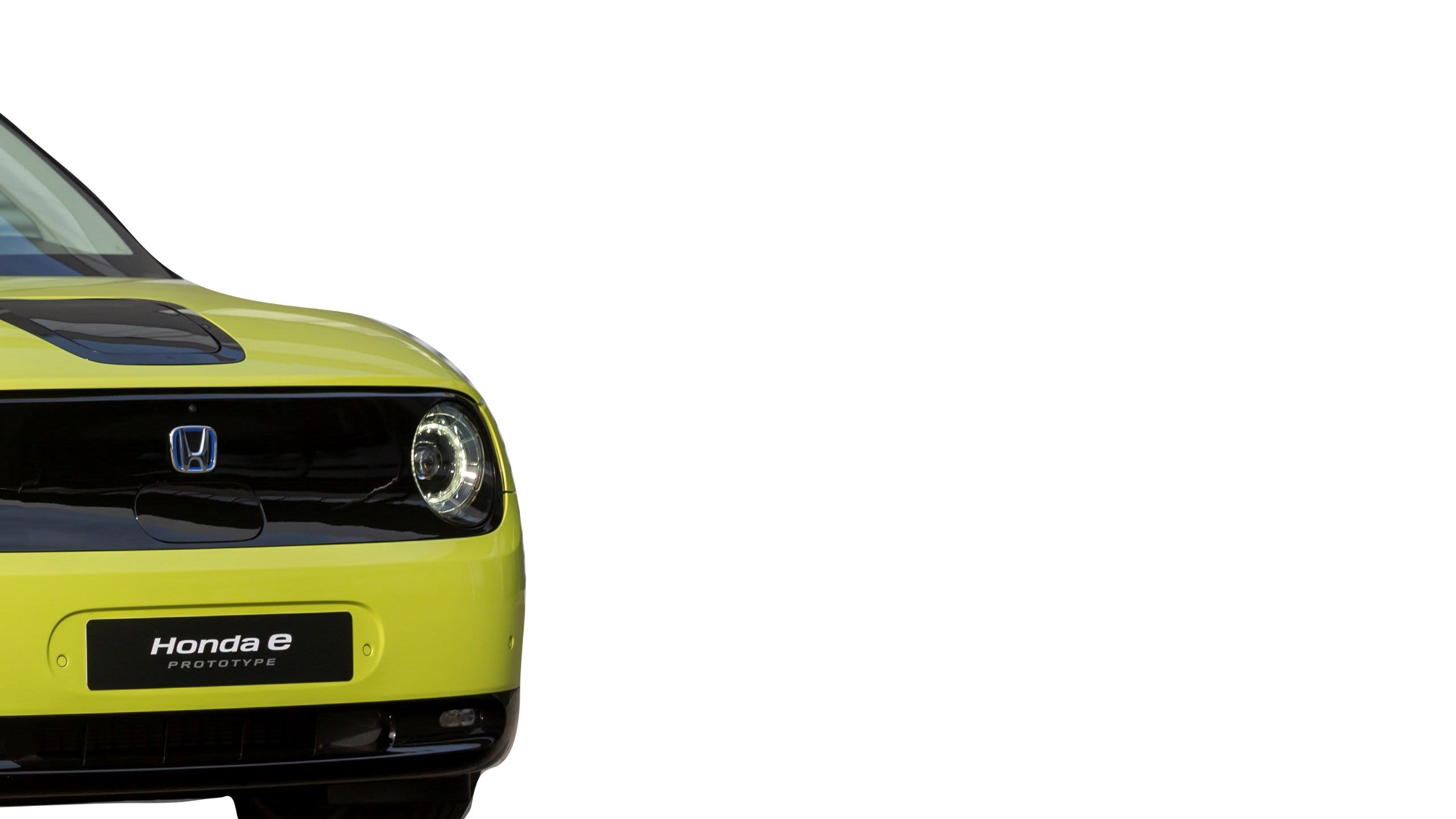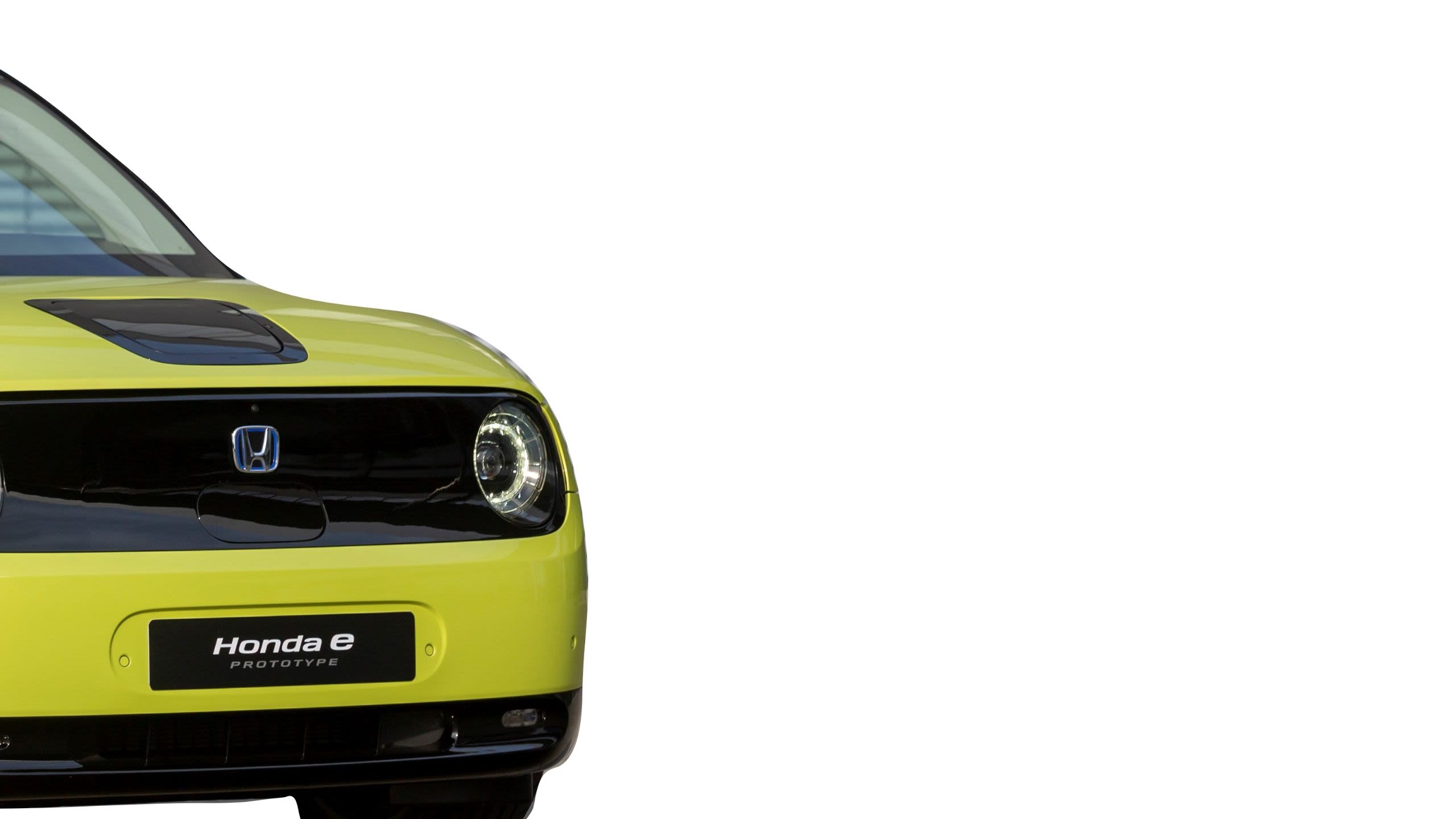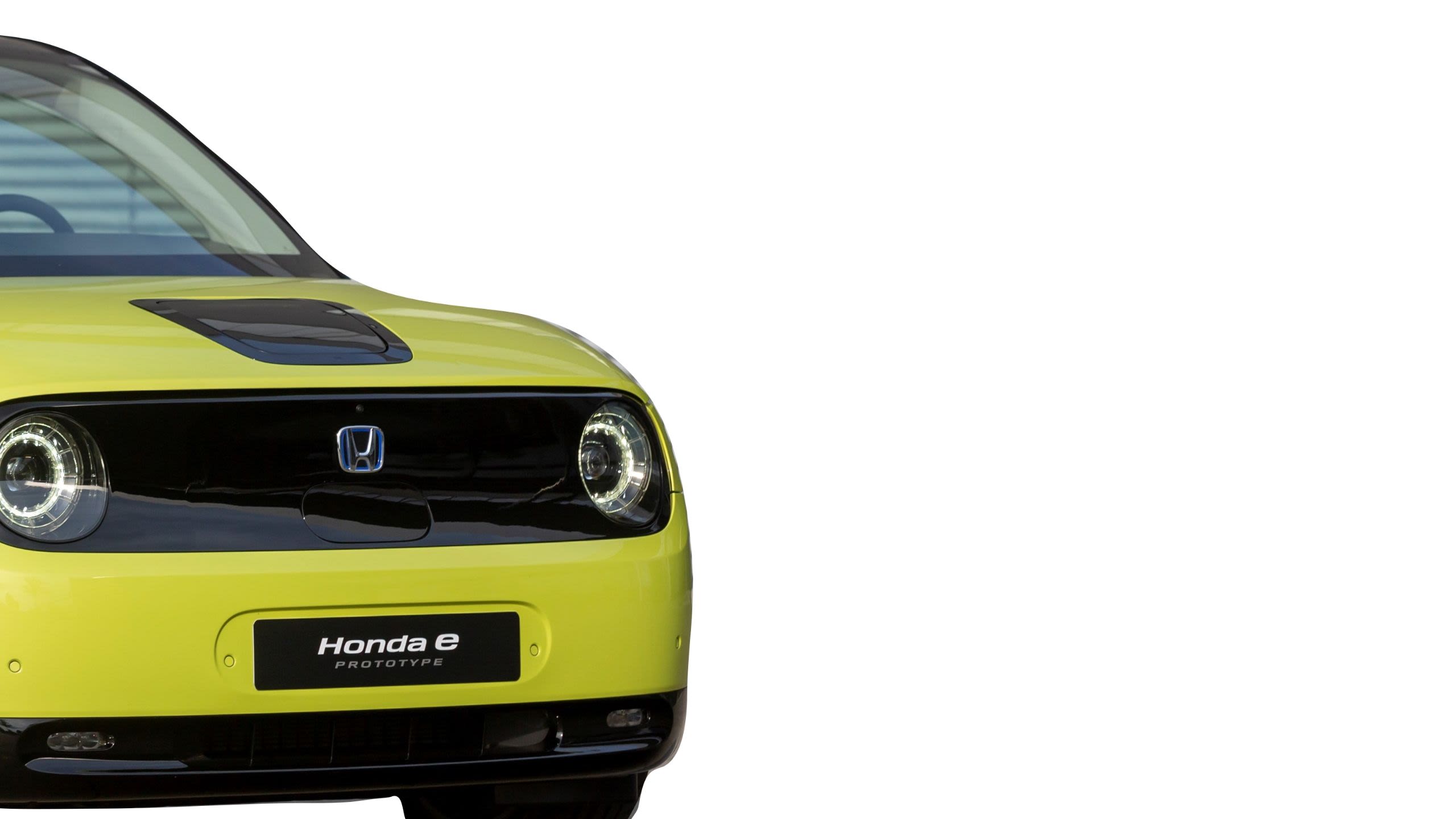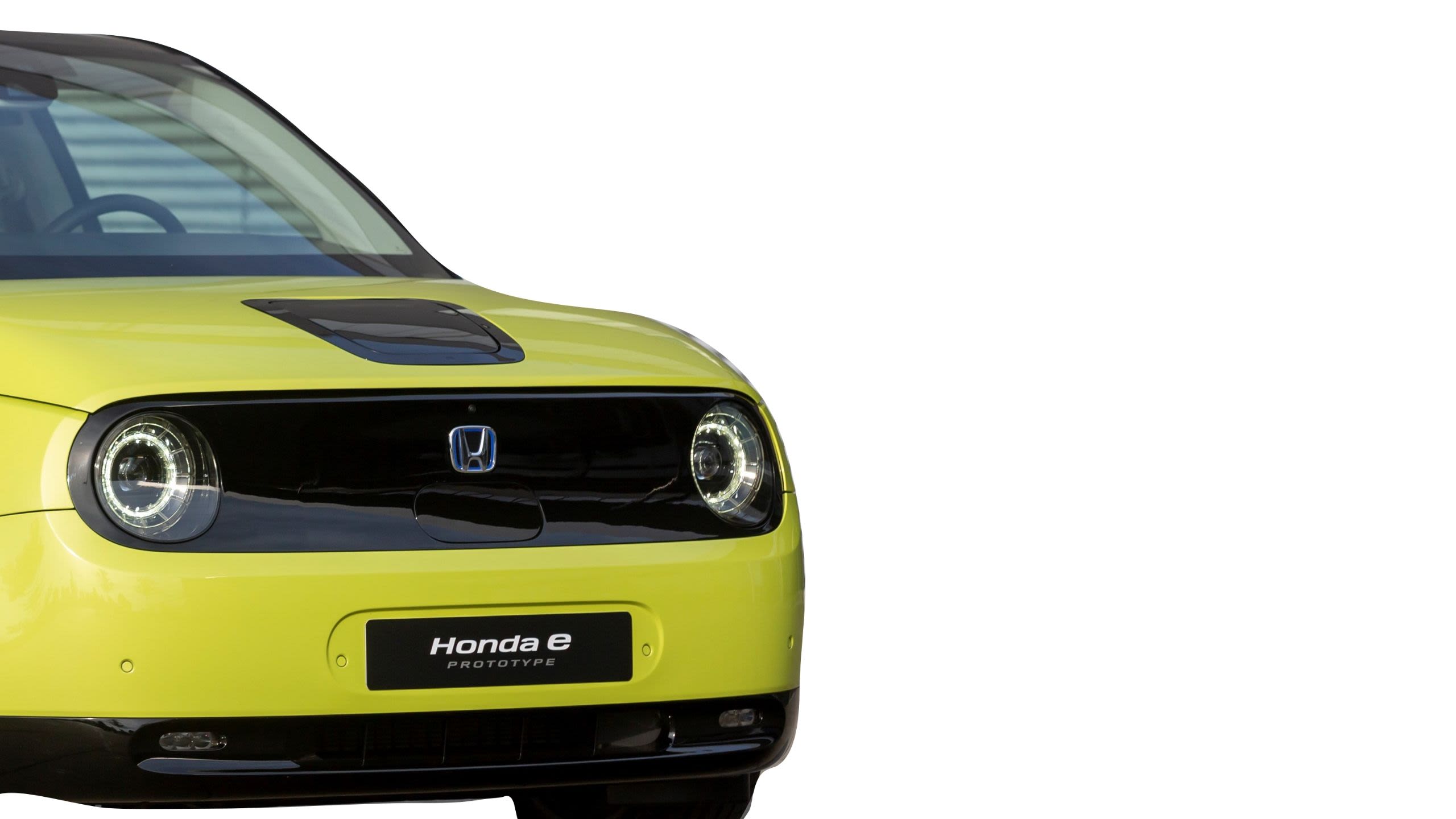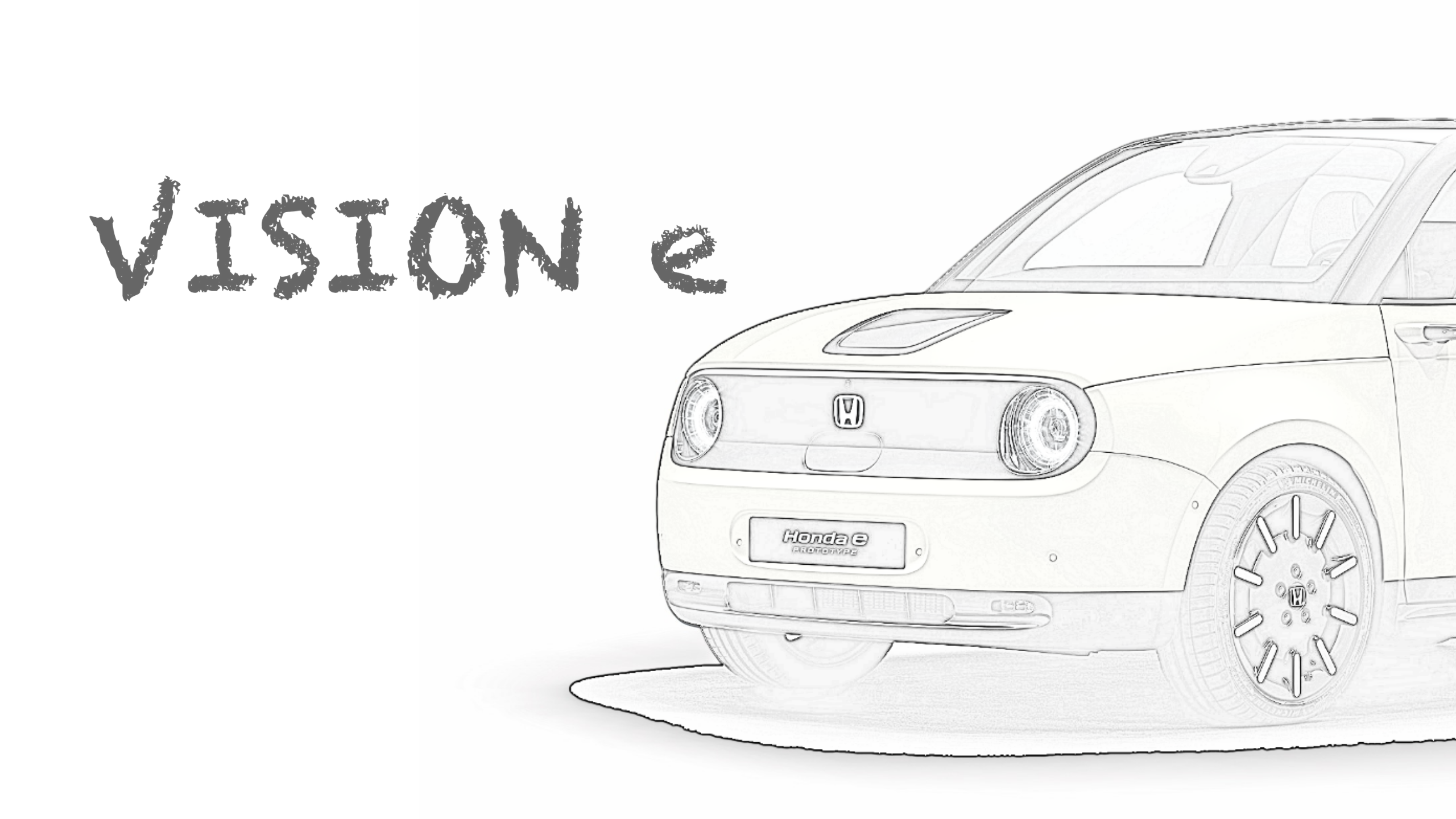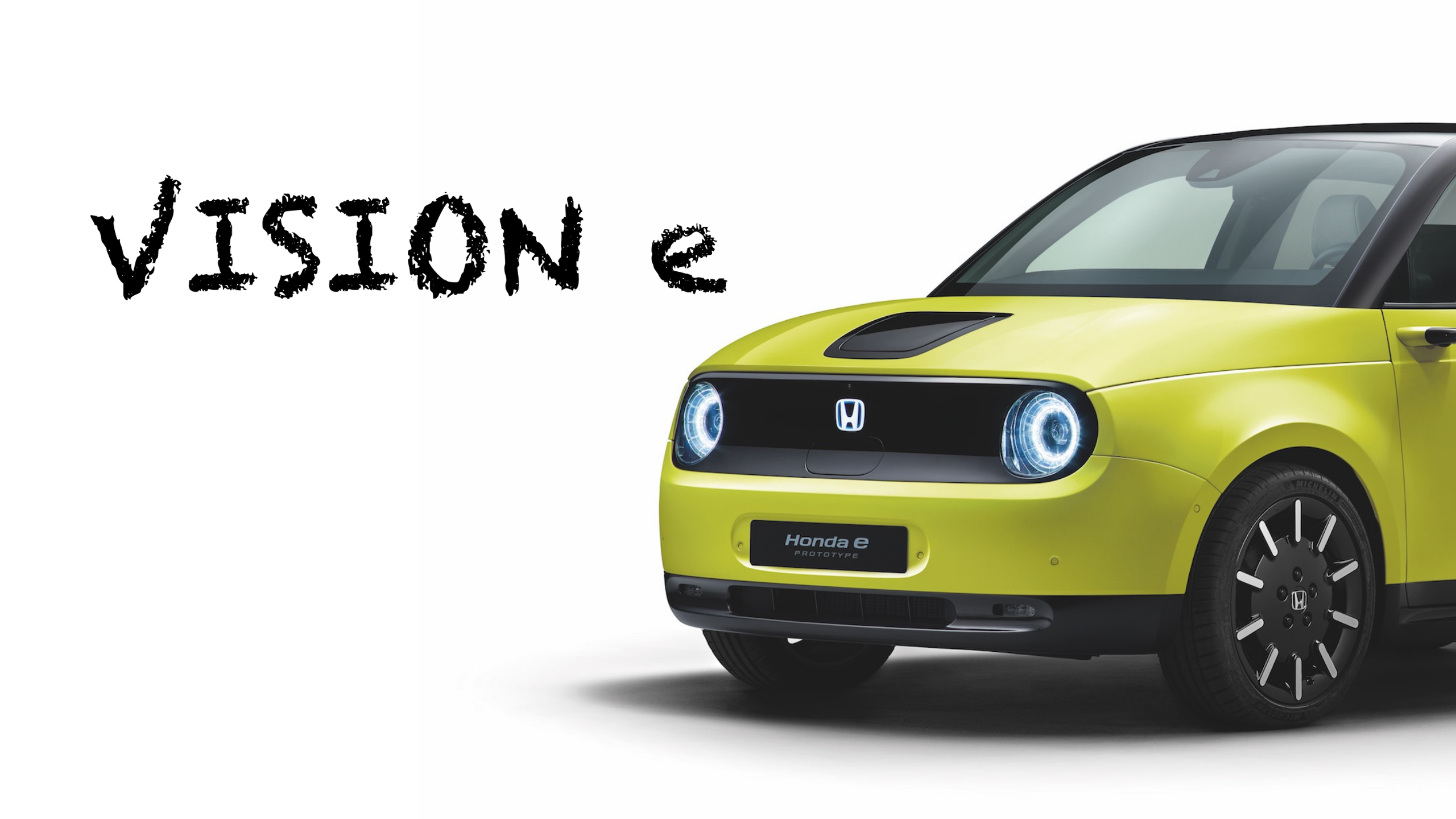 Waiting for us when we arrive are the two most senior people in the Honda e development project: large project leader Kohei Hitomi and his assistant Takahiro Shinya. Once we're suitably electrified with coffee, they usher us into a presentation room to explain Honda's electric car vision.
"Where does an EV make most sense?" began the father of the Honda e project. "In urban environments, where pollution is highest. That was our starting point for the Honda e."
Hitomi-san opened his presentation with the clear logic driving the Honda electric car project.
Europe, we were told, played a key role in the Honda e concept and inspiration. Early on in the project, Hitomi-san and his team toured the continent's major cities – including London – in a fact-finding mission to discover exactly what's important in small electric cars. "Our founder Soichiro Honda said, 'go to the actual place and confirm things for yourself'. So we did."
Hitomi-san said the team scene-hunted to find out what requirements the Honda e should fulfil, "Our target was to create the best electric car for the urban environment, so we went to every top European city and observed what was needed."
"We believe EVs will come very close to humans, as they are quiet and clean. They will in time provide services that regular cars cannot."

Like Japan, we were told, European cities are congested, so manoeuvrability was vital.
"A clean, simple design was, we felt, also important. We believe EVs will come very close to humans, as they are quiet and clean. They will in time provide services that regular cars cannot. Therefore, the appearance had to be friendly, sympathetic and familiar."
The cues to the classic original Honda Civic were intentional, said Hitomi-san.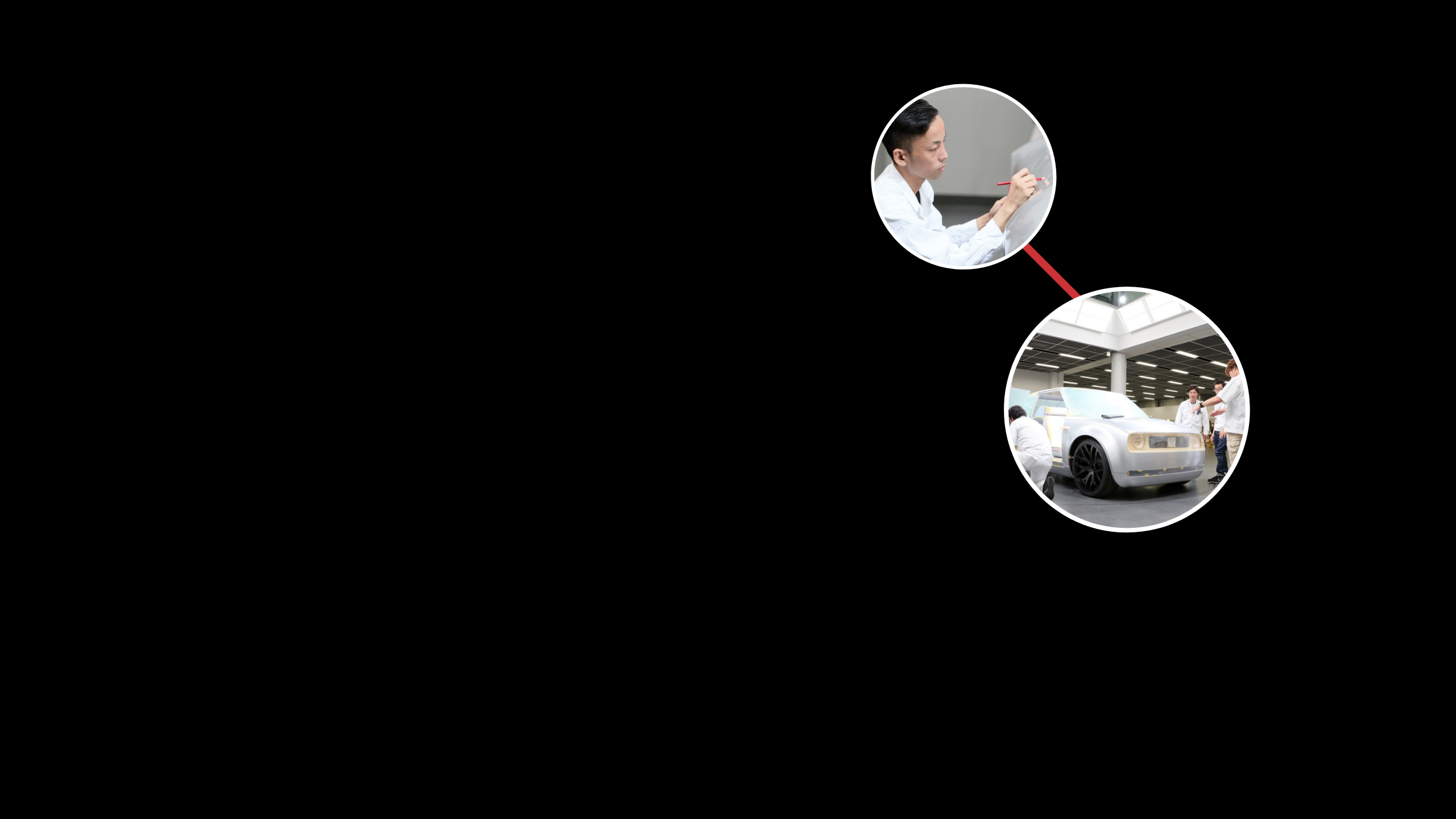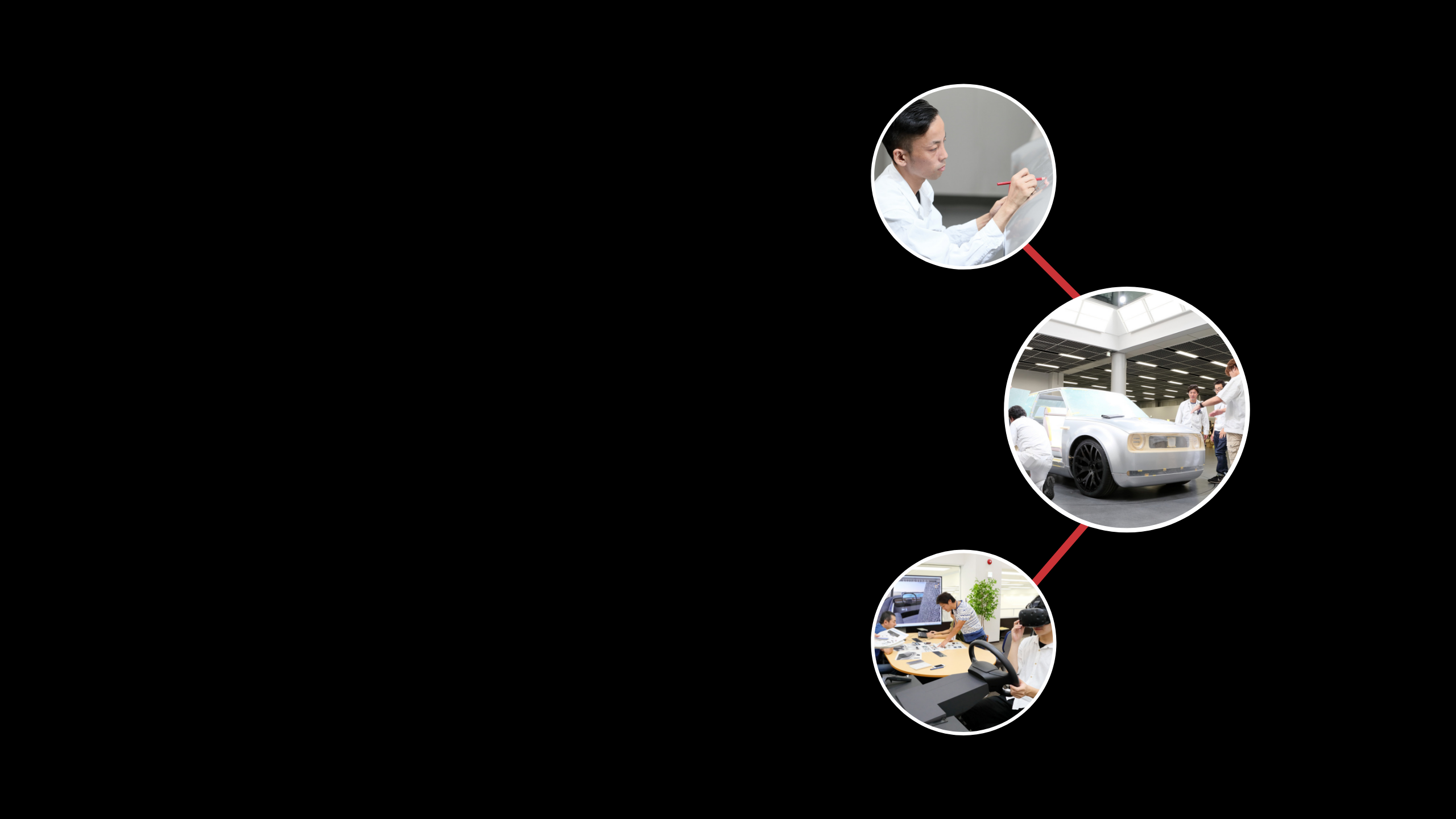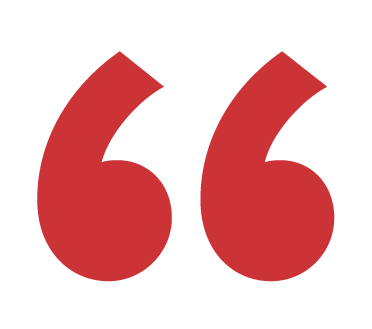 We wanted to make sitting inside a Honda e feel like you were gaining an additional room outside your house, rather than simply sitting in a car.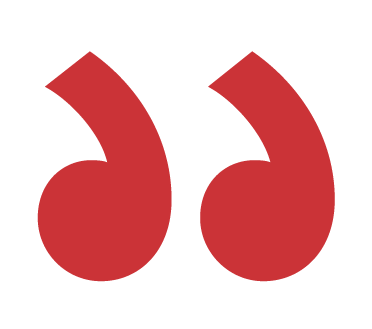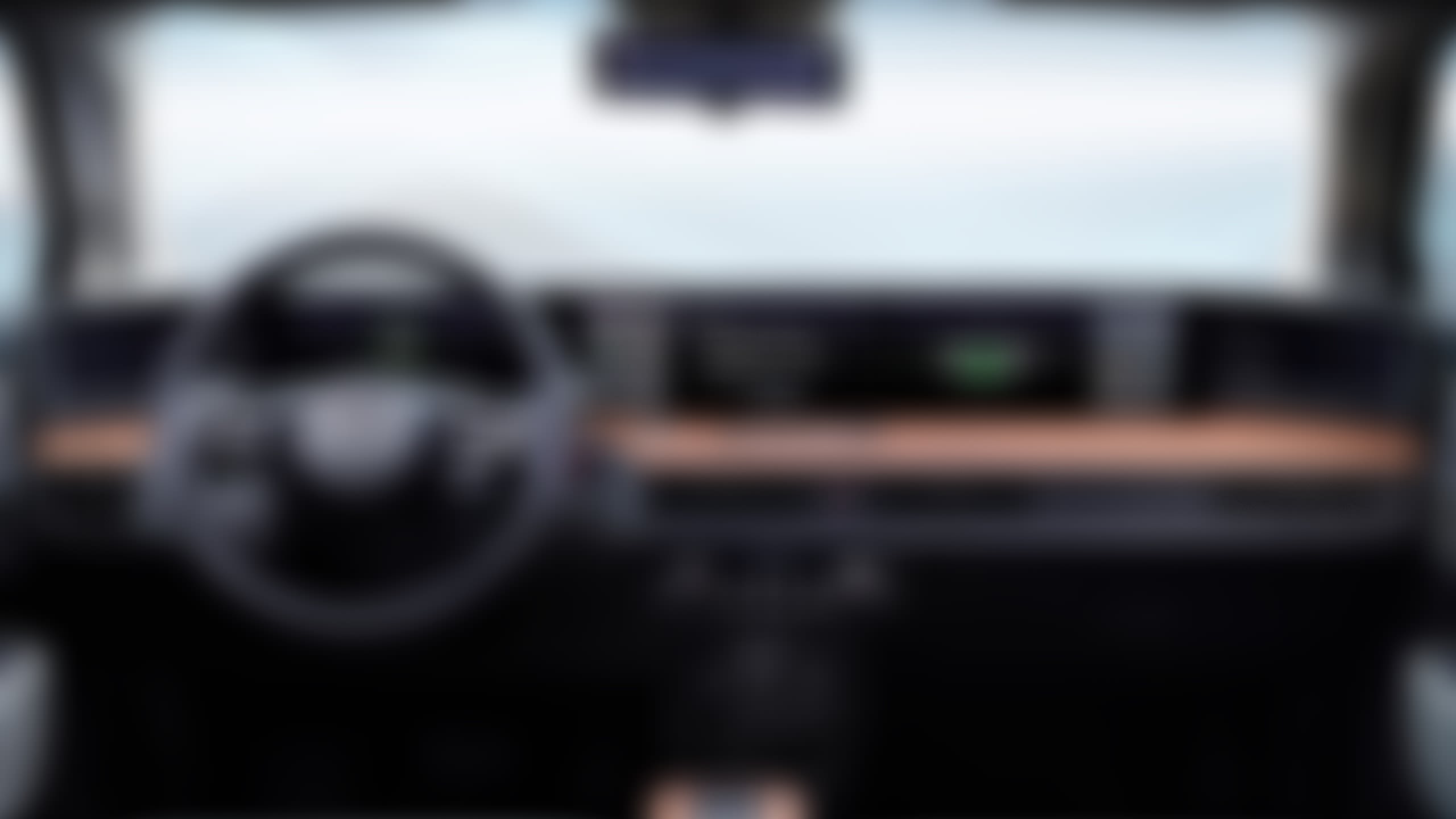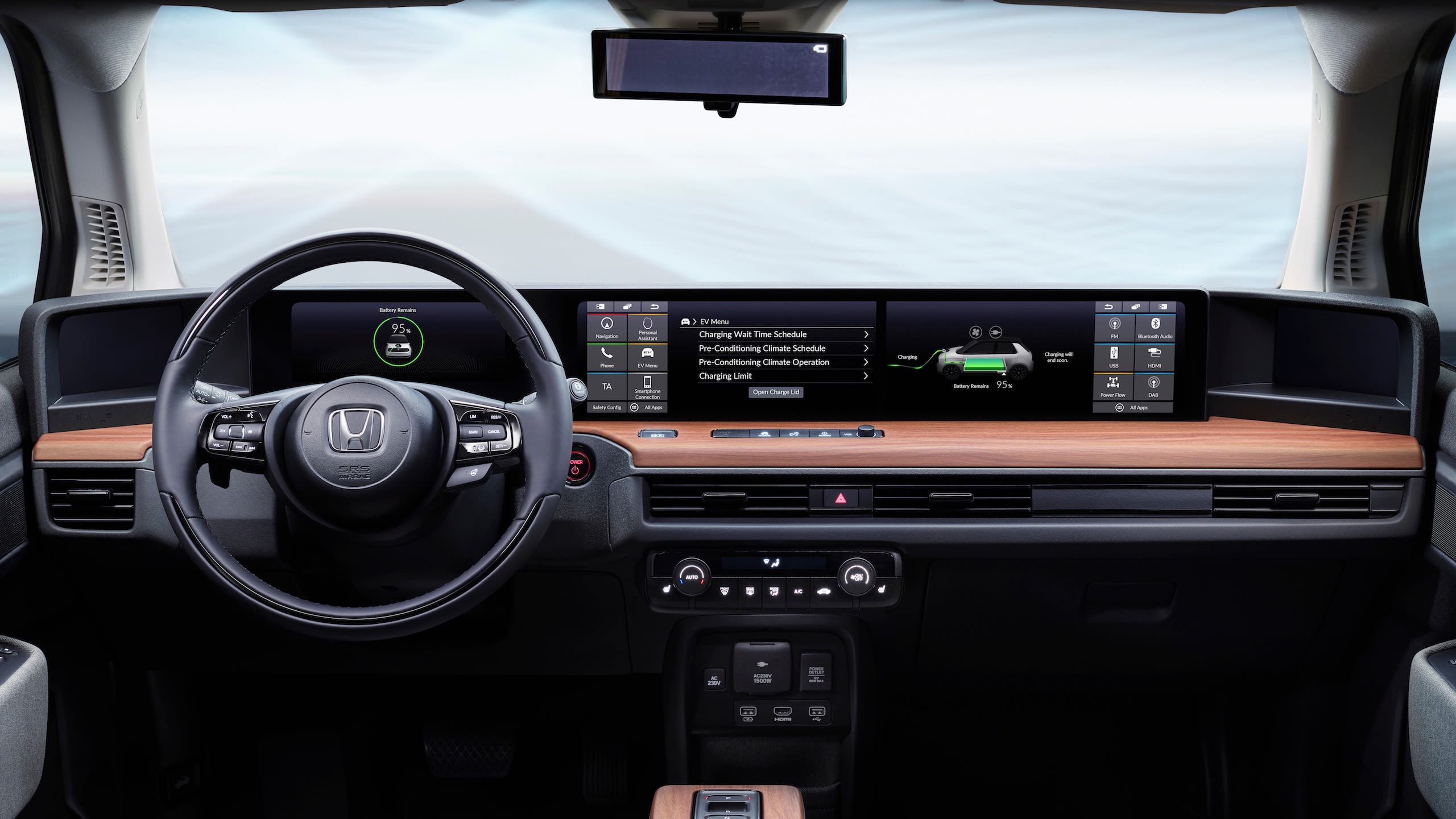 The exterior should be smaller than a Honda Jazz, and the interior should have a living room atmosphere.
"Electric cars will be a big part of owners' lifestyles, so we wanted to make sitting inside a Honda e feel like you were gaining an additional room outside your house, rather than simply sitting in a car."
This is what inspired the fabrics, the open-plan layout and the shelf-like dashboard complete with contemporary wood-like trim.
Hitomi-san checked his watch, smiled and looked over to the rest of the Honda team.
It was time to go outdoors and look at the cars. Blinking in the sunlight, we assembled in a courtyard and waited, as someone beckoned the Honda e Prototype cars from their secret garage.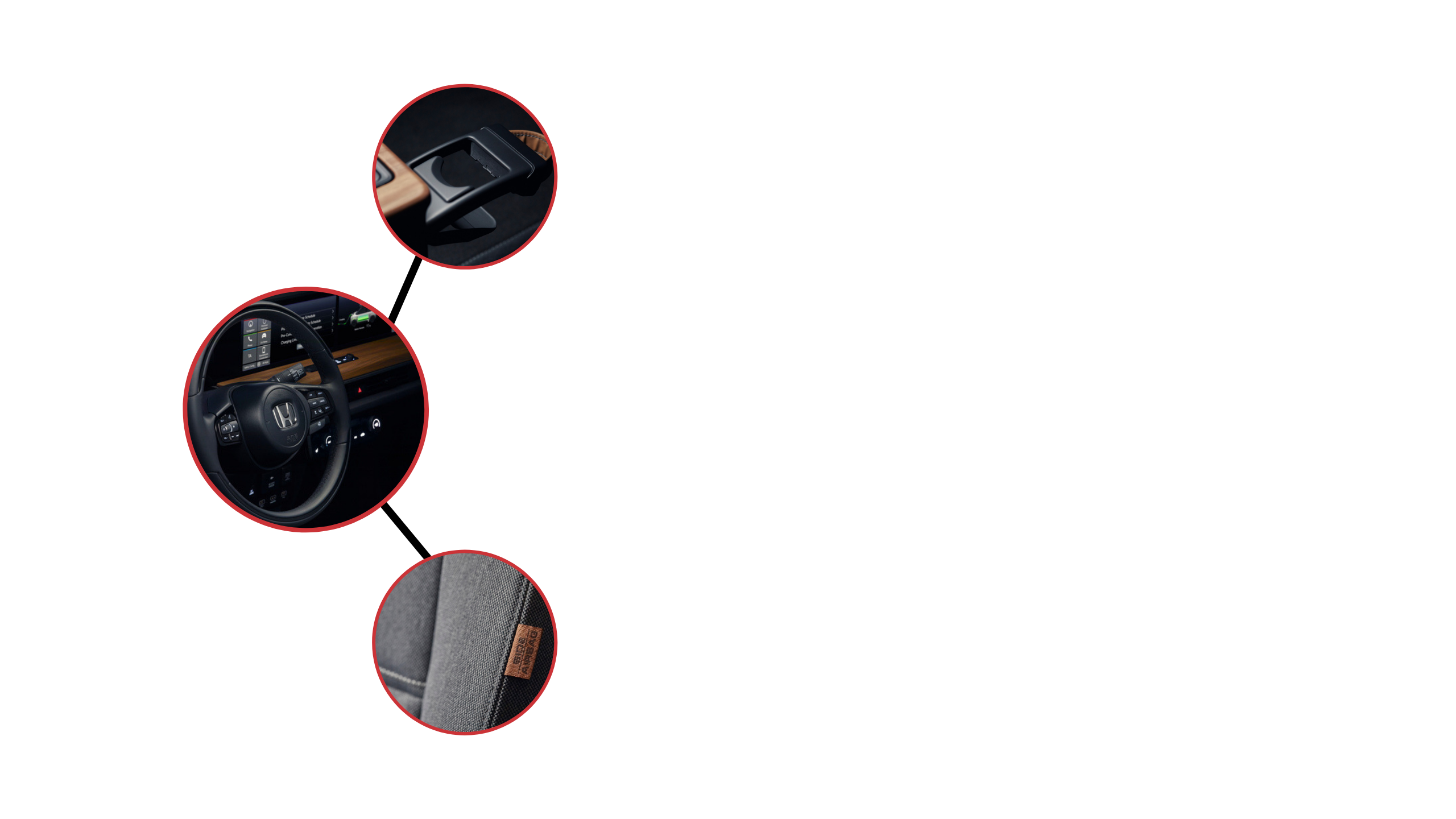 Electric enjoyment
We heard the purr of the low-speed electric car audible warning first. As we looked around, a little Honda e Prototype, in Platinum White Metallic, glided out of the darkness, quickly followed by a sister car in vivid Charge Yellow.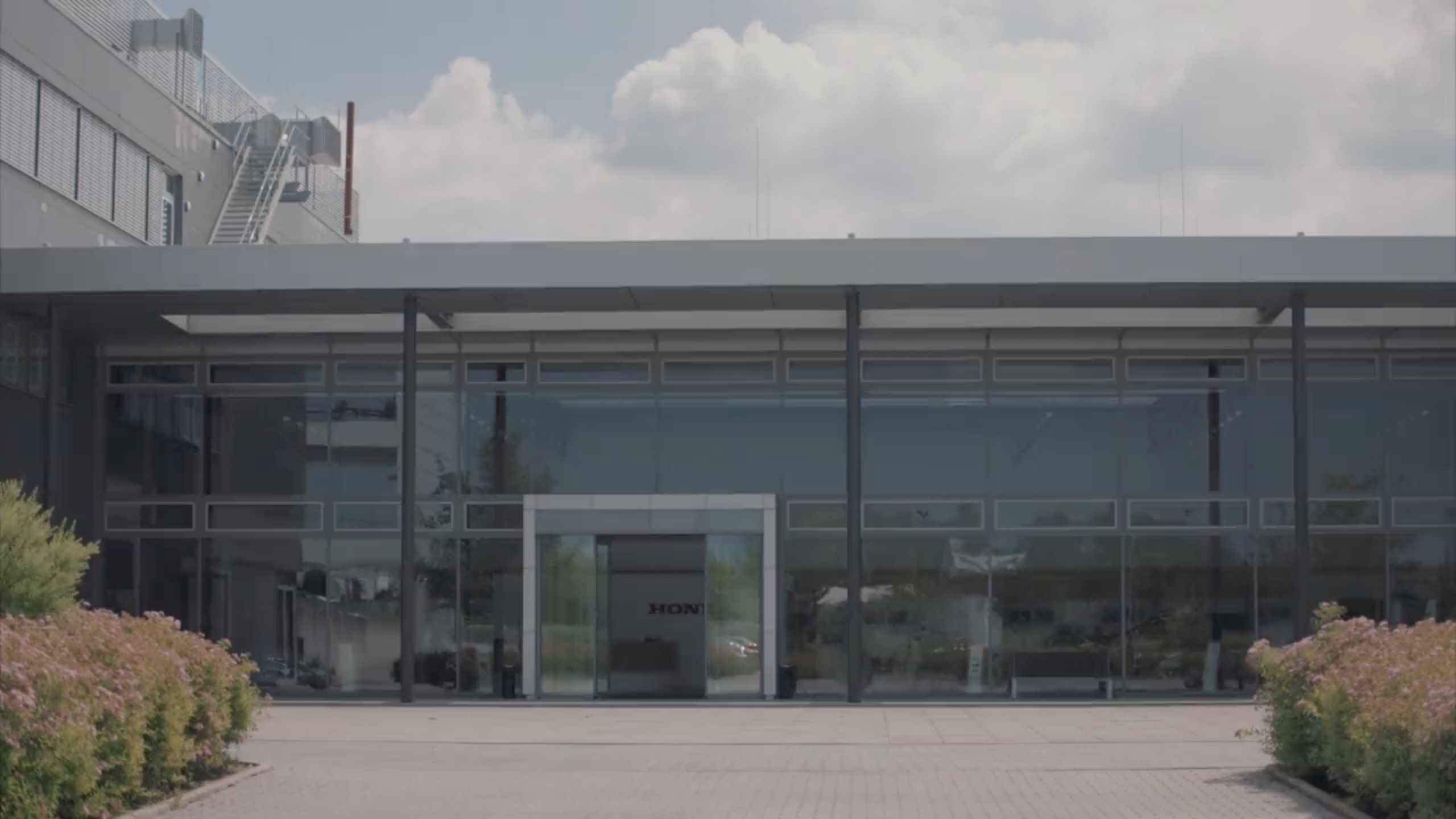 Silence
Silence from us, as we soaked up the impact of seeing the car moving, away from a motor show stand, for the first time. Near-silence from the cars, of course.
And silence from Hitomi-san and Shinya-san as they stood in the background, doing what Soichiro Honda instructed: watch and observe.
Normally, journalists try to play it cool. We stand back and cast a critical eye over new models, making notes with slightly stern, expressionless faces. None of that here.
Smiling, we crowded round the little Hondas, devouring every delightful feature with relish. Smartphones were out, snapping our many favourite features, and our notepads were filled with scribbles such as 'cute', 'charming', 'delightful'.
After a few moments, I glanced at the Japanese engineers. They were proudly beaming, too.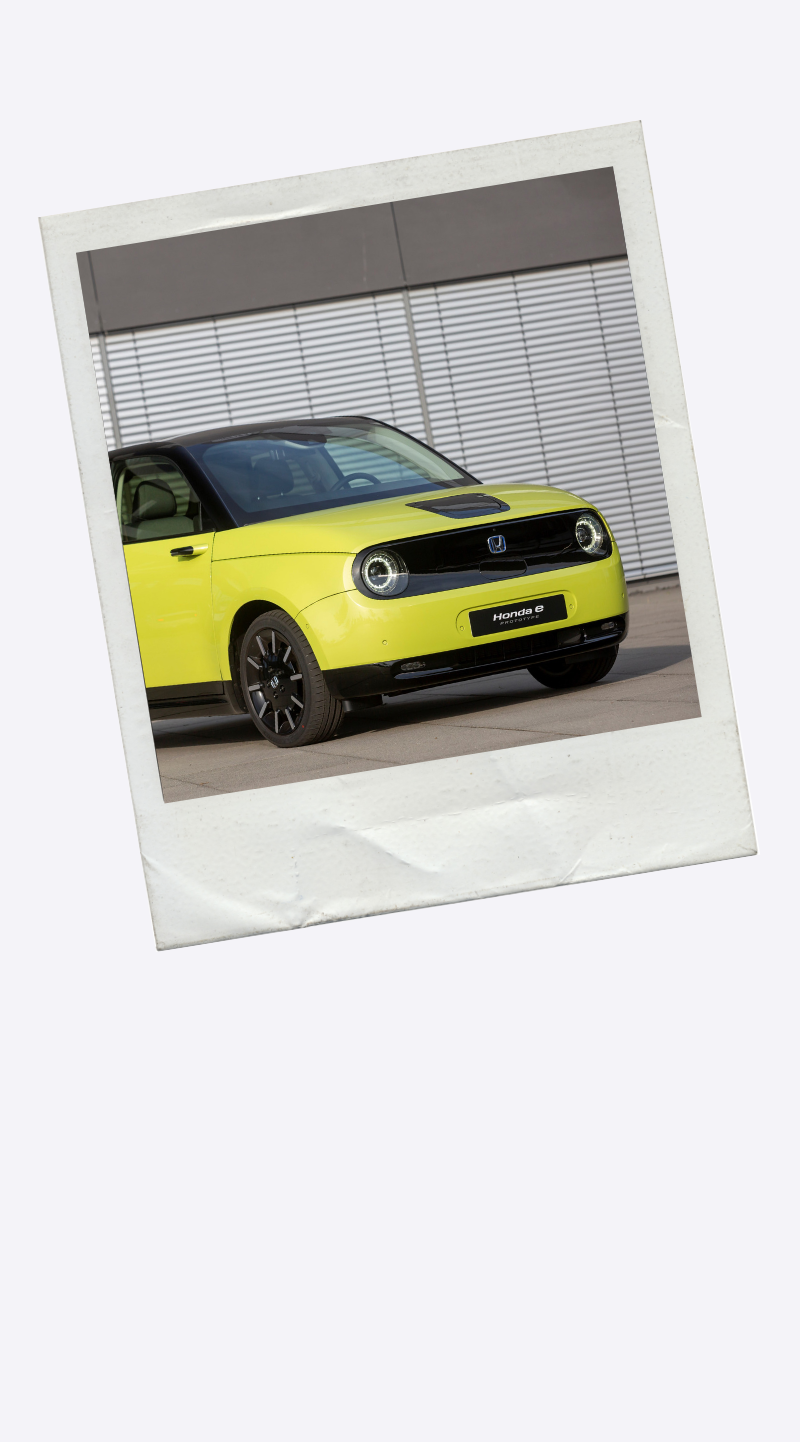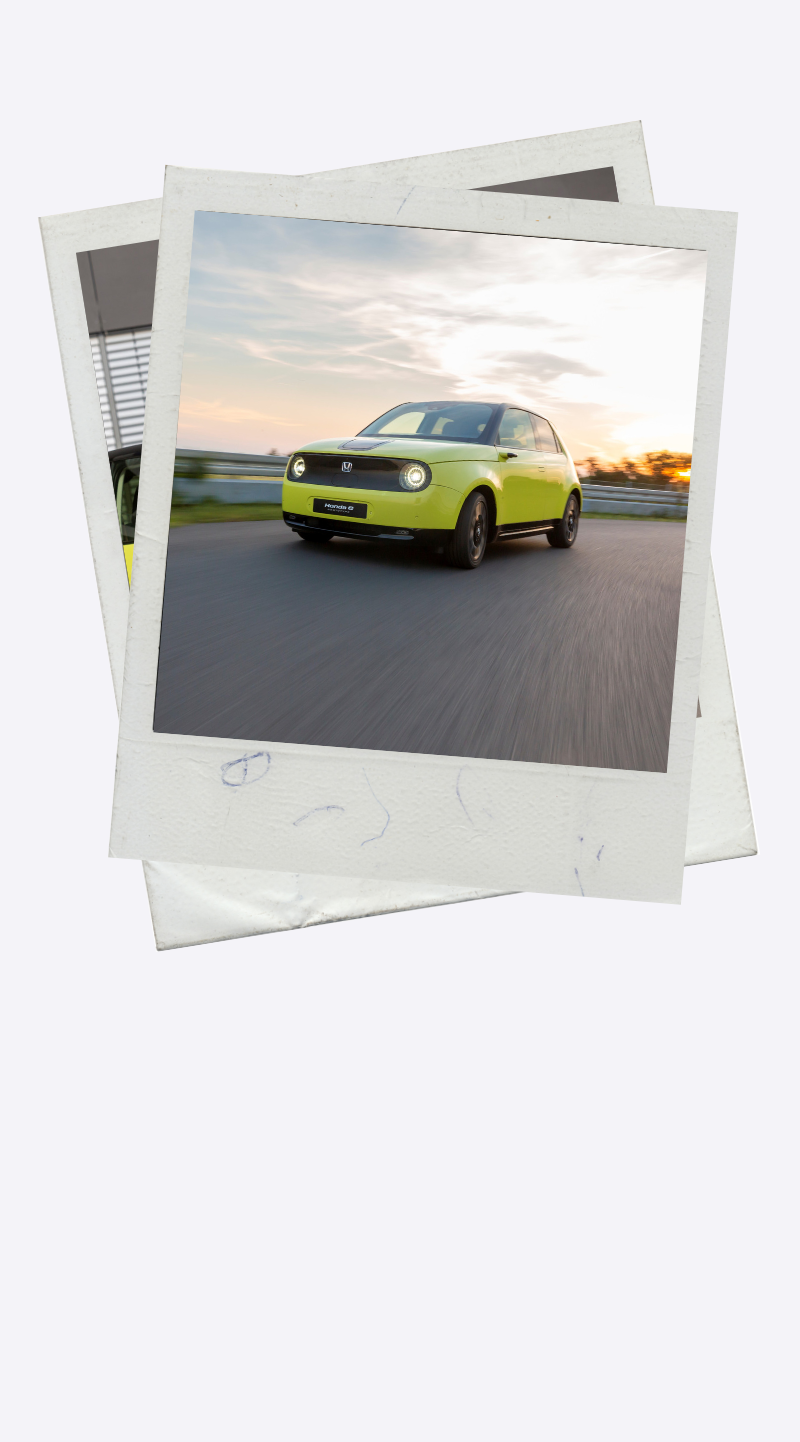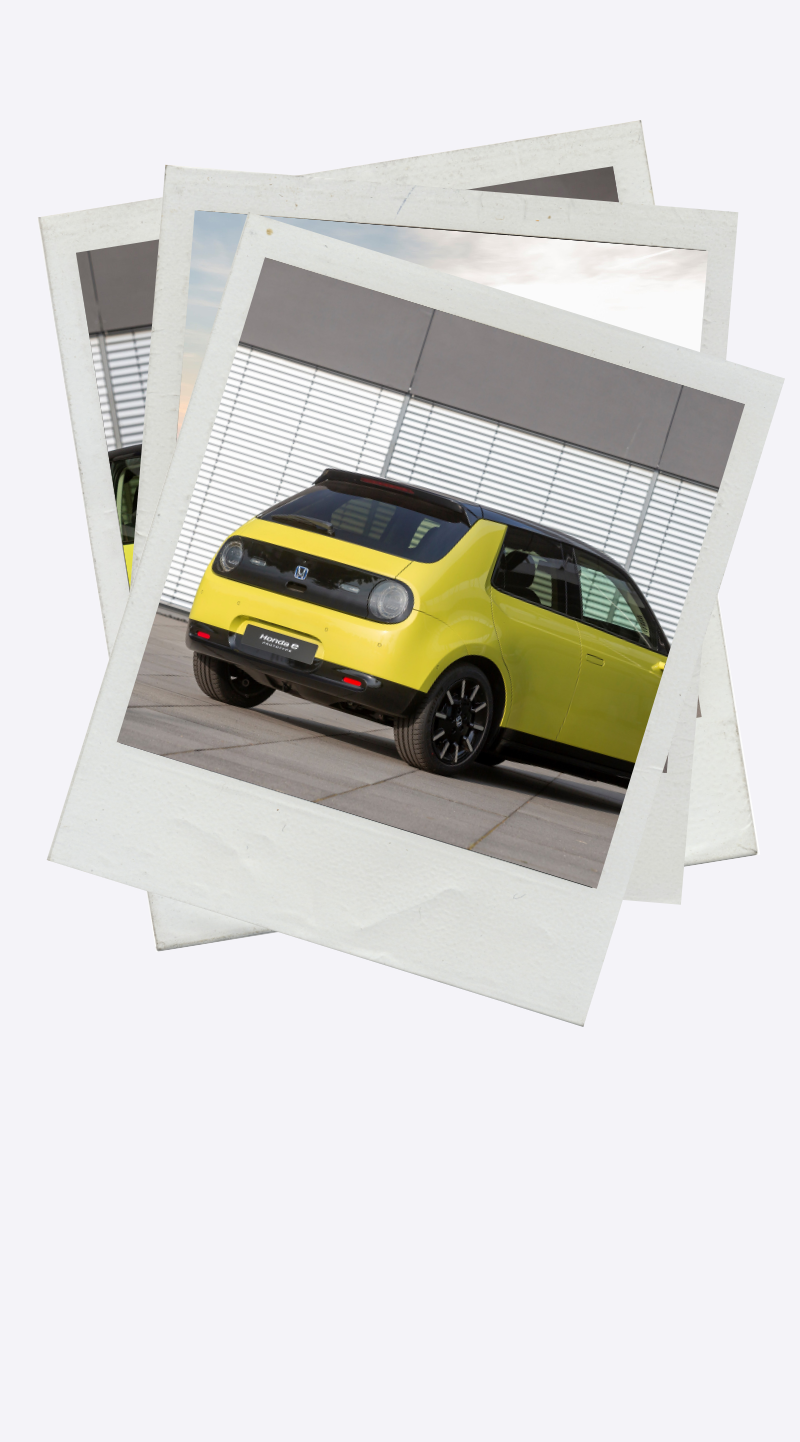 Many design features stand out. Cleverly, Honda has hidden all the functional aspects needed for advanced active safety – the cameras, the radar sensors – in the black panel at the front of the car. And other aspects, such as concealed windscreen wipers and retractable door handles, also serve to give it a simple, elegant and, as Hitomi-san described, a 'clean' appearance.
There is another very important aspect as well: replacing the door mirrors with cameras. "Visibility is a vital aspect of dynamics," explained the thoughtful engineer. Removing the traditional door mirrors has not only made the Honda e slipperier through the air, improving its electric range, but also increased front and side visibility by a massive 50 percent.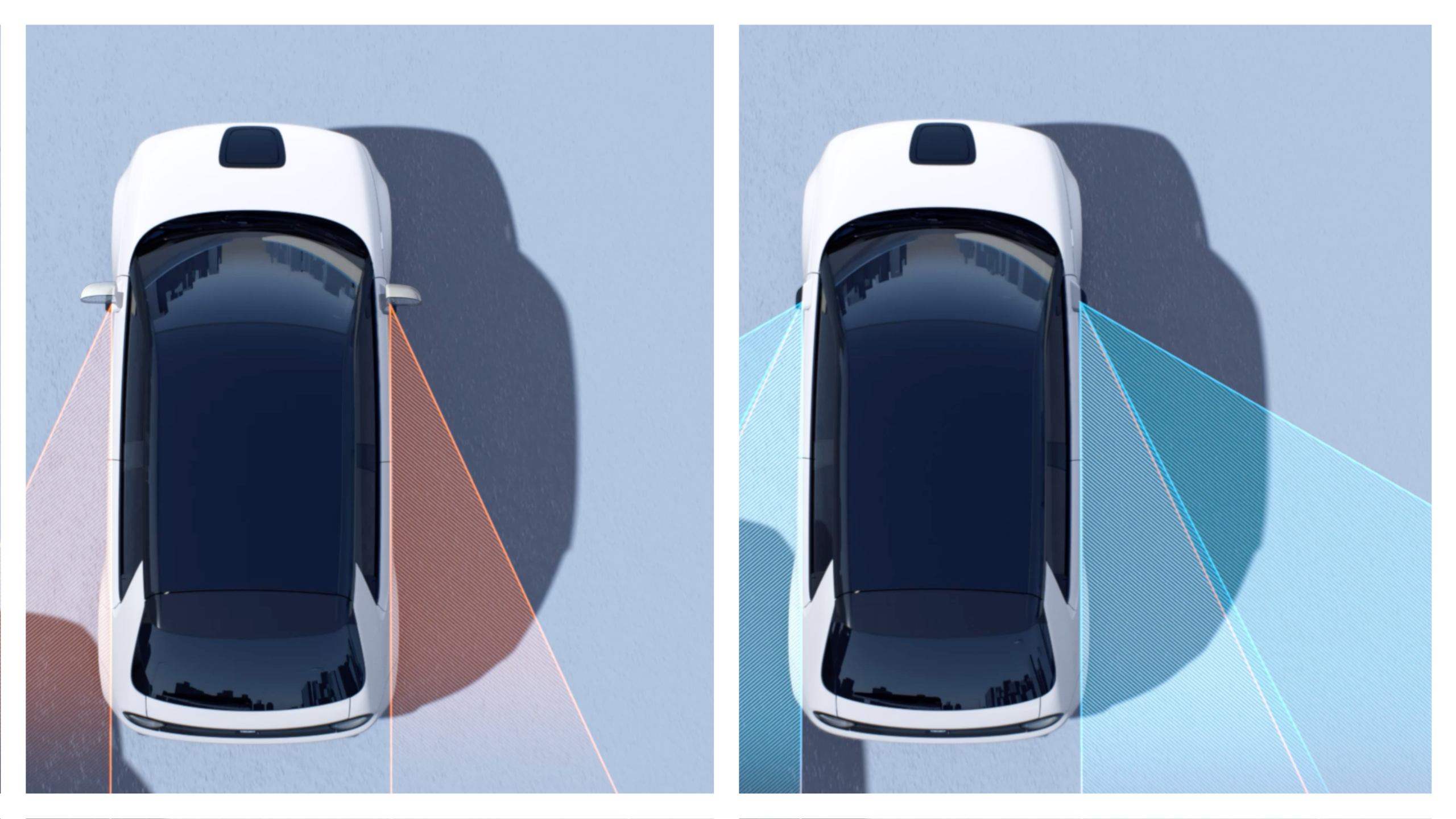 Given how it will be used in busy, congested environments, this is a huge advantage. Honda has taken a massive step forward in optimising the city car for its natural environment.
Intentionally, the design team has minimised the lines on the bodywork of the Honda e. Those still present form the focus of the design, enhancing the perfectly-sculpted proportions with minimalist cool. It's the same sort of design you associate with Apple products: high-end, confident and precise. Every millimetre feels like it has been perfected; it takes city car design to a new level.
Finally, we are gathered together to be briefed on the drives. Each of us will have sessions in the car, driving alongside one of the Japanese engineering team. My session is not for an hour so, with just a few more backward glances (and photographs for Instagram and Twitter), I join Hitomi-san and Shinya-san indoors for a briefing on what lies beneath the beguiling Honda e Prototype bodywork.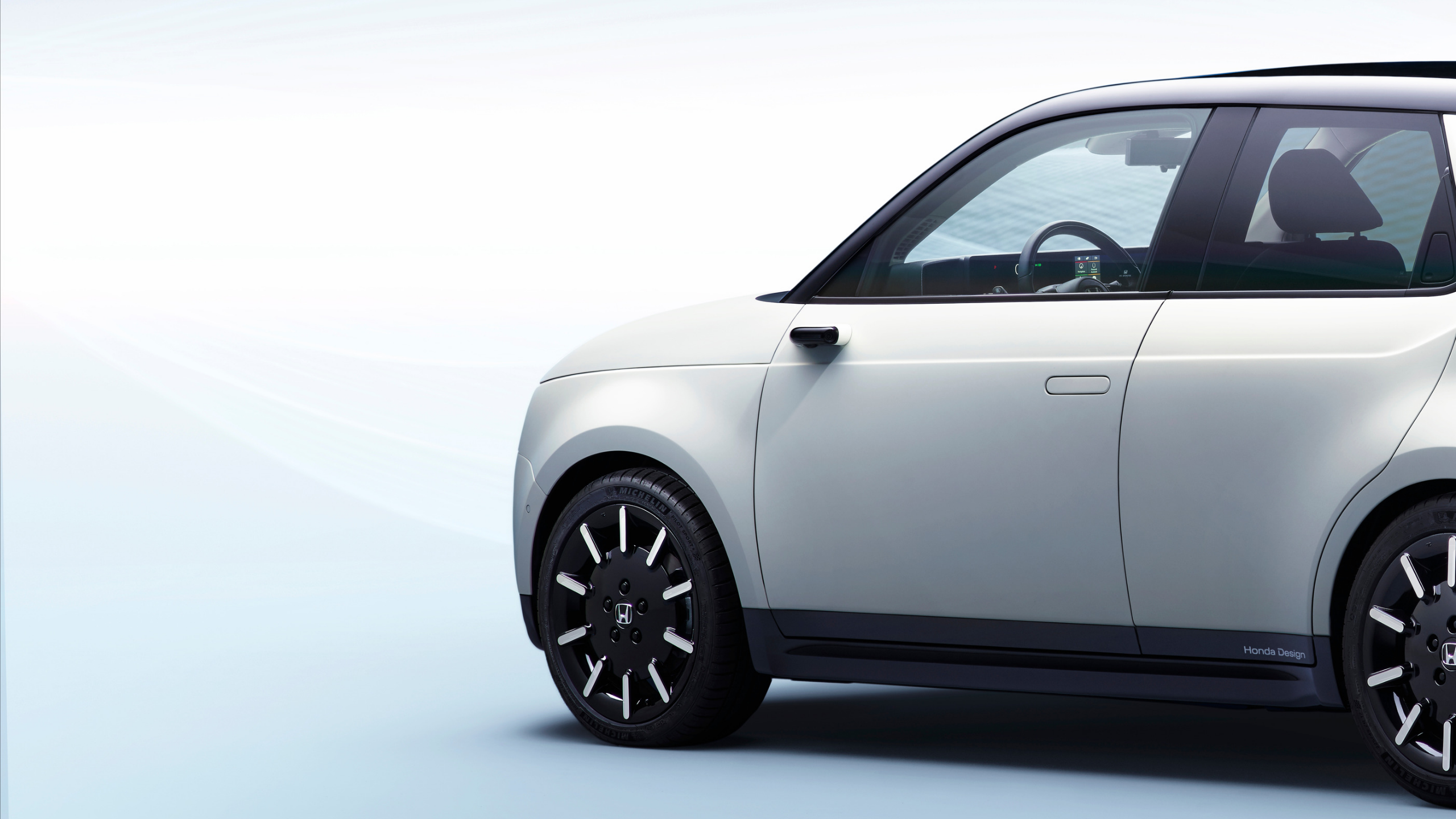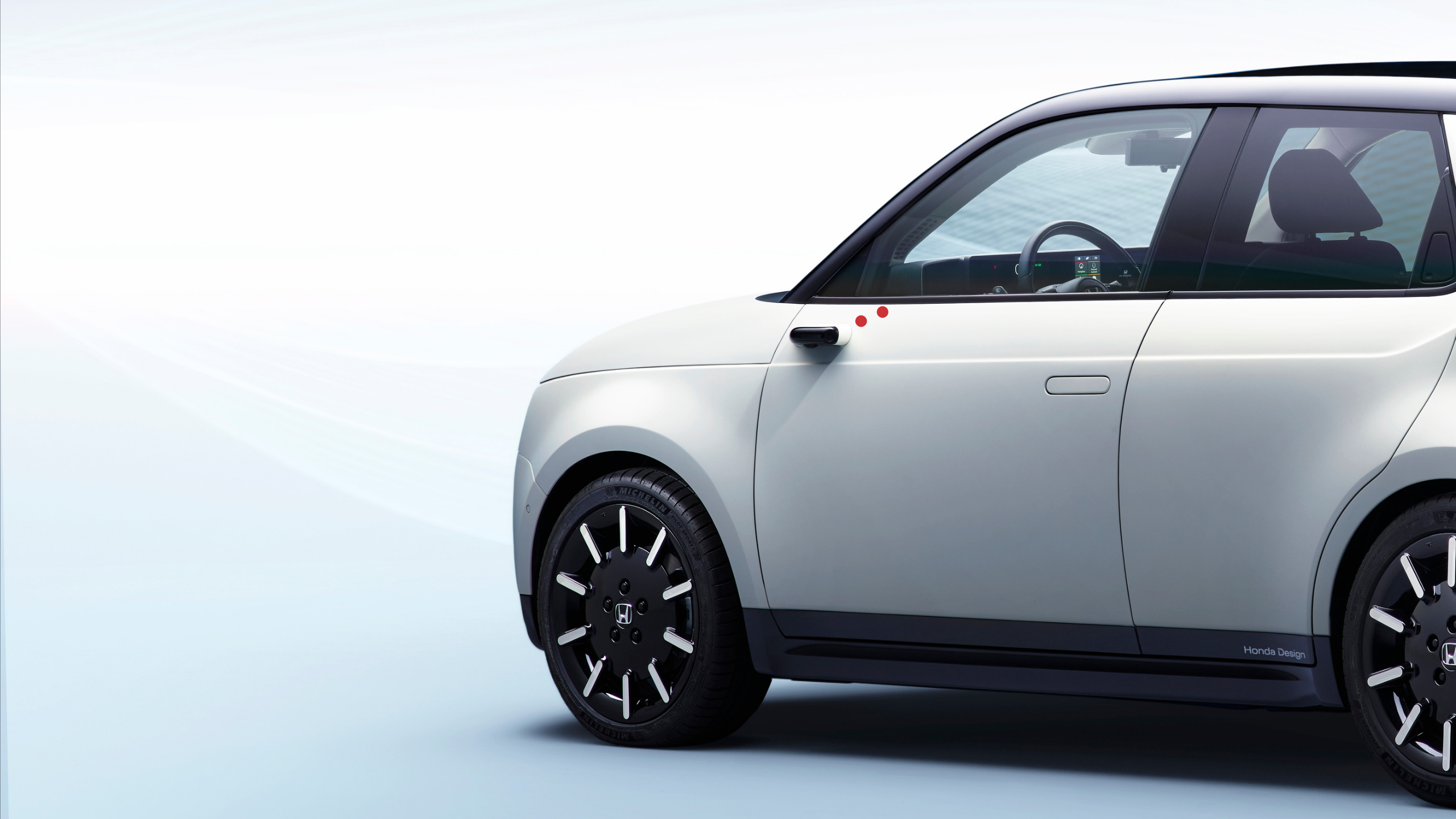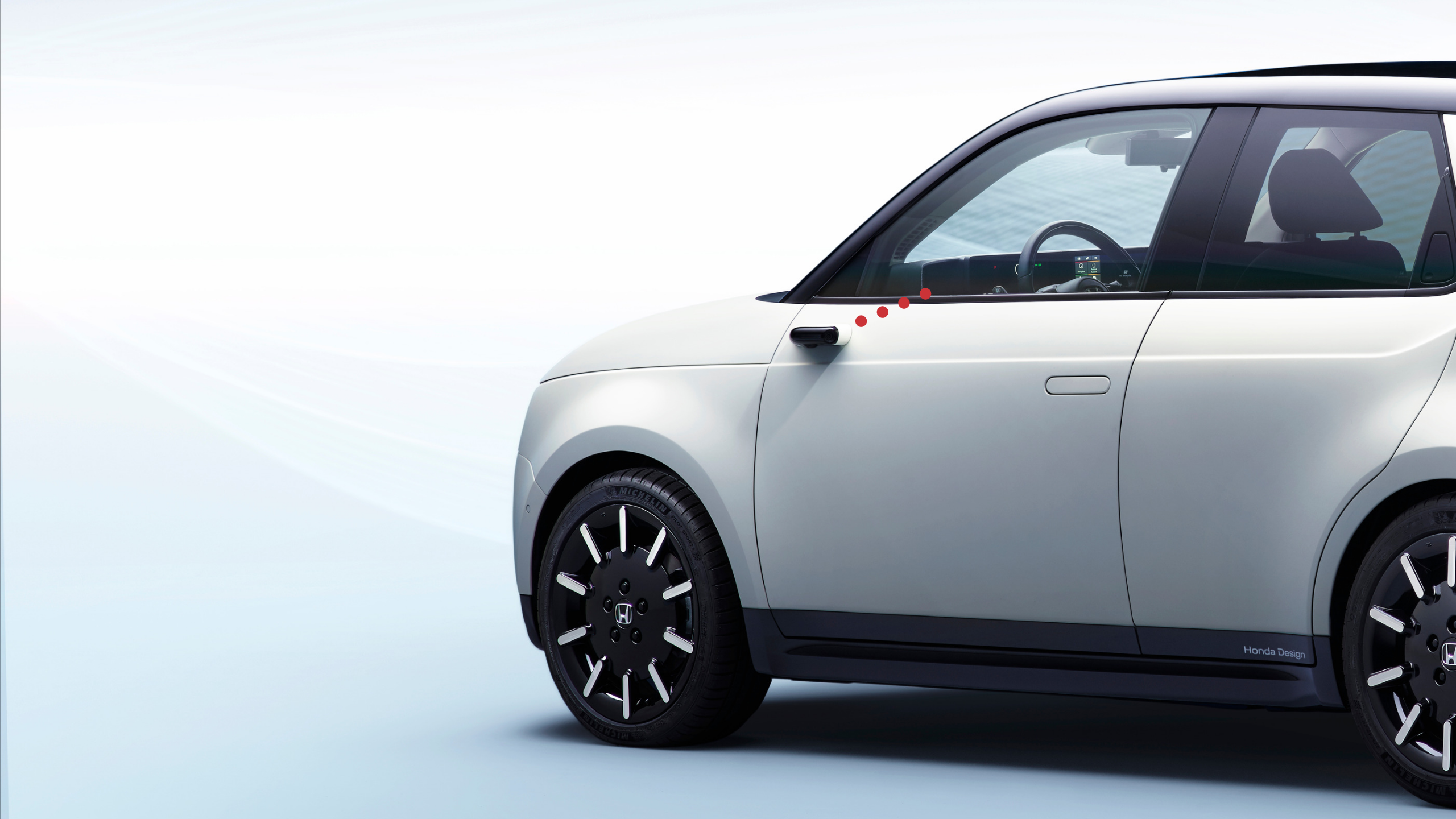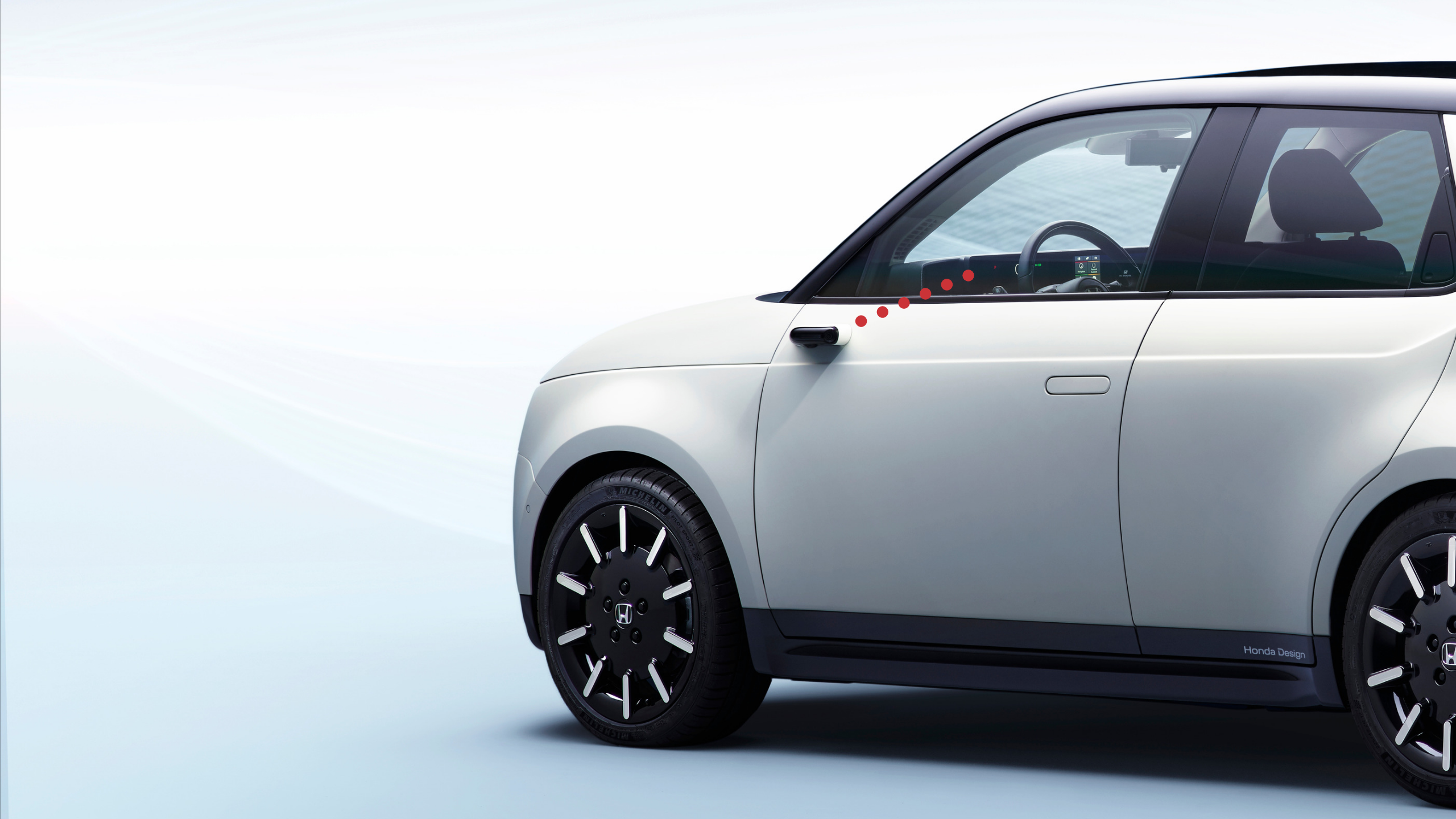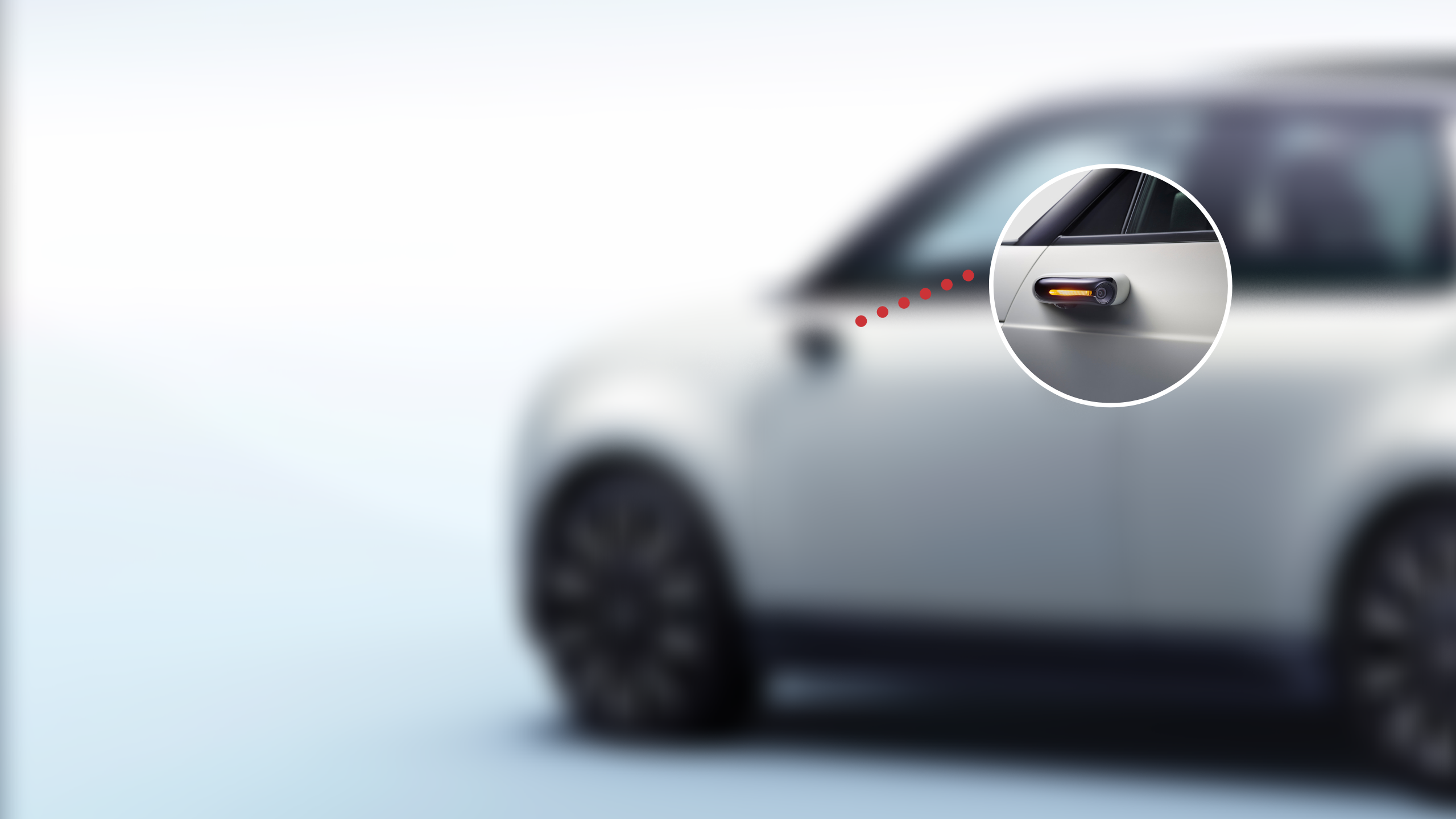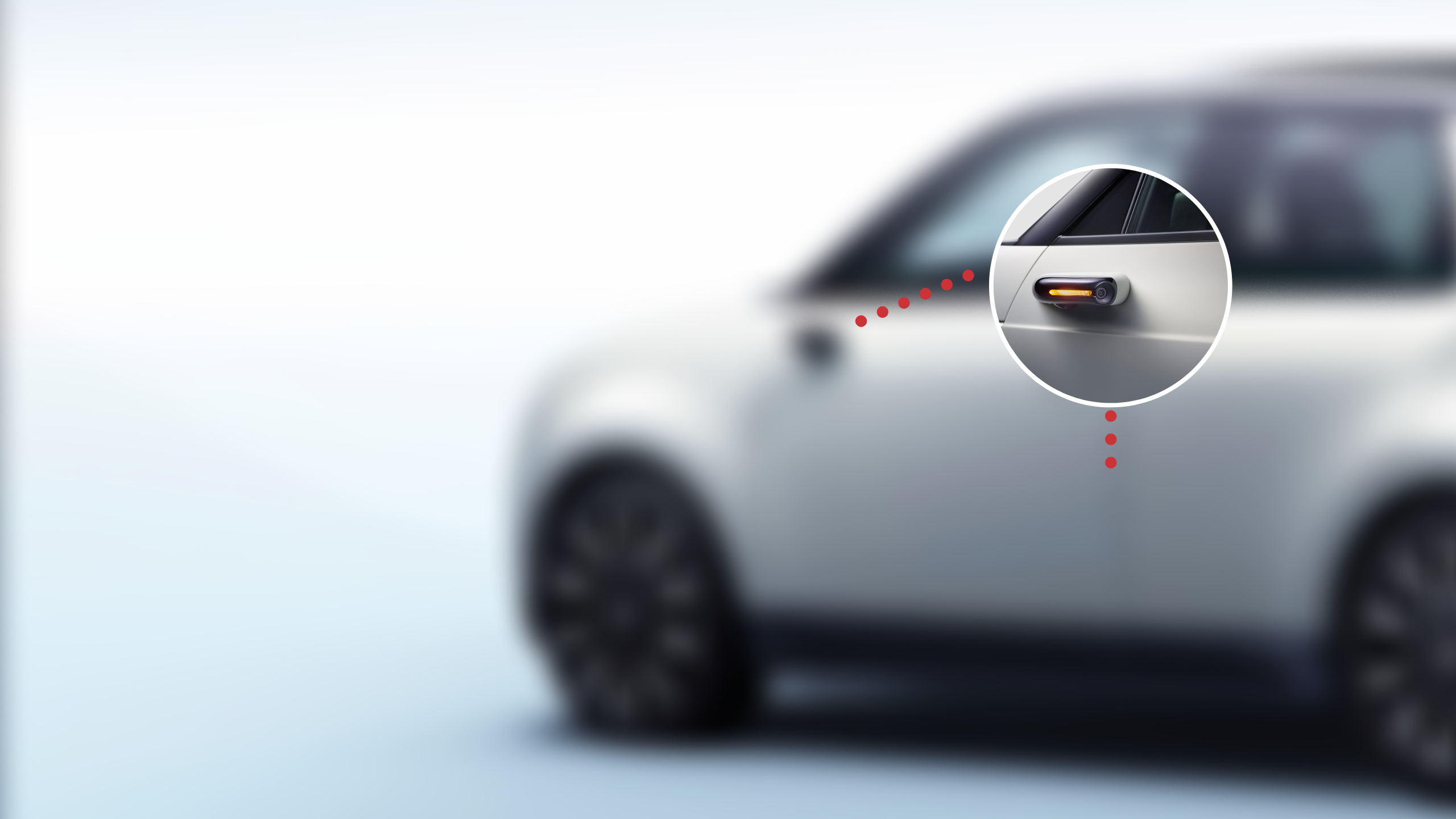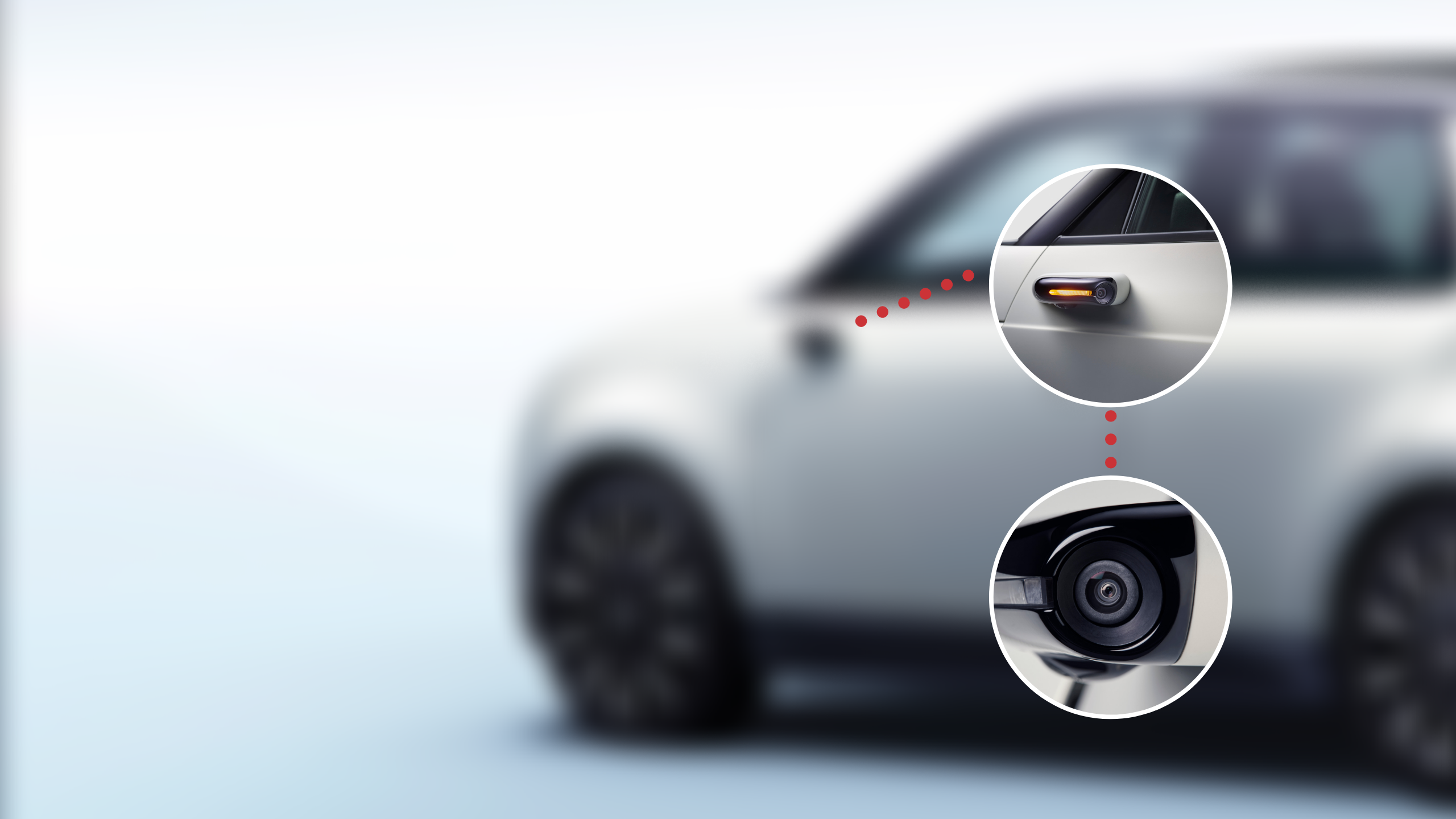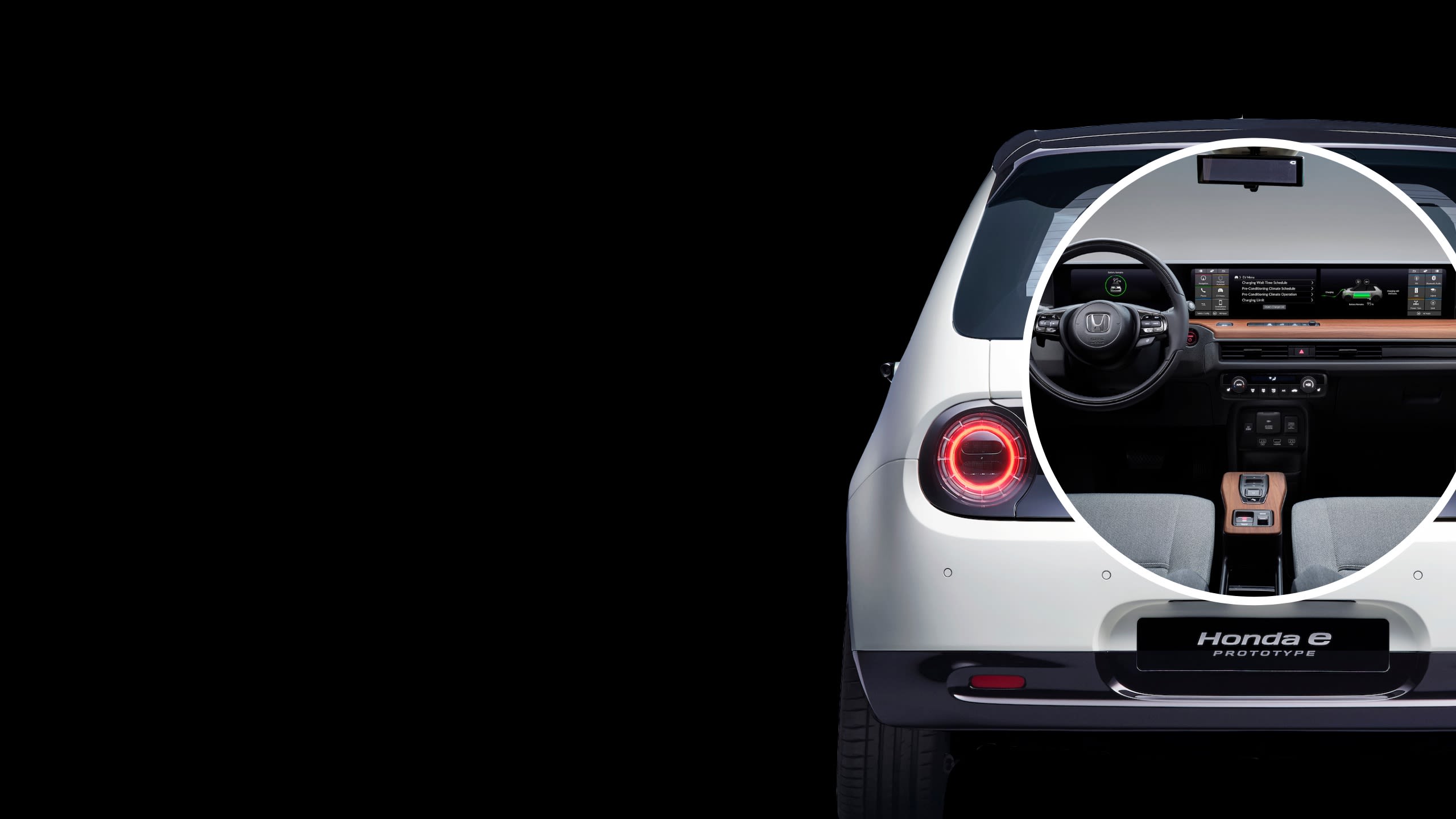 The sheer scale of effort that's gone into Honda's first production battery electric car soon becomes clear.
This is a dedicated EV platform, designed from the ground up as a pure electric car. "A Honda EV must be unique," explained Hitomi-san. "It had to be a car only Honda could build."
The 35.5 kWh battery is mounted centrally, beneath the floor, in the optimum position. Locating it so low is good for handling and stability and helps maximise the space available to passengers.
The electric motor is in the rear, beneath the boot, and drives the rear wheels. The advantages of this are numerous, says Hitomi-san: perfectly balanced weight distribution, space efficiency and the ability to use more of the trademark electric car response without the front wheels scrabbling for grip.
"It had to be a car only Honda could build."
Expensive, high-end independent suspension features on all four corners, and there is an extra trick that's fundamental to the appeal of the Honda e: steering angles of up to 45 degrees.
This is a far greater angle than normal road cars and has been made possible by the rear-drive platform. It gives the Honda e a super-tight turning circle normally associated with London black cabs, as I would later find out…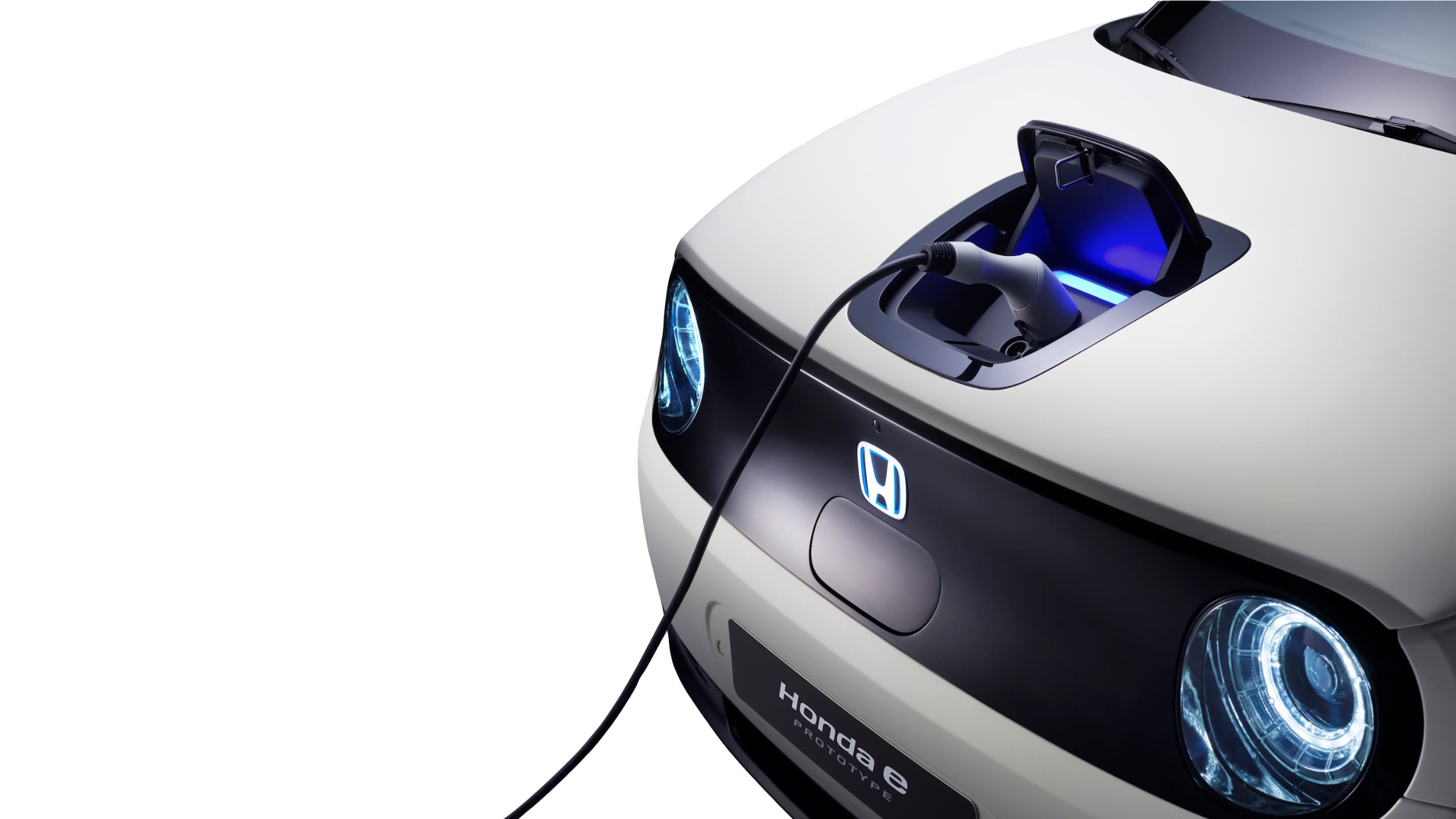 Before then, I was shown to a third, static Honda e Prototype, to check out the interior design in detail.
The striking thing about stepping into the front seat is how wide the door openings are.
Honda has carefully engineered its electric car to be user-friendly and accessible. The comfortable seat is positioned to give a commanding view out – and the inside is as welcoming, with the shelf-like dashboard giving the desired living room feel.
A stack of high-resolution displays will find favour with tech-lovers, and the care and attention that's gone into the details should delight others.
"A stack of high-resolution displays will find favour with tech-lovers, and the care and attention that's gone into the details should delight others."
I loved the brown seatbelts, the stitched strap to pull out the cup holder, the seat fabrics more commonly seen on designer sofas. The 'frameless' windows are cool, too: lower the front and rear glass and no frame is left behind, giving it the feel of an exotic sports car.
In the rear, adults are accommodated on a soft seat that's also sofa-like. Set into the roof is an array of LED lamps styled on recessed ceiling lighting; another novel touch.
Behind, the city car boot has a high deck that's easy to load in and out, and the rear seat has a one-touch handle for folding it flat and extending the space available.
As I play with this, I'm called over by an engineer: time to drive the new Honda electric car!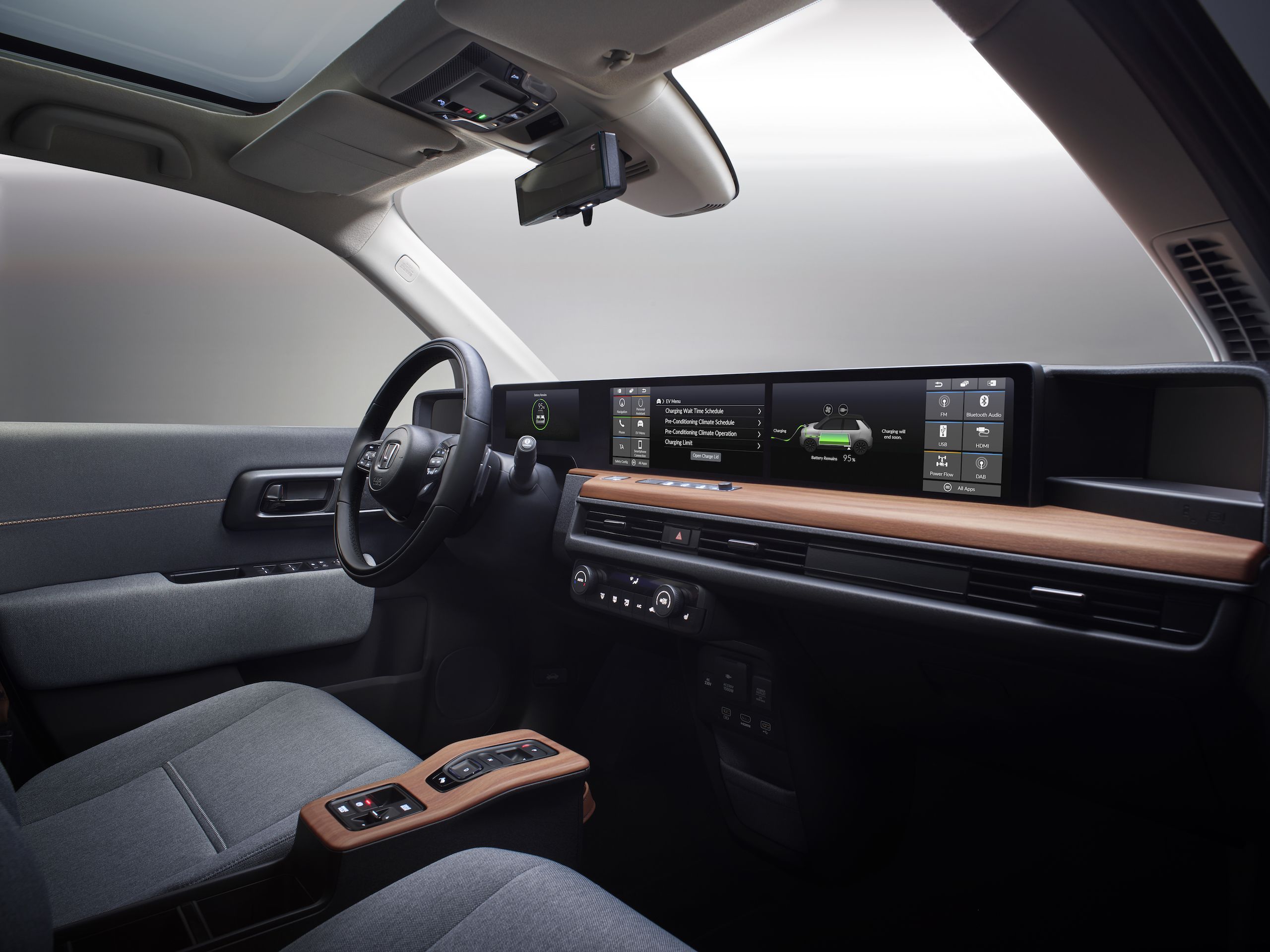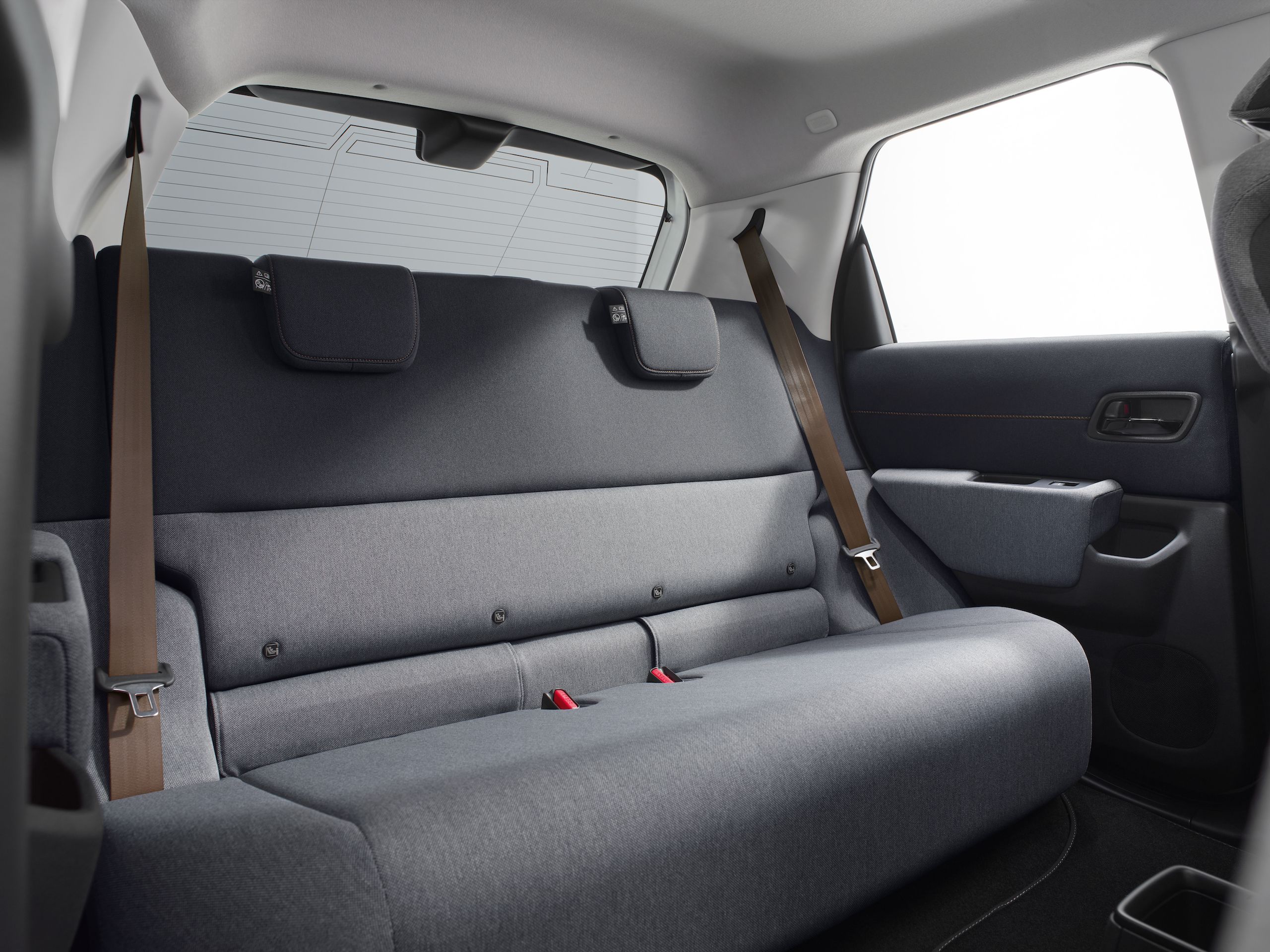 With tingling excitement, I greet the polite Japanese engineer, tug the door handle of the Charge Yellow Honda e Prototype and step inside.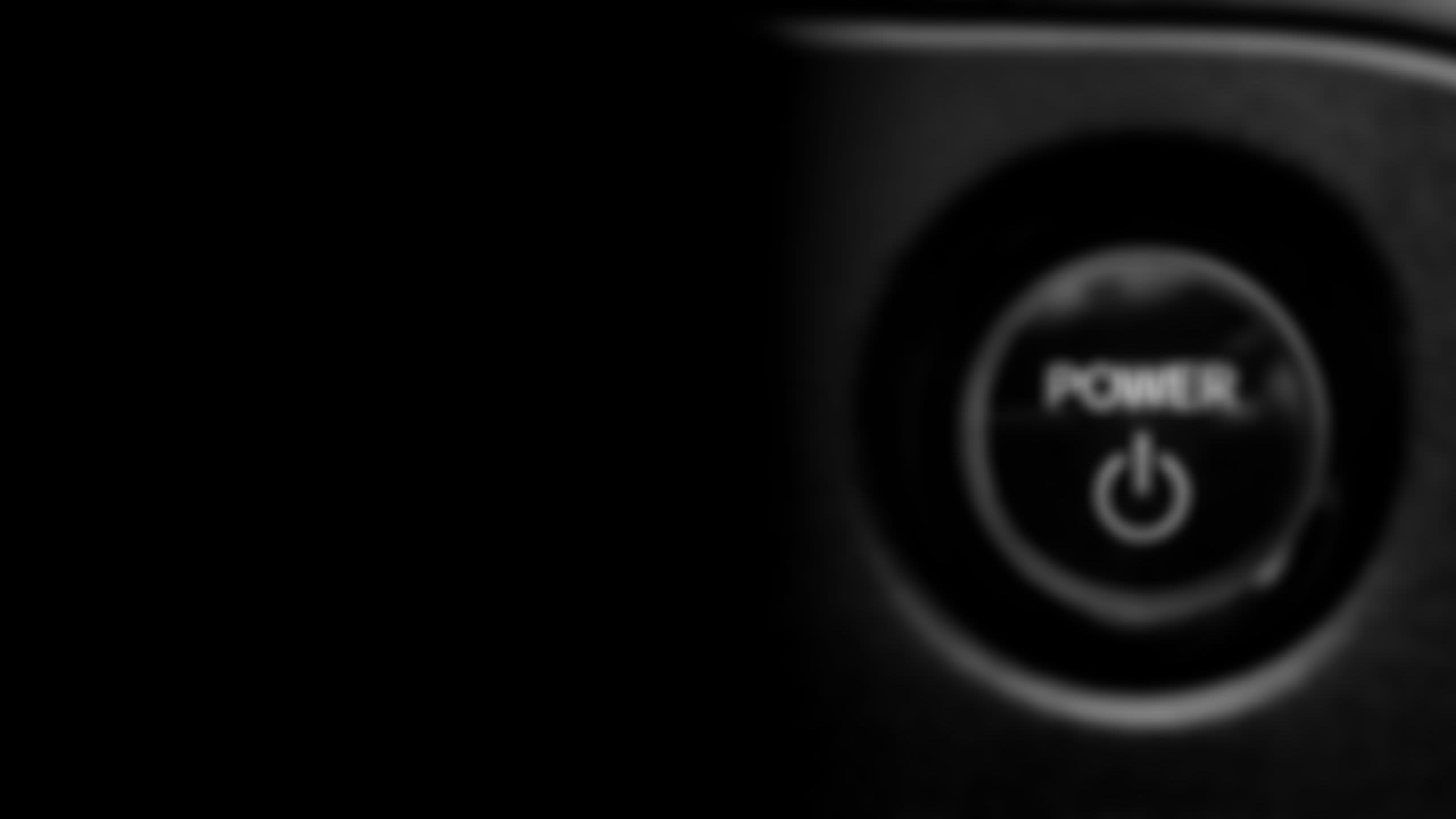 I belt up, press the start button and 'D', and silently, seamlessly whirr away.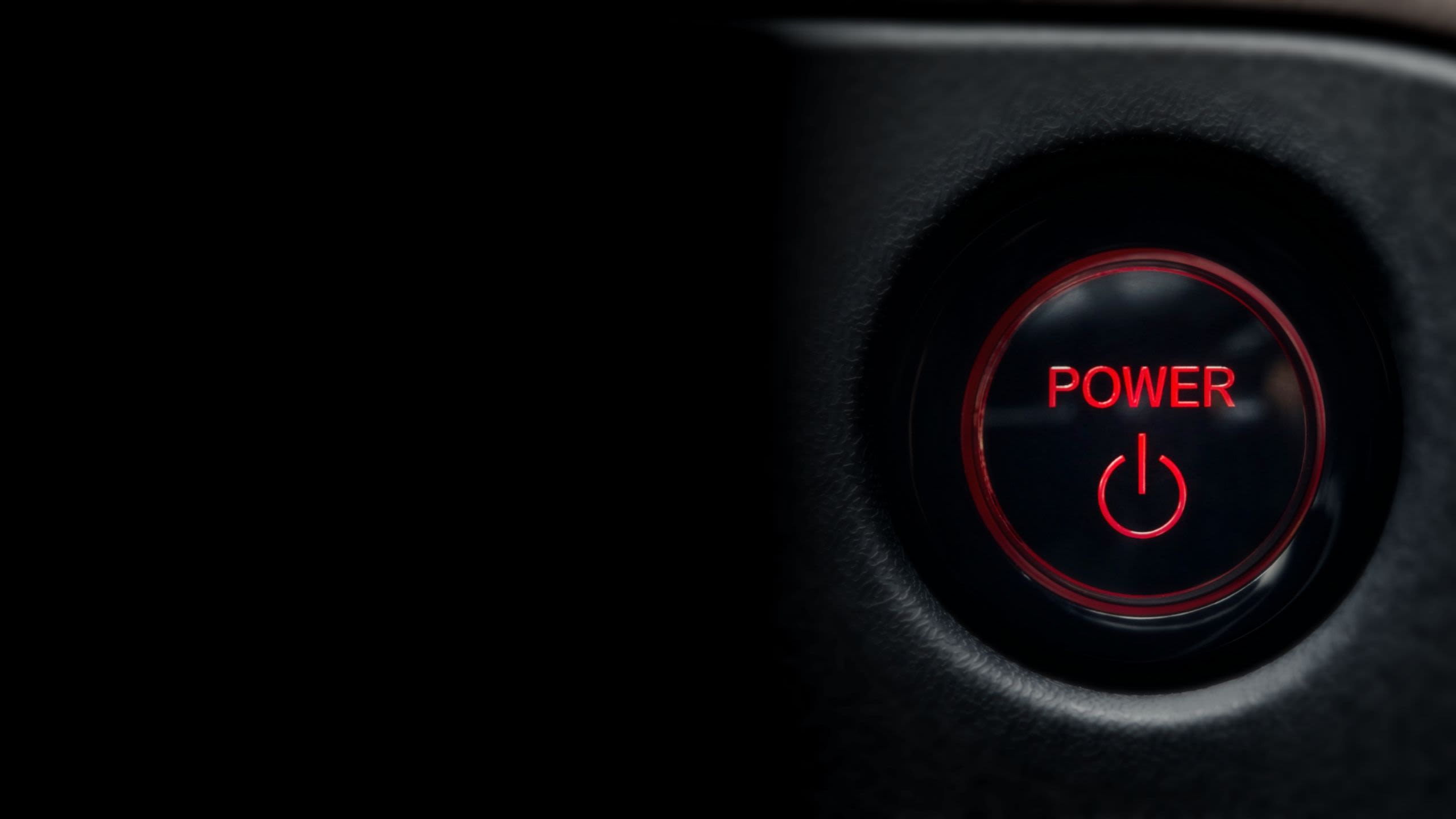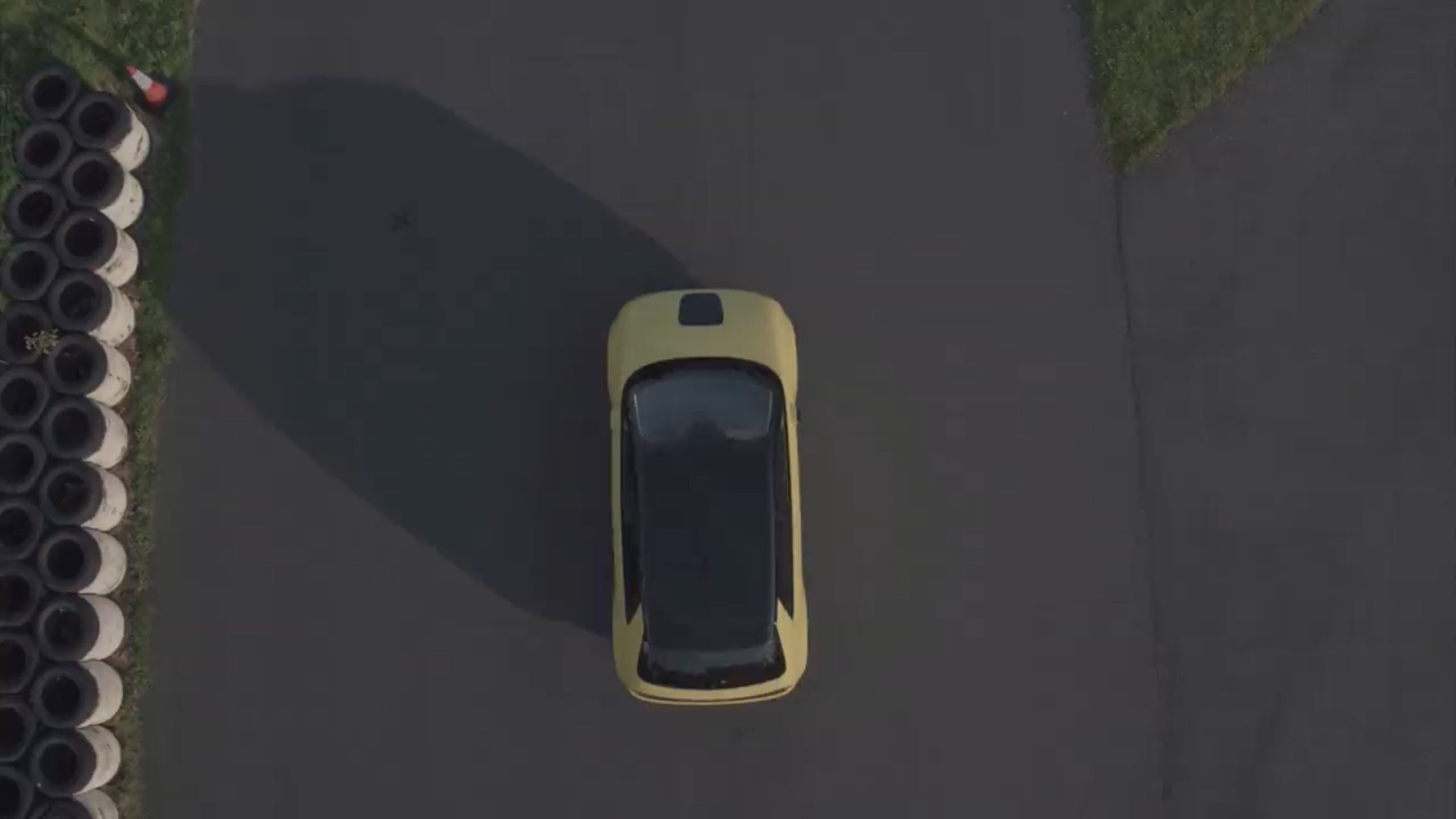 It's always the silence of an electric car that first strikes people. In the Honda e Prototype, this is reinforced by exceptional refinement that genuinely makes it whisper-quiet.
There's little tyre whoosh, no noise from the suspension over bumps, even the electric motor is a distant whirr (which comes from behind, not in front).
The course is a short, urban-like track, with twists and turns, a mock roundabout, a slalom and a large turning area. There's also a back straight, where I can floor the accelerator and test out the Honda e Prototype's performance.
Zero to 62 mph is said to take around eight sprightly seconds, which feels right: there's a satisfying surge as I gather speed – and no fighting from the steering wheel even if I floor it mid-corner. The Honda electric car simply drives cleanly forwards.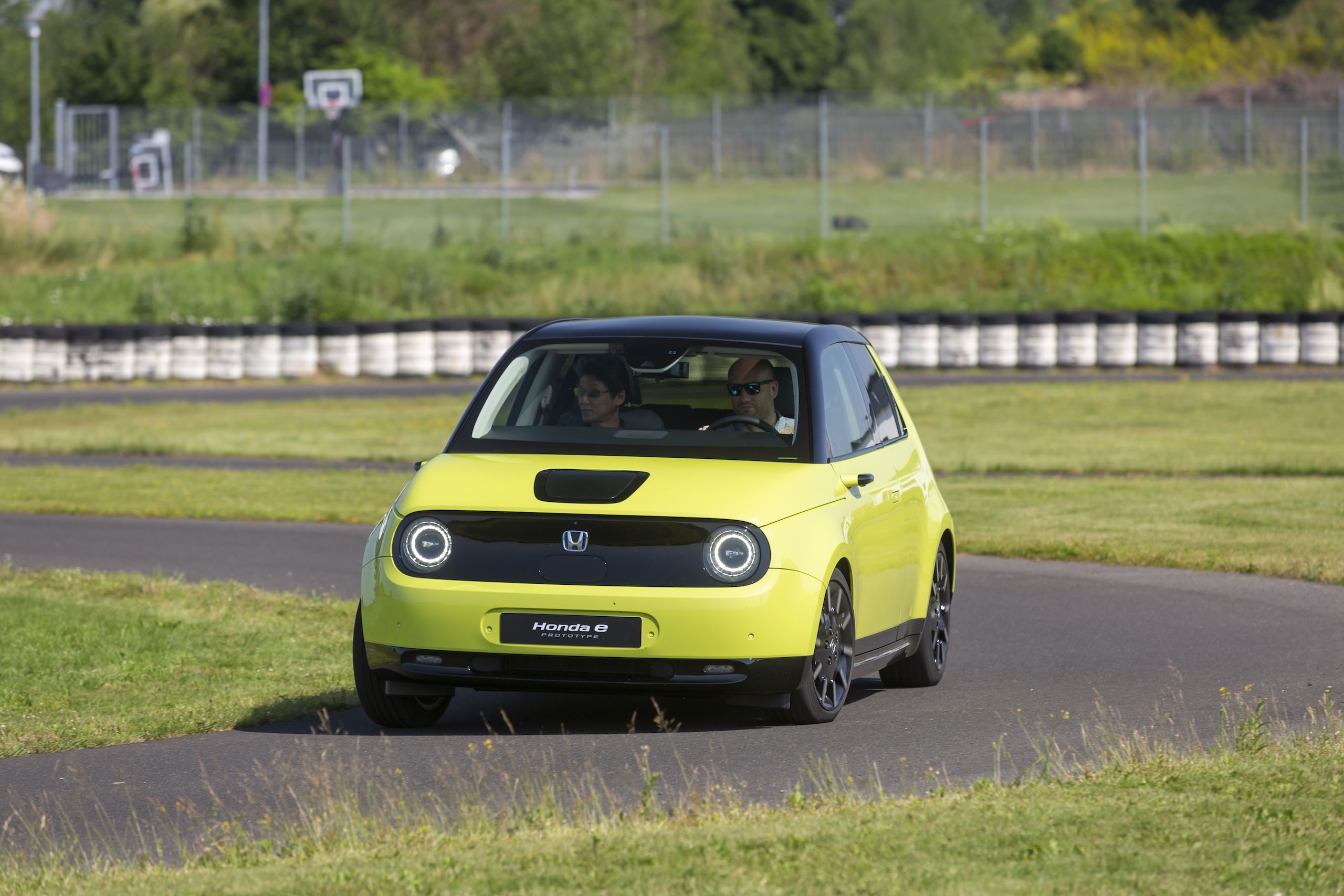 Luxury car refinement is matched by a luxurious ride. The high-end suspension is tuned to be supple and absorbent, gliding along with limo-like cushioning.
Yet despite this, it's nimble in corners: thank the low centre of gravity for that, helping deliver what feels like the best of both worlds. Through the slalom, I jink left and right with increasing speed, yet the Honda e Prototype remains unruffled.
What's making it all so much easier is the brilliant visibility of the little EV. Losing the door mirrors has given a panoramic feel – it's amazing what a difference it makes. The view into corners is incredible and the bright, airy feeling it gives behind the wheel is genuinely standout.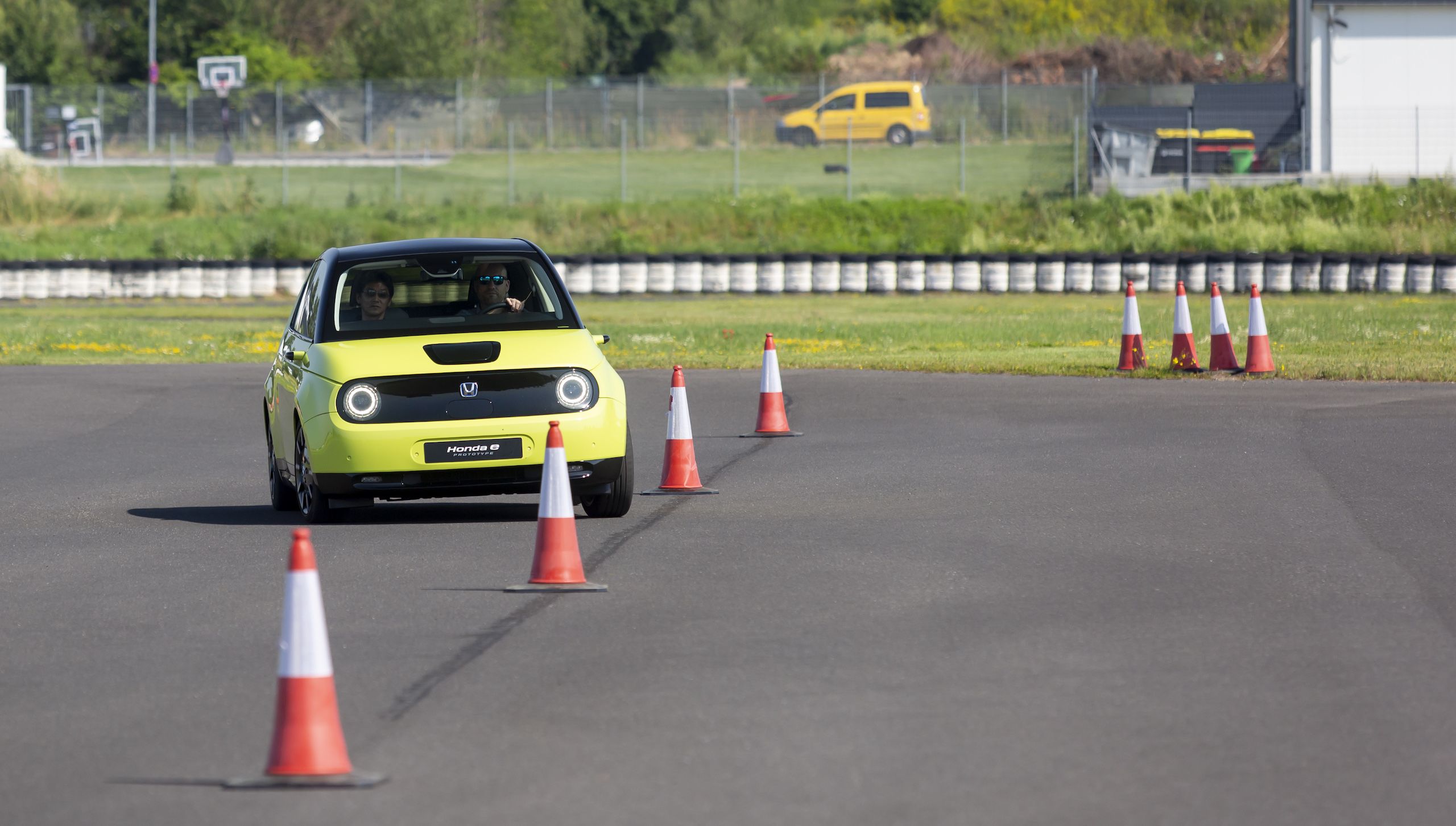 with surprise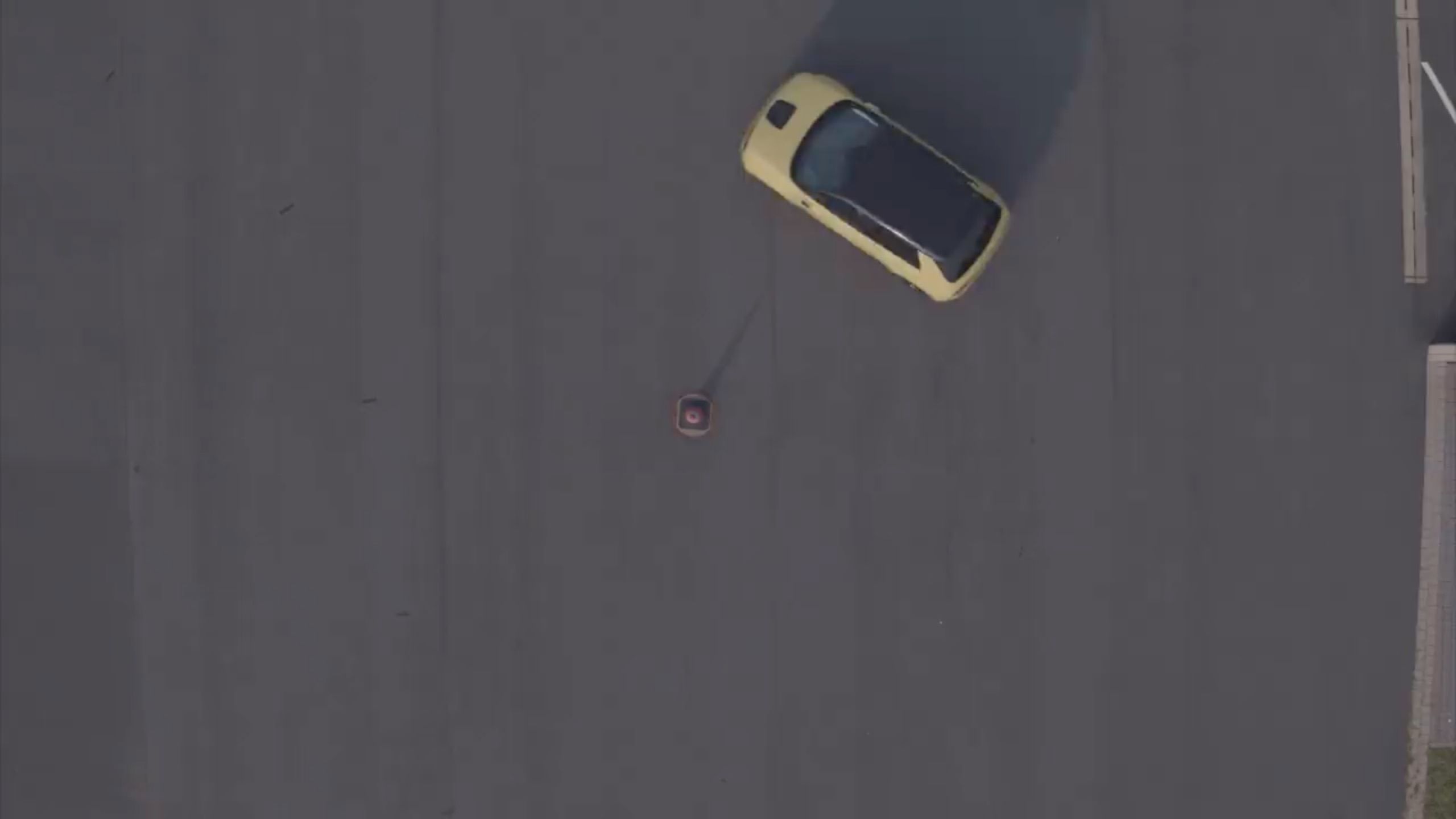 Then came the biggest eye-opening surprise of all. The Honda e Prototype's simply incredible turning circle.
I come to a halt at a stop line. On the ground is painted a white line, just a little longer than the 3,895mm length of the Honda electric car. My job? To circle this short white line, touching each end of it, each time I pass.
Impossible, I think. No car can turn around in such a short space.
How wrong I was. I approached the line, turned the steering wheel… then kept turning as the Honda e Prototype steered an ever-tighter line.
Suddenly, I was doing it: looping round in an incredibly tight circle, feeling like I was looping round within the length of the car itself (I pretty much was).
Because I wasn't expecting it to work, I was driving rather too quickly and soon became giddy. It is the first time I have ever become dizzy in a car simply turning around in a circle.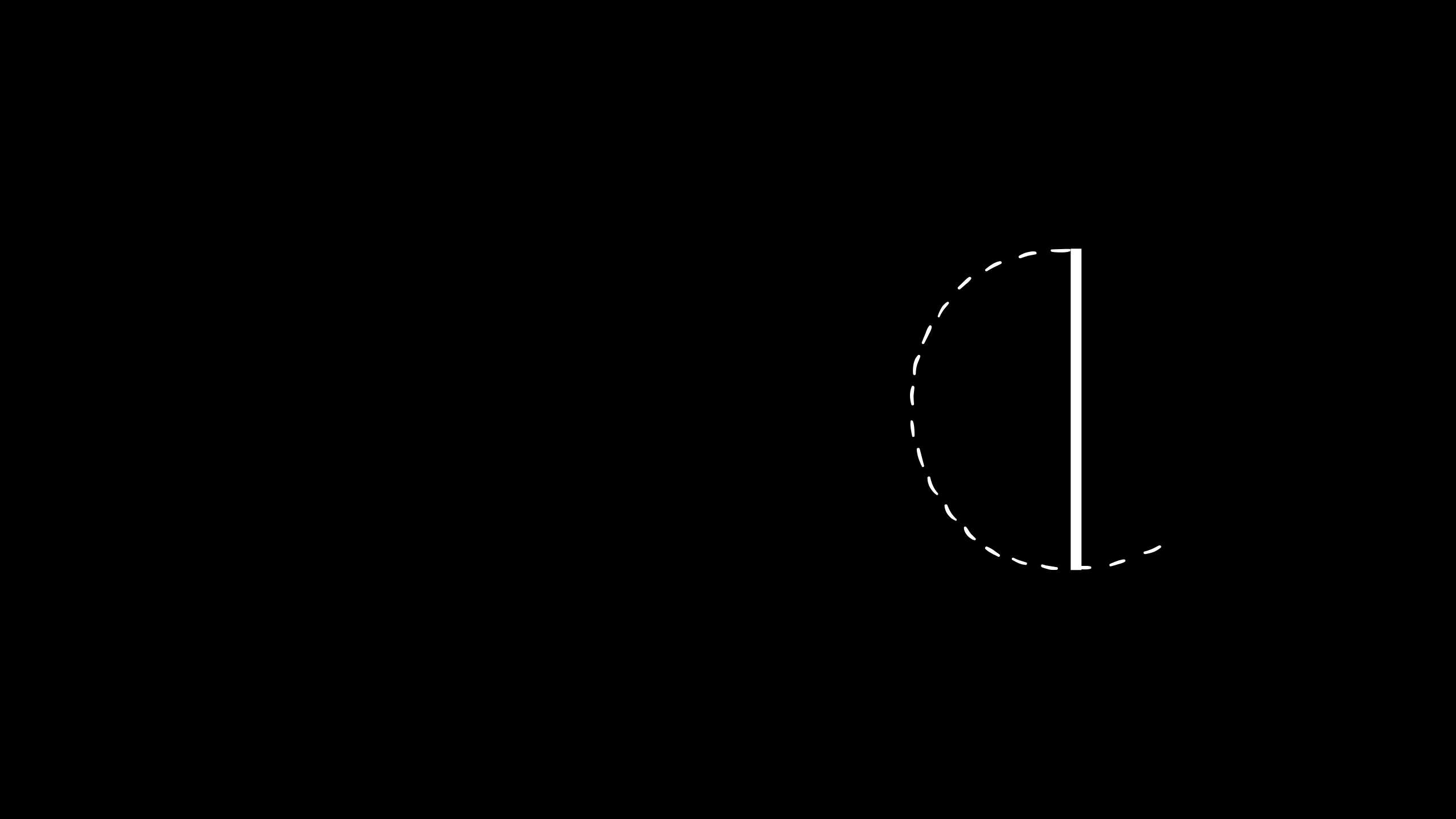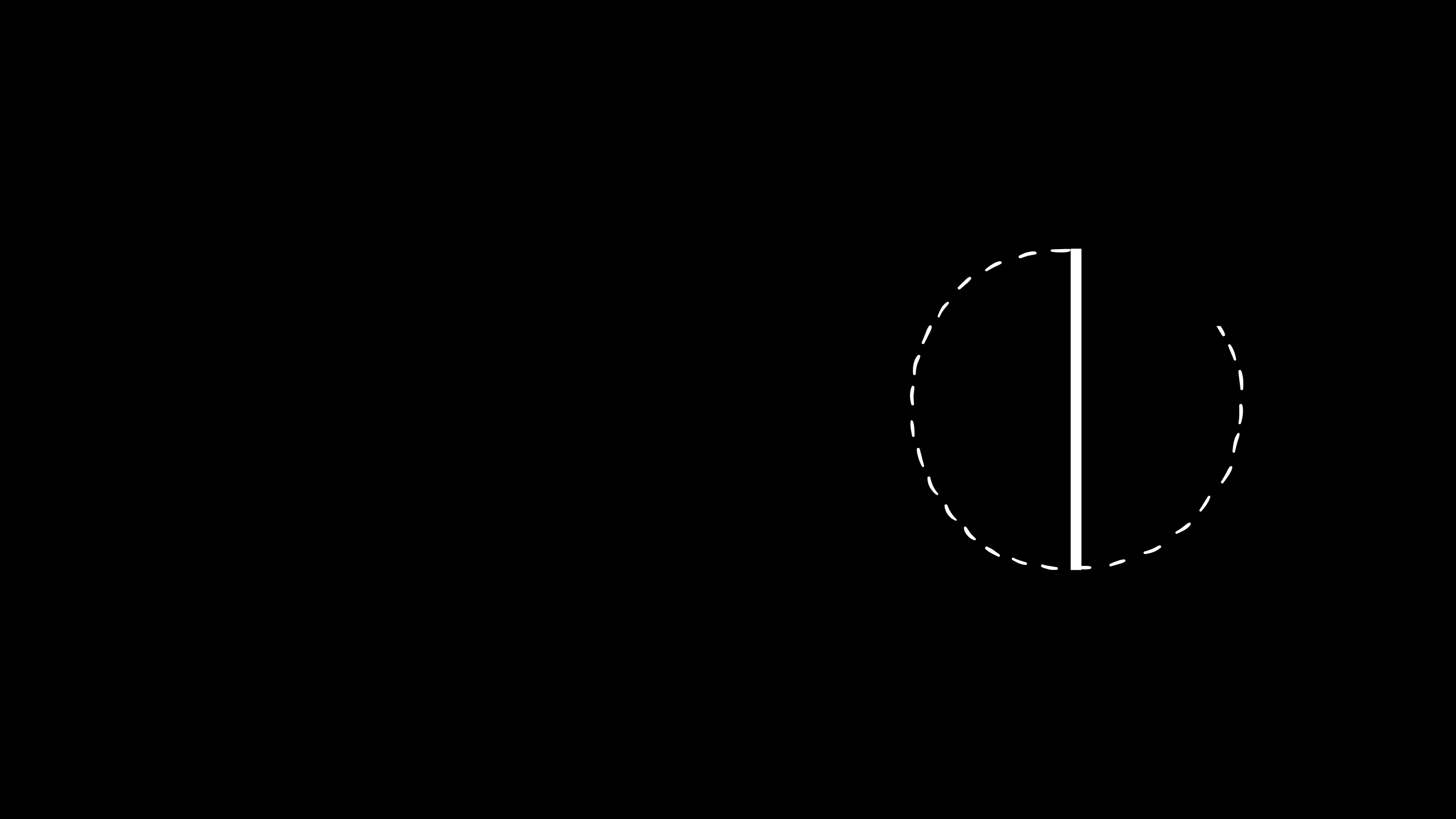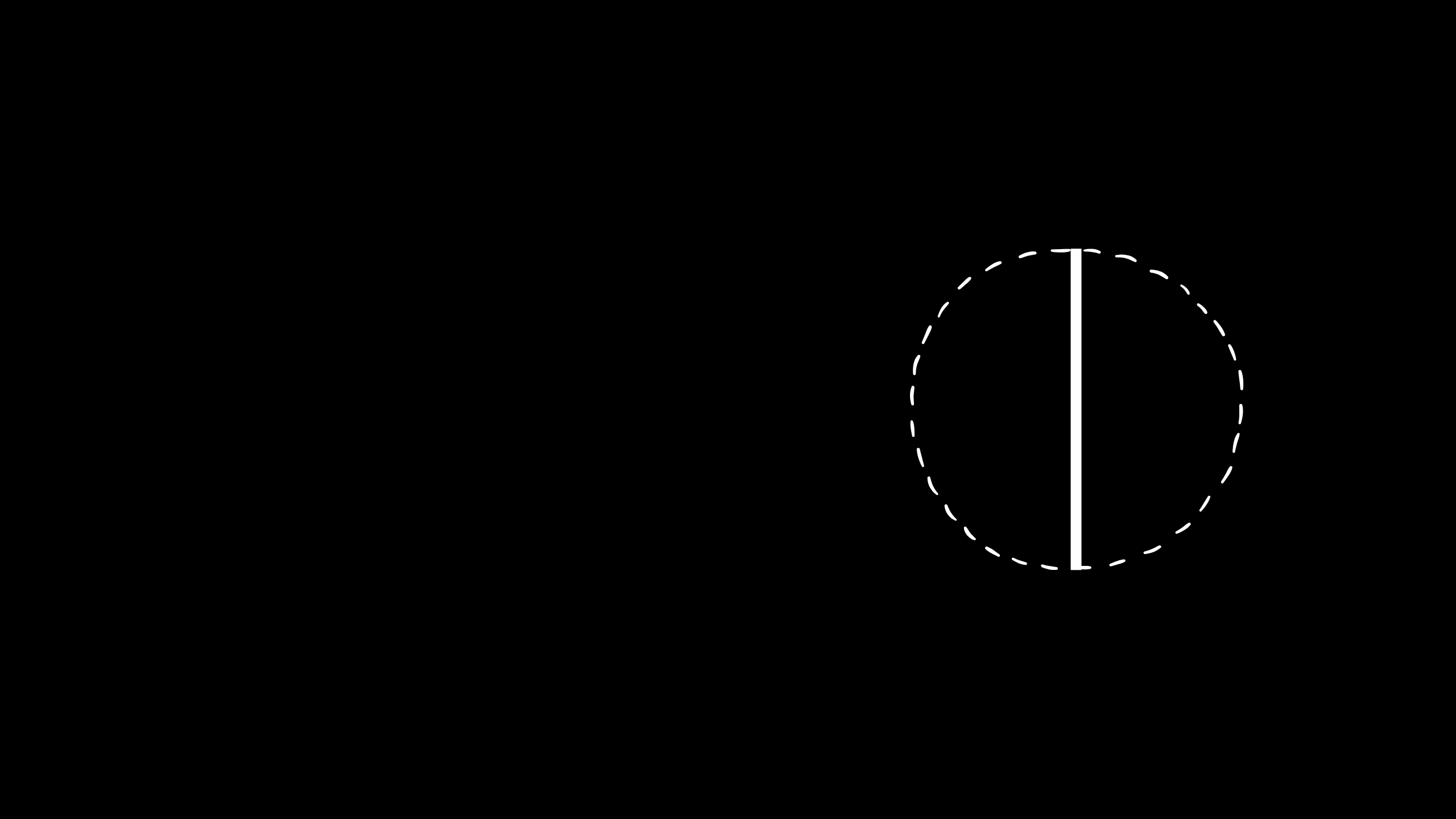 I have to do a few laps in the opposite direction, simply to get my balance back. Then I stop and turn to the Japanese engineer. He is beaming; he speaks little English, but he knows I'm amazed and I know how proud he is.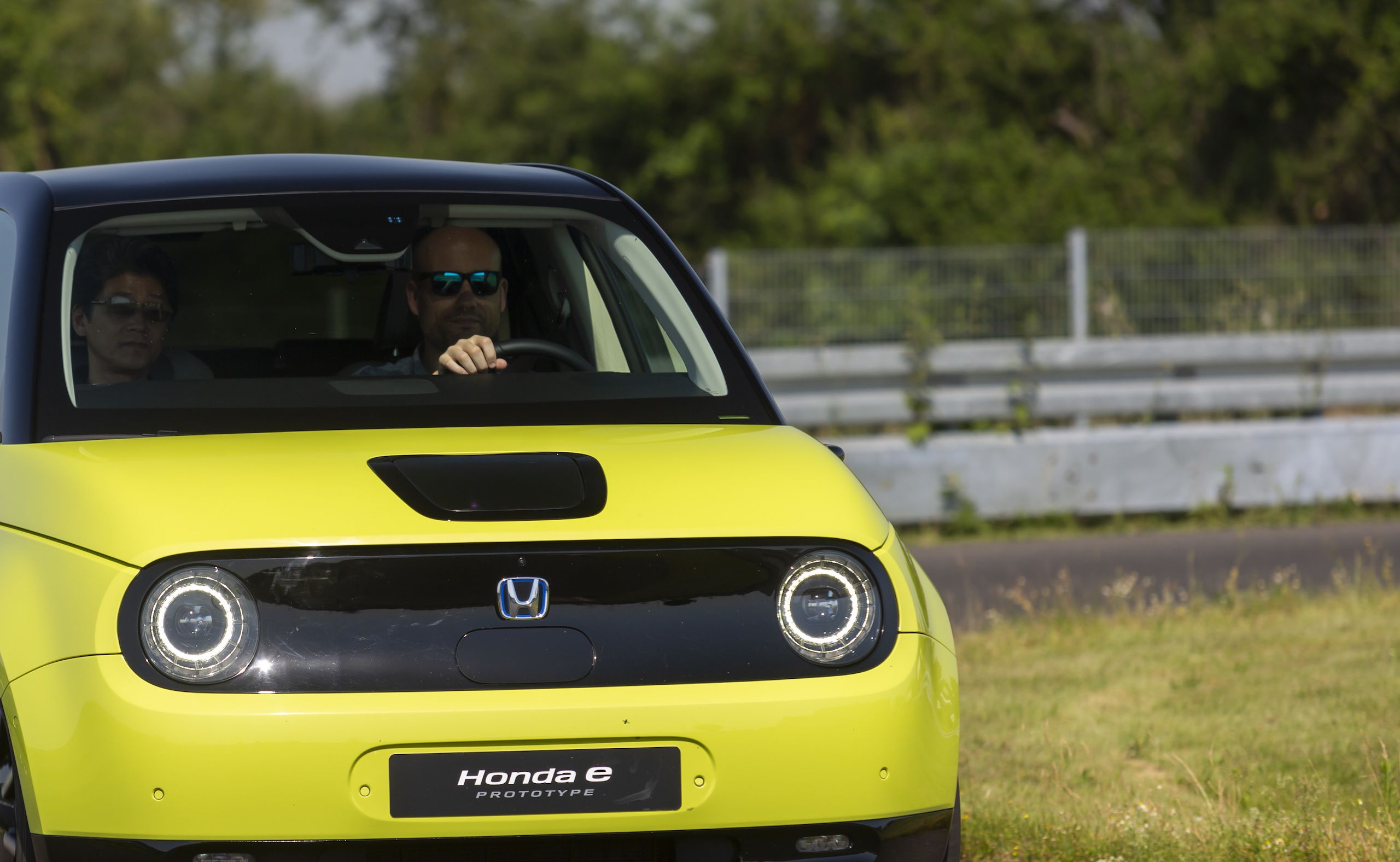 With relish, I carry on driving, getting more familiar with the course, enjoying the characterful Honda e Prototype ever-more.
It's a hoot to drive and seemingly perfect for the city-like course laid out for us. The quality feel, the refinement and the sheer sophistication all help underline what a well-developed and complete electric car this is.
All too soon, my preview drive is over. Hitomi-san is waiting and, as I get out, I babble my excited thoughts to his translator. As I gather my breath, the translation comes back: "Hitomi-san says thank you. He is glad you enjoyed it." No, thank you, Hitomi-san, for giving us what looks to be such an exciting and unique car.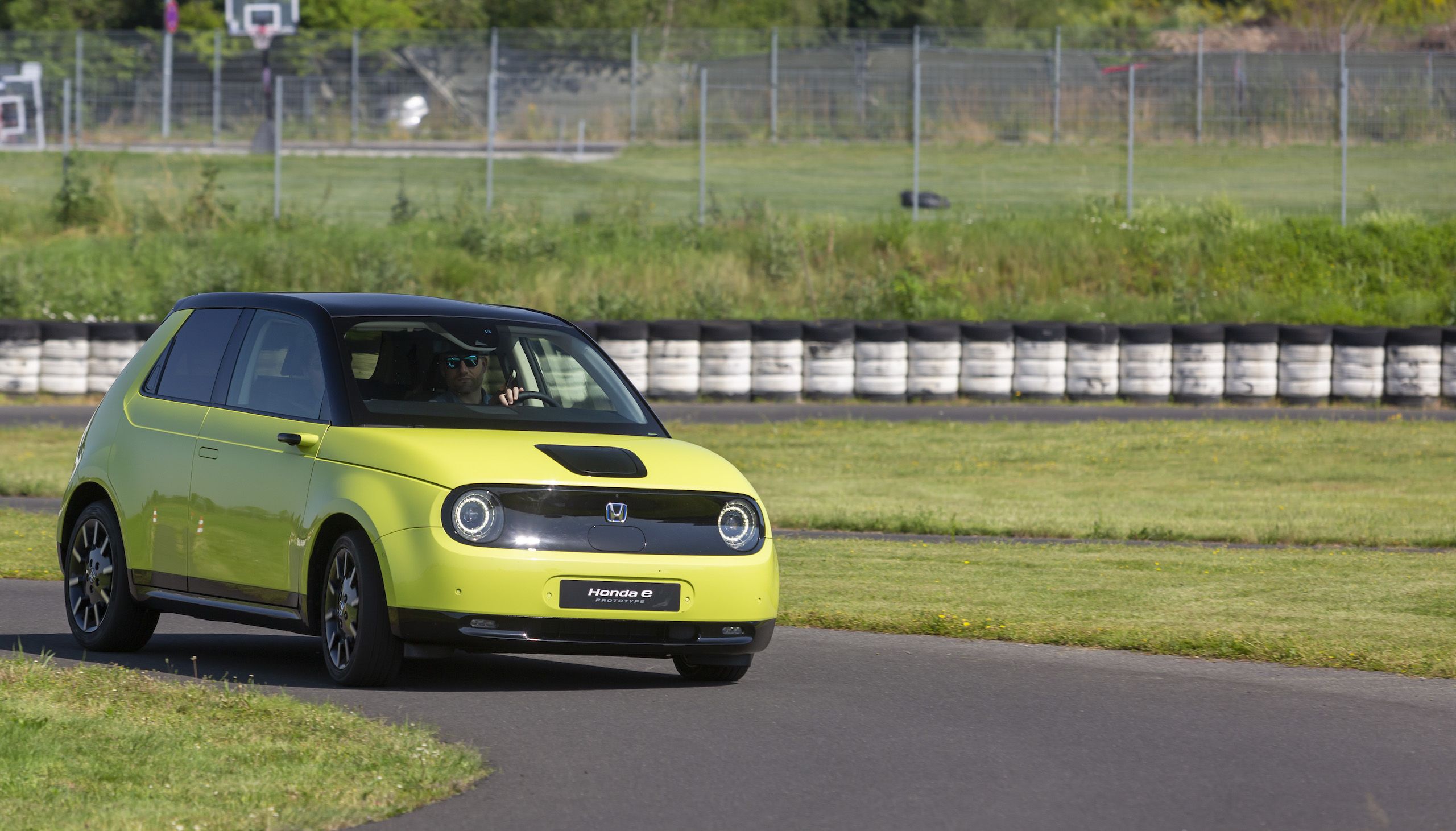 I now can't wait to drive it some more.