KING FOR A DAY
Reflecting on 99 Isle of Man TT race starts with John McGuinness
Often in my line of work it's necessary for me to park my own tastes and be objective. Today is not one of those days. If I'm on the press launch of a new bike I think it would be unprofessional of me to declare my undying love (or hate), when I should be sharing nothing but the facts, figures, a riding impression and a smattering of comedy (depending on who's watching).
I'm going to hold my hands up now and say that when you're literally walking down memory lane with one of your idols, on the Island that turned him from a schoolboy fan into a genuine road racing legend, all ideas of keeping things professional disappear on the sea breeze that licks along the Promenade in Douglas.
John is mine for the day, we can go anywhere and talk about anything. My plan is simple, I want to dip into his TT journey and get a feel for what it is that makes this place as special to him as he is to people like me and you.
It's not going to be easy though, Google John McGuinness and you'll get ten million eight hundred thousand results in less than half a second. What can you say about the man that has had more said about him than any other TT winner? Let's find out, shall we.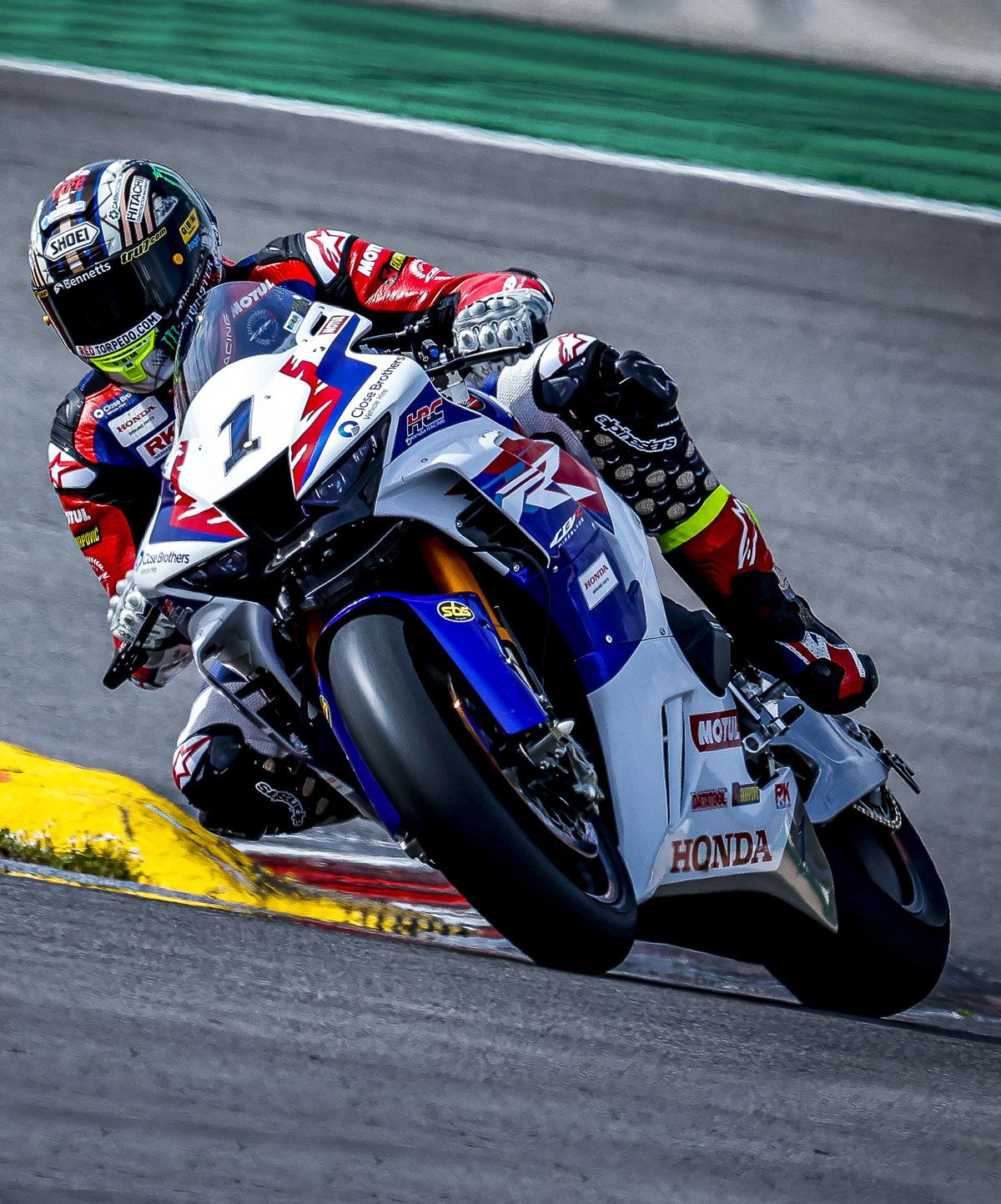 I know where I want to start my journey with John and it's less than five minutes walk from our digs opposite Villa Marina. There are stacks of seaside B&Bs along the Promenade, some of them have weathered the storms of time and Covid better than others. 45 Loch Promenade is the address for the Monaville Hotel. The place looks no more or less inviting than any of the other terraced rentabeds that flank it, but it holds a place in TT history.
It was the Monaville where John McGuinness inadvertently ended up sleeping for his first visit to the TT as a racer, rather than as a fan. In 1996 he rolled off the early morning ferry, turned right and trundled along the prom in his trusty rusty Iveco race van. Friend and fellow 250 short circuit racer Mick Lofthouse had the bed, but had promised to share the breakfast with John. Pulling up outside in the blazing morning sunshine, John stretched out across the seats and got his head down for a nap.
As we stand outside the Monaville, John spins round and points to a spot in the road.
"I was parked right there! It was too early to knock on the door so I just went to sleep in the cab. It was baking hot, I don't know how long I'd been snoozing before Mick lobbed a bucket of water through the window to wake me up for breakfast. I went in and met Billy and Eileen who ran the place. I was a 24 year old lad, with not much more than pennies in my pocket. I had huge respect for Mick, he was one of the reasons I'd decided to start racing on the roads, we raced together in the 250cc British Championship and he told me my style would suit road racing. I looked up to him. Unfortunately Mick was killed on the Friday of practice week, I was devastated and to be honest I was ready to pack up and go home. Mick's dad told me to pull myself together and just get the first race done before going home. So I did. Meanwhile Billy and Eileen did their best to help me get my head around what was going on and welcomed me into the Monaville with open arms."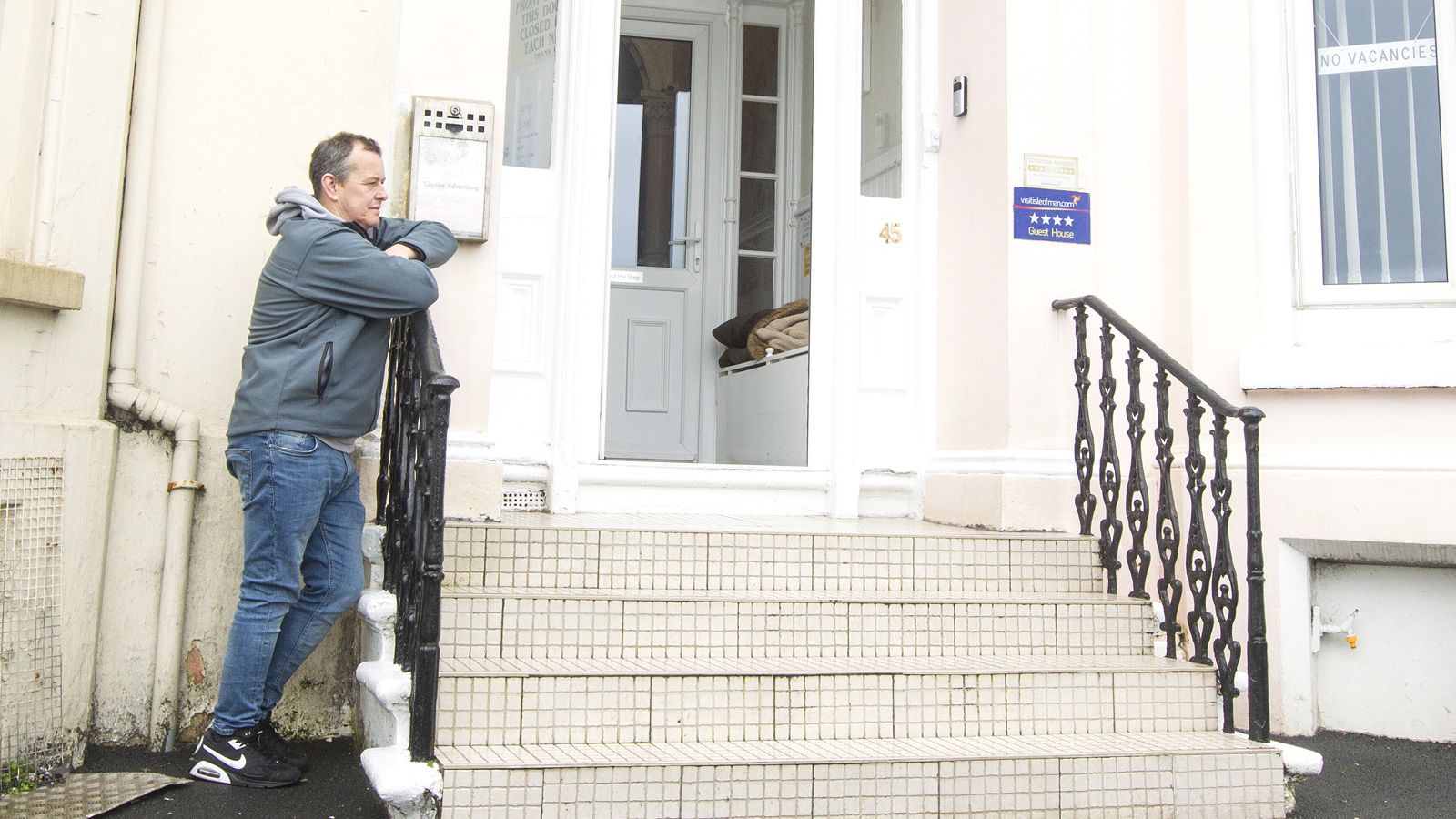 John's connection with Honda began all the way back in 1996, In a bizarre coincidence, he'd ended up being asked to strap an extra bike into his newcomer's van for a guy that was waiting for a bike from engine tuner Frank Wrathall.
"I had Joey Dunlop's RS250 in the back of my truck, it felt like I was transporting Gold. It still had a dent in the tank from where he'd raced it at Tandragee a week or so previous, Frank had prepped it for the TT and asked me to deliver it to Joey in the paddock. I didn't need asking twice, though I doubt anyone knew it'd be strapped in next to half a Wickes kitchen which also lived in my truck."
"That first TT feels like it was yesterday, being there with other newcomers David Jefferies and Bruce Anstey along with everyone else was a proper chapter in my personal journey at the TT.
I can remember getting up for morning practice, making my way back up towards Villa Marina and up the hill to the grandstand. They were special times, the only other people that were up at that time were racers, crew and a few keen seagulls. Race day was hot, the weather was perfect. Joey won on the 250 that I'd had in my van and I finished in 15th place on my Honda. I was happy with the result, especially when I was awarded best newcomer in the 250 class as well. The overall best newcomer award that year went to David Jefferies and rightly so, he was in a different league to everyone."
Over the following years, John and then girlfriend (now wife) Becky made the Monaville their TT home. John dragging himself out of bed early to go and ride and Becky helping Eileen prepare breakfast for the other guests. The picture you can see here is what was waiting for him when he returned from his first TT win in 1999.
I have an idea for a picture that requires either Billy, Eileen or both of them, so I walk John up the steps to the front door and nudge John to ring the bell. Suddenly John looks nervous. He half smiles at me and sheepishly admits that it's been more than a few years since he last spoke to either of them. The mask drops for a second and I briefly see a new side to John. We're nervously shifting from foot to foot like a couple of carol singers waiting for the door to open, I ask John exactly how long it's been and when he says "erm, about 15 years" out of the side of his mouth. I gulp at the thought of the potential social backfire heading our way. Eileen appears in the door, spots John and smiles like an auntie seeing a grown up nephew for the first time in ages. Hugs are shared and within minutes we're in the front room, John is showing Eileen how to take the perfect selfie so she can let Billy know who's popped round for breakfast.
Eileen rolls back the years as we roll the 30th anniversary Blade into shot outside, "I can remember that picture being taken like it was yesterday. You took the win in your stride, I could see what it meant to you but it didn't feel like you expected to win, you handled it really well. You might have new teeth but your smile hasn't changed a bit".
I feel like I'm encroaching on memories a little bit and step out of the way so John and Eileen can catch up, before pushing and pulling them where I want them for the shot.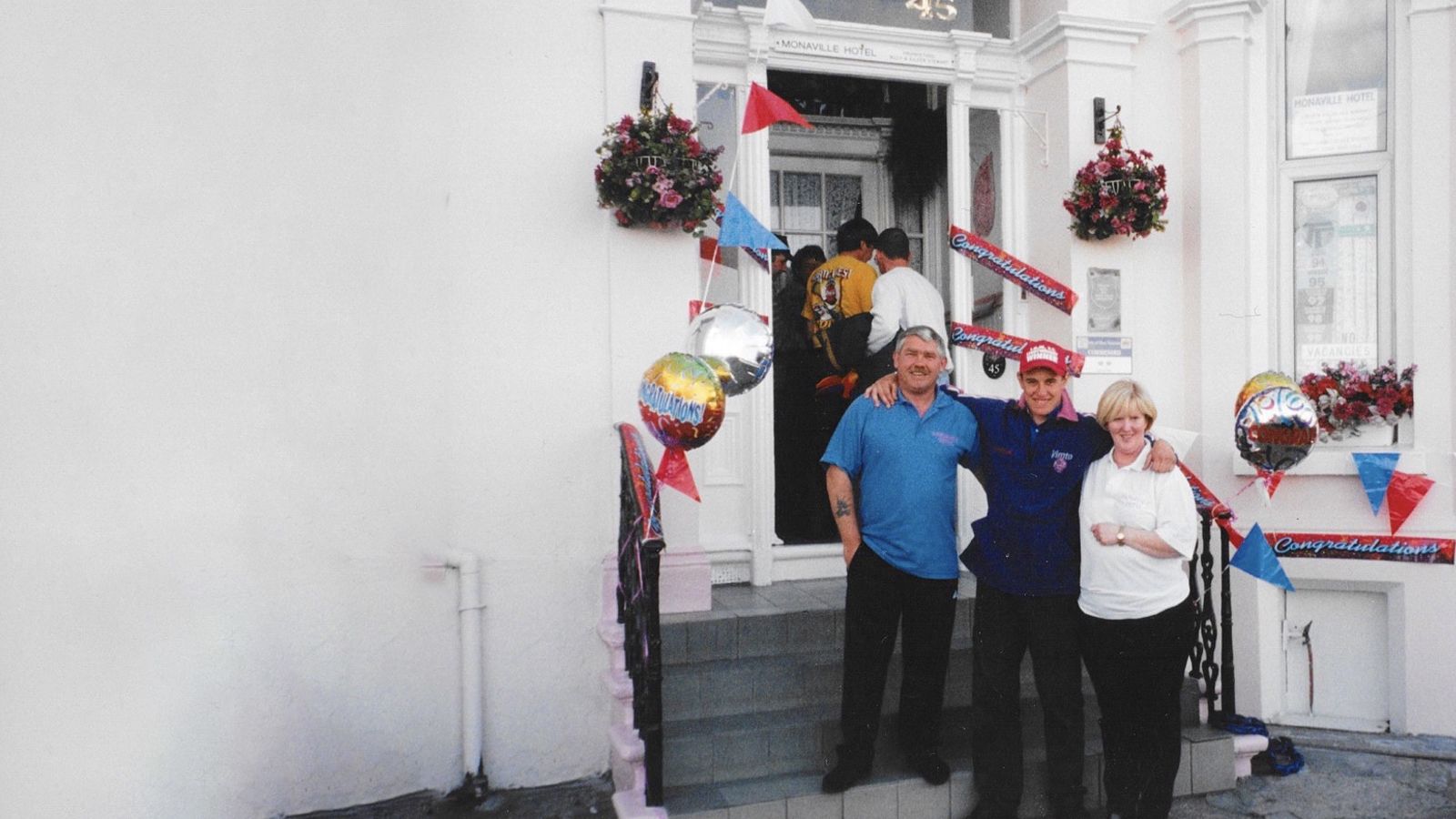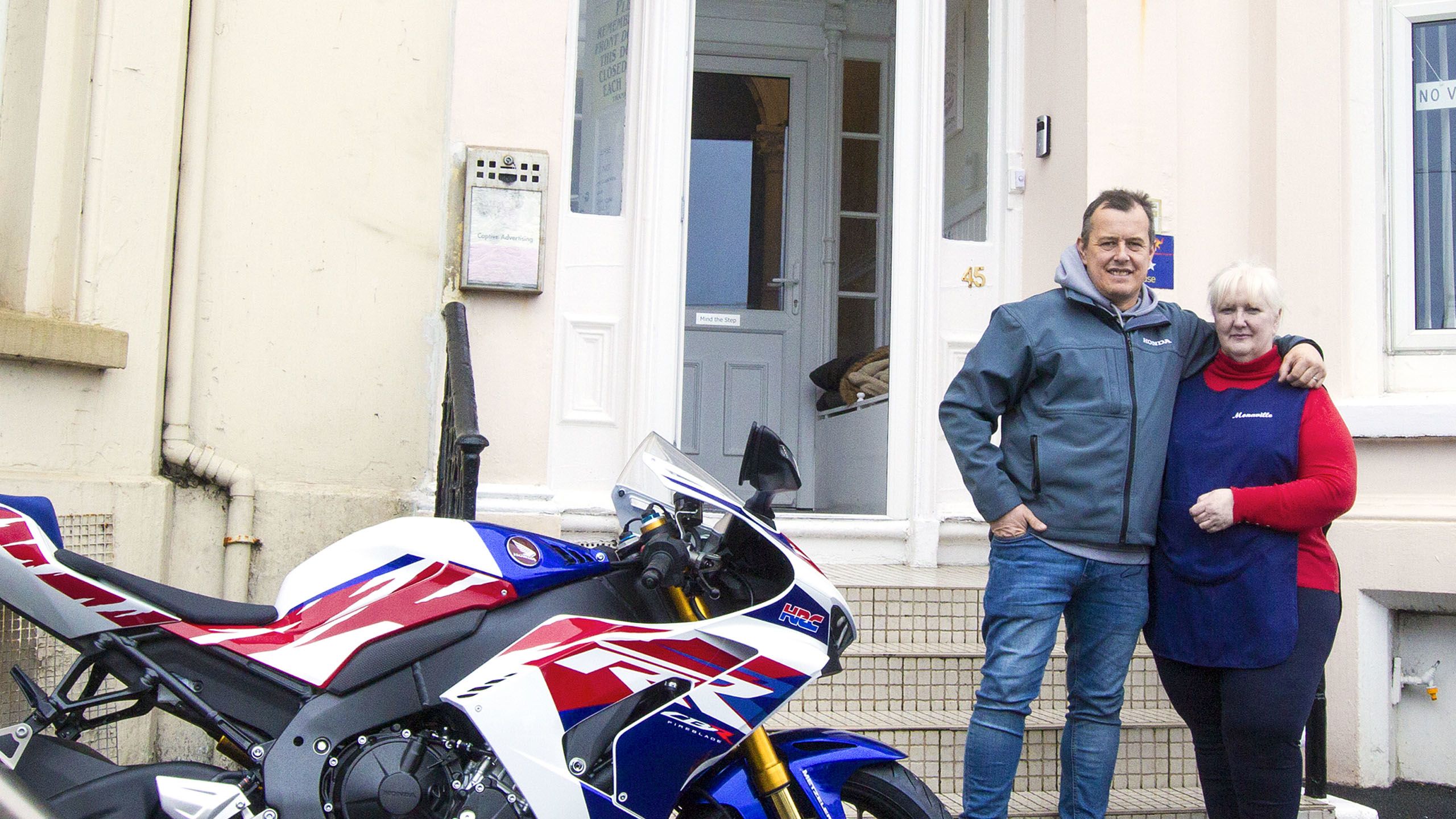 John reminds me that before that first win in '99, there was a strong year in '98 thanks to it being the 50th anniversary at the TT for Honda. "They couldn't rule me out of winning the 250 race so I ended up with a Honda deal that meant I had a contract from them to ride a trick 250. It also meant that I got to ride a 500 at the NW200 and the TT, as well as getting a wildcard in the British Grand Prix at Donington. In the same year that I stood on the podium with Joey here (in a wet 250 race), I finished in the points in a 500cc Grand Prix that featured Doohan, Biaggi and race winner Simon Crafar. Yeah, 1998 was a special year."
1999 was John's first TT win and is the reason why you're looking at these images. In my opinion this was the year that he stepped it up a gear everywhere he raced. He won the British 250 championship in dominant style with 12 trips to the podium and two wins from five pole positions. There was a second place at Daytona, he won the Star of Darley Moor, at Scarborough too and had the icing on the cake with the win at the TT. "In 99 I made the decision to push hard from the start for the first time and it paid off. I set off carrying number four and Joey went off in number three. I wanted to beat him as much as I wanted to beat everyone else. I broke Ian Lougher's longstanding lap record on the way to the win and crossed the line 33 seconds ahead of the field".
With the 2022 bike in the frame for a picture, we stop looking back and look ahead to this year on an all new Fireblade for John.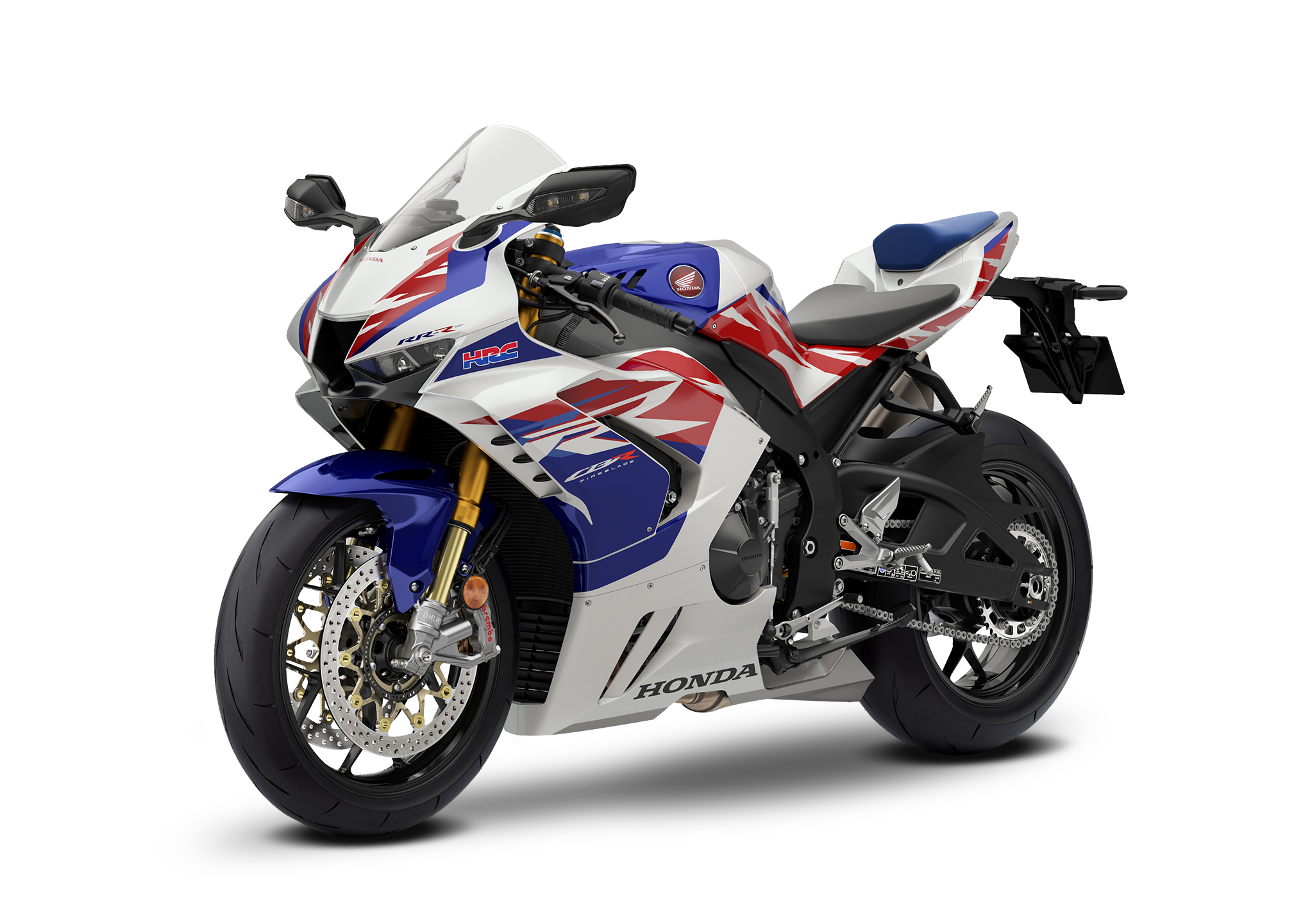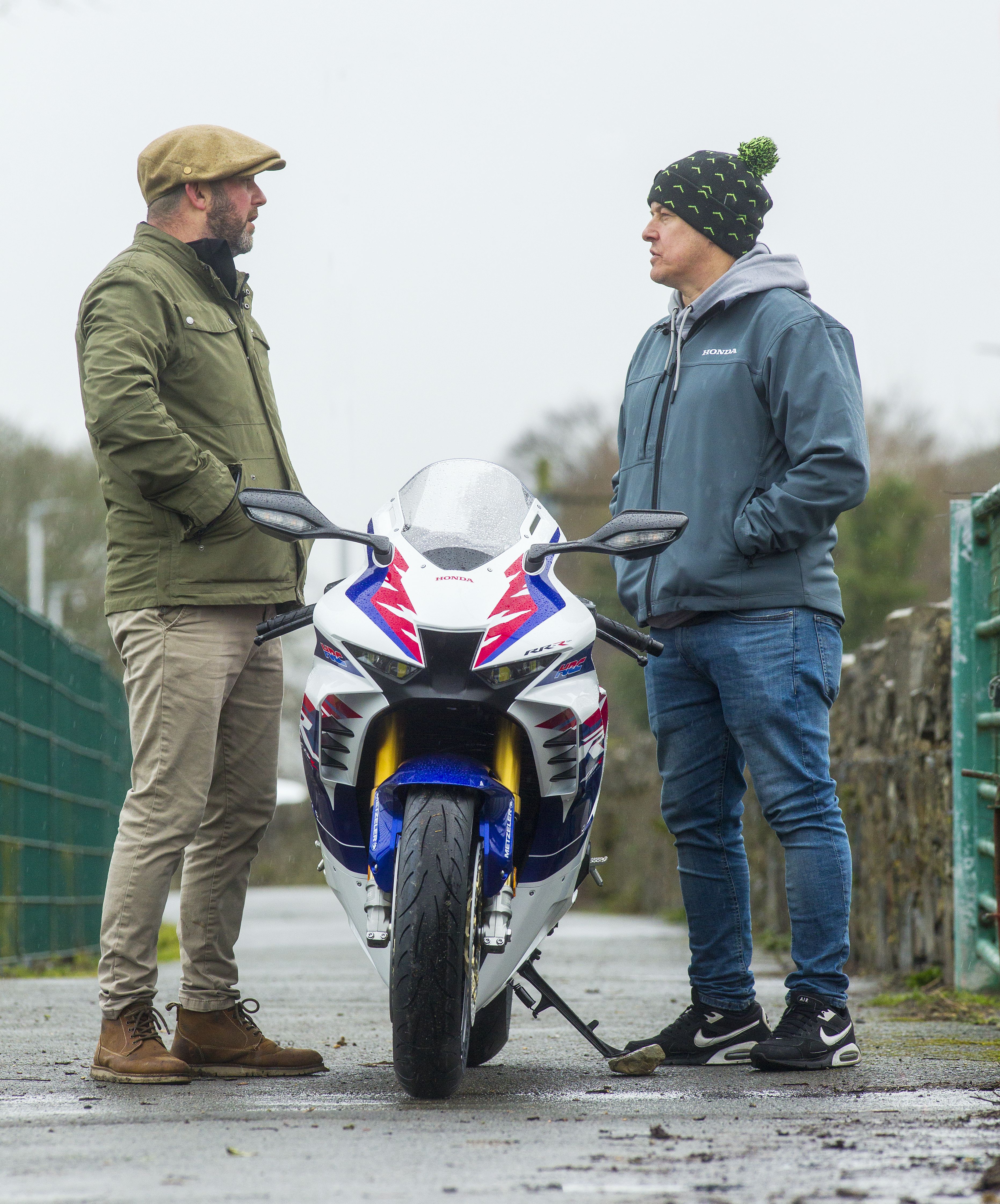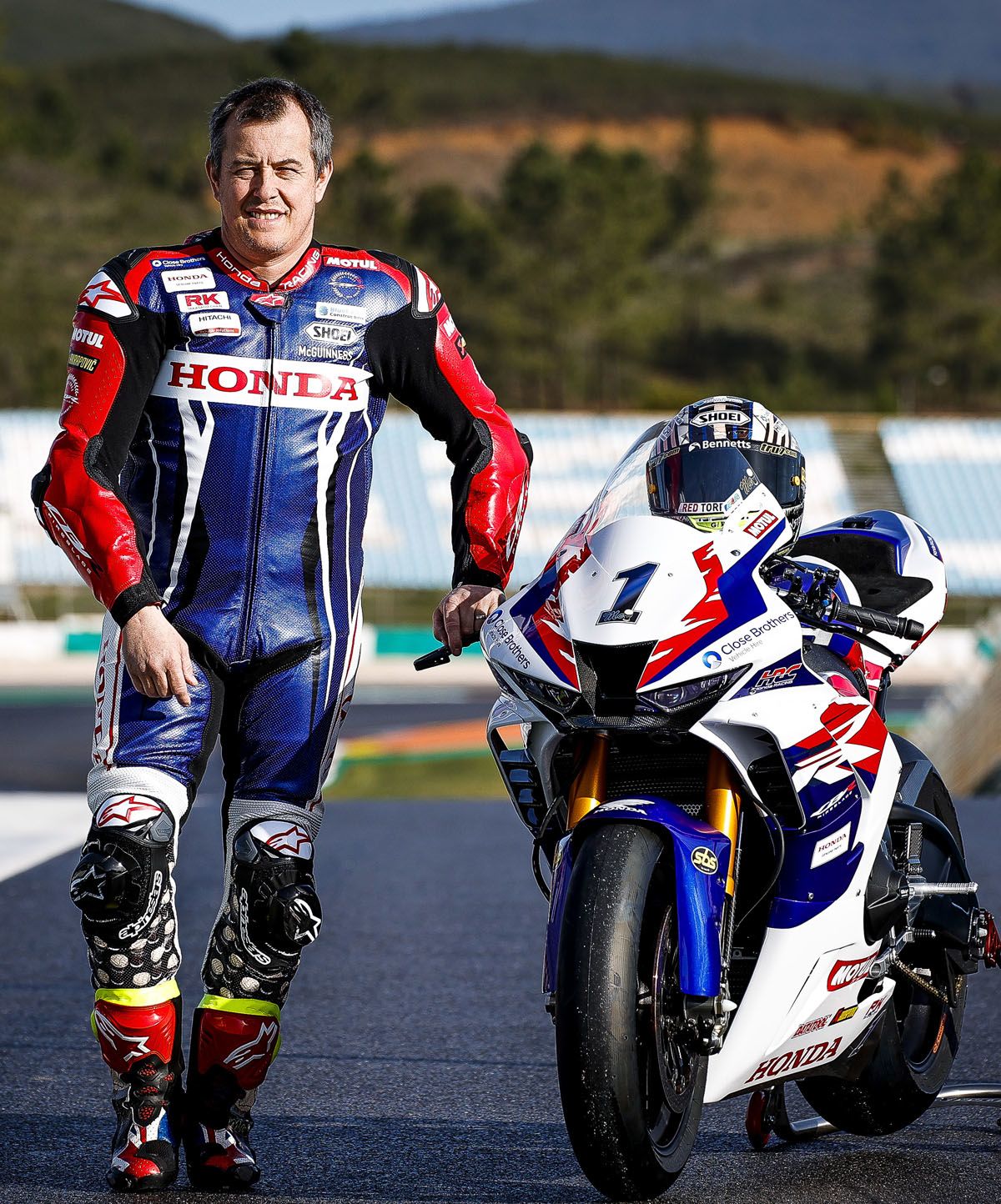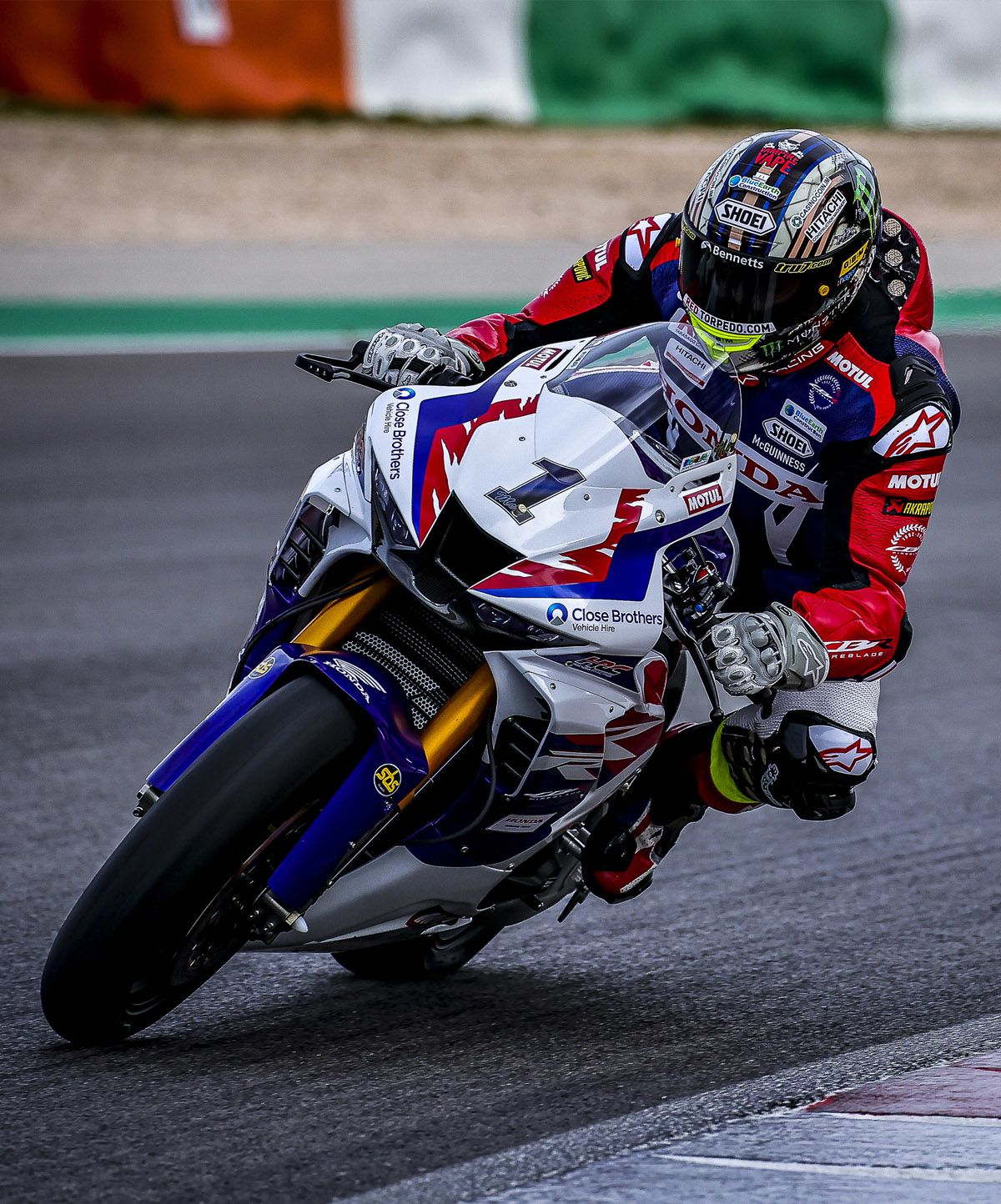 "It's a nice feeling to be back in the fold with a proper factory team. Jumping on a flight to Europe for a private test felt great, I haven't done that kind of thing for a long time. I had a bag full of new leathers, a new lid and a new race bike to ride and I really enjoyed myself. There's a lot to take in with the bike but I think we're in a good place. Obviously I'm the one that does the riding but I've always said that having the right people around you in a team is as important as having the right bike underneath you for the TT. Watching the team work on my bike at Portimao gave me a good feeling. The thing is beautifully put together, there's not a spec of dust on it, every cable tie, nut and bolt is exactly where they want it and the reassurance that gives me as a rider is massive. There's no point me trying to compare it to my old Blade because there's no crossover at all. Things have moved on a lot, laptops being plugged in after every session for data downloads is something that still has me scratching my head a bit. We span some good laps though and the bike feels special. My relationship with the Fireblade is long but this one is all new to me and all new to the TT, so what will be will be. I mean that in a positive way because we just don't know yet. What I do know is that it'll be prepared perfectly and maintained by a crew that I rate to look after me."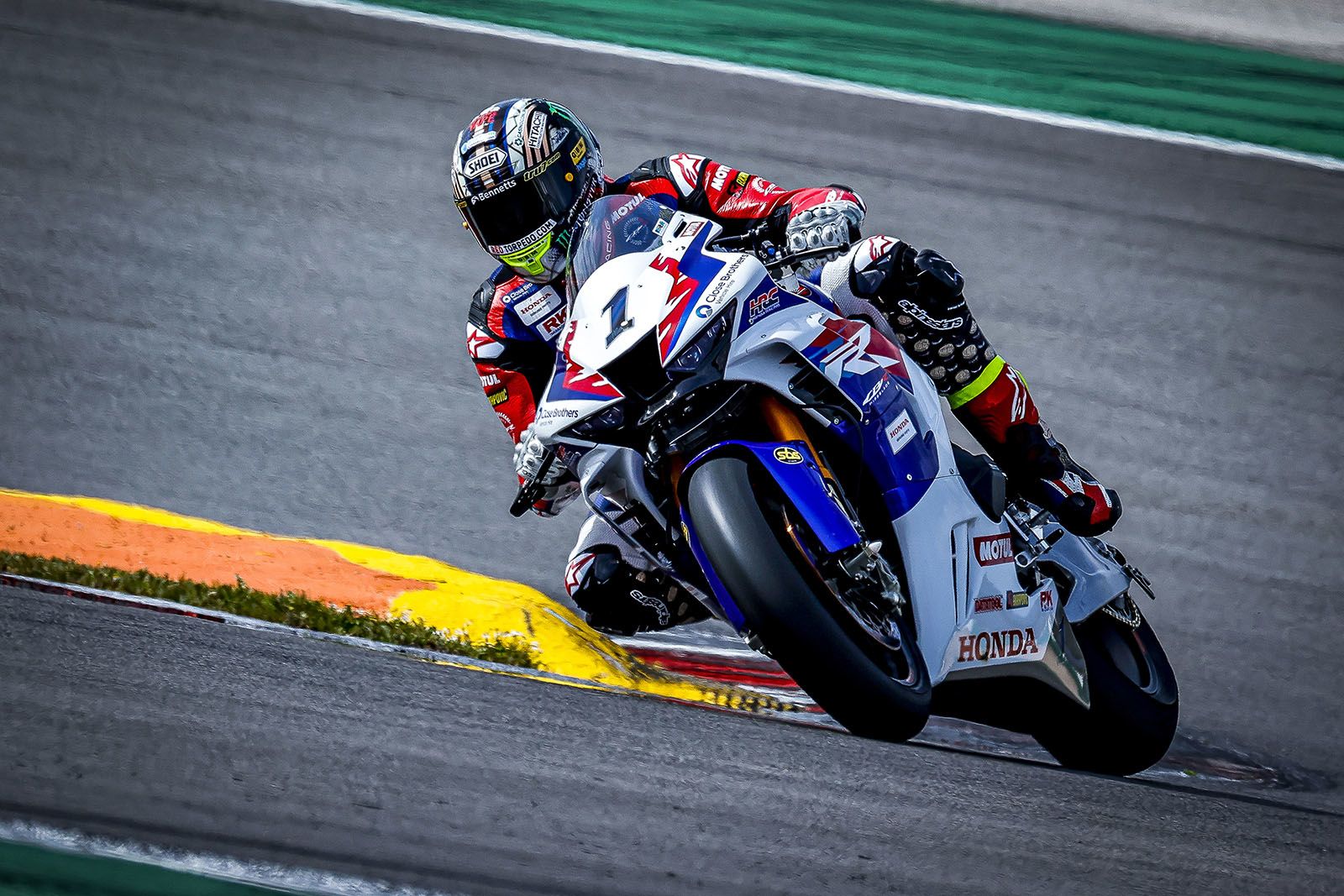 The rain blows in so we press on, up over the Mountain to the over bridge at the Bungalow, looking up Hailwood's Rise. It's a spot that offers a unique view up the road, even when it's raining like today. "You're over thirty miles into a lap here, if it's towards the end of a race this is one of the places where you might knock a few revs off and take it easy on the motor if you've got a good lead. I've been lucky enough to be in that position a few times here. Looking up the road from here I can see exactly where I like to put the bike."
As is the norm, when I ask John what he's doing with the throttle, I get the standard McGuinness response of "Flat out, on the stop all the way to top gear". Even through the wind and rain I can see a glint in John's eye when he's looking up the road. We spin round and look back across the tram tracks, Joey is watching over us from the monument outside the Victory Cafe. It's hard not to continually draw parallels with John's career and Joey's but I manage it, especially while John is busy making engine noises of a bike on the run into this section. "Whaaaaap, whap whap whap (I guess three whaps means back three gears before tipping into the left hander - JH), whaaaaaap, whap whaaaaaa." Is the description I get from a smiling JM130. If you're wondering if it's only you that makes motorbike noises while you walk, I can confirm that you're not the only one that does it. I can also confirm that even after all these years, probably a million miles around the place and a lifetime of racing memories, just being on the TT course brings out the best in John, even in the lashing rain. Time to move on.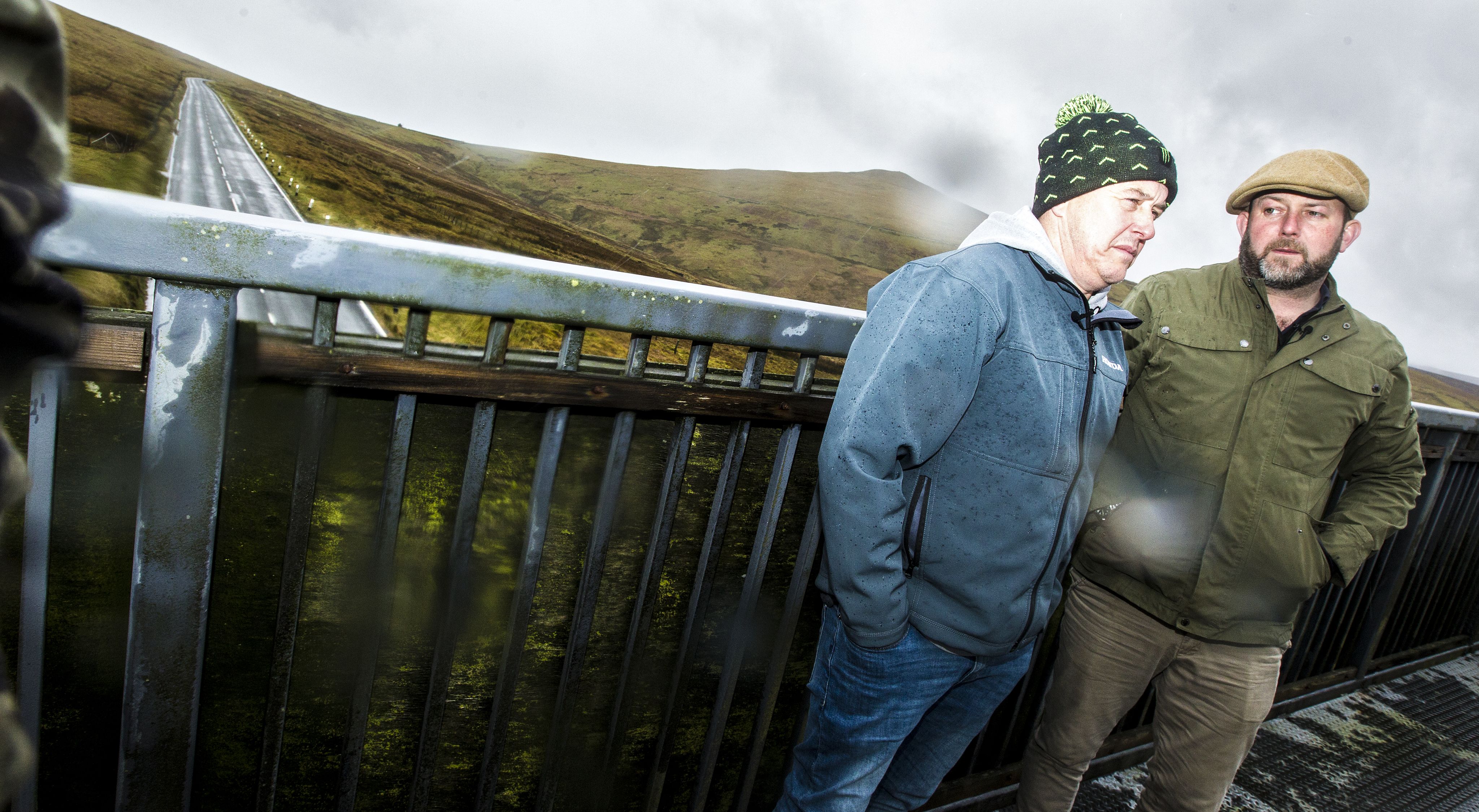 We can't pass the Creg without jumping out for a look, stood on the inside of the corner gives John a perspective he hasn't seen in a while.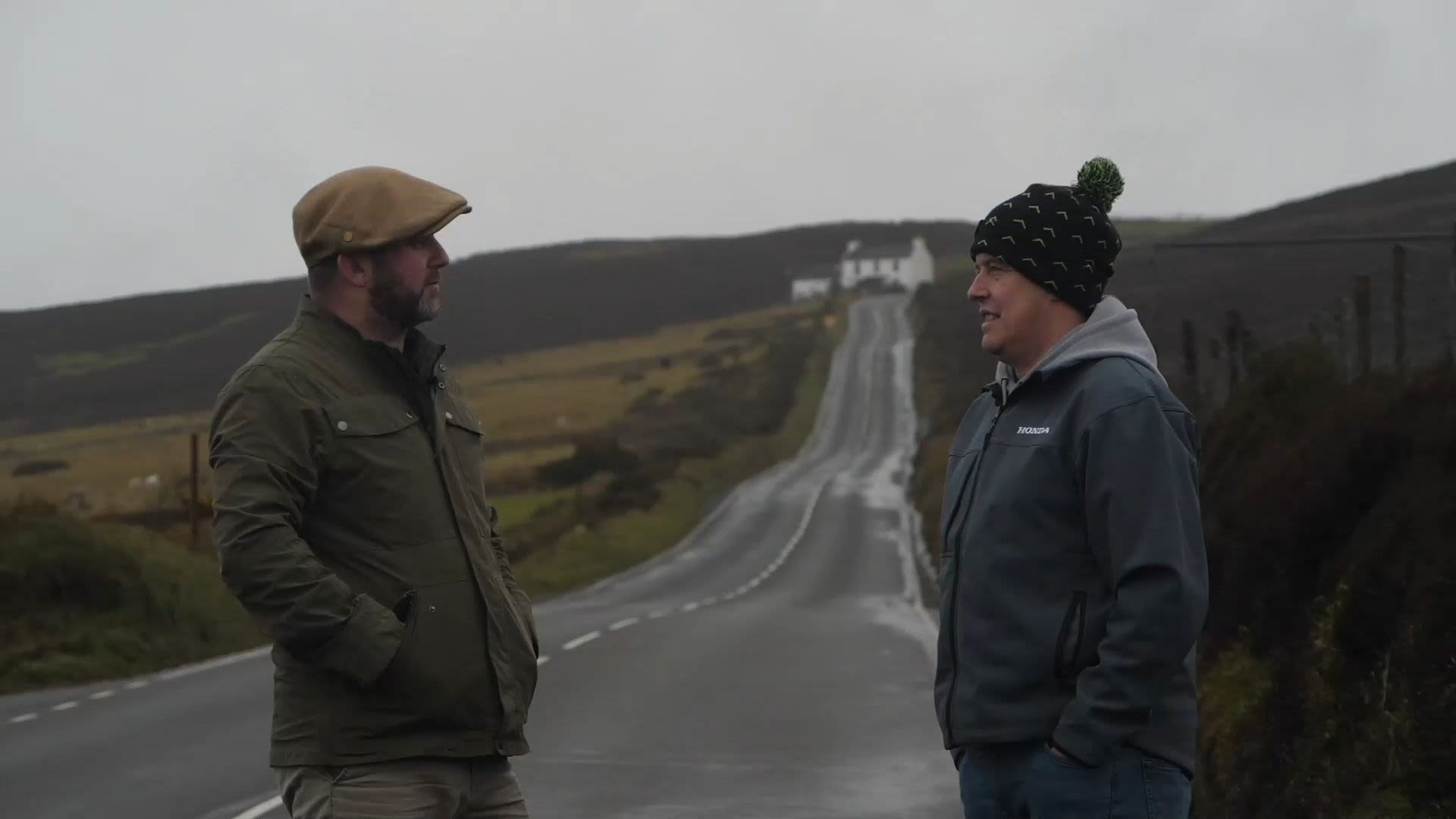 "I've forgotten how much camber there is in this corner. There's a lot to take in as you come down the hill from Kate's Cottage and jump on the brakes. After the run up the mountain that can sap a bike of power, running down this section it feels like the bike is a rocket ship on the gas. I love this section because I know the fans enjoy it, I can pick out faces in the crowd and, if there's a decent lead underneath me I'll pop a bit of a wheelie on the last lap. Everyone likes that, including me."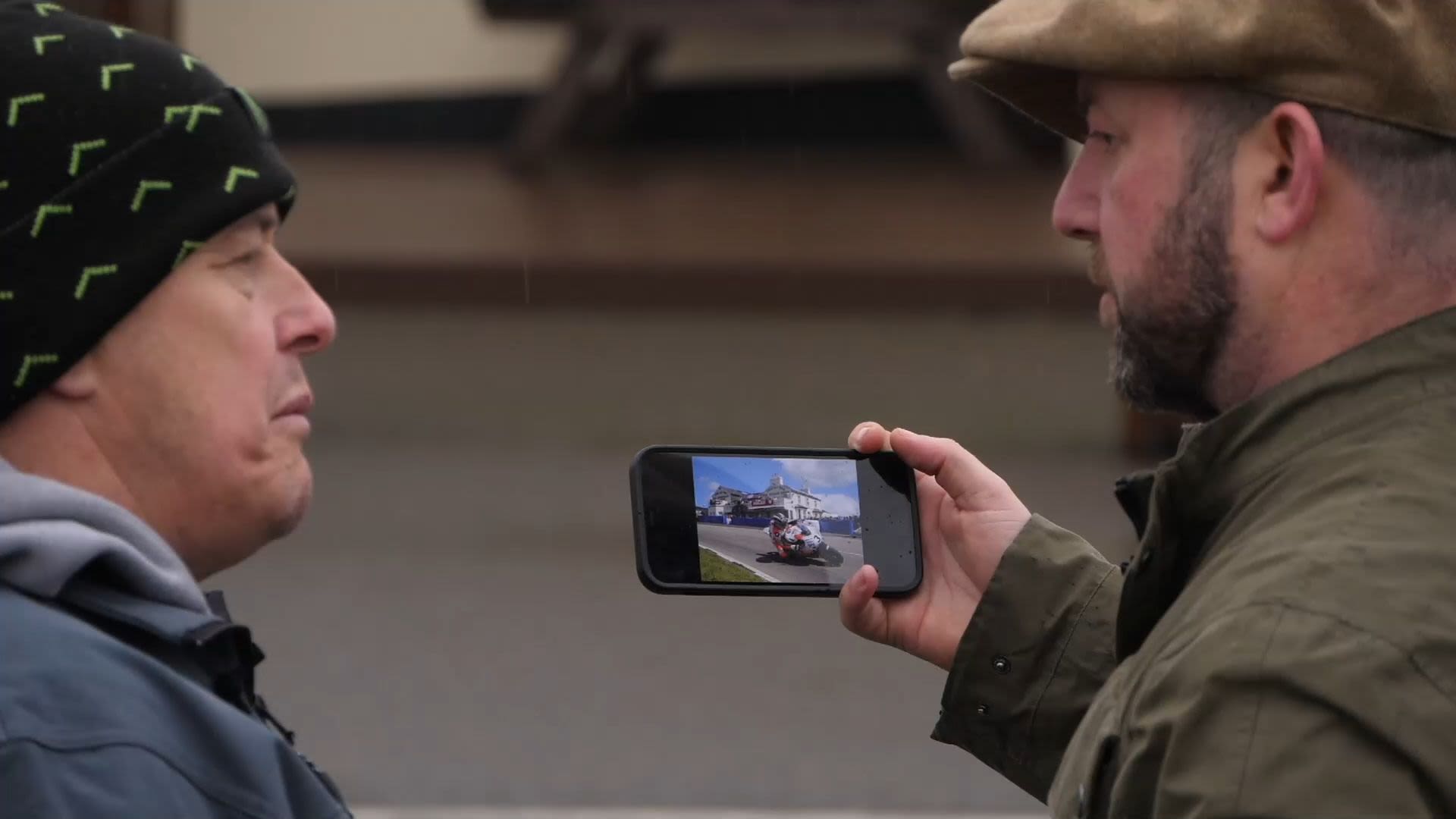 As I said at the start of this piece, today is the kind of day at work that reminds me how fortunate a position I've found myself in. I indulge my inner fanboy and grab a picture with John near the same spot I stood as a fan in 2003. Selfish selfies bagged, we crack on down to the grandstand for our final photo call of the day.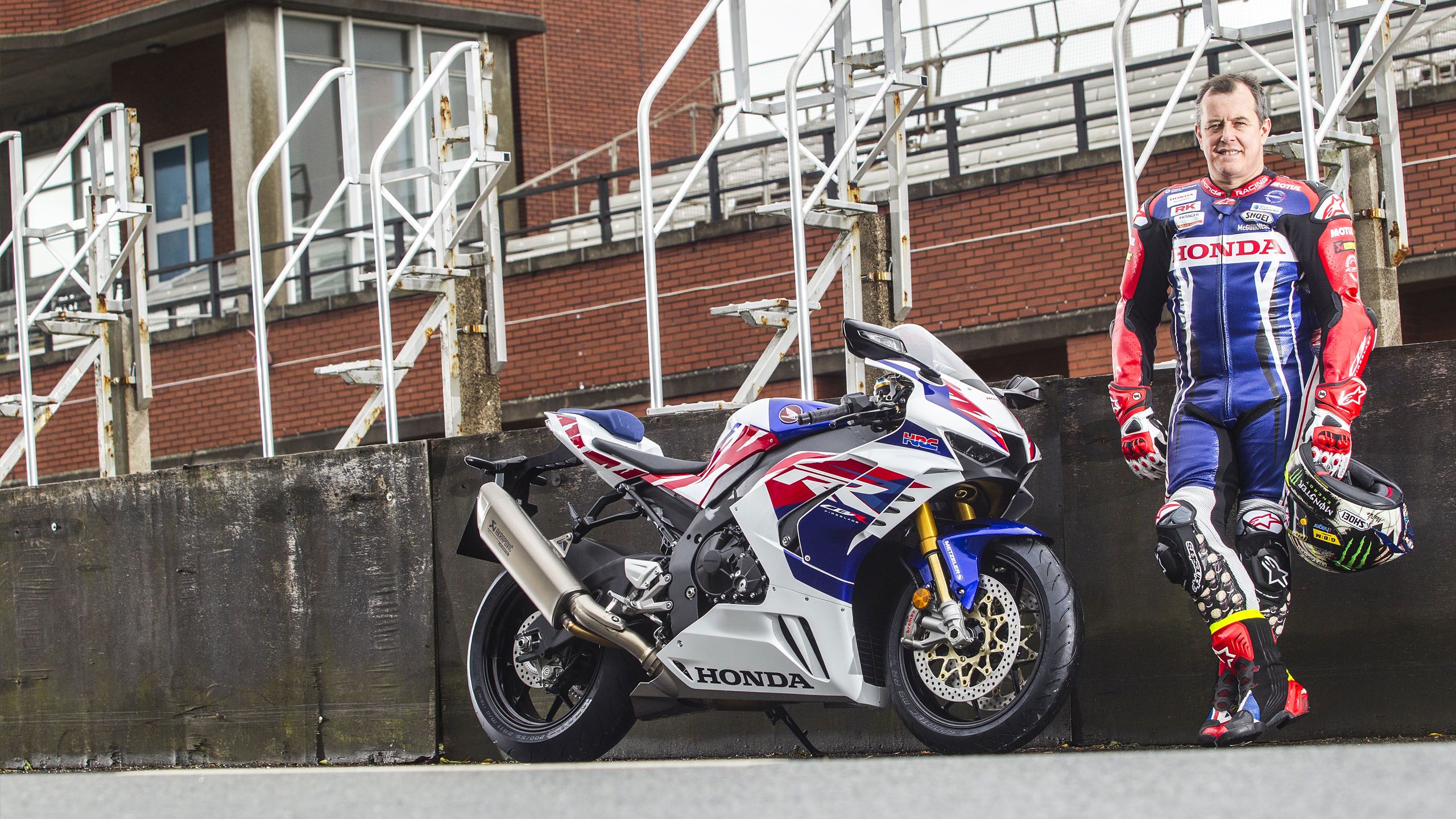 "2006 was a dominant year for me on the Fireblade. I won the Supersport, Superbike and the Senior races and pushed the lap record to 129.4mph. As I said earlier, the combination of a great bike, a great team around me and the confidence I had to push is what allowed me the success I enjoyed. It wasn't just here either, I also finished inside the top ten in the British Superstock Championship on the lone Honda in a sea of Suzukis."
Photo credit: Stephen Davison (Pacemaker Press International)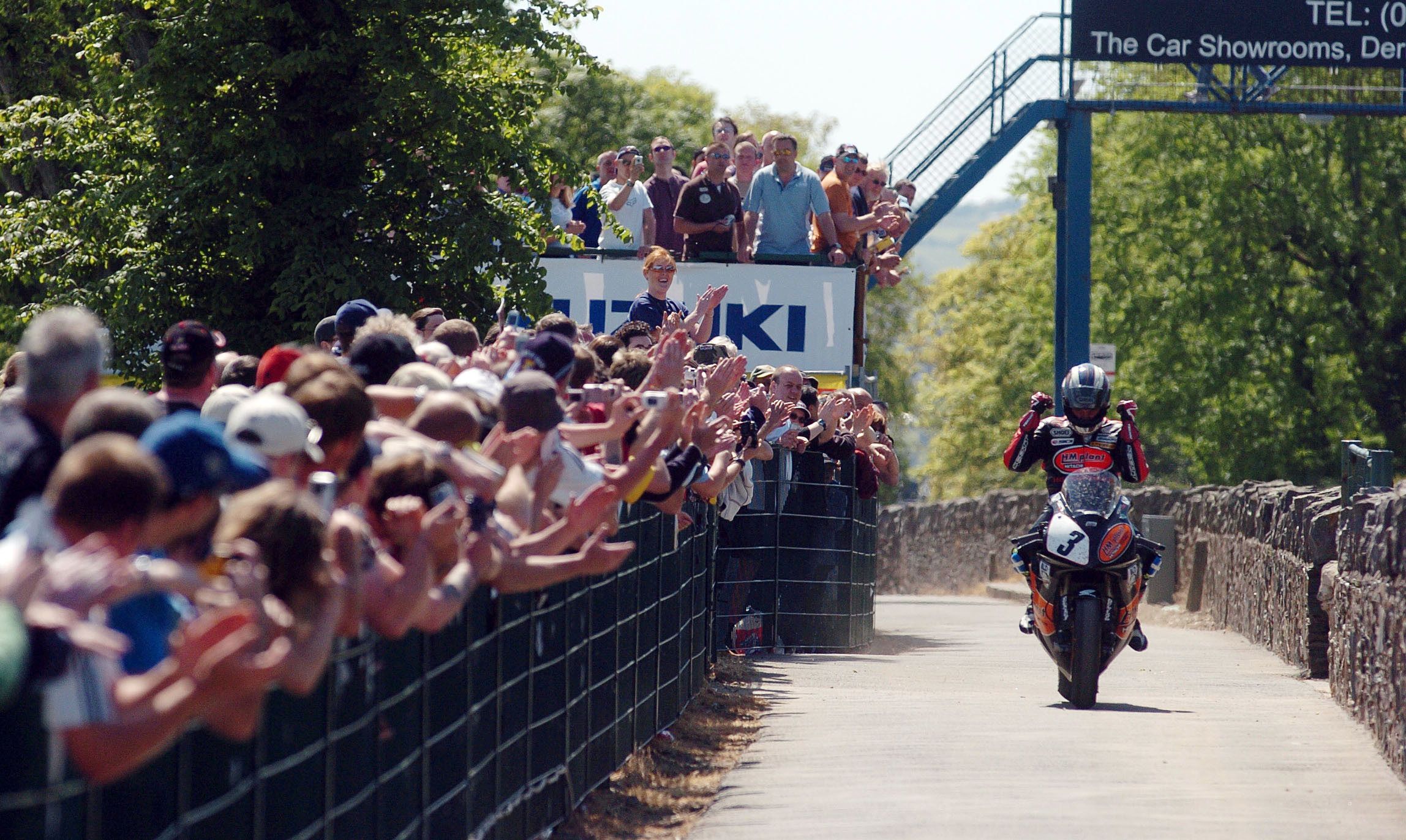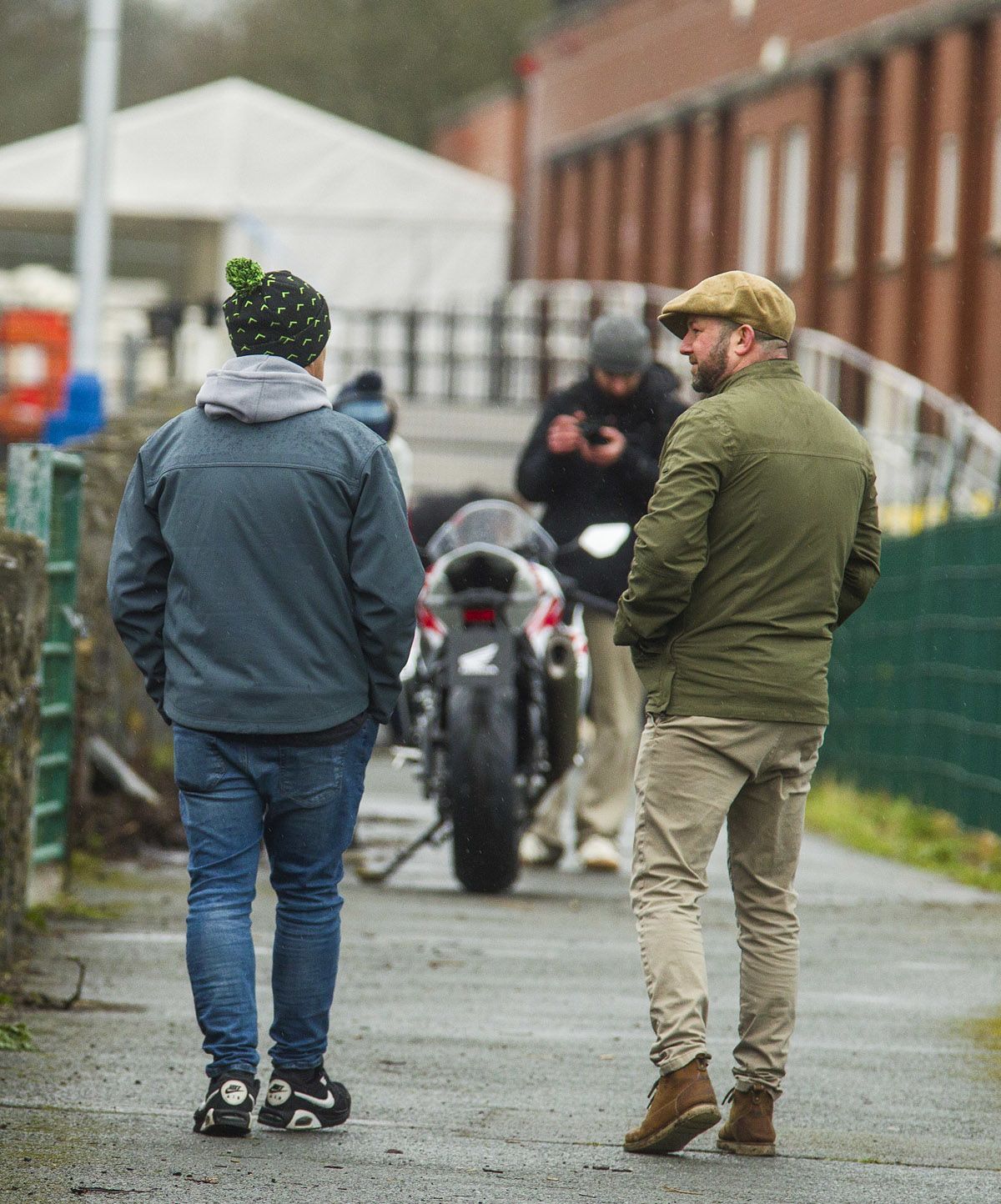 Every other car that drives along the Glencrutchery road spots John and gives a toot or a wave. As always John has time for everyone and is the smiling, waving back regular hero that people have become accustomed to. He'll be wearing new leathers this year and riding a bike that's all new to him and the circuit, but when all's said and done John McGuinness will start his 100th TT race in the best shape possible.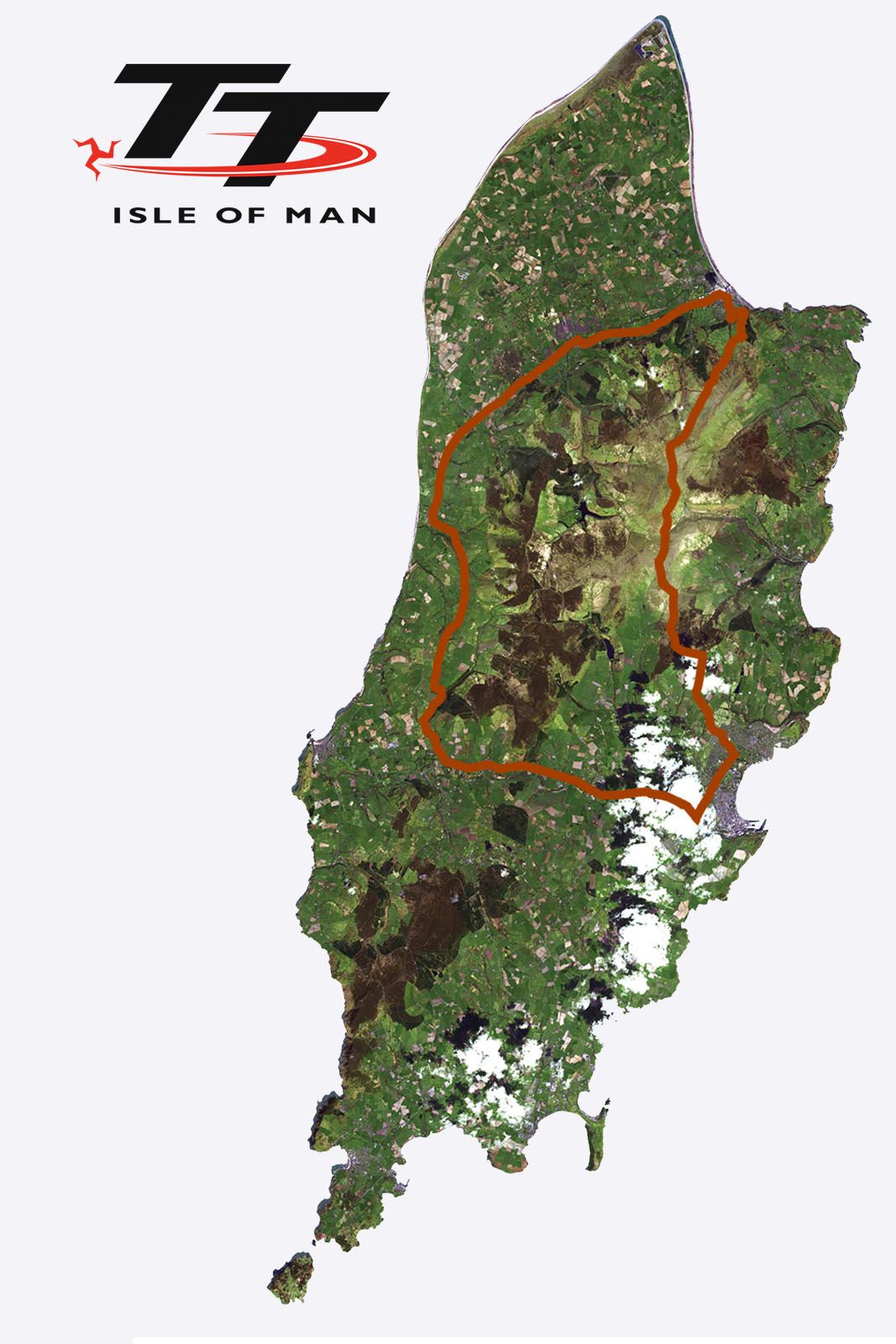 "I'm not thinking about anything new, I just want to get out here and enjoy my racing. I've lapped comfortably at 132.7mph, when my ducks are in a row I'm still capable of lapping at the sharp end round here. Everyone has had a long layoff from the TT, me, the new bike and the team will be ready for it and what will be will be."