What are the essential garden tools for Summer 2023?
9 Must Own Garden Tools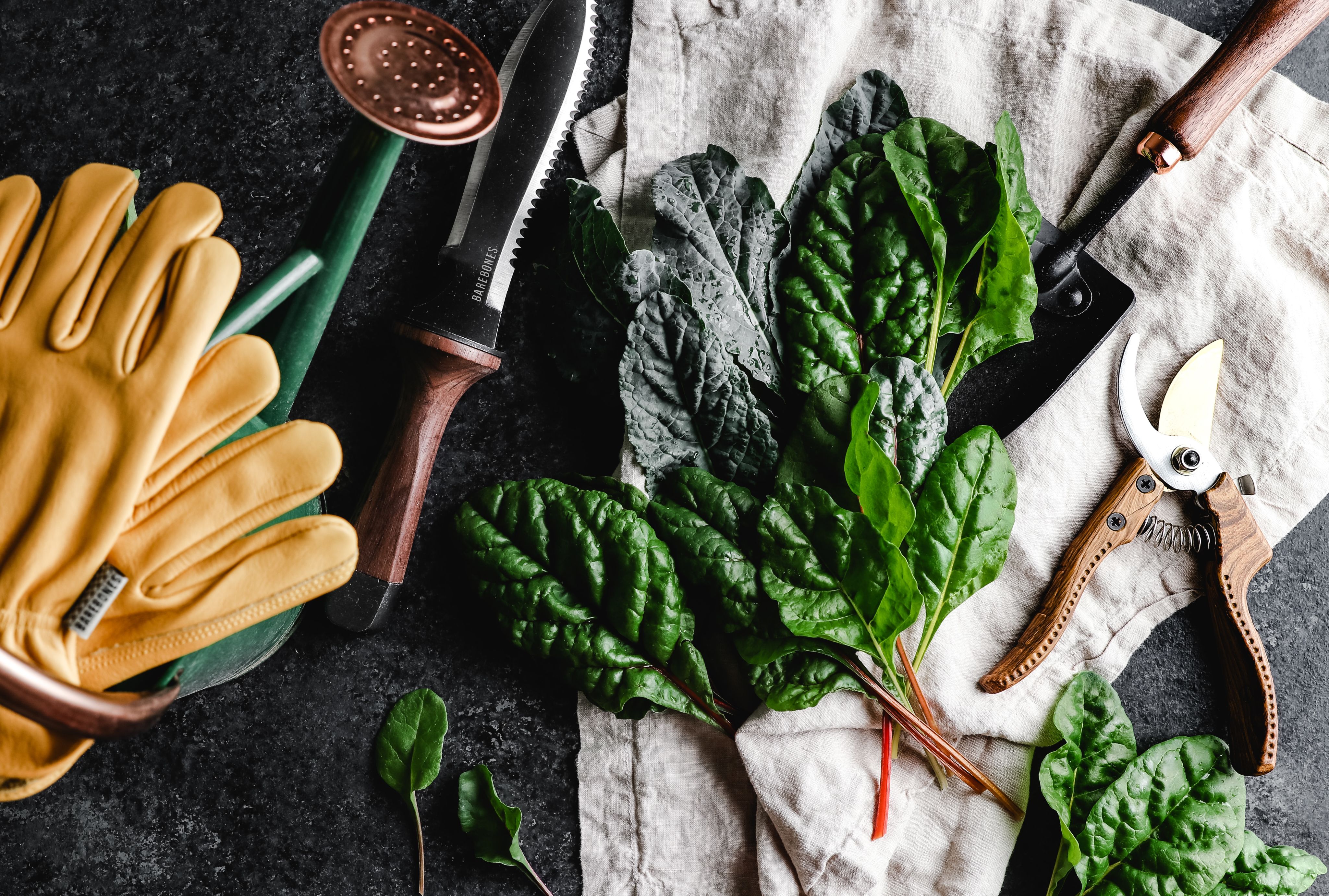 With Spring having come to an end, and warmer weather is on the horizon, it's time to think once again about your garden. There's plenty of opportunity to get your garden in top condition and popping with colour ahead of the warmer months. But to make your gardening venture a success, it's time to start preparing now.
There are many variables when it comes to cultivating the perfect garden full of life and bursting with colour, but to give yourself the best chance, you need to start off with the best gardening tools. Whether you're a green-fingered expert or a newcomer to the world of seeds and soil, you need to be clued up on the gardening essentials for this season before you start.
Making sure you have the best gardening tools for any task will ensure your job is easier, more enjoyable and gives better results.
So what are the must-have gardening tools for 2023?
In this guide, we'll take a look at the best gardening tools that we can't do without. From trusty old favourites to exciting, versatile new implements, we'll show you how to make 2023 the best year yet for your garden.
1. Gloves
It's start with the gardening basics. You might not mind touching soil and dirt with bare hands. But a good pair of gardening gloves make planting, weeding and digging so much easier. They'll also prevent nasty scratches from thorns and nettles, and can stop any allergies from flaring up.
Gloves made of breathable materials are the best bet so you don't get too sweaty, and they'll protect your hands from getting dirty too. If you're lifting anything heavy while gardening, a pair of gloves with rubber across the palms and fingers can also make life a little easier.
2. Spade
Spades are one of the most popular gardening tools, largely because they're also one of the most versatile. You can use them to dig plots, trim edges, remove shrubs and get rid of piles of leaves, among many other tasks. They're also great for separating and mixing compost.
Our top tip? Go for a stainless steel spade for your garden. They cut more cleanly, are easier to manage and last longer than spades made of other materials.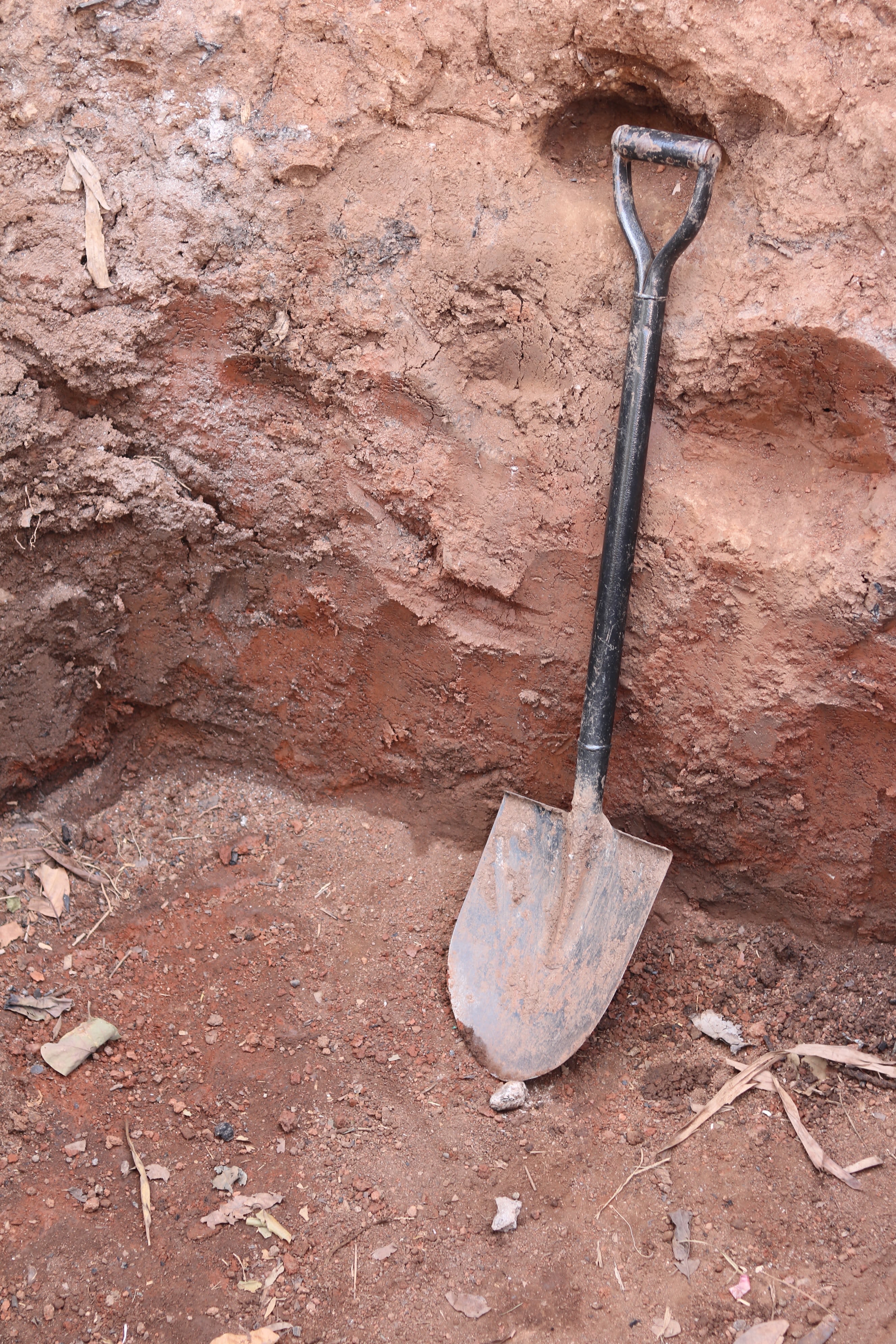 3. Rake
A rake should also be near the top of any list of must-have garden tools. Rakes help to break soil down, making conditions easier for sowing seeds. You can open and level the top surface, and then firm it down by tamping the ground with the back.
Stainless steel rakes are the best, as you should be able to avoid the tool getting rusty over time, particularly if you store your tools anywhere that has a risk of cold and damp.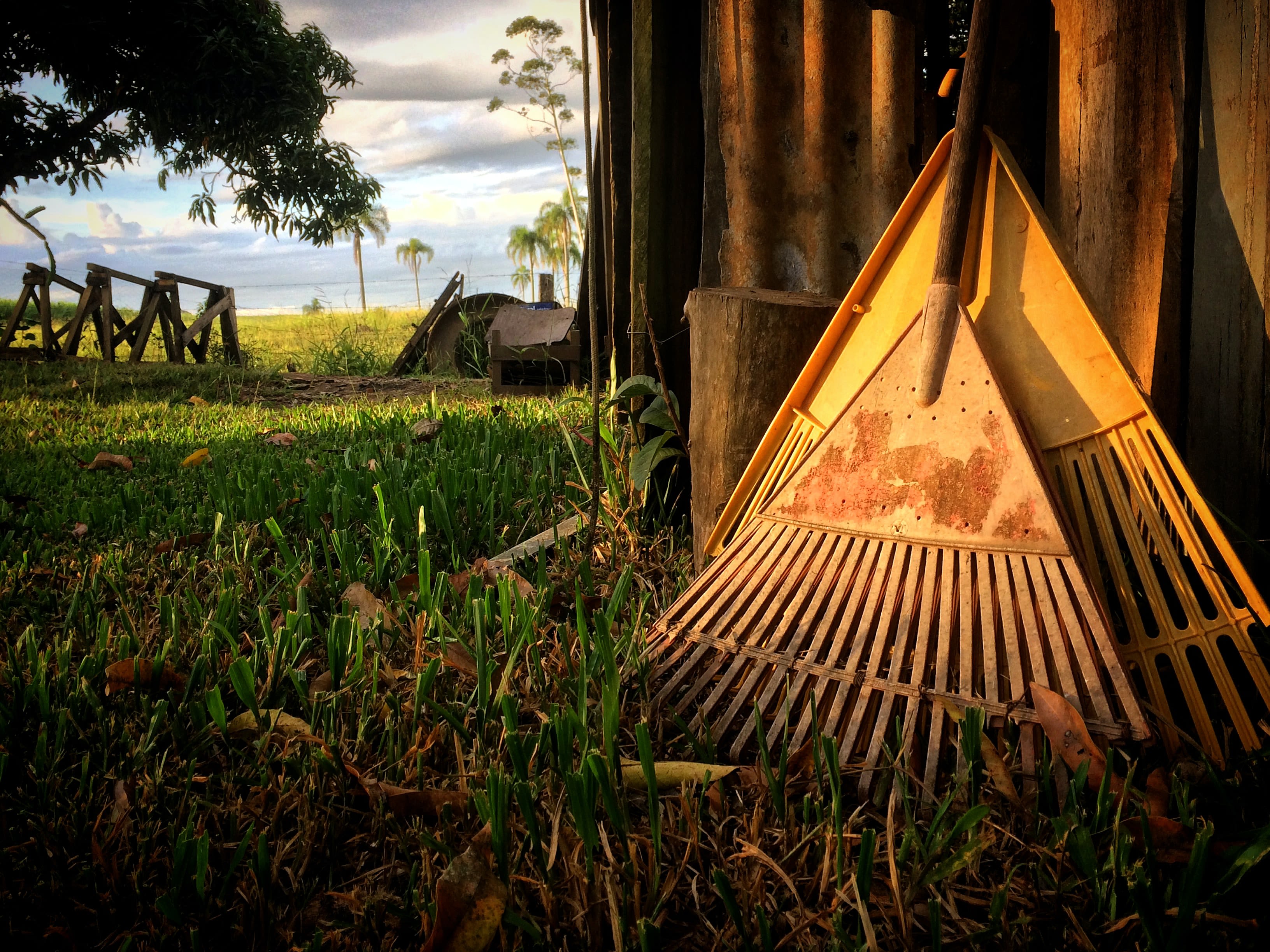 4. Fork
Garden forks are great multi-purpose gardening tools, so they're a must-have for any gardener. They can help prepare and maintain your plot of land, making sure soil is in top condition. They're great for tasks such as breaking up tough soil, digging up weeds and aerating soil.
Forks can be more effective than spades on stony ground because you can use the prongs to hinge under rocks and lift them out. We recommend buying a steel garden fork with a longer handle for extra leverage when digging things out of your flower beds.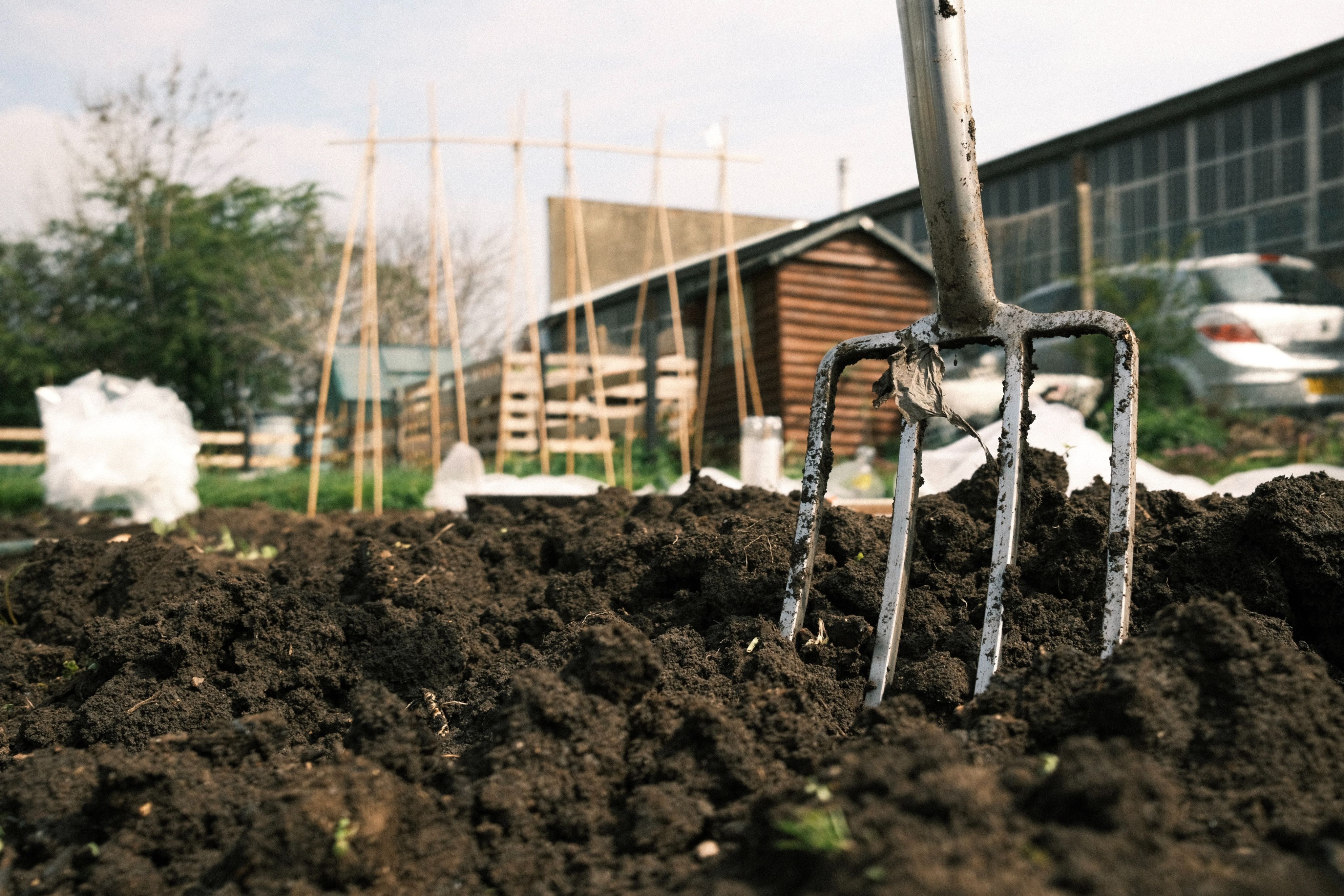 5. Secateurs
Also known as pruning shears, secateurs are the ideal tool for keeping your flowers and shrubs looking neat and tidy. The perfect pair needs to be lightweight so you can hold them for potentially long periods as you cut through branches and bushes. But they should also be sturdy, as pruning and deadheading can be a year-round task.
You'll also want something particularly sharp and robust too, so you can tackle thicker branches and stems with ease.
Bypass secateurs are the best for most tasks, working like scissors to keep things simple yet effective.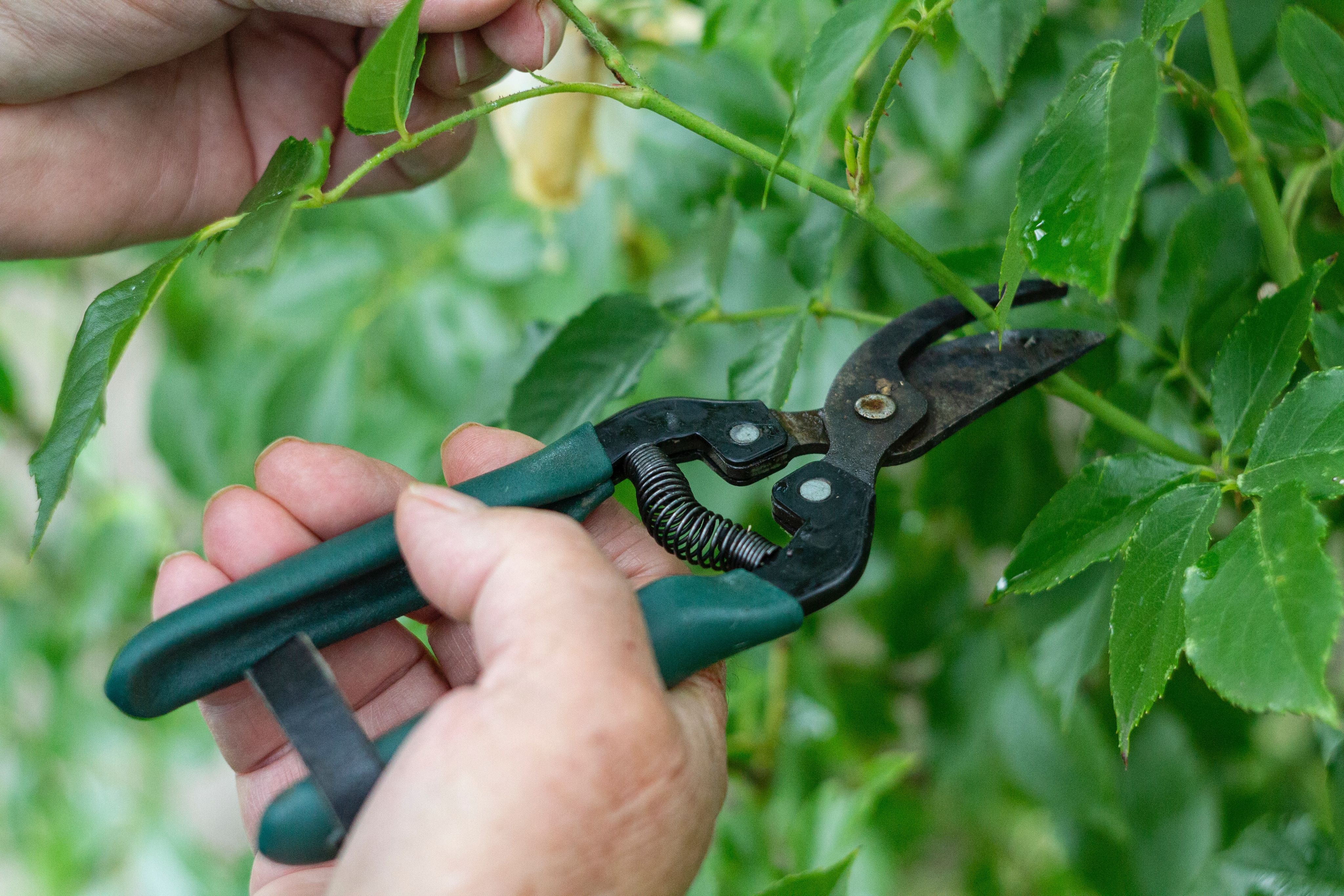 6. Trowel
If you're shopping around, you'll find many trowels made of different materials and at different price points on the market. But for the best results for your garden, you're going to want a sturdy trowel that has a wooden handle firmly connected to the metal trowel.
That way, you'll enjoy years of weeding, planting, potting and digging without having to replace your trusty trowel. As with most gardening tools, stainless steel trowels will also keep rust at bay and save you money in the long run.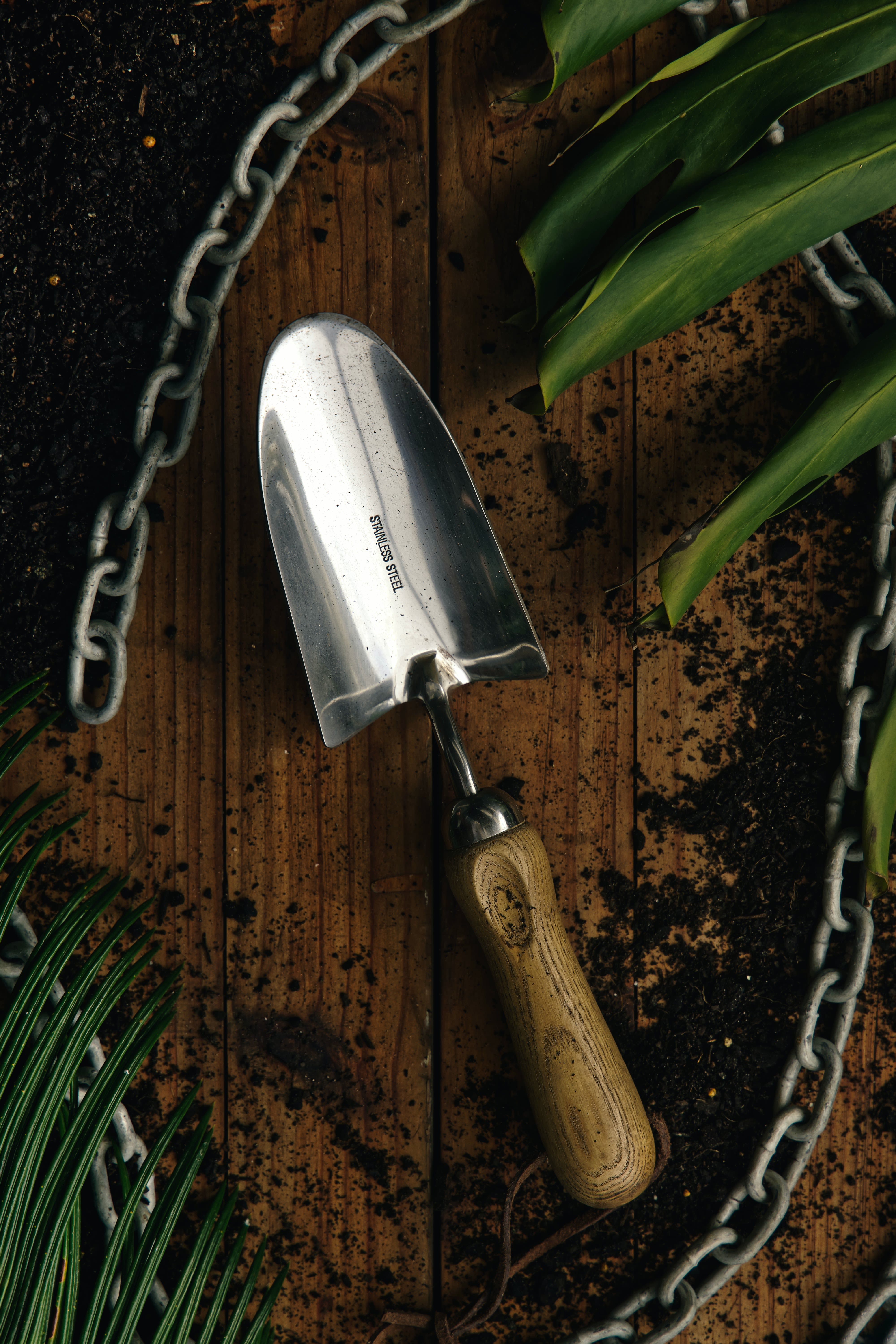 7. Hoe
Hoes are among the most versatile gardening tools. From clearing leaves to tidying borders, weeding to neatening, the sharp, wide blades of hoes have many fantastic uses for gardeners, making them an essential tool. There are four main types of hoe to choose from for any gardener:
· Dutch hoe – the most common and generally the easiest to use. Dutch hoes have a wide, open blade.
· Draw hoe – a basic version, with a small, rectangular paddle, set at 90 degrees to the handle.
· Heart-shaped hoe – these hoes are good for breaking up tough or compacted soil.
· Stirrup hoe – great for stubborn weeds, this hoe is so-called due to the blade resembling the stirrup on a horse's saddle.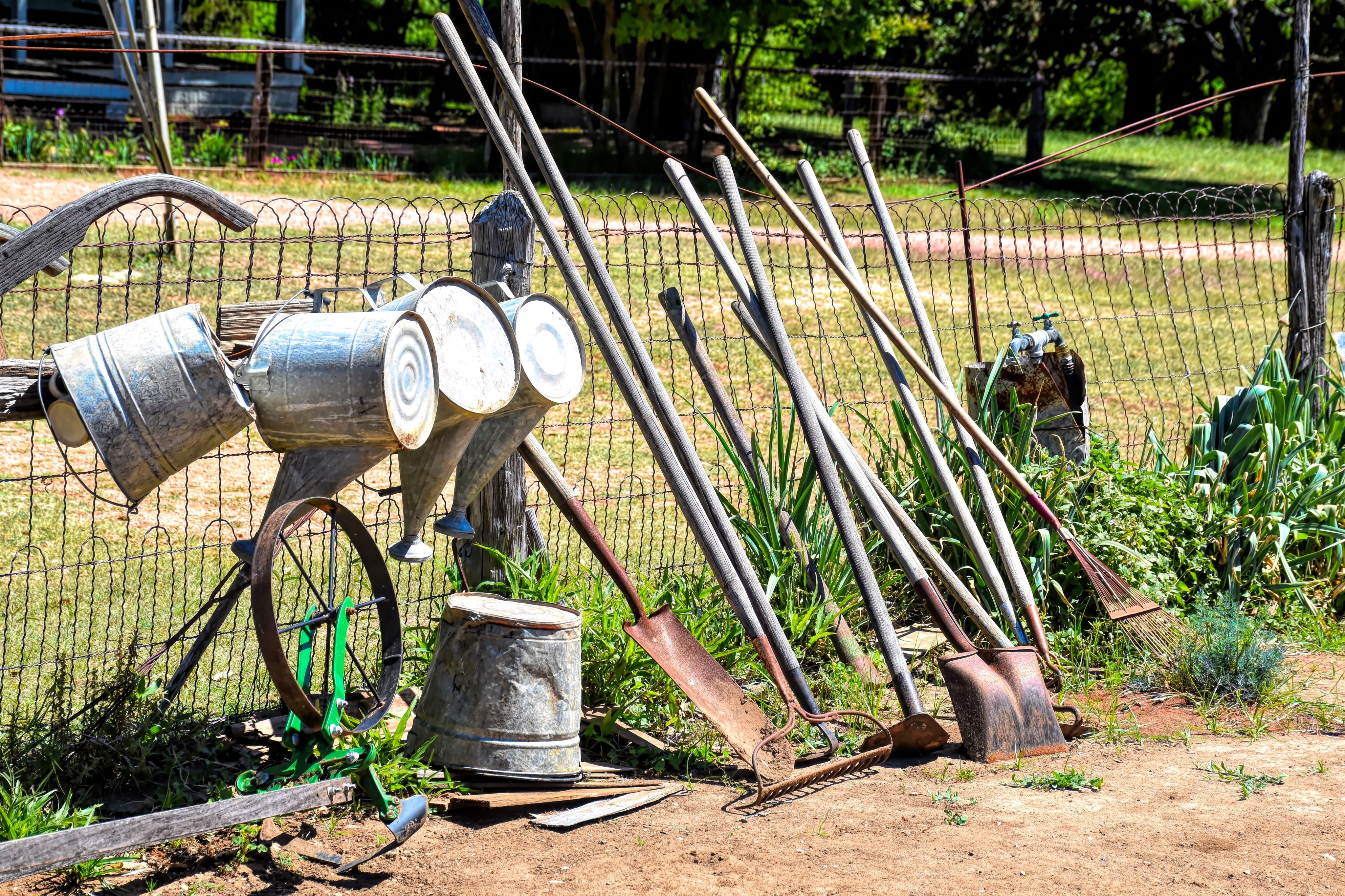 8. Lawnmower
Key to looking after any garden is a tidy lawn. Whether you have a small patch of grass or a lush, expansive lawn, a lawnmower is essential to keep everything looking well-trimmed and in order. But choosing the right one for your needs can be tricky. There's several types of lawnmower to fit different needs, including:
· Cylinder – these mowers work best on flat lawns that you intend on keeping well-manicured. They feature cylindrical blades and a fixed blade at the bottom. You can choose from electric, petrol-powered or push.
· Hover – as the name suggests, electric hover mowers hover over the ground, so they're easier than others to push along. They're also useful on uneven surfaces and are relatively cheap too. Hover mowers are best for smaller gardens.
· Rotary – these versatile mowers work like propellers on a plane, with a single blade rotating underneath. Adept at cutting long, rough grass, as well as short, rotary mowers can be electric, battery or petrol-powered.
All Honda Lawn mowers are Rotary mowers, and you can find cordless and petrol mowers within our range.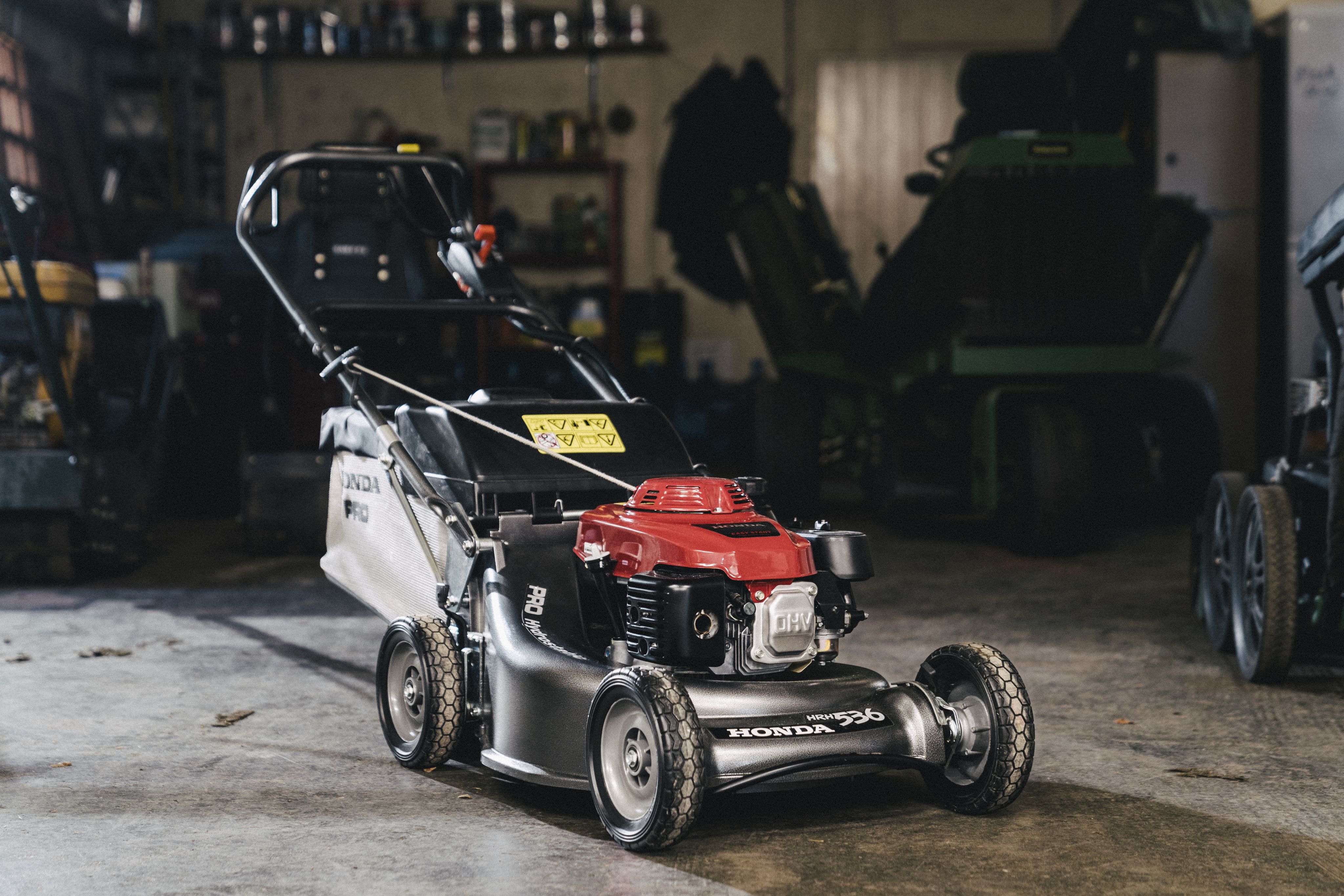 9. Hedge Trimmer
Hedge trimmers can save valuable time in the garden while keeping everything looking at its very best. With a hedge trimmer, you can cut back branches and keep shrubs looking smart without spending hours chopping away with shears. There are different types of hedge trimmers, with the blade teeth spaced out differently depending on what they're used for. These include:
· Corded – these trimmers are handy if you need to use them often, as you won't need to buy fuel or charge the battery. However, they're better used on small gardens as the cable could hinder you otherwise.
· Cordless – environmentally friendly, lightweight trimmers that are easy to maintain. As technology improves, these trimmers run longer and can be used on larger hedges. Cordless tools can be great for larger outdoor spaces.
· Petrol – equipped with powerful engines, petrol trimmers are the noisiest trimmers, but they're particularly useful for tackling larger hedges and pruning them, if you fancy giving your garden a bit of artistic flair.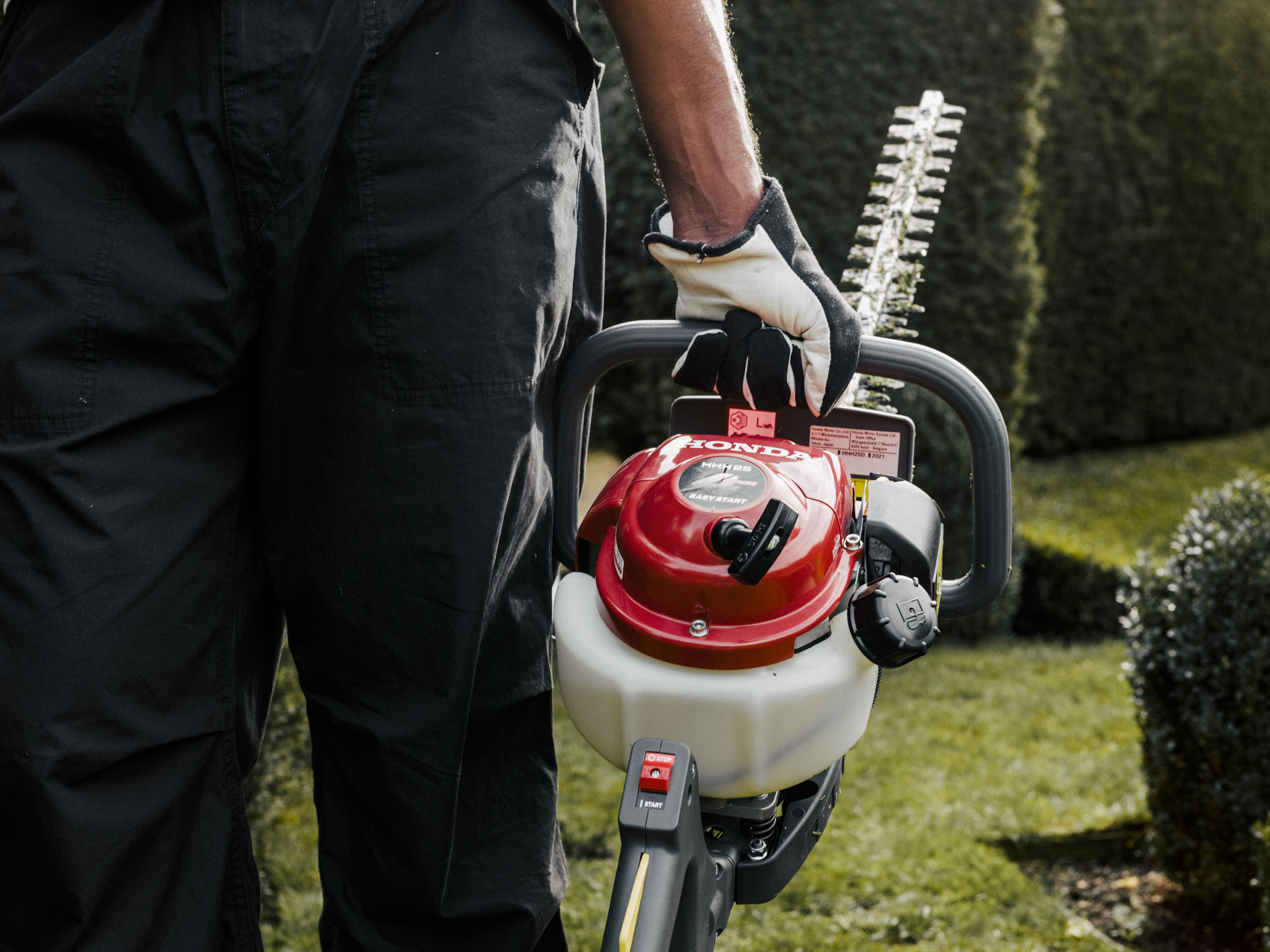 Gardening made easy with Honda Versatool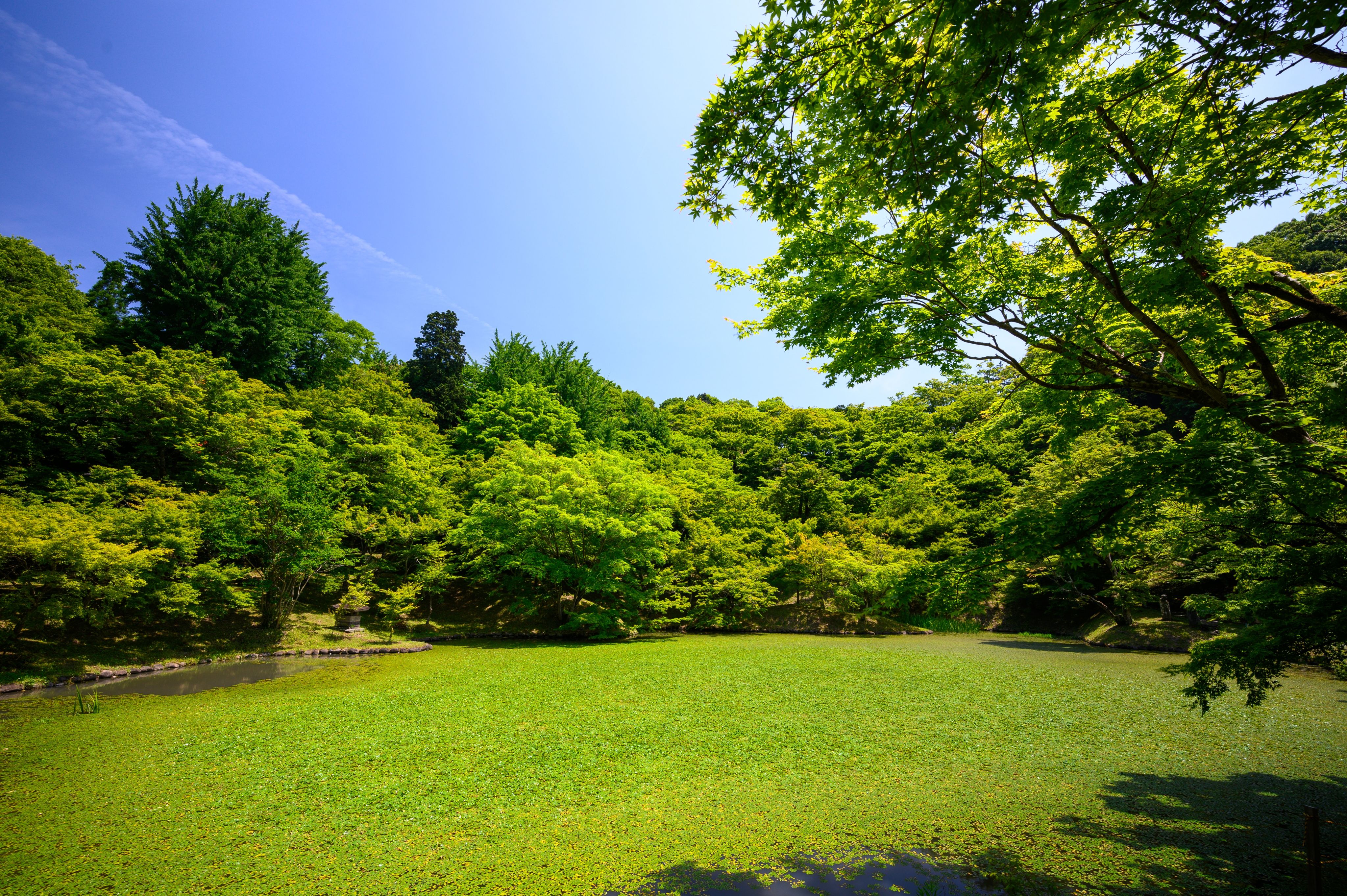 Having an arsenal of garden tools is essential to making sure your garden looks at its very best when spring comes around. But why not condense your shed and try a single tool that does it all? As the name suggests, Honda's Versatool packs a lot of gardening versatility into one tool. Eight attachments and extension options make it possible to revamp your garden while saving valuable space.
The Honda Versatool can:
1. Trim hedges – including circular bushes and hedge corners in two different sizes.
2. Prune branches – cutting through tough branches in high places.
3. Line trimmer – take dense shrubbery down to size with a nylon thread or three-tooth blade.
4. Blow away leaves and rubbish – without becoming blocked.
5. Edge your lawn – giving a neat finish without making your back ache.
6. Cultivate soil – maintaining garden beds with ease.
The Versatool is available with two different-sized engines:
· The UMC 425E features a 25cc engine, D-loop handle and single-strap harness.
· The UMC 435E has a 35cc engine, D-loop handle and double-strap harness.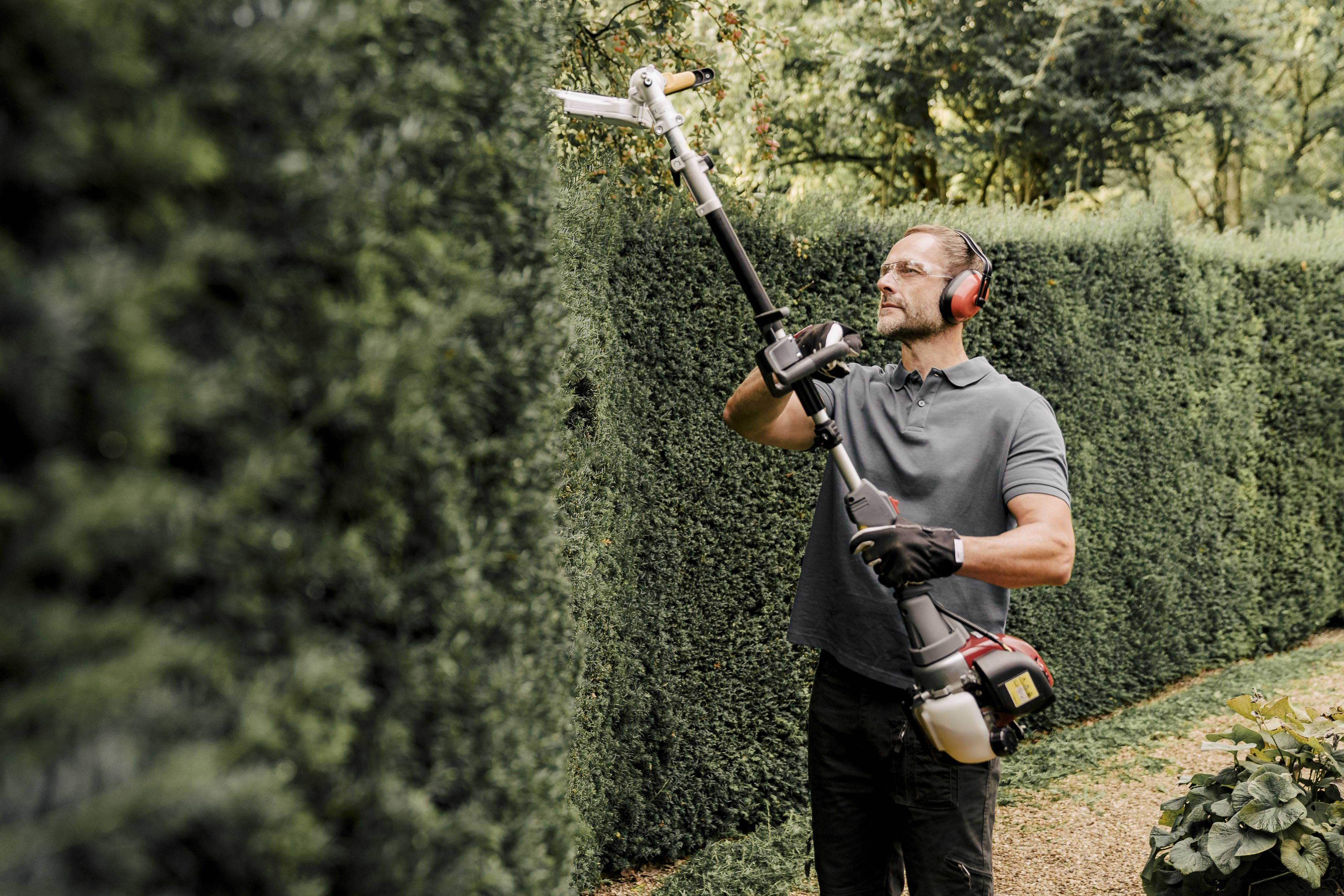 Must have garden tools - FAQs
What should I look for in garden tools?
When selecting garden tools, try to balance cost with effectiveness. Stainless steel items such as spades or rakes may be more expensive, but they'll also last longer and won't rust as easily as other metals might.
How do I clean my garden tools?
It's a good idea to get into a routine to keep garden tools clean. It takes time but will pay off as your tools will last longer than if you just sling them back into the shed at the end of the day.
Cultivation tools such as spades, hoes and forks can be maintained with a stiff scrubbing brush. If they get very muddy, wash down with a hose. But make sure you dry wooden parts to prevent swelling, and metal parts to avoid rust.
Cutting tools like secateurs can get gummed up with plant sap. Clean them with a nylon pan scourer or wire wool. WD-40 will loosen grime and oil will keep moving parts lubricated.
How do I sharpen garden tools?
Take time to keep your tools sharp and they'll last a lot longer than soldiering on with tools that are going blunt.
The most common sharpening tools are:
· Whetstones – blocks of fine-grained stone, useful on secateurs.
· Diamond-coated tools – diamond-coated blocks can be used on secateurs. Diamond-coated files are also useful for sharpening hoes and spades.
· Files – help sharpen spades, hoes and other larger tools.