CB500F ABS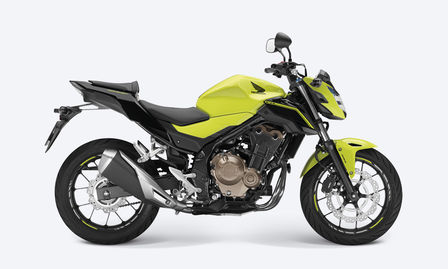 Now available with 3 years finance.
See our finance offers below.
Payment options
We offer two simple and affordable finance options: PCP and VPL. But how do they differ?
This is more like a simple loan. You decide on the model and put down a deposit the same way as with PCP. We calculate for you how much you want your fixed monthly payment to be, and the term. That means you know up front how much your Honda will cost each month until it's paid off and you own the bike.
Talk to your Honda dealer about the right option for you.
CB500F ABS 18YM (VPL) - Representative Example
OTR Price
£5,469.00
Deposit
£946.53
Deposit %
17%
Amount of Credit
£4,522.47
36 Monthly Payments
£139.00
Duration
36 months
Total Amount Payable
£5,950.53
Representative APR
6.90%
Interest Rate per annum fixed
6.69%
CB500F ABS 17YM (VPL) - Representative Example
OTR Price
£5,469.00
Deposit
£946.53
Deposit %
17%
Amount of Credit
£4,522.47
36 Monthly Payments
£139.00
Duration
36 months
Total Amount Payable
£5,950.53
Representative APR
6.90%
Interest Rate per annum fixed
6.69%