Close
CRF1100L AFRICA TWIN
1 Year 4.9% APR Representative + £1,000 Deposit Contribution**
Born in the desert. Ready for anywhere.
Hard-riding, free-range and off-grid. Built without compromise and on experience of decades the new CRF1100L Africa Twin leaves the rulebook in its roost. Honed off-road ability opens up terrain many see only in their dreams.
Show me the offers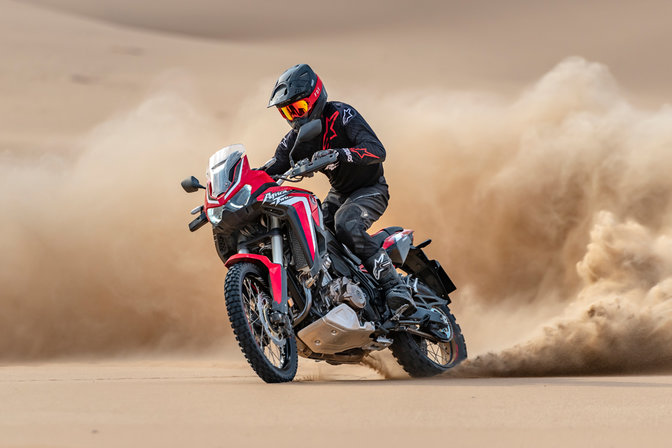 CRF1100L AFRICA TWIN ADVENTURE SPORTS
1 Year 4.9% APR Representative + £500 Deposit Contribution***
Escapism at its peak.
See the next horizon, under that magnificent dome of cobalt sky? Of course you do. But you're looking further ahead. Wondering what you'll find three horizons from now. We know the feeling. And it's why we built the Africa Twin Adventure Sports – ready to tour the world with advanced technology and premium features.
Show me the offers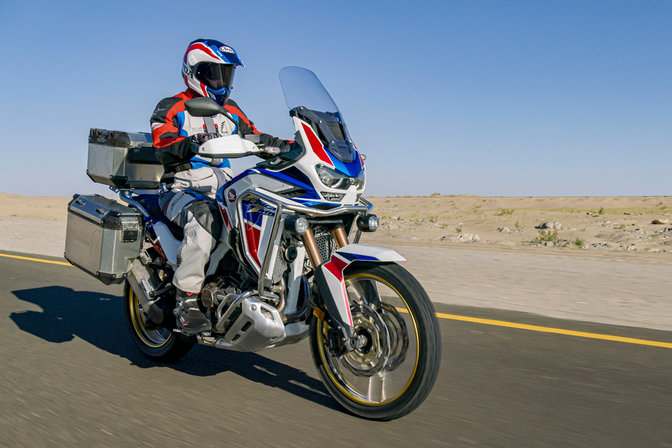 Finance Offers
CRF1100L Africa Twin (PCP) - Representative Example
OTR Price*
£13,049.00
Deposit
£2,894.84
Honda Deposit Contribution**
£1,000.00
Amount of Credit
£9,154.16
36 Monthly Payments
£109.00
Duration
37 months
Final Payment
£6,371.45
Final Payment inc Option Fee
£6,381.45
Total Amount Payable
£14,200.29
Representative APR
4.9%
Option to Purchase Fee
£10.00
Annual Contracted Mileage
4,000
Excess Mileage Charge
£0.07
Interest Rate Per Annum fixed
4.76%
CRF1100L Africa Twin DCT (PCP) - Representative Example
OTR Price*
£13,949.00
Deposit
£3,090.63
Honda Deposit Contribution**
£1,000.00
Amount of Credit
£9,858.37
36 Monthly Payments
£119.00
Duration
37 months
Final Payment
£6,798.89
Final Payment inc Option Fee
£6,808.89
Total Amount Payable
£15,183.52
Representative APR
4.9%
Option to Purchase Fee
£10.00
Annual Contracted Mileage
4,000
Excess Mileage Charge
£0.07
Interest Rate Per Annum fixed
4.76%
CRF1100L Africa Twin Adventure Sports (PCP) - Representative Example
OTR Price*
£14,649.00
Deposit
£3,109.69
Honda Deposit Contribution***
£500.00
Amount of Credit
£11,039.31
36 Monthly Payments
£139.00
Duration
37 months
Final Payment
£7,390.74
Final Payment inc Option Fee
£7,400.74
Total Amount Payable
£16,014.43
Representative APR
4.9%
Option to Purchase Fee
£10.00
Annual Contracted Mileage
4,000
Excess Mileage Charge
£0.08
Interest Rate Per Annum fixed
4.76%
CRF1100L Africa Twin Adventure Sports DCT (PCP) - Representative Example
OTR Price*
£15,849.00
Deposit
£3,649.08
Honda Deposit Contribution***
£500.00
Amount of Credit
£11,699.92
36 Monthly Payments
£139.00
Duration
37 months
Final Payment
£8,155.38
Final Payment inc Option Fee
£8,165.38
Total Amount Payable
£17,318.46
Representative APR
4.9%
Option to Purchase Fee
£10.00
Annual Contracted Mileage
4,000
Excess Mileage Charge
£0.09
Interest Rate Per Annum fixed
4.76%