Extended guarantee
We build our cars to last, so buying a Honda Approved Used Car is always a sound decision.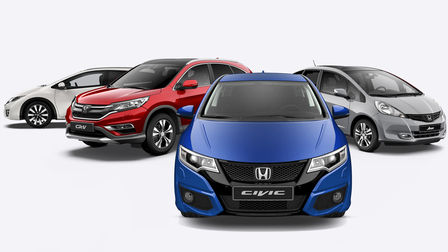 Our promise
Its nice to have a safety net so when your 12 months Honda Approved Used Car Guarantee – included with your initial purchase – comes to an end, we can extend it for the full period of your ownership. Giving you the same reassurance you get when buying a new Honda.
Honda cars less than 8 years old can be covered for a further 12, 24 or 36 months:
- 12 months for £399.50
- 24 months for £705
- 36 months for £940
Complete reassurance against unforeseen mechanical and electrical repair costs
Full breakdown and recovery across Europe.
Expert advice from professional Honda technicians – the people who know your Honda best
Only Honda Genuine Parts will be used to get you safely back on the road.
Peace of mind
Just like buying a new Honda with a 3 year manufacturers warranty, a Honda Approved Used Car Extended Guarantee gives you that same great feeling of knowing that should the unforeseen happen, we could pick up the bill for parts and labour.
Expertise and quality
In the event of a breakdown, you'll receive help and Honda Genuine Parts from the people who know your car the best – Honda trained technicians.
Full European breakdown cover*
In addition to extending your warranty, our Honda Approved Used Car Extended Guarantees also include full European breakdown cover and roadside assistance – 24 hours a day, every day of the year – at no extra cost to you.
Honda Roadside Assistance
Honda European Assistance
Honda Recovery Assistance
Honda Home Assistance
Honda Messenger Service
Just let us know. Its quick and easy to add the extended guarantee to your Honda Approved Used Car package, but if you need a little more time to think about it, you have 5 working days from your car purchase date to decide.