7 Series
The snowthrower uncovered
Tough on the outside – reliable on the inside.
These snowthrowers are the best in the world. Built and assembled by Honda, their unique features and innovations – both big and small – make clearing a big snowfall more of a treat than a chore.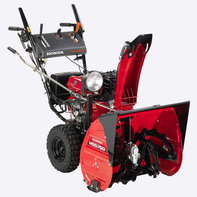 The all clear
At Honda, we constantly challenge everything we do – especially when it comes to our snowthrower technology.
Take the auger for example, right there in the front line shifting tons of snow. We've designed it to work efficiently and fast – breaking up ice too, pulverising it into tiny pieces.
Clearing the way
Once the auger has done its work, the snow and ice particles are drawn into the secondary stage where the powerful blower gives it a hefty blast out of the chute. This throws it as far as 14m at depths of up to 51cm. Your entire property will be clear in no time.

The power of two
The first stage scoops up the snow and ice, the second stage throws it as far as possible.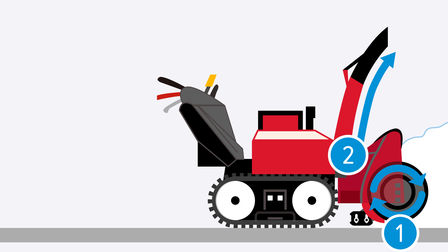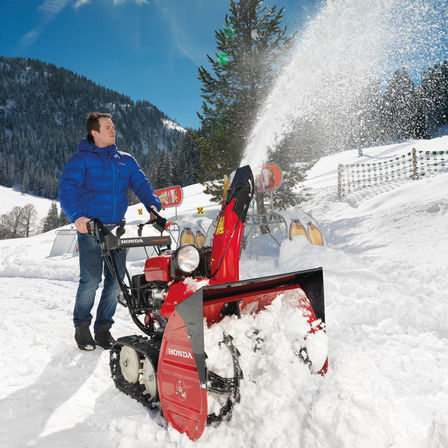 You control where the snow goes
The electronically controlled chute is really handy. The joystick gives you precise control, so you can easily aim the ejected snow to different areas as you move along.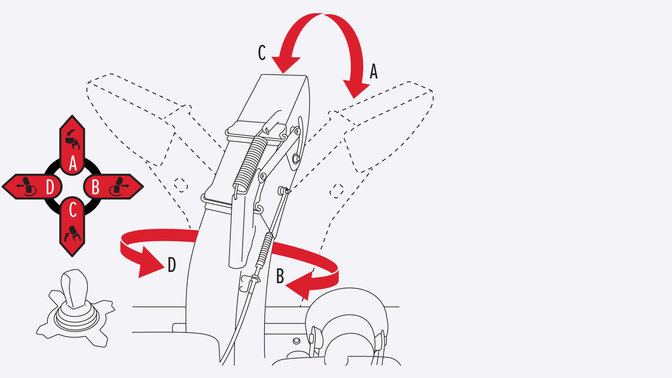 The joystick (left), when moved between A and C, will adjust the top angle of the chute (right). Rotational adjustment is made on the same joystick, in the direction of B and D.
Lifting with a lever
When the snow is deep and the job is heavy going, you can make it much easier by adjusting the height of the auger.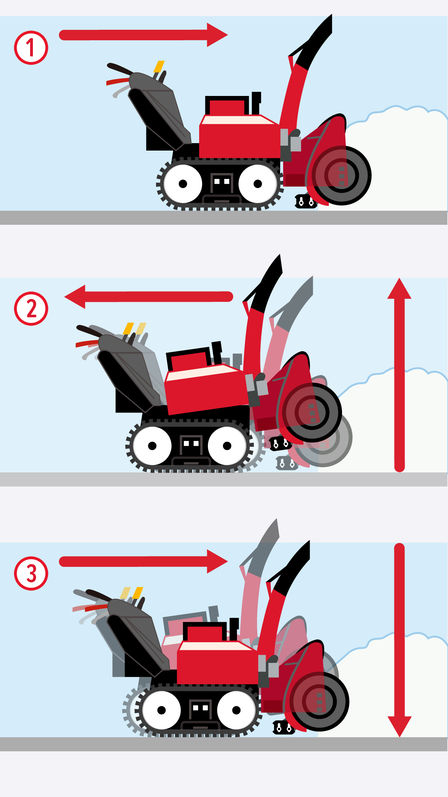 When the auger is at its lowest (1), it can easily clear pathways close to the ground. Raising the auger (2) will give you better performance over uneven ground and deeper snow. Return to the low position (3), when the conditions improve.
It's called the auger height adjustment lever, and it's unique to Honda Snowthrowers with tracks. The lowest positions allow you to clear pathways close to the ground. Rasing the auger is ideal for uneven terrain with deeper snow.
Carry on through
When the going gets tough, a Honda gets going. When your snowthrower starts to bite off a bit more than it can chew, simply raise the variable auger height again; it will carry on chomping and throwing, even if you run into a steep bank or deep snow. There's no stopping a Honda.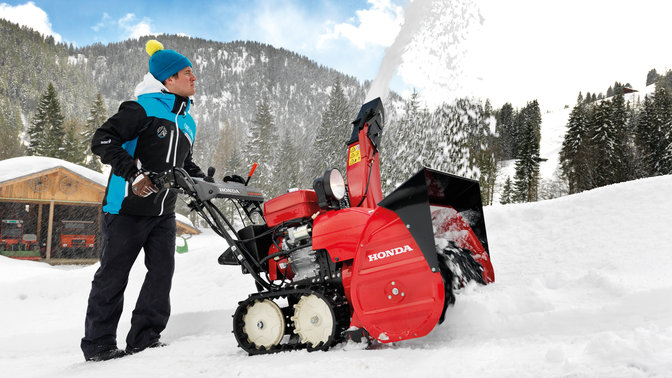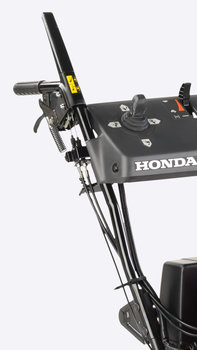 The height adjustment lever is in easy reach and sits just below the handle.
Power is nothing without reliability
You can have all the power in the world to clear a snowfall, but if you can't get your engine started, you're stuck.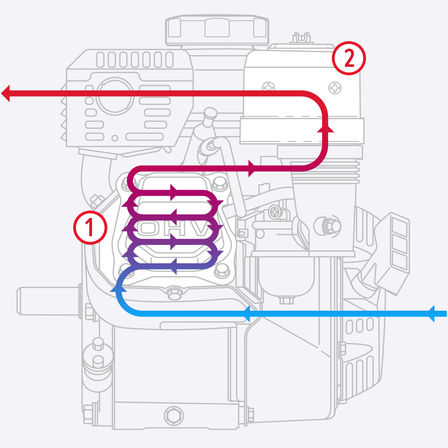 Cold air is heated by the engine's exhaust system (1) and is circulated around the carburettor (2). This provides much better performance in sub-zero temperatures and stops the carburettor from freezing.
Honda's GX200 Pro-Spec, commercial-grade engine is specifically designed to start in sub zero temperatures as low as minus 25ºC – that's pretty nippy! Whether it's an electric or manual recoil type, it delivers outstanding power and torque to push on through some really tough snow throwing conditions. Thick snow doesn't stand a chance.
Sub zero heat
Yes, there really is such a thing. The Honda Snowthrower keeps the carburettor warm by recycling the heat from the engine's exhaust system. This provides you with super reliable performance, smoother running and – most importantly of all – stops the carburettor from freezing. Which of course stops you from becoming hot and bothered.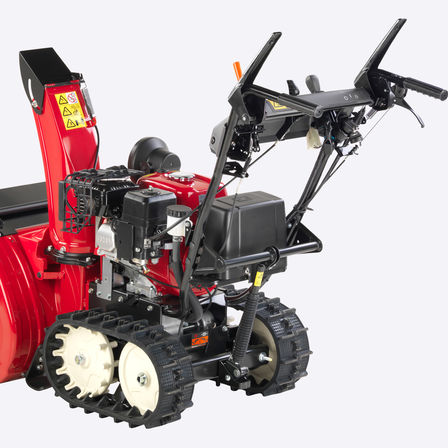 Power in your hand
This single lever easily adjusts ground speed.
Push forward to move ahead, and pull back to go in reverse. It's that simple. Adjustments to forward and reverse speed can be made with one hand – even with gloves on – quickly and easily.
Setting the pace
With the Honda hydrostatic transmission, just pick your speed, and alter it when conditions change. You set the pace, and your Honda Snowthrower will do the work for you. No gears means no shifting, just the ultimate in variable speed and control.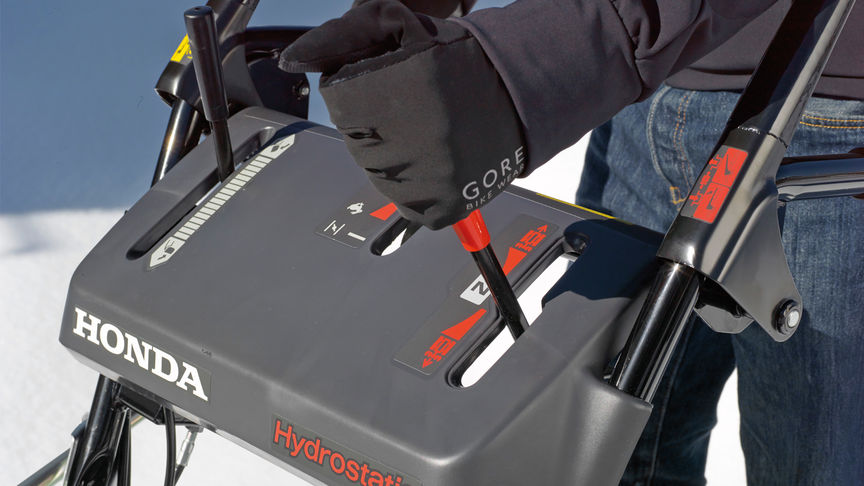 Grip that sticks
Choose between wheels or tracks for your 7 Series Snowthrower.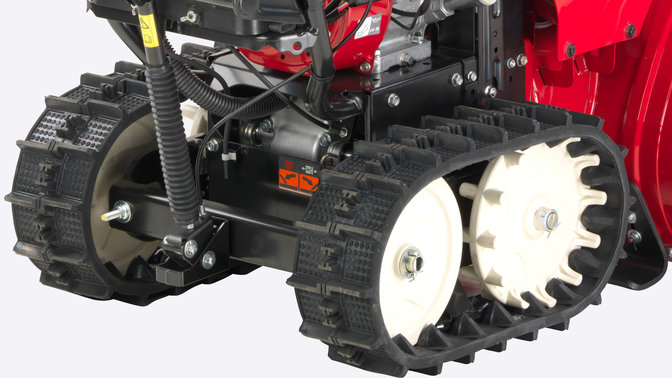 Tracks offer superior grip in open areas and slopes.
Our 7 Series Snowthrowers with wheels give you great grip and manoeuvrability. With a specially selected tread, they're best suited to tight areas with obstacles.
Stay on track
But for even better traction, you might consider a snowthrower with tracks. With this kind of machine there's no slipping, no sliding, just great control – even on steep driveways and steps. Track drive snowthrowers feature pliable, low-temperature rubber tracks with a sure-grip tread. The tracks not only support the thrower's weight evenly, they provide solid traction and confident handling too.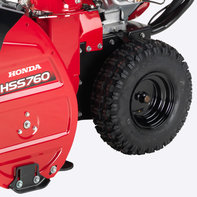 Our wheels offer unbeatable grip and manoeuvrability on flatter areas.
Honda Snowthrowers have grip you can rely on. Even when clearing snowy roofs.
Look it over
A Honda Snowthrower has innovative features that really set it apart from others – and make it your best friend out in the snow.
Lighting the way

The angle of the top-mounted spotlight can be easily adjusted by hand. This (quite literally) brilliant feature on electric start machines provides ultra-clear visibility at night. It's also useful when you're storing your snowthrower in the garage after dark.

A clear chute

Honda thinks of everything and has made it easy to clear the chute if it ever becomes clogged with compacted snow. Simply lift out the handy baton attached by clips, and you can quickly clear out any hard packed snow and ice.
Previous
Next
/