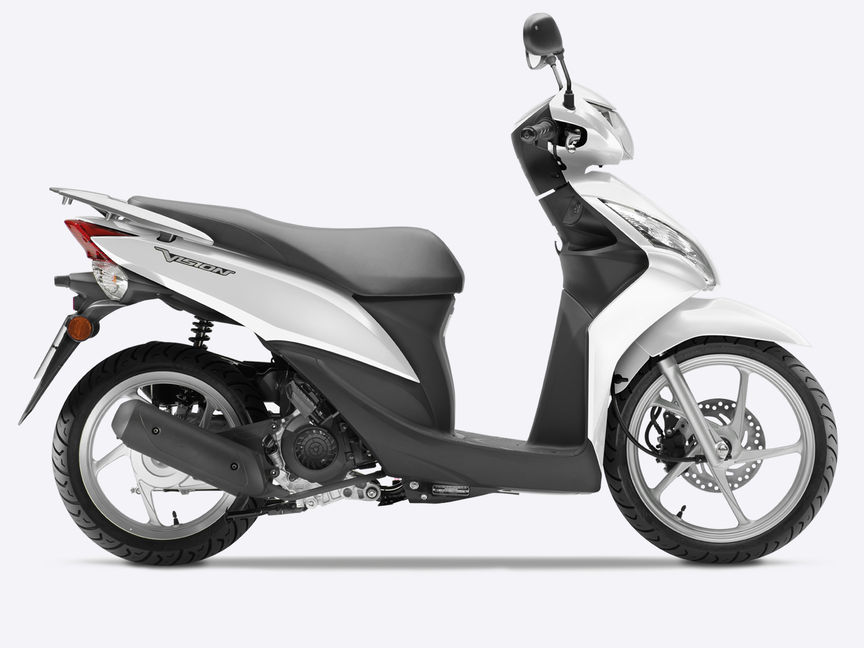 Vision 50
Find your freedom
Affordable, fun mobility.
The Vision 50 isn't just your scooter, it's your independence. It's easy to ride, very reliable and won't cost much to run. Its 5.5-litre fuel tank has a range of over 149 miles, so you really can explore the city without having to worry about where the next petrol station is.
Fast forward
Designed to perform, engineered to be safe.
Its engine may be small, but it's big on performing where it counts. The 50cc four-stroke fuel injected engine offers Honda's renowned reliability, as well as being very efficient and EURO 3 emission compliant. Just one press of the electric start and off you go. When you're heading into town, it's good to know you're in safe hands. Honda's Combined Braking System (CBS) links the front and rear brakes. So even if you're a beginner, and the conditions have changed, the Vision 50's CBS brakes will bring you to a safe stop.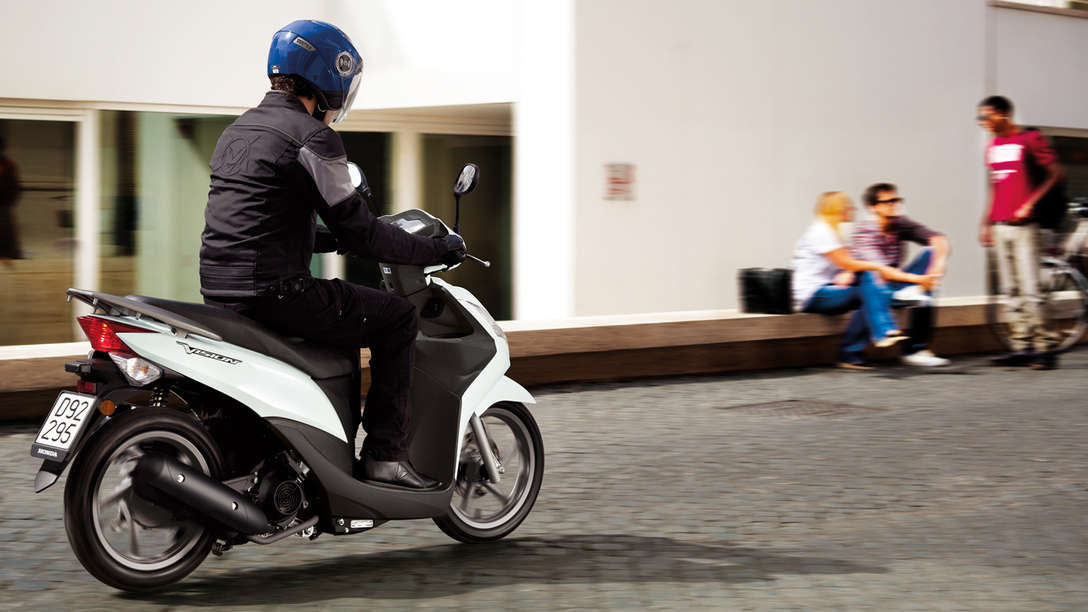 Take a closer look
Qualities such as durability, dependability, safety and ease of use were considered vitally important during the development of the Vision 50.
Easy riding

The Vision 50's seat is ergonomically designed to give you lots of legroom and to make it easy to get on and off. It handles well thanks to some clever chassis geometry and a kerb weight of only 100 kg. 

Safe braking

The Vision 50 boasts Honda's Combined Braking System (CBS), which links the front and rear brakes to provide swift, stable braking regardless of rider experience or road conditions. Optional sticker kits create a sporty look.


Total reliability

The tough four-stroke engine with PGM-FI fuel injection and electric start offers reliability, ease of use and fuel efficiency. (The Vision 50 is shown with optional Safari body sticker kit.)


Easy handling

The Vision 50 has been designed to be very comfortable for both rider and passenger but its compact dimensions also give it a reassuring agility on busy city streets. Adding to its agility, the Vision 50's 14" wheels provide secure handling and a nimble performance.

Tons of space

When it comes to storage there's plenty of space under the seat for your helmet, your shopping or any other essentials you need to take with you. Two more open storage compartments in the leg shield provide more convenience and an optional 35L top box is available.


Unmistakably Honda

Strong, dynamic lines give the Vision 50 a sleek, contemporary style with unmistakable visual links to other, bigger scooters in Honda's range. The integrated taillight and rear indicators give the rear of the machine a smart, cohesive appearance.


Previous
Next
/
Genuine accessories
We've got extras.
Your fun side will love the Vision 50 for what it is. Your practical side may want to add more to make life a little easier. How about a neat top box to carry your books to college or an outdoor cycle cover? You can also get creative with the different sets of body stickers available. Whatever you decide on, remember they're Honda Genuine Accessories, that means they look great and fit perfectly.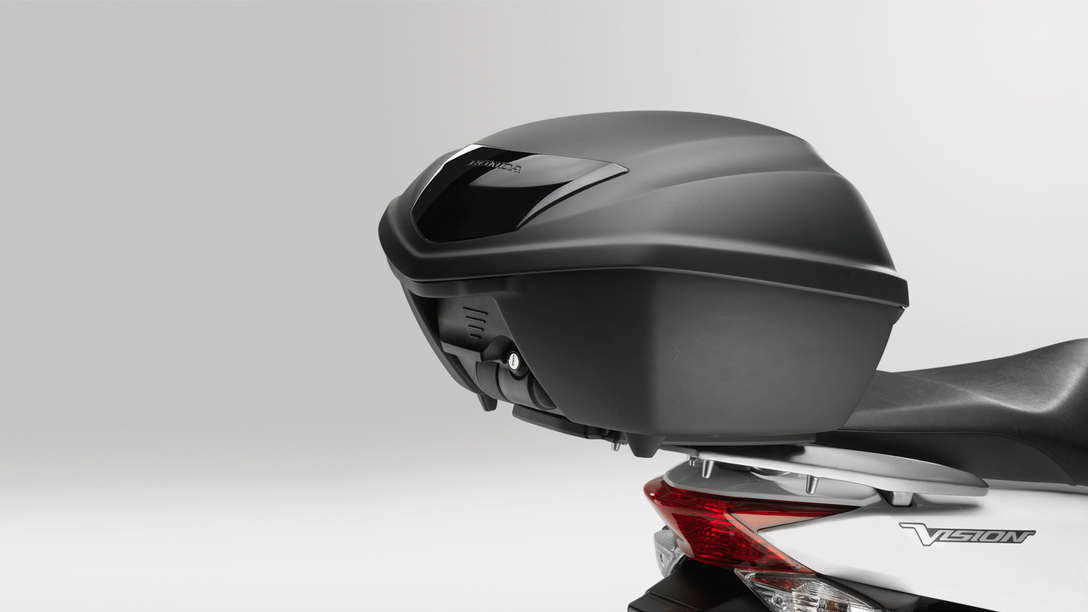 Reliable technology
We've been manufacturing scooters for over 60 years, and the Vision 50 builds on this proud heritage.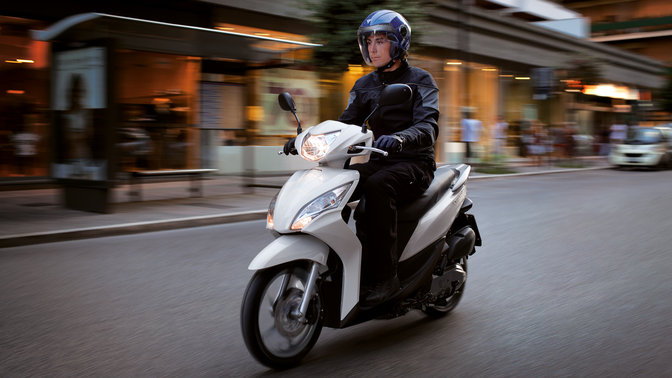 Improved stability with a 16-inch wheel option.
Honda's long expertise in four stroke technology has been used to design a 50cm3 single-cylinder engine that delivers both efficiency and performance, with minimal harmful emissions.

Easy start. Quick to go.
Turn the key, press the start button and ignite that spark inside you.
You're on your very own transport now, and it's economical and reliable too. The 16" front wheel version brings increased ride quality on rough surfaces, particularly the cobbled roads found in so many European cities.  The 16" wheel also make the machine feel bigger than a 50cc and much more stable if you are a larger or taller person. So now what's stopping you?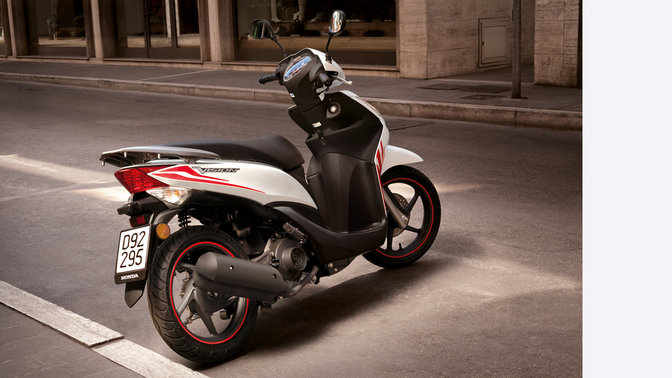 Even parked the Vision 50 has the presence of a scooter twice its engine size. Shown with the optional Safari body sticker kit.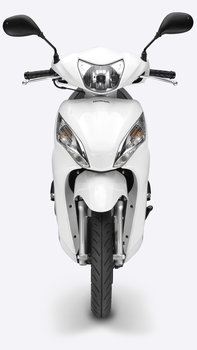 A slim front profile shows off the powerful lights that are an integral part of the fairing design.