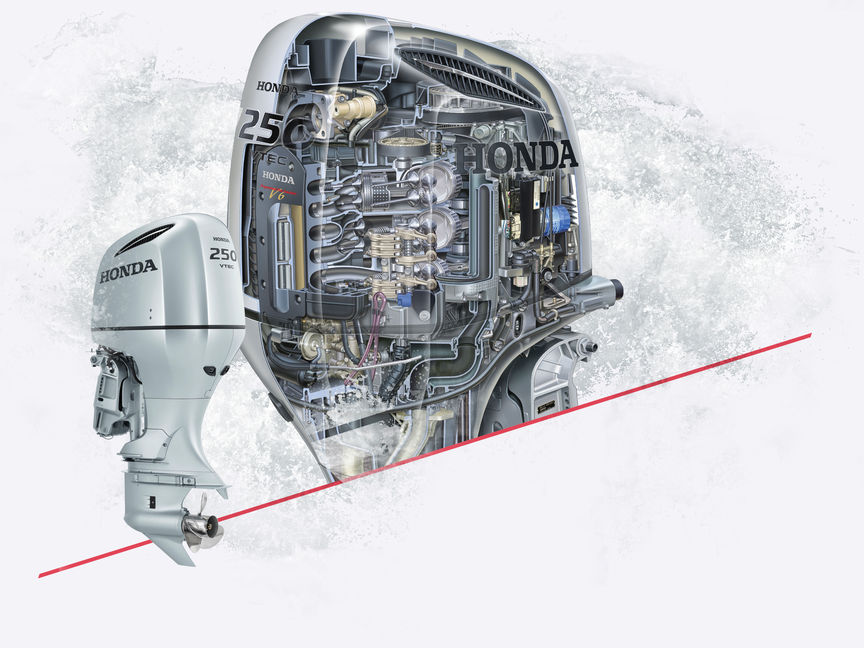 BF250
The way of the water
"Watercraft should not pollute the waters they ply." Soichiro Honda, 1964
Producing quality outboard engines that don't impact on the quality of the water – our mantra since 1964. Improving performance is important too, as ideas in boat design, building materials and navigation systems continue to move forward.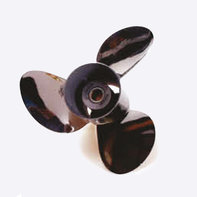 The formula one kick
Honda's unique Variable Valve Timing and Electronic Control gives you the best power and performance.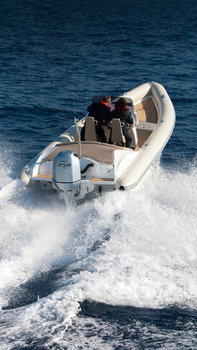 When VTEC™ kicks in you'll hear it as well as feel it.
We call it VTEC™. It's a fuel efficient system that not only saves you money, but produces an exhilarating rush of power. First used in the Honda Formula One race car, it delivers more power and torque at all speeds.
It works by using two different cams
1: When the engine is running at lower rpm, the valves are operated by a less aggressive cam which provides smooth and fuel-efficient performance.
2: When you want more power as the revs increase to 4,500, VTEC™ hydraulically engages a cam with high lift profile. This enables the valves to stay open longer, allowing more air into the combustion chamber to produce optimum power – like a Formula One racing car. At this point the engine takes on an entirely different personality; you'll hear it as well as feel it.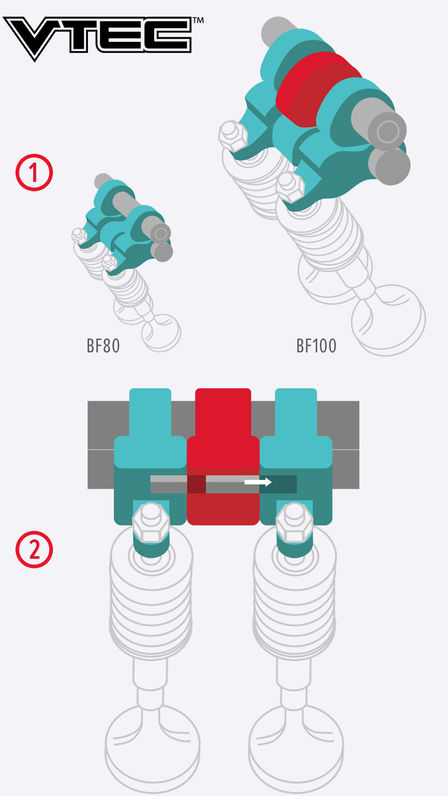 Blast off
That's how it feels from the word go.
Sometimes called hole shot technology, BLAST™ gets your boat up on to the plane in just a few seconds. Unique to Honda, BLAST™ stands for Boosted Low Speed Torque and gives you that powerful lift you need, right from the off.
How do we do it?
The ECU automatically advances the ignition timing and at the same time the air-fuel ratio is increased to give you more thrust from low down. This pioneering patented technology for Honda 4-stroke motors has become one of the many benchmark technologies in our engine design.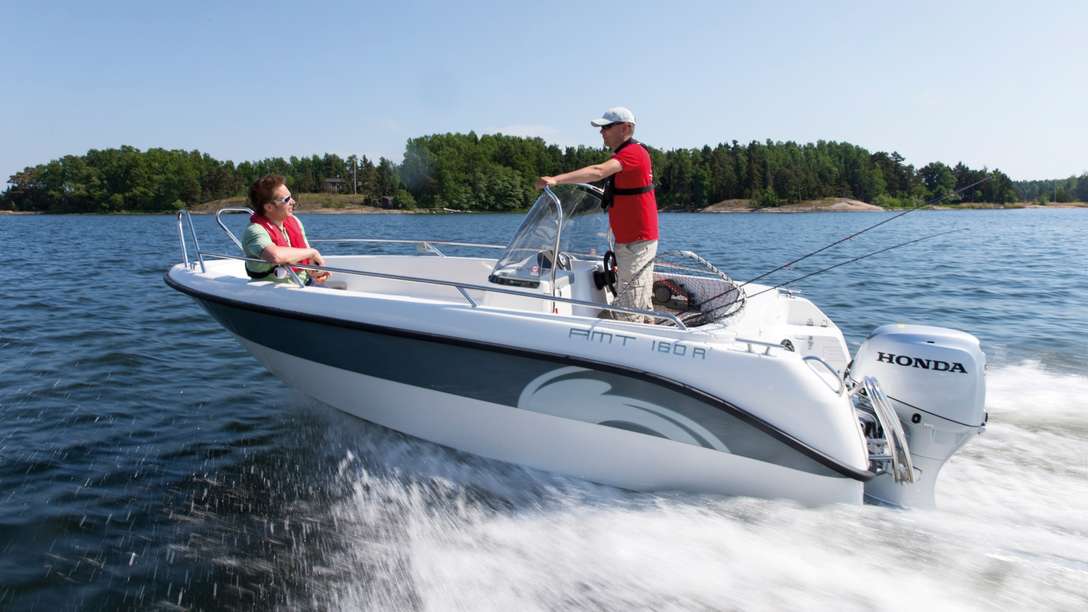 Controlling the economy
Our special lean-burn control ECOmo system can really save you lots of money on fuel – right through the rev and performance range.
Fact: once you're up on the plane you use less fuel. But it's finding that sweet spot and keeping it there that actually gives you the best result. Once you're settled at cruising speed, ECOmo will automatically adjust the correct air-to-fuel ratio for that speed – clever. Normally it operates in the green area (illustrated on the dial) or when the green Eco light comes on if you have multi-functional gauges. So once you're in the green, you'll be saving up to 20% of your fuel. And on a long trip, that's a lot of cruising.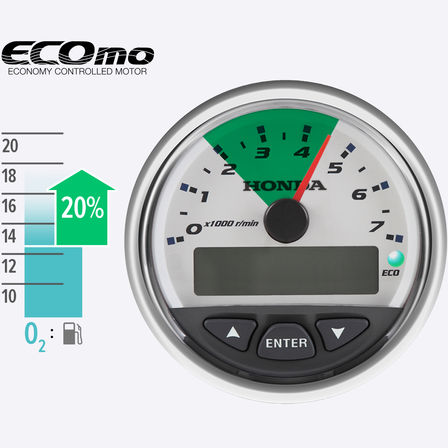 Lean burn control (ECOmo) regulates air-fuel mixture for better fuel consumption. When your boat is up on the plane and cruising (the green area illustrated above) it will add more air to the fuel, making the mixture leaner.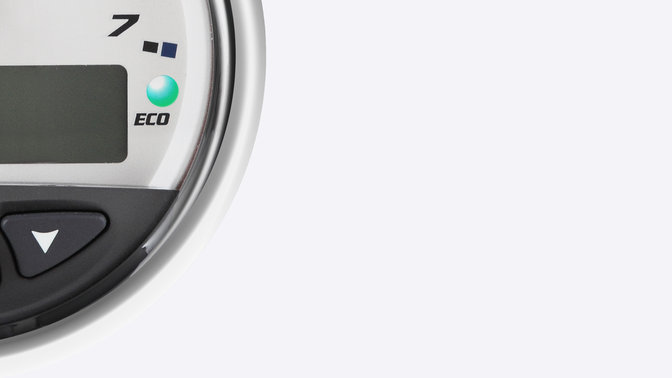 Green is good
Honda's unique Eco light will indicate when you're saving fuel and money in Ecomo mode.
Plug and play
When the water is your playground you'll feel completely connected to your surroundings – whatever you're doing.
The BF250 is NMEA2000® compliant. No need to rewire anything because everything fits. Simply plug the engine into the CANbus network – the boat's nervous system – for complete control. Then the engine can be linked to other NMEA devices like navigation, GPS, sonar devices, fishfinders and chart plotters. All the information including engine data will be displayed via the multi-functional gauges. It's like having a good First Mate or Chief Officer on board, 24/7.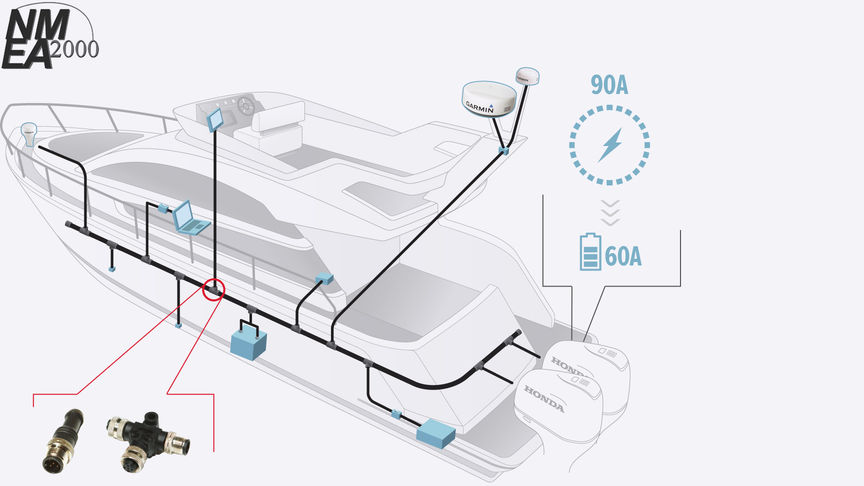 No special tools needed – the NMEA cable connectors are simple to plug in.
Worth a good look
You're always in the know with the multi-functional Honda Speedometer and Tachometer gauges.
These gauges are fully NMEA2000® compliant; just plug them in, set them up and you're on your way. They give you engine information like temperature, how much fuel has been used and tank level – it's all there, right in front of you. So no excuses for forgetting to fill up your tank now…
It's never idle
Modern onboard electronic equipment needs a high level of electrical support. So we've built a high-output alternator into these engines, so you'll never be short of power with the BF250.
In touch
Engine data can be obtained by simply using the up and down buttons on the gauges.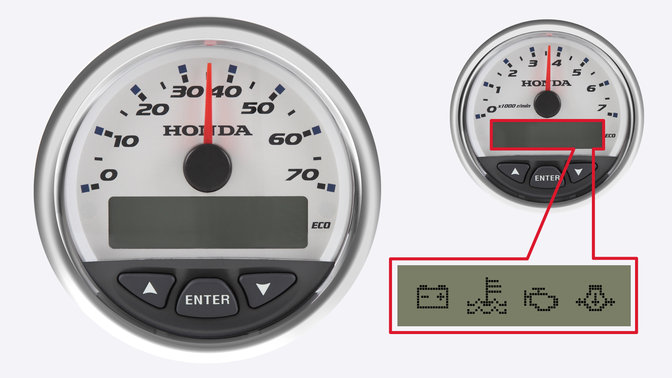 The gauges display engine alerts in the unlikely event you have a problem – like water in the fuel or low oil pressure.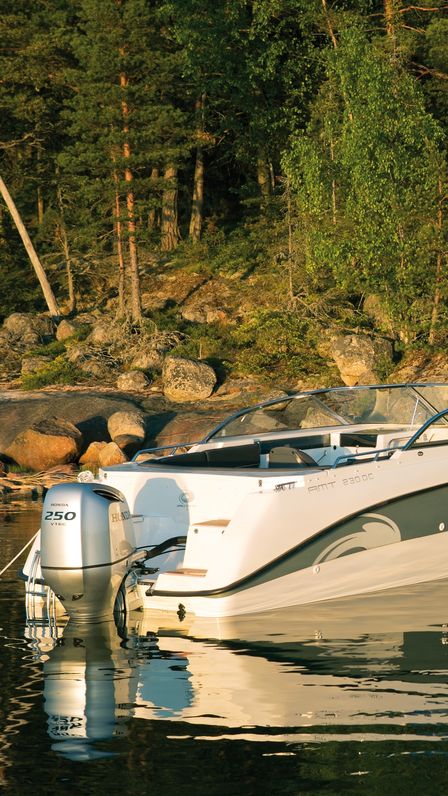 Slow ahead, and back again
Precise control at slow speed is just as important as high-speed, especially if you're fishing or negotiating tight spots on a river or lake. The BF250 may be a big V6 engine, but it performs equally as well when you need to make slow speed manoeuvres.


Breathing more easily
The unique Power Intake Air System uses a dual airflow. It's an industry first.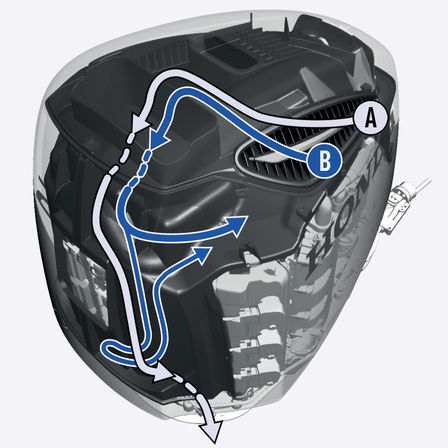 The dual air-intake separates cooling air (A) from combustion air (B) for better performance and more efficient cooling of the engine.
In simple terms, it's like breathing through two nostrils instead of one. Just push your finger against your nose, breathe in and you'll see what we mean.
Breathing easily
The dual air-intake draws in huge volumes of air through specially designed gills, and separates cooling air (A) from combustion air (B) for better performance and more efficient cooling of the engine. Cool air can be fed directly into the engine which is unaffected by temperature, and when combined with BLAST™ and ECOmo technologies, it increases engine power and performance – helping your economy too.


A 250 horsepower beast creates a lot of white water.
It hauls fast
The slim and sleek hydrodynamic design isn't just about good looks. The Honda gear case efficiently transfers all that horsepower straight into the water.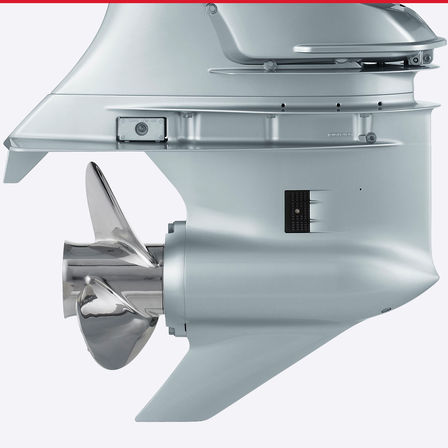 The slim gear case has an extremely low drag coefficient, which improves performance and economy at high speed.
When you combine the innovative technology of the stronger transmission inside the motor with the low drag, you'll find you've got a high-performing and economical engine to hang on the back of your boat.
Geared for speed
The hydrodynamic gear case – slim for a big motor – has a super-low drag coefficient, and the gears within are machined and honed to ultra-fine tolerances. Working together, they reduce friction at high speed.
It can haul heavy too
You'll be very happy with improved fuel economy at any speed; and with a gear ratio of 2:1, it will push you along with ease. The BF250 is also very versatile, allowing you to attach a bigger 16-inch propeller for more thrust if you have a larger, heavier boat.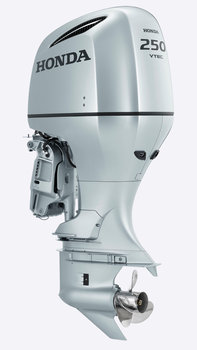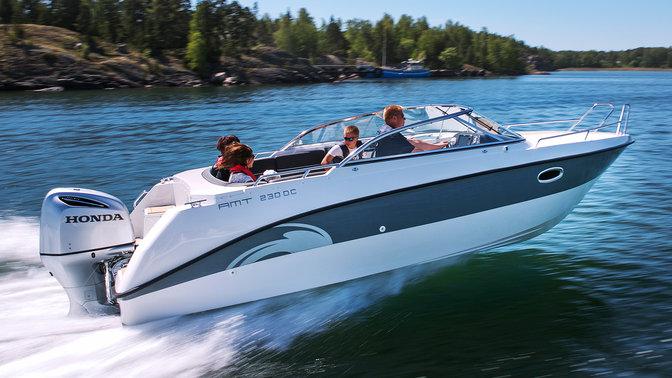 The hydrodynamic gear case and the gears within work together to reduce friction at high speed.