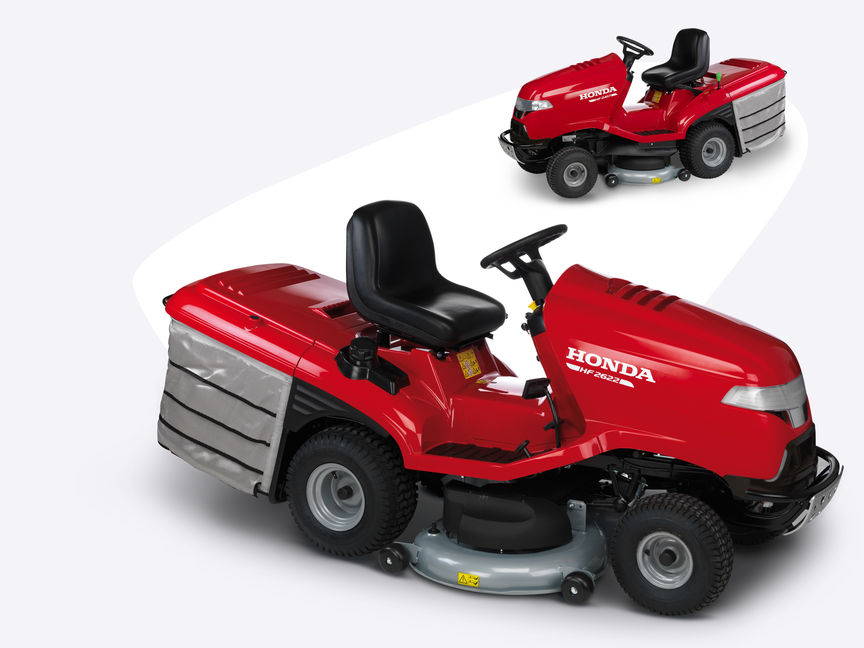 Premium lawn tractors
Upgrade to premium
Make a small job of a large lawn.
A Premium lawn tractor from Honda is the best garden machinery you can own. Cutting, mulching and collecting leaves on a large lawn, parkland or sports ground couldn't be easier. In fact, they're so comfortable to sit on – you won't want to get off.
Width Cut

102-122

cm

Grass bag capacity

300-350

Litres

Electric Grass Dump

Yes

Mulching

Selected Models
The best of everything
Whatever the grass condition, they'll give you the result you're looking for. And a big smile when the job's done.
These lawn tractors are a collection of simple, innovative engineering ideas. But that's not the only thing that makes them different and unquestionably the best.
You'll notice the difference as soon as you see the shiny red body finish. The way the panels fit, the seat material, the firm steering wheel and the way the hand controls feel in your hands – in fact, you might not be able to keep your hands off them. Built around a strong chassis, with a sturdy cast iron front axle and a strong low-maintenance V-twin engine, these machines have many other features that prove why a Honda is an excellent choice.
Tough as a tractor
A cast iron front axle adds extra strength to the chassis whilst enhancing the steering feel.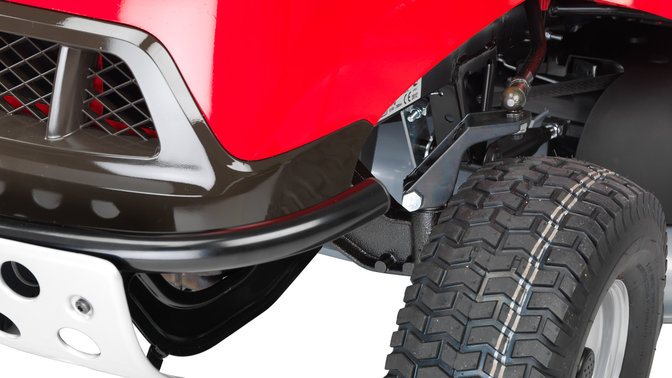 More than just a ride-on mower
They have a unique airflow system created by Honda, providing you with the ultimate collecting performance. There'll be no more clogging in the collection chute and therefore your lawn will start to look better from the moment you start using one. There's also Versamow®, a selective mulching feature. With the correct height adjustment, this will help you create a natural fertiliser as you mow.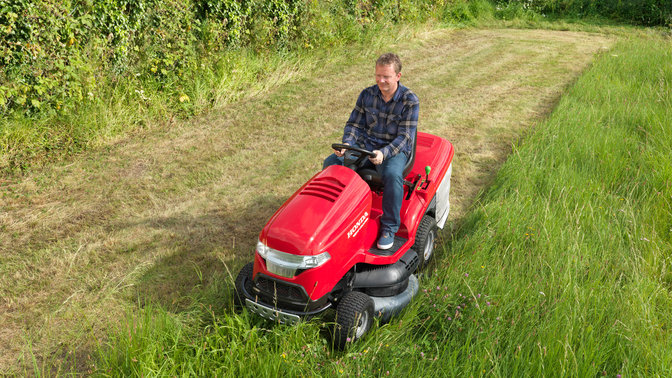 Premium lawn tractors make short work of long grass.
Premium technology times four
There are four Premium lawn tractors to choose from with different size engines, collecting bags and grass dumping operations.
| | |
| --- | --- |
Take on any job, no matter how large or complex
Grass care is more than just about cutting, it's a passion.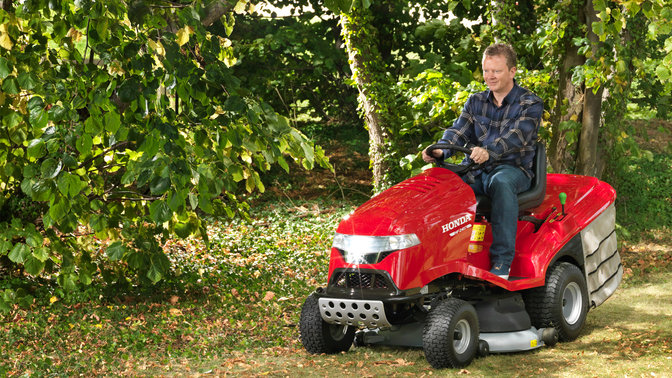 Gobbles up the leaves and chomps them into much smaller pieces – better for composting.
If you're passionate about gardening, whether it be yours or your caring for someone elses, our lawn tractors will really take the effort out of keeping your grass clean cut and free from leaves. You get a perfect result whatever you need it for – every time you take it out.
Strong performers
The task of cutting grass or collecting leaves will be cut down by hours with hydrostatic drive on our Premium Ride On Mowers. Or, if you're enjoying the job, you might want to take your time. In that case, simply slow things down and let the powerful torque developed by the V-twin engine take you smoothly along at a pace you're happy with, without affecting the quality of the cut.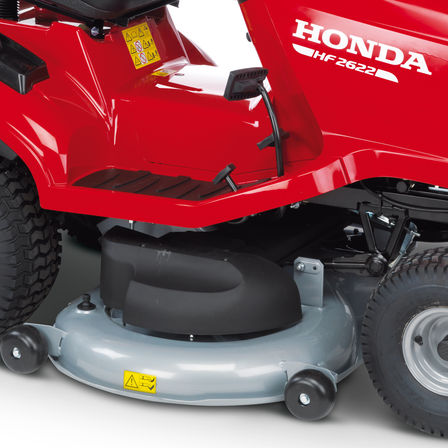 An anti-corrosive paint adds a smooth finish to the cutter-deck for longer lasting good looks.
Mean Mower
0 to 60mph – it's faster than most supercars and it'll cut grass.
Innovation, pushing boundaries and creating extraordinary pieces of engineering is what we do. And we achieved it with this unique one-off project that turned out to be a lot of fun.
The challenge was to build the world's fastest lawnmower, retaining the original looks of our Premium lawn tractor – and still cut grass!
We installed an all-new chassis, custom-made from high-strength steel alloy with a 100bhp 1000cc V-twin engine, originally fitted to a Honda VTR1000 Firestorm motorcycle. The finished article can hit a top speed of 130mph.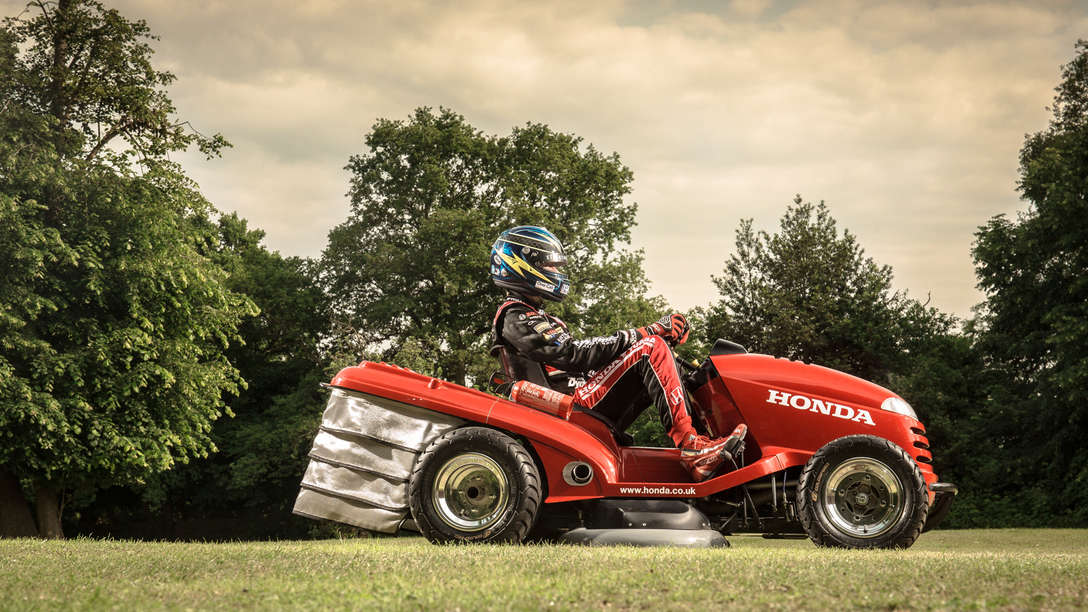 Unrivalled anywhere
Our Premium lawn tractors are built better to last longer.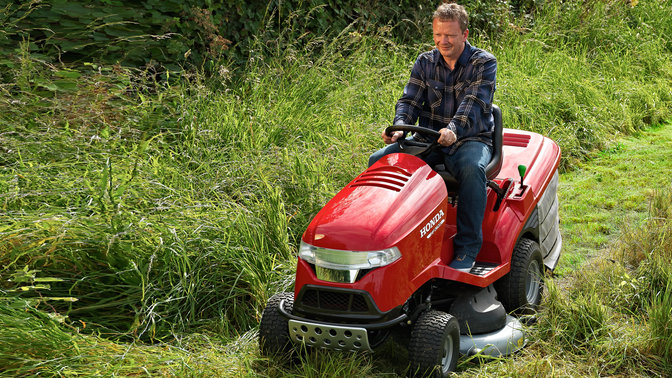 They just keep on going. That's why we can offer you a rock-solid seven-year warranty for domestic use on our core range products covering both parts and labour.
The warranty's lifetime
Our warranty maintains the same value throughout its lifetime too – meaning the last day of cover is exactly the same as the first. Solid and dependable, just like our Premium lawn tractors.