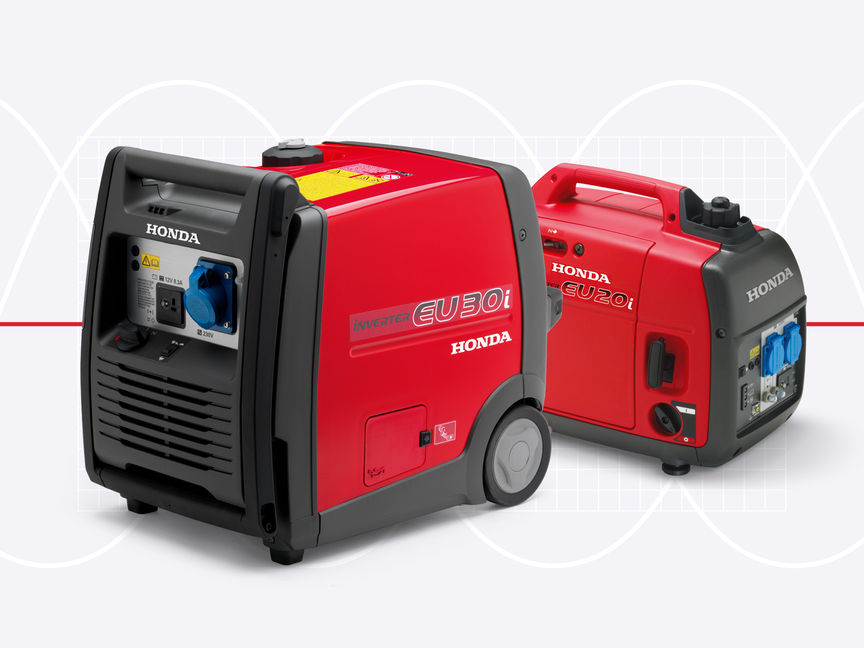 Portable Electricity Generators
Power to go
Take your electricity with you.
They are super-quiet generators you can use anywhere. Great for camping and caravanning, they provide clean, reliable electricity in extremely remote locations. They're nice and light too – so you don't have to use a lot of your own energy to carry them.
Power

1000-3000

Watt

Noise

87-92

dB(A)

Run time

3.5-4

Hours at rated load

Weight

13-35.2

Kg
No boundaries
Great things come in small packages.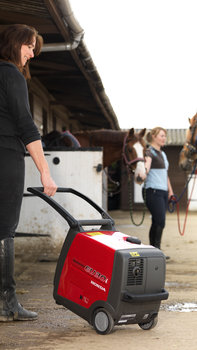 Honda Portables are so quiet they're the ideal choice for stables and farms.
A Honda Portable generator may be small but it's packed with features and innovations that will provide you with clean, friendly power to run sensitive electronic equipment in the great outdoors. A combination of lightweight materials and design, and an ergonomic handle make this generator easy to lift and carry.
Sit comfortably
Honda generators are quieter because they have acoustically insulated casings and a unique exhaust muffler system that keeps engine noise right down. This can make all the difference when you're wanting to enjoy some quiet time out in the country.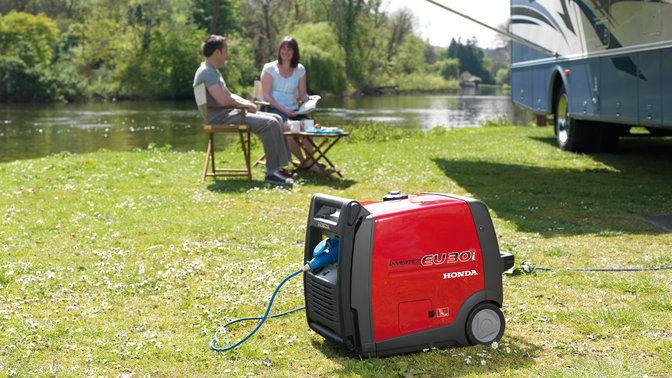 Perfect for camping, caravanning, mobile homes and gardening – Honda Portables are very neighbourly indeed.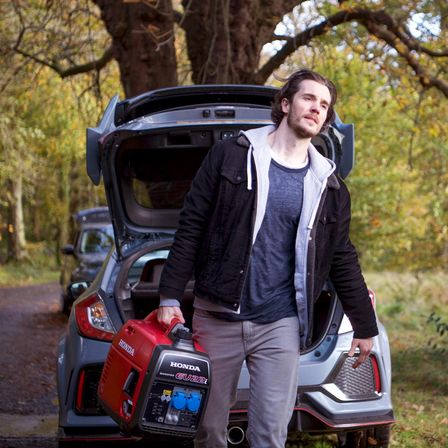 Ergonomic design combined with light materials, like magnesium, make Portables easy to transport.
Beware of imitations
Make sure it's a genuine Honda.
Just because it's red, doesn't mean it's a Honda. High standards come at a premium so don't trust anyone who tells you they've got a product that's just as good. There's nothing like a Honda Generator with its unique Inverter technology, which guarantees smooth, uninterrupted electricity (see image, above left). You're safe to plug in your laptop, or any other sensitive electronic equipment and it won't get fried.
Clean power
The portable generator features a unique Inverter system that delivers a constant flow of clean, smooth electricity for sensitive equipment. Pioneered by Honda in 1987, it works together with a load-sensing device that supplies top quality electricity relative to the demand. And it's actually as good quality as you get at home.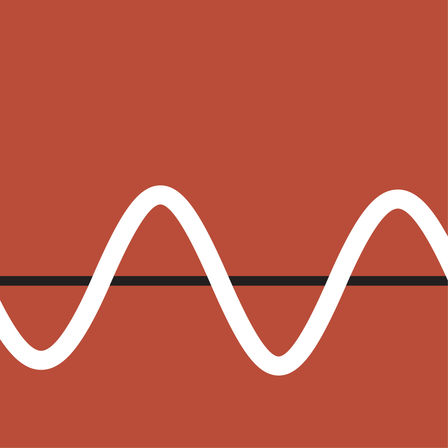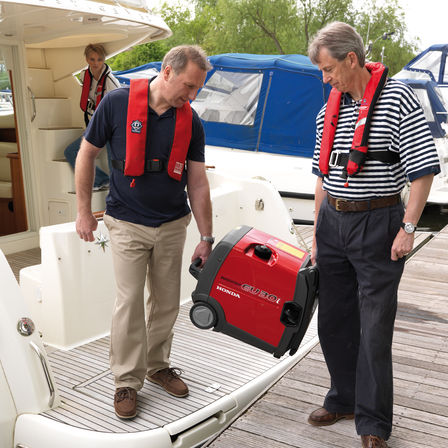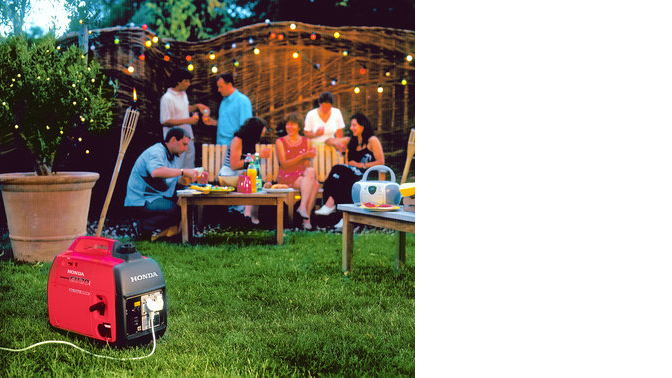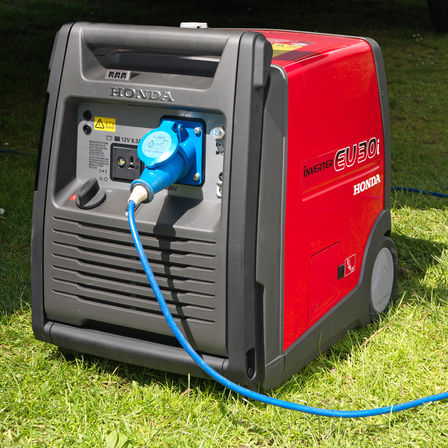 The power to choose
The light and easy way to take away your electricity.
| | |
| --- | --- |
Supply on demand
Efficient technologies that save fuel and keep noise levels low.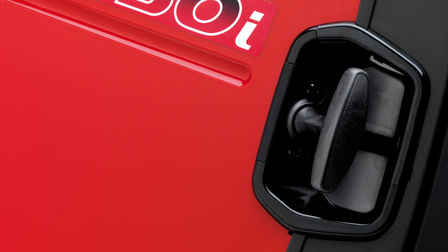 The ergonomic pull-cord handle makes starting so easy and comfortable.
Thanks to the unique Eco-Throttle™ load-sensing device, when the load increases, so do the revs. They do this automatically and instantly, keeping up with the demand. So when you fancy a coffee break, you can put the kettle on without crashing your laptop. When the water's boiled, Eco-Throttle™ will quietly drop the revs back down again – saving you fuel and money.
Safe and easy
Practical sockets and controls make starting and running the generator quick and simple; particularly as the starter, choke, fuel tap, on-switch and plugs are all mounted on the same panel. This makes starting and operating the machine easy and convenient. And remember, our Oil-Alert™ Technology will automatically switch off the ignition if the oil drops below a safe level.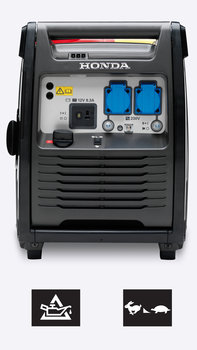 All Honda Portables have Oil Alert™ and Eco-Throttle™.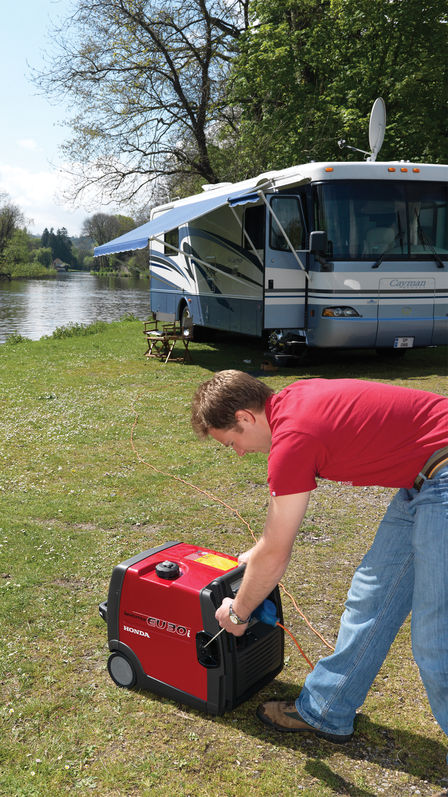 The recoil starter mechanism is light and smooth, and features automatic decompression for easy starts every time.
Doubling up
Twice as much power when you need it.
Portables can be linked together using a parallel cable which doubles the output. Connected this way, they can happily cope with a small hospitality event or run an air-conditioning system in a motorhome. Two smaller generators can be easier to transport than one large one, and once they're in place you can link them together and increase your power output.

Parallel Power
Together they make a great team, providing twice the power.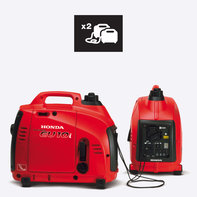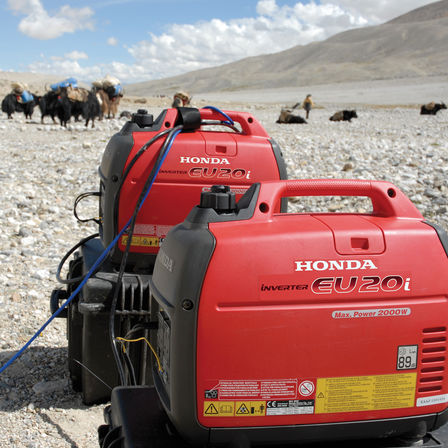 At high altitude one EU20 Generator will run at lower power, allowing another to be linked to it to increase power output.
Battery charging
There's a handy 12-volt DC socket, perfect for charging a vehicle battery while supplying power to everything else. These portables are a complete all-round energy resource.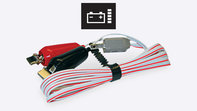 Our Portable generators have optional plug-in 12-volt DC cables to charge your battery.
On the roof of the world
Powering the Caudwell Xtreme Everest Expedition.
Our EU Portable Generators were chosen by a team of doctors to conduct experiments on human performance at altitude. On the summit of Mount Everest – a fragile and extreme environment – they constructed several makeshift laboratories at 8,000-metres to gather data using sensitive and delicate scientific equipment. The Honda Portables quietly delivered the clean electricity needed to complete this famous medical experiment in the most remote of all locations.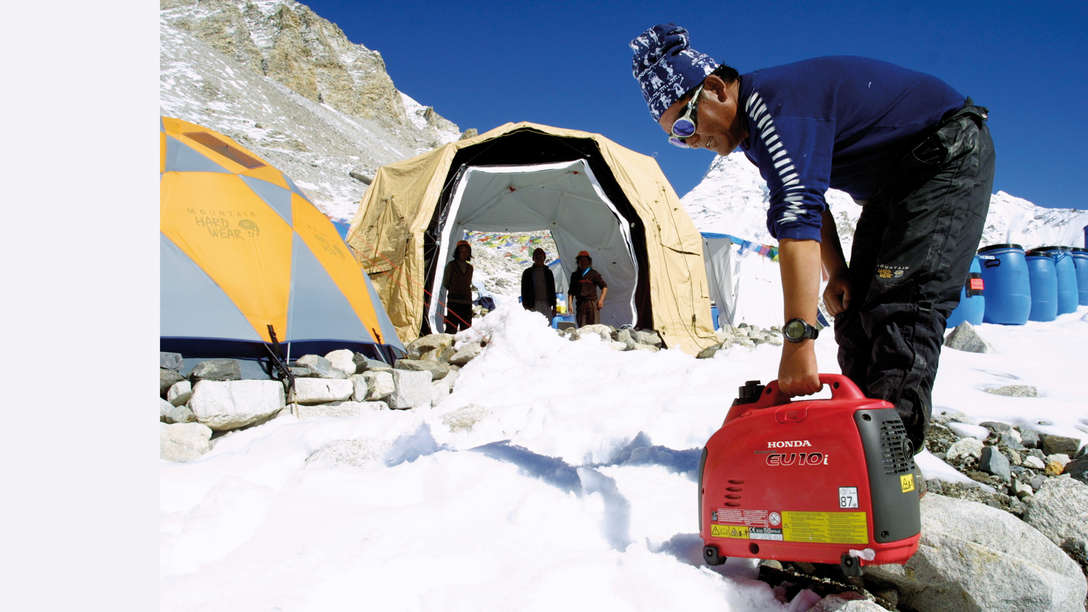 Good in the long run
A promise is a promise and when we say we'll stick with you all the way – we mean it.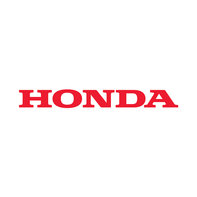 When you buy a Honda Generator you get the unrivalled support of a domestic or commercial warranty, as long as you stick to the service schedule. It will maintain the same value throughout the warranty period. That means the last day of cover is as good as the first. No matter where you go there'll always be a Honda Dealer happy to help you in the unlikely event anything should go wrong.