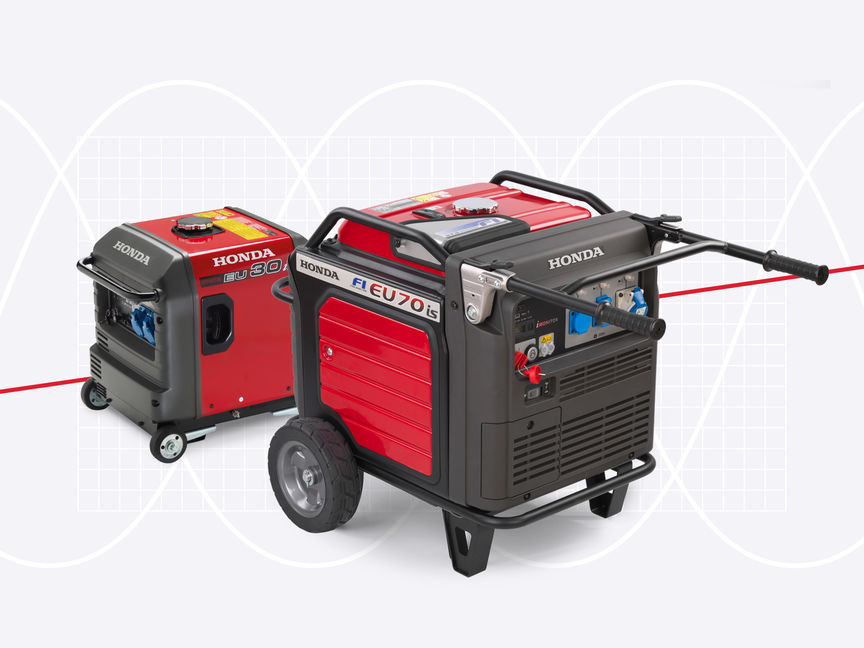 Manoeuvrable high-tech
Sssssh! It's a Honda
You'll love the sound of this.
For home or office back up, a Manoeuvrable high-tech generator provides clean, stable electricity for sensitive technical equipment. It's equivalent in quality to what you'll get from your mains, and you'll even have enough power to keep your air conditioning going. Best of all, you probably won't even hear it going.
Power

3000-7000

Watt

Noise

89-97

dB(A)

Run time

5-8

Hours at rated load

Weight

55.9-117.8

Kg
Power on call, on location
Move it into position and start it up, it's that easy.
With their pioneering Inverter technology, Honda Manoeuvrable high-tech generators are truly high-spec machines. As the name suggests, they're easy to move and manoeuvre, no matter where your work takes you. They provide clean, stable and economical electricity and are just what you need in an increasingly mobile and electric-powered world.

Power to trust
Only invest in a genuine Honda.
Quality comes at a premium, so you wouldn't want to trust anything other than a Honda generator for your home or office back up. They're heavy duty and quietly deliver smooth power that won't damage any sensitive appliances that you need to run. They're our gentle giants.
Energy efficient
The output is produced through Honda's unique and pioneering Inverter technology. It works with the load-sensing device; which instantly reacts to any fluctuations in load, no matter how heavy, to deliver a stable wave of clean power (above left). This makes these generators ideal for hospitality units, emergency work, sensitive electronic products and lighting.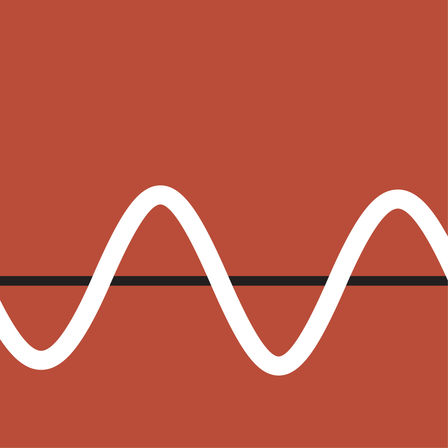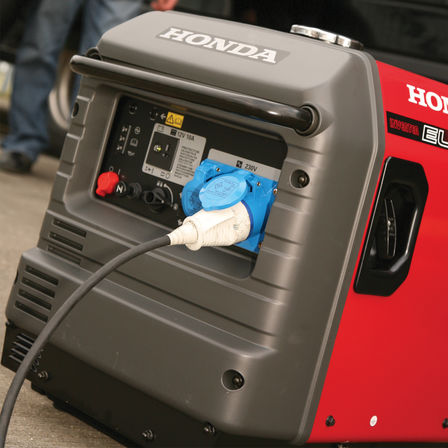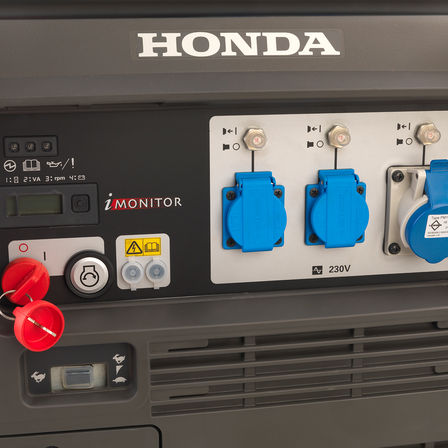 The power to choose
Pick the one that's right for you.
| | |
| --- | --- |
Low cost supply
Efficient technologies that save fuel and keep emissions low.
The Honda Eco-Throttle™ is a unique load-sensing device. As the load increases, so do the revs – quietly and instantly, without you experiencing any drop in power. And when the demand drops the revs will decrease, saving you fuel and money. The fuel refiller cap lets you check the fuel level without you needing to remove it – so you save time, too.
Run for hours
With running times between seven and nine hours, you'll forget you've had a power cut. Once they're quietly humming along they'll cope with any demand you make of them, instantly reacting to any fluctuations in load – even heavy start up load.
Quick and easy
You can check the fuel level without removing the cap – so you don't have to stop working.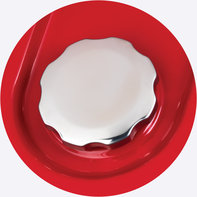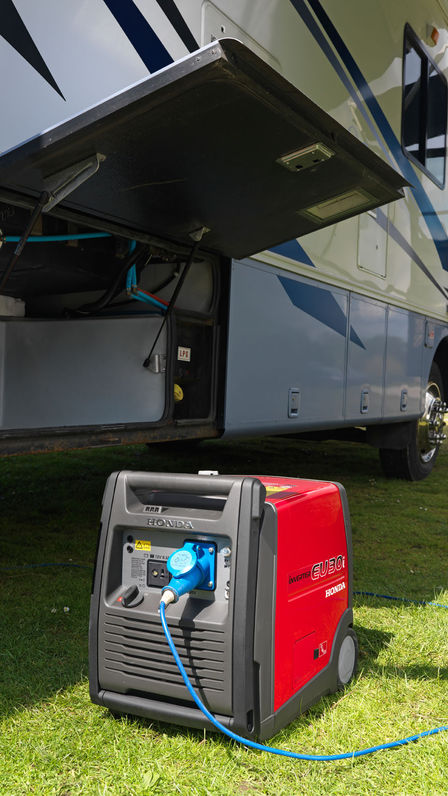 The load sensing device delivers power on demand as and when you need it.
Instant power
Manual or electric start – you're soon up and running again.
Practical sockets and controls make starting and operating the generator quick and simple. Just start it and forget about it, because the unique Oil-Alert™ will automatically switch off the ignition if the oil drops below a safe level. It's a built-in safety guard.
Smooth running
Honda has built an engine mount system into the durable steel frame. These rubber shock absorbers are positioned either side of the engine at 45˚ and significantly reduce the engine vibration of an already quiet machine. An advanced muffler system keeps noise to an absolute minimum on EU-type generators.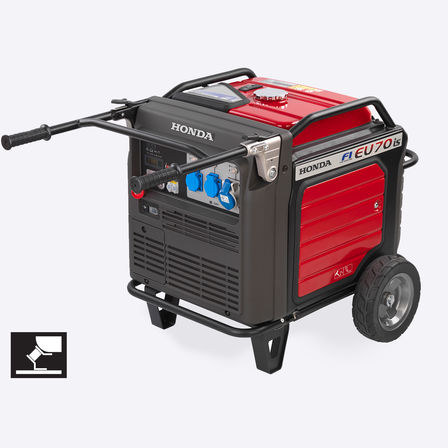 A super strong steel frame combined with unique 45˚rubber engine mounts give you smoother running.
Safety first
The oil alert™ will automatically cut the engine if the oil level drops.
Lighting up the desert
It's not just our off road bikes and cars that power on through the desert.
Desert racing is tough on machines, mechanics, drivers and riders. They all need to be looked after in this harsh and inhospitable environment. When Honda goes racing they take their own 'clean' portable, reliable power with them – and why wouldn't they?
The teams need all the support they can get and are constantly using laptops to tune engines to suit different racing conditions. Our generators are the most reliable and trustworthy in the world – and that means anywhere in the world.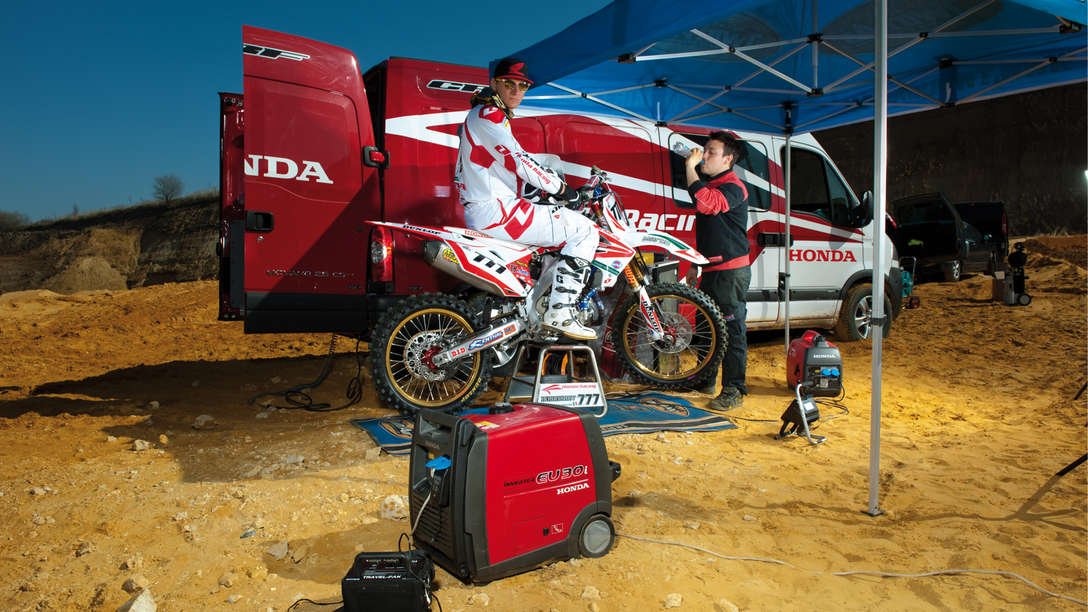 Honda generators provide an oasis of quiet comfort for a Honda motocross team.

The all new EU70
Welcome to the new generation of generator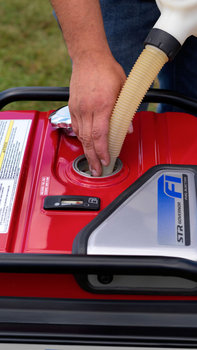 The Fuel Injection system eliminates the need of carburetor draining before storage periods of up to 30 days.
The EU70is is equipped with an electronically controlled Fuel Injection system, which increases fuel efficiency by up to 15%. The introduction of a newly developed inverter assists in this by reducing power loss and raising maximum output. This enables the EU70 to easily handle initial power peaks required to start motor driven appliances (like air conditioners or refrigerators). The 16% larger fuel tank and improved efficiency allow the generator to run longer in continuous operation - at half load it can operate for an estimated 12 hours!
Starts first time, every time
The Fuel Injection system also enables hassle-free push-button start, with remote operation and shutdown available via an optional wired remote control. And with the new ability to link two EU70is generators via an optional parallel operation box, double power output can be provided for more demanding electrical appliances.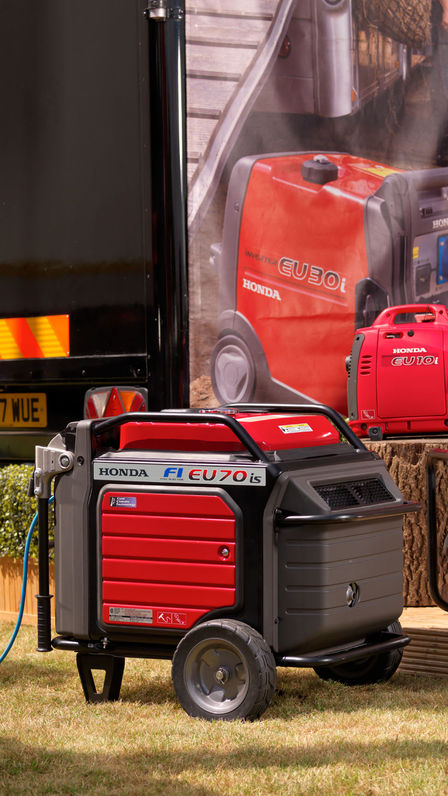 Good in the long run
A promise is a promise and when we say we'll stick with you all the way – we mean it.
When you buy a Honda Generator you get the unrivalled support of a domestic or commercial warranty, as long as you stick to the service schedule. It will maintain the same value throughout the warranty period. That means the last day of cover is as good as the first. No matter where you go there'll always be a Honda Dealer happy to help you in the unlikely event anything should go wrong.