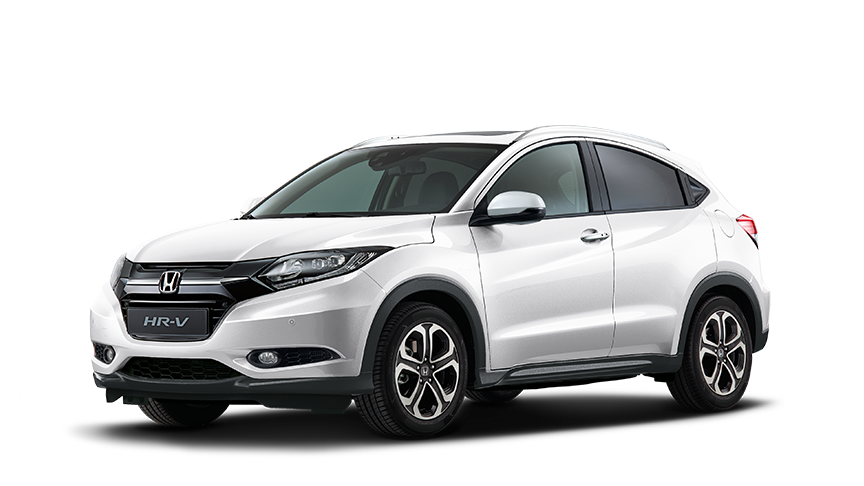 Reviews
Inspired by you
The HR-V combines comfort and style to suit you.
HR-V

reviews verified by reevoo
Comfort
Build quality
Performance
Fun to drive
Practicality
Fuel economy
Features and specification
Value for money
Overall rating
Scores

8.8

out of

10

based on

932

reviews
Denis
Preston
Recreational
+

This car is well built like all Honda vehicles I like the feel of the car and the car feels safe to drive
−

A little slow on acceleration but I am not that upset about that
Confirmed purchase:

30 September 2016


Published on:

01 December 2016

HR-V
Barry
WATCHET, SOMERSET.
Recreational
+

LOVELY 'HIGH DRIVE'
'CRACKING' GOOD LOOKS
GREAT STYLING
TERRIFIC SUN ROOF
LOOKS ALL THE BETTER WITH MY NEW ALLOYS
I ENJOY DRIVING IT SO MUCH - THANK
YOU HONDA!!
−

NEEDS LUMBAR SUPPORT - ESPECIALLY FOR DRIVER
NO TEMP. GUAGE
TOUCH TEMP CONTROLS VERY DANGEROUS - YOU HAVE TO TAKE YOUR EYES OFF THE ROAD TO ALTER SETTINGS.
NO CD STORAGE
Confirmed purchase:

30 September 2016


Published on:

30 November 2016

HR-V
Sally
Aberdeen
Recreational
+

Had the HRV for about a month and first impressions are slightly mixed but mostly very good.

Chose the Ex trim because of such extras as: Leather, heated, seats and the LED lighting.

The car is attractive to look at and has a very pleasing, and also functional, interior. It's nice to drive and is a very comfortable ride.

Driving position is good and the auto gearbox seamless.


Road fund duty costs are lower and the petrol consumption is far improved on our last vehicle
Though, like most Hondas, the initial purchase price was high.

Seating is impressive; comfortable, very "adjustable" and gives many useful folding options (good to have the "smart" rear seats, which we enjoyed years ago in a Jazz we owned).
The leather, and heated, seats were a particularly good choice for the Scottish Winter mornings.

Its good to still have a keyless entry and button start for ignition.

The LED lighting is probably the best night driving experience we have had and the headlamp auto dip works very well and very quickly.
We were reticent to use it at first, but find it very useful on country roads.

This is our first car with the eco, engine cut-out function and were somewhat concerned about it, fully intending to switch off the function. But, it works, almost unnoticeable, in the background, and has not been any problem (and, is probably saving running costs).
Similarly, the electronic handbrake has turned out to be no concern.

The driver interface and dashboard is very attractive and functional, with controls well positioned.
The clear and uncluttered dials, along with the ability to select some of the views / settings is very impressive. Same comments go for the heater/AC controls, which are "in colour'" and touch sensitive – but, be warned, this touch function does not work when wearing gloves! Unless, you invest in the fancy ones, with finger pads, which work with smartphones.

Controls, on and around, steering wheel are easy to operate and intuitive. Particularly the hands free cruise control and radio operations.

Telephone interface works well and was quickly set up by the salesman.

Radio is very good, with DAB / FM etc. Good quality sound, easy to operate and very functional.

Reversing camera is very good and offers a number of angles/view settings and the lane marking lines are very accurate and useful.
The REAR audible beep warning is also very accurate and can be confidently relied upon.

So, to sum up our experience – yes, like the HRV, and pleased with the purchase.

We change cars every two years.
Over the past decade, we have had (from new) two Honda CRVs and three Toyota RAVs, one of which we have just traded in against the new Honda HRV, Ex Auto (petrol).

We changed from Honda CRVs to the Toyota RAVs only because we felt that the CRV style had evolved into something too large for our needs. Subsequently, the latest evolution / style of the RAV were not to our liking, and we also wanted to "downsize".

We were impressed by the new HRV, albeit only 2" smaller all around.

As for quality and reliability, we find little to choose between Honda and Toyota. Both are exceptionally good – choice has been down more to aesthetics / style.
And, the new HRV has bags of style and eye appeal (lets not mention the old version!).
−

One downside, and almost a deal breaker, was that the car does not come with the smart 4x4 function that we have had on all our other SUVs. Living in the NE of Scotland, the lack of this function was off-putting and we have had to invest in winter tyres to offset that loss of functionality.

The (1500cc petrol) engine lacks a bit of punch when pulling away, and the accelerator has to be used heavily to get the car moving – this is noticeable from the resulting engine noise.

Another downside is the lack of cabin storage space. The (single) small glove box, along with very small door pockets and centre armrest box are woefully inadequate. We have had to utilise the boot under-floor box to even store the HRV handbook.
The centre console has a small, almost inaccessible area at the front where, equally inaccessible sockets are located for auxiliary power supplies / USB slots etc. are located
Also very surprised and disappointed that there is nowhere to store sunglasses.

As to the fixed Satnav GPS, I am not so enamoured. I have had several Garmin, stand-alone, satnav GPS over the years and am a fan of them.
This fixed satnav unit looks impressive; with its size, position and clear viewing location. But, it's not as accurate as my stand-alone one, with the instructions to turn being given far too soon before the (correct) junction. And, the auto re-route function can try to take you down roads and tracks which you really don't want to be on.

Major complaint is that the installed maps were not the most up-to-date.
I would have expected the PDI to have checked and updated the maps prior to vehicle handover.
But, it was left to me, after a couple of phone calls to various parties, to utilise my PC and a USB memory stick to find and install the latest version of maps. And, even then, these new maps are not as up-to-date as those on my stand alone Garmin GPS satnav.

A, very annoying trait – Driver is forced to tap an "I accept" target accepting a motherhood statement about not operating the satnav system while driving. This has to be done every time you switch on the ignition!!!!

Front audible parking warnings have an annoying (and, initially, alarming) habit of operating near other cars in a car park bay and, even worse, beep all the time I drive, through the door, into my garage.

A hands free boot opening device would be a good option.

Finally – had a worry this week. Having driven about 5 miles, and while doing 50 mph, the OIL warning light came on. Pulled in and let engine cool, oil settle, and checked dipstick. Yes, oil level OK and warning light had gone off – took car in and did series of diagnostics, no issues found. But, still a little disconcerting and leaves me a bit worried
Confirmed purchase:

30 September 2016


Published on:

30 November 2016

HR-V
Lynn
Okehampton
Recreational
+

Reliability, fuel consumption, engine response, comfort, keyless entry,
−

Time it takes for heater to work, auto full beam light is unreliable
Confirmed purchase:

30 September 2016


Published on:

29 November 2016

HR-V
Charles
Ruislip
Motability
+

The 1.6 diesel engine is very resonsive and economical.

Having cruise control, lane departure and hill start.
−

Only one map pocket on back of passenger seat and no option of panoramic roof on mid range HRV.
Confirmed purchase:

28 September 2016


Published on:

29 November 2016

HR-V
Stephen
Llangybi
Recreational
+

General level of comfort and the roominess of the interior. Some very useful additions eg the tilting of the wing mirror to enable easier parking against kerb.
−

Took a bit of time to set up DAB. Once done very pleased with reception and sound quality.
Confirmed purchase:

29 September 2016


Published on:

29 November 2016

HR-V
John
Welwyn GC
Recreational
+

Easy to drive, huge amount of space, panoramic roof, keyless operation.
−

Not able to split satnav screen to have music info & map together
Confirmed purchase:

27 September 2016


Published on:

29 November 2016

HR-V
PHILIP
Sunderland
Recreational
+

Looks good.
−

Underpowered and the gearing is wrong. You should be able to sort things out by using the big screen and not having to use the small screen where the petrol gauge is. This is too complicated and fiddly.
Confirmed purchase:

29 September 2016


Published on:

29 November 2016

HR-V
Peter
Ipswich
Recreational
+

Overall a very good package high level of equipment nice to drive plenty of space in the cabin and a very large load space.
−

Placing of some of the indicator lights is not good obscured by the steering wheel.
Limited selection of colours available
Confirmed purchase:

30 September 2016


Published on:

29 November 2016

HR-V
Robert
Aberdeen
Recreational
+

it is easy to drive plenty boot space also like the fact that the back seats can be fixed up giving more space if you want to transport bigger items .
−

No
Confirmed purchase:

28 September 2016


Published on:

29 November 2016

HR-V