Our most capable ATV range yet
The new 2015 Honda ATV models have landed.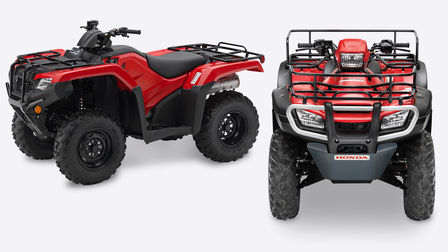 Bringing even greater choice to our impressive line-up, these new ATVs utilise all of Honda's ATV and automotive engineering experience, as well as advanced Computer Aided Engineering technologies. The result is simply unrivalled efficiency, comfort, durability and ease of use.
Five new models offer a choice of effortlessly efficient automatic Dual Clutch Transmission (DCT), smooth Independent Rear Suspension (IRS) and/or Electric Power Steering (PS) to let you work longer, more comfortably.
Find out more below, or contact your Local Honda Authorised ATV Dealer to see the difference for yourself.

Take a closer look
The new Fourtrax 420 and Foreman 500.
Fuel efficiency

Smooth automatic Dual Clutch Transmission (DCT) offers effortless shifting and 12% better fuel economy. Quickly shift into 5 forward gears, neutral and reverse with push-button ESP control, or opt for fully automatic mode. Either way, DCT has been tried and tested on Honda's market-leading motorcycles for years, for a fast and efficient transmission.


Improved fuel injection system with refined DCT shift map.

A new dual-zone shift programme takes feedback from the ECU on how the ATV is being ridden, and changes gear accordingly for smooth and responsive shifting. The combination of DCT and a refined fuel injection system contributes towards a 12% improvement in fuel economy compared to the outgoing ATV models.


Longer travel Independent Rear Suspension (IRS)

Over challenging terrain, IRS offers up to 8.5 of smooth, controlled, pre-load adjustable travel for better all day comfort. New Maxxis tyres also contribute to improved traction and handling for confidence in the most demanding conditions.


Improved ground clearance and increased load carrying capability

IRS significantly contributes towards a huge 55% increase in the new Foreman models towing capacity - up to 600kg, as well as the increased rack capacity on both Fourtrax and Foreman IRS models. Suspension pre-load can also be adjusted to better suit load and conditions. Additionally the chassis has been further optimised for IRS to increase torsional rigidity, ensuring class leading handling and a smoother ride.


Larger, stronger cargo racks.

The new Foreman IRS models offers an increased cargo area with large steel plates featuring additional tie-down points. Rack capacities are also increased to 45kg (front) and 85kg (rear) to carry a wider range of loads and rack mounted accessories.


Electric Power Steering

Models featuring Electric Power Steering (PS model code) are ideal for lighter riders, or those who enjoy spending long hours in the saddle. This feature greatly reduces steering effort and kickback through the handlebar, for extended all-day riding comfort and control. The re-mapped ECU also gives greater steering assist when you need it most - at low speed.


Improved controls and features make using a Honda ATV easier than ever.

The Foreman DCT's powerful liquid-cooled 475cc engine has an additional hi/lo range selector to deliver low-down load pulling power to make maneoeuvring with heavy loads easier.

Easy reverse/parking.

New intuitive reverse lever - simply pull in with the brake lever to engage reverse, or push forward to activate the parking brake.

Push-button differential lock

A full diff-lock feature on the Foreman models allows you to simply lock the front differential, driving full power to all wheels - a real benefit in loose rocky terrain or deep muddy, boggy conditions.
Previous
Next
/